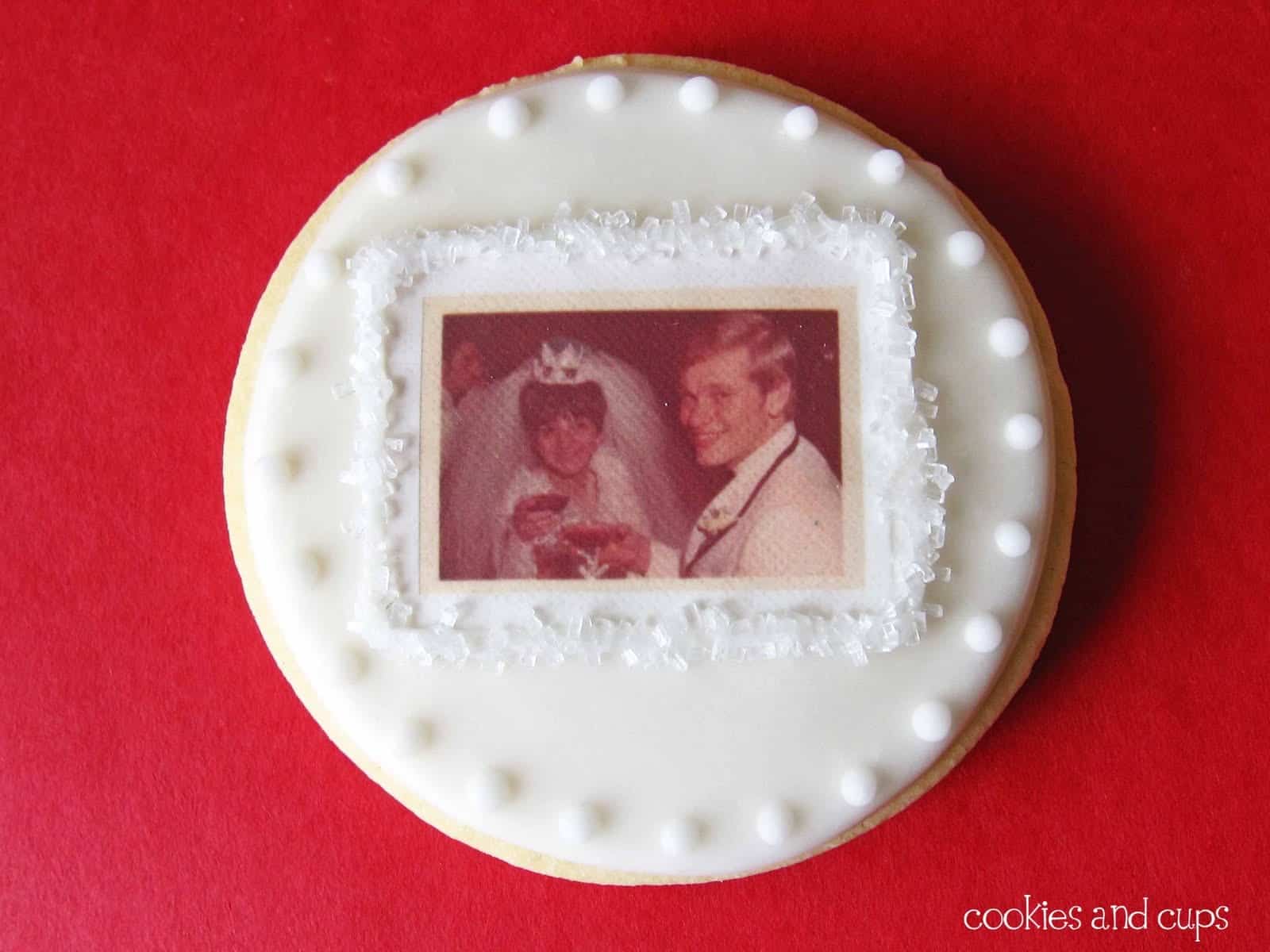 I was a little nervous doing these…and before you get nervous too, please relax.
I had done a little research after I was asked to make these cookies to make sure I would be able to do them before agreeing. I have a problem with that sometimes…agreeing to things I have never done, saying, "oh yes, absolutely" while in the back of my mind thinking…"hmmm, probably? maybe?"
It usually works out ok. I mostly know my limitations. Mostly.
Not always rational, but a can-do attitude is a good thing, yes?
So, when my neighbor asked if I could make photo cookies I thought, "hmmm, maybe?", but what actually came out was, "Yes, of course. No problem".
After delusionally agreeing, I racked my brain for weeks, wondering: If? How? Why?
I had just collaborated with Janet on our
Spring Blog Hop
, so I felt comfortable asking her how to do the edible images on cookies.
She was a lifesaver! She emailed me a nice long note with all the do's and don'ts.
It was invaluable.
Most importantly, though she told me to relax.
This is what I urge you to do…relax…you too can do it! Trust me!
After getting the picture, I took it to my local supermarket bakery and asked if they could print the photo on frosting sheets for cookies. The 16 year old behind the counter reluctantly agreed.
At $8 a sheet it is an investment. If I decided to do more edible image cookies I would consider getting a printer of my own.
The sheets were easy to work with…they printed multiple images on each 8×11 sheet, so I cut them to size right before I was ready to use them.
Don't take them out of the ziplock bag until then, though, because they dry out and break easily, so cut them to size immediately.
After you cut them to size you have a window, I would say less than 30 minutes to use them. Which is enough time.
Just do them in batches.
I outlined my cookie, flooded it and placed the image on. Since my photo didn't take up the entire cookie, I found outlining the cookie was necessary. The image sticks to the flooded icing easily.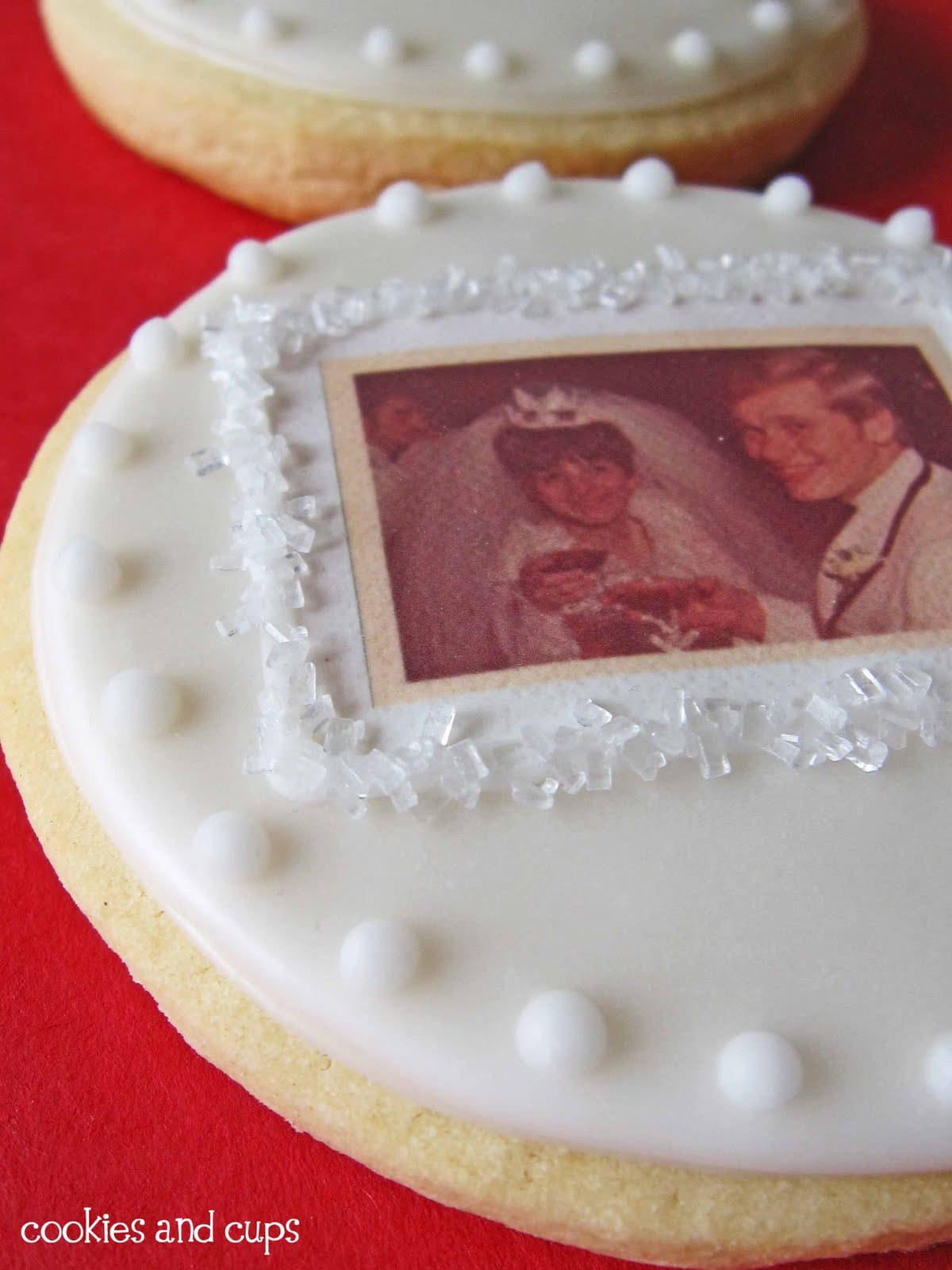 I let them dry overnight and then piped on some icing to add the coarse sugar detail and the dots.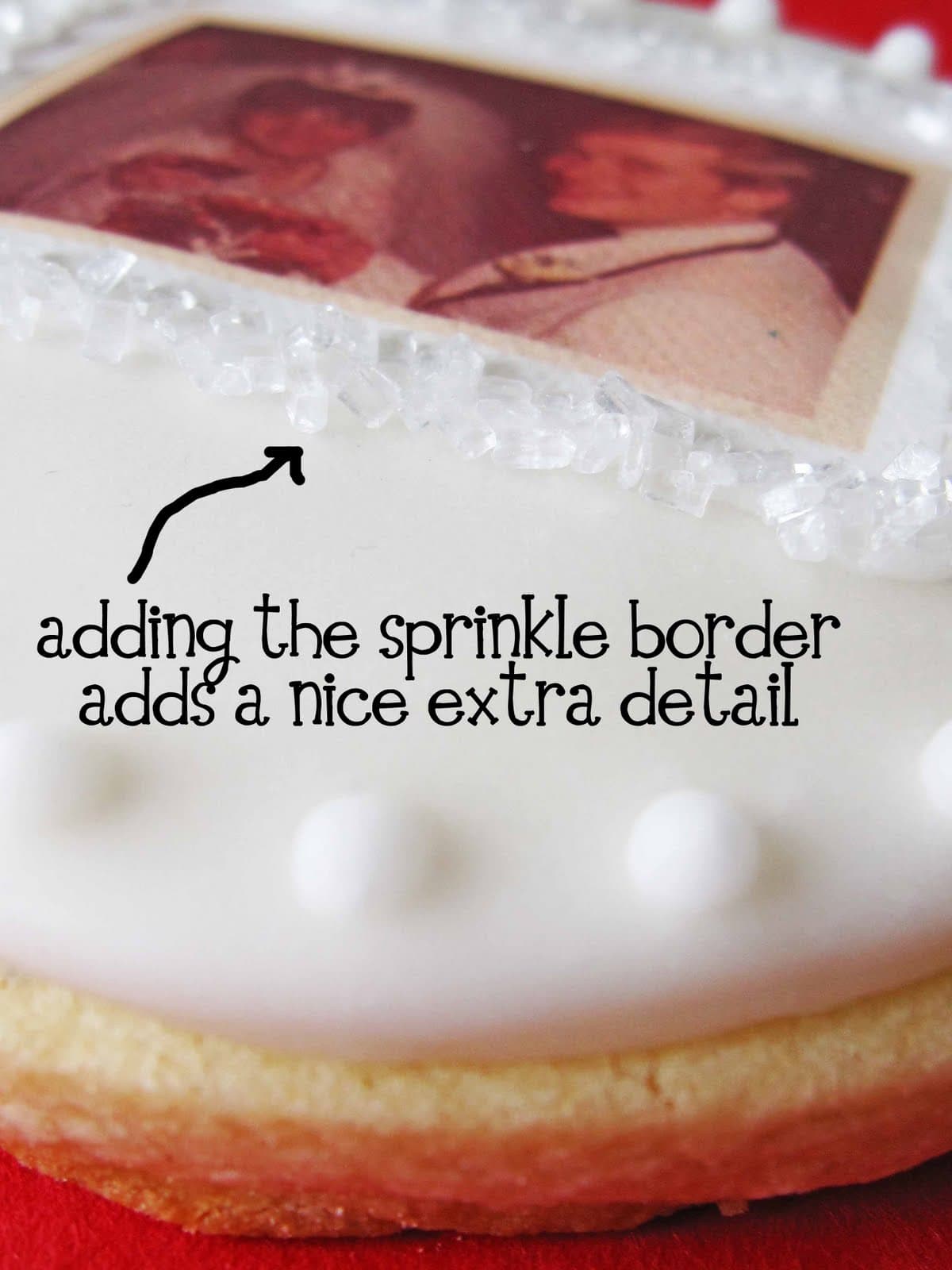 I let them then dry another overnight and it was perfect.
60 cookies later, I was done!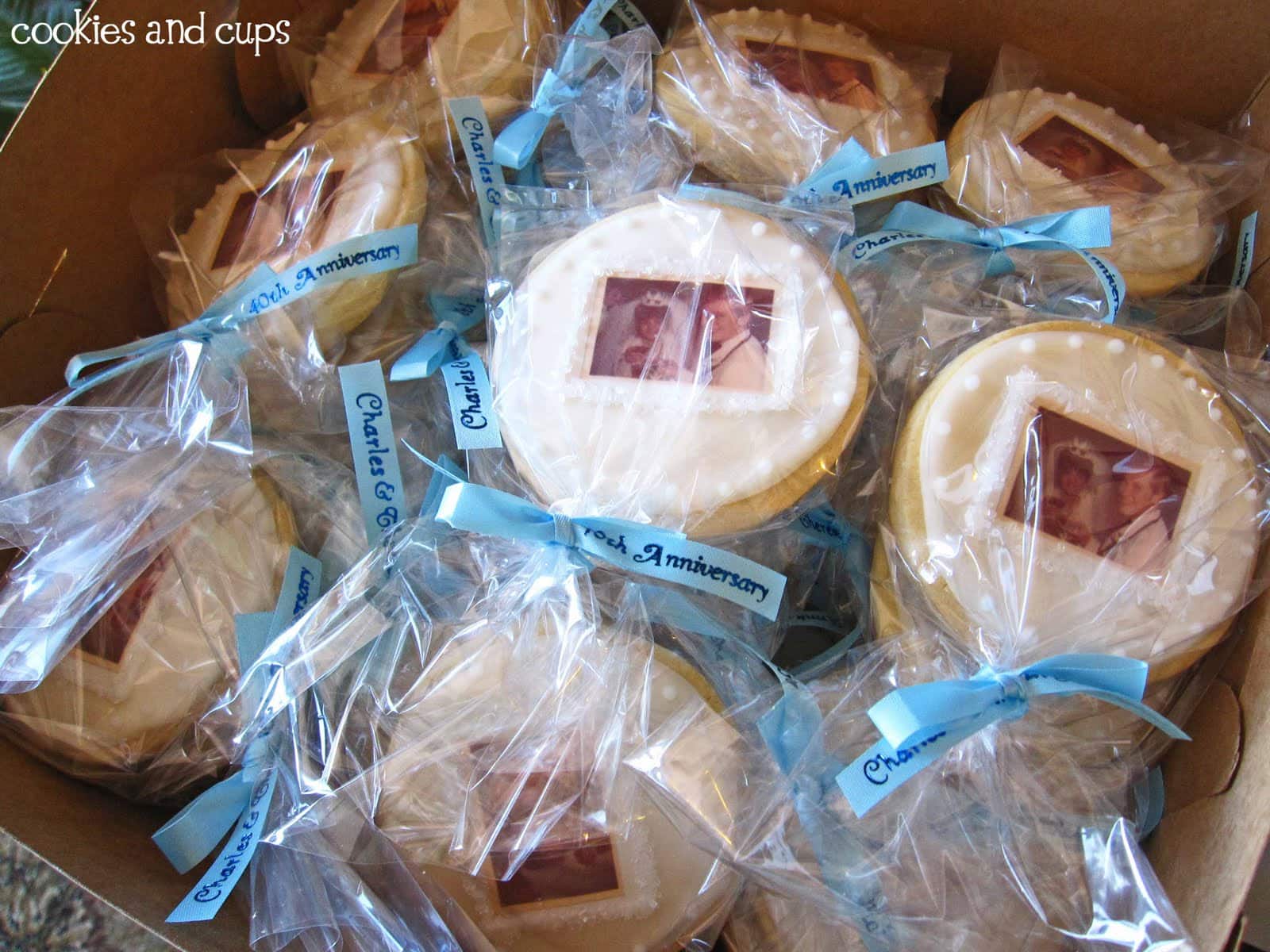 I, honestly, can't wait to do more. Now that I have the hang of it, it would be a breeze!
I bagged and tied with a ribbon that my neighbor had made for the occasion.
I, also, will tell you I tried the "frosting sheets" to see how they tasted…ummm, yuck.
I was a little worried about the taste, because I really pride myself in making not only cute cookies, but yummy ones too. BUT I made a few extra cookies and tried one..you know, just to test…and the icing sheets literally melt into the frosting leaving no taste behind except frosting and cookie.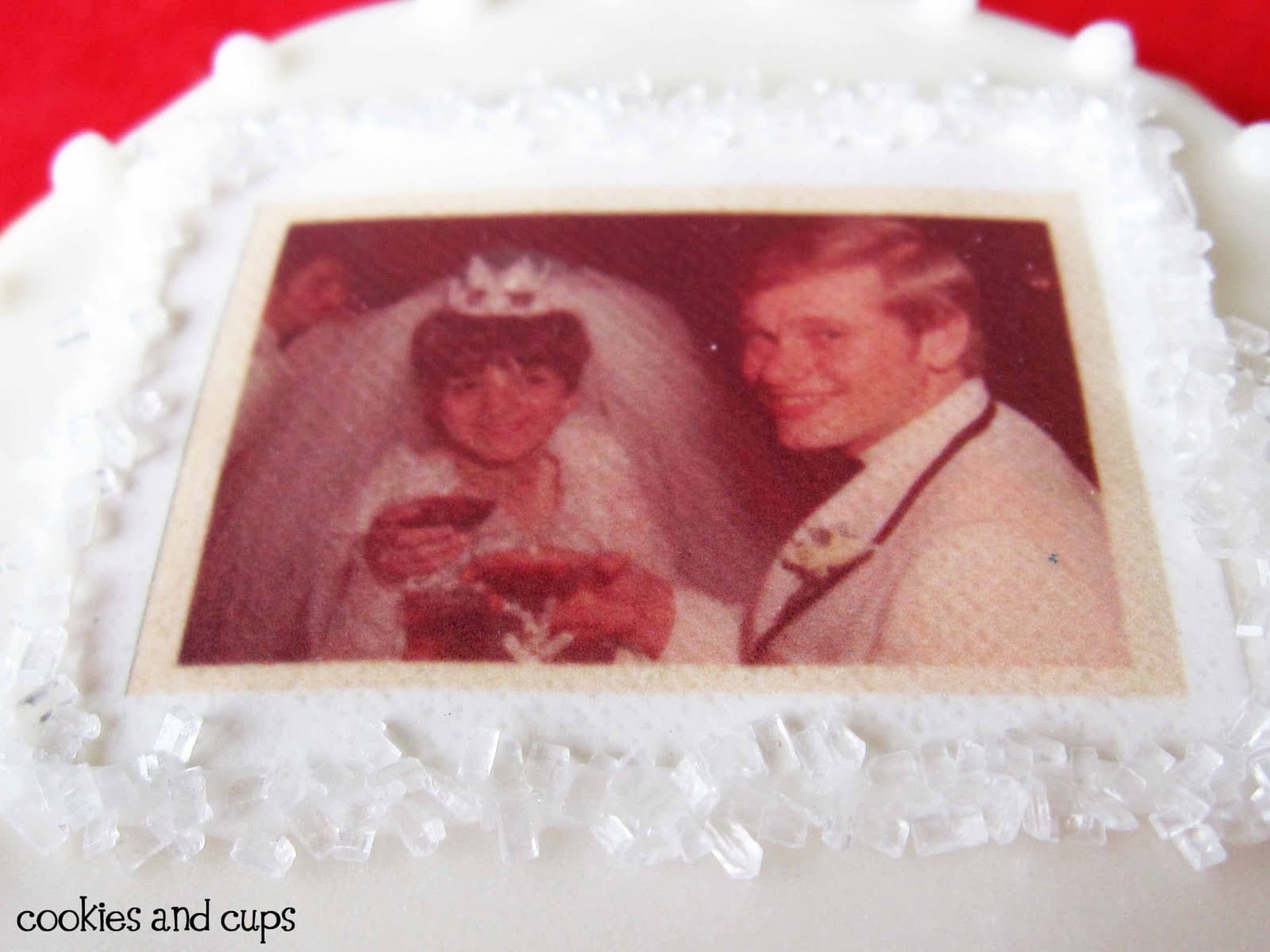 They were yummy!
Email me if you have any specific questions about the how to's!