Well people, I am back from the busiest week EVER! I thought having 4 boys and a husband was a lot to deal with on a daily basis…not so much. Seriously my "regular" life looks like a cake walk compared to the week that I just had.
For those who don't know, I just got back from Austin, TX where I worked all week on cookies for a big Halloween Bash for a division at Dell. They wanted 500 decorated sugar cookies for favors for their party as well as 30 dozen other assorted drop cookies. When I initially agreed to do this I had some major anxiety. But, as the trip got closer I calmed down about it. 500 cookies? Ok, 125 a day. I can totally do that! In retrospect I think I might have been minimizing it a little to keep me out of a straitjacket. I was foolish. It was hard.
I started Monday morning with my baking…on track for 125 for the day, the party was Friday.
Here's me and the big-ass bag of flour I bought ~ 50 lbs. At week's end I had only about 4 cups of flour left. Seriously.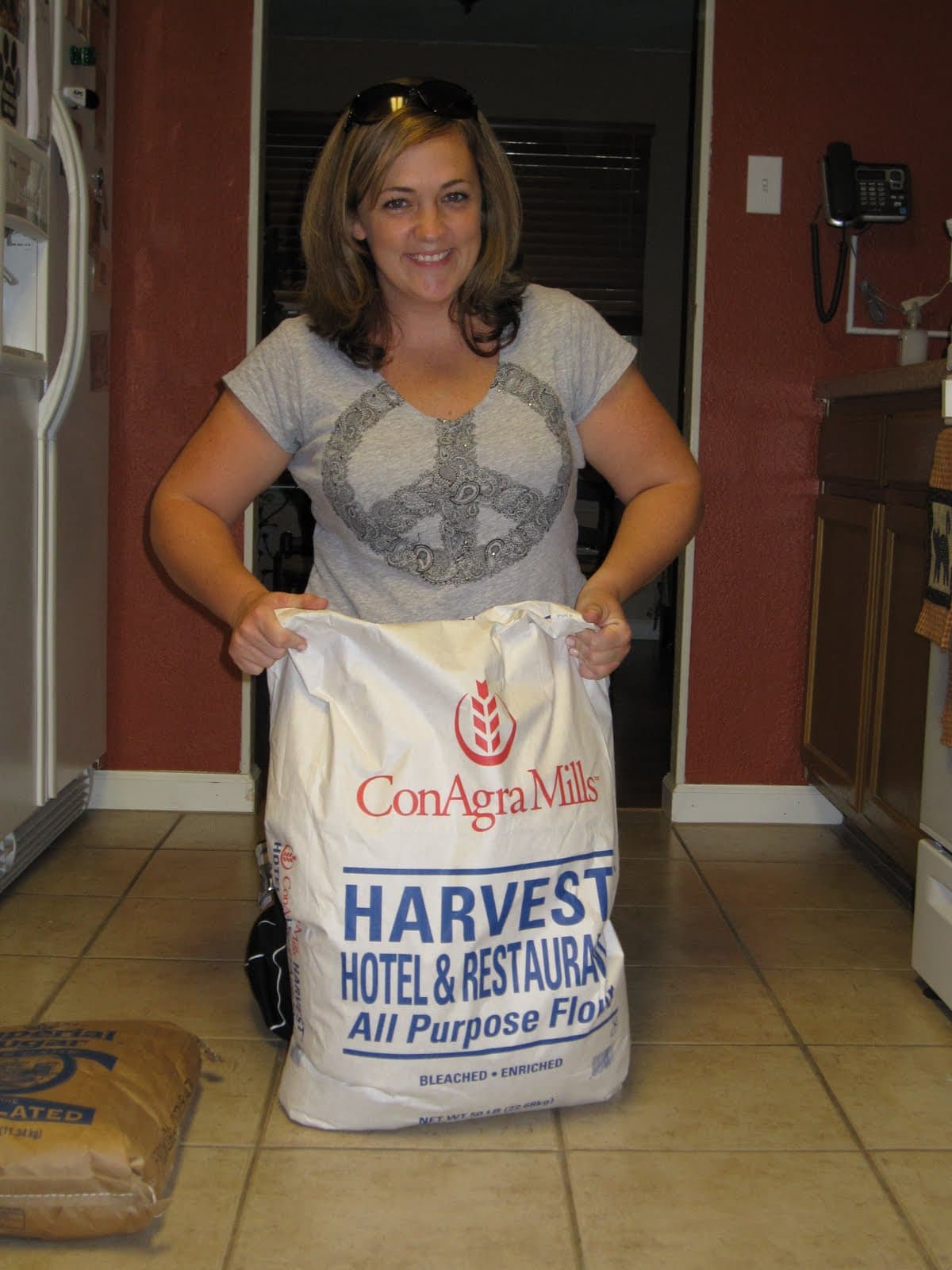 Up first, Frankenstein…
here is a photo of the first cookie being cut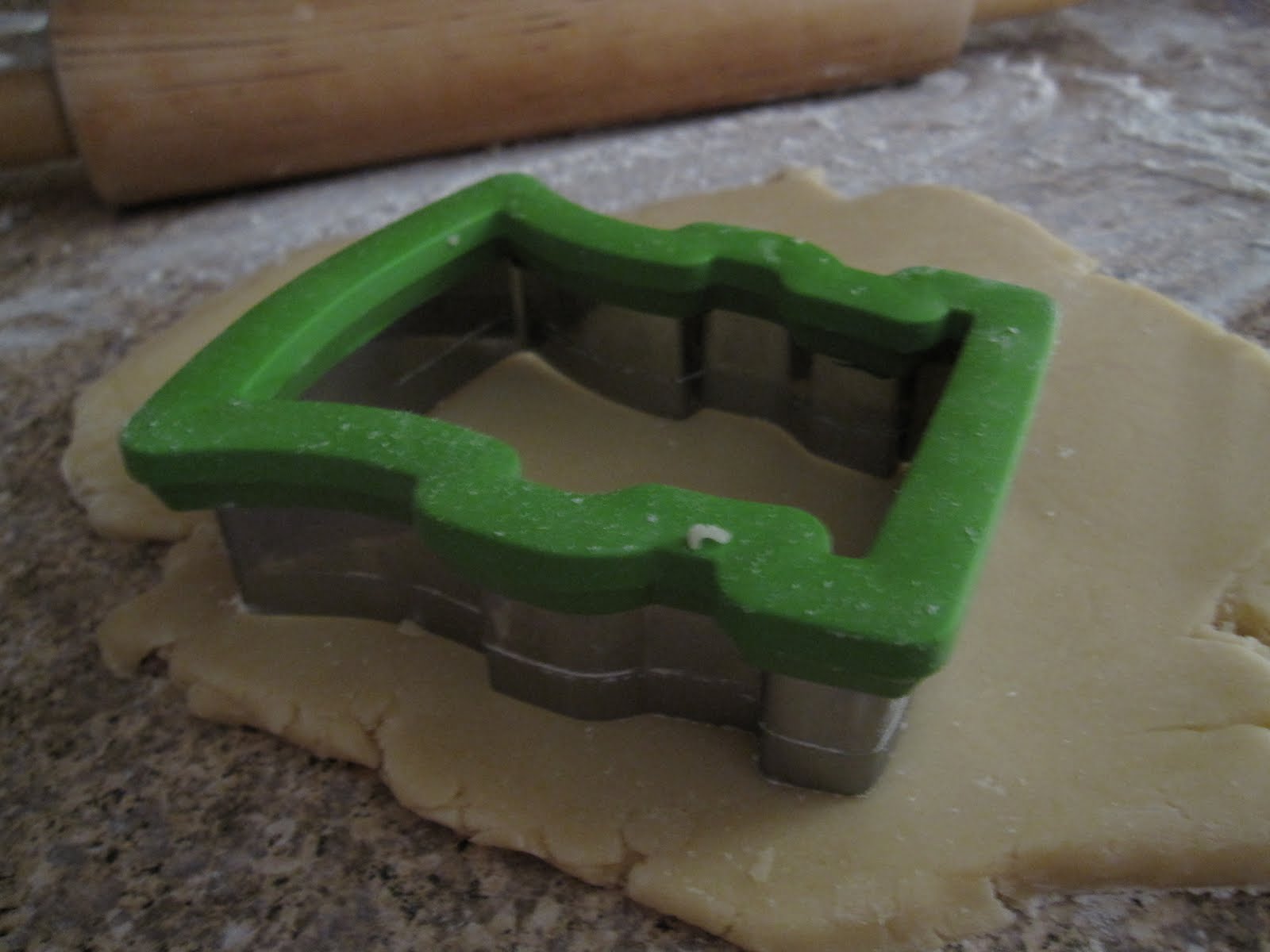 After 17 hours of straight baking and decorating and only having 100 Frankensteins to show for it I started to panic.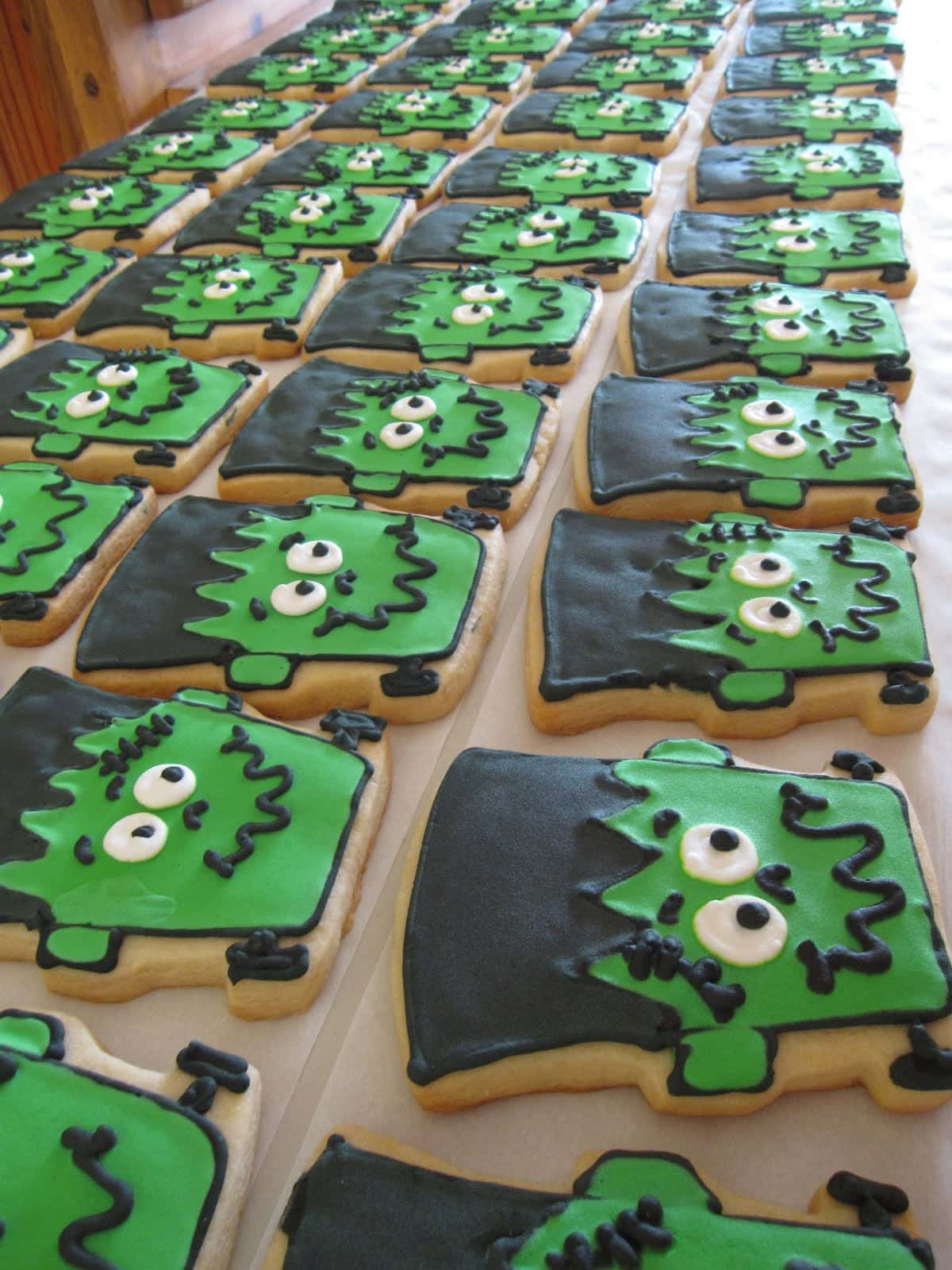 Monday was gone and I had so many left!
Tuesday I figured I had to pick up the pace a little, so I started the Bride of Frankensteins and worked all day at a good clip.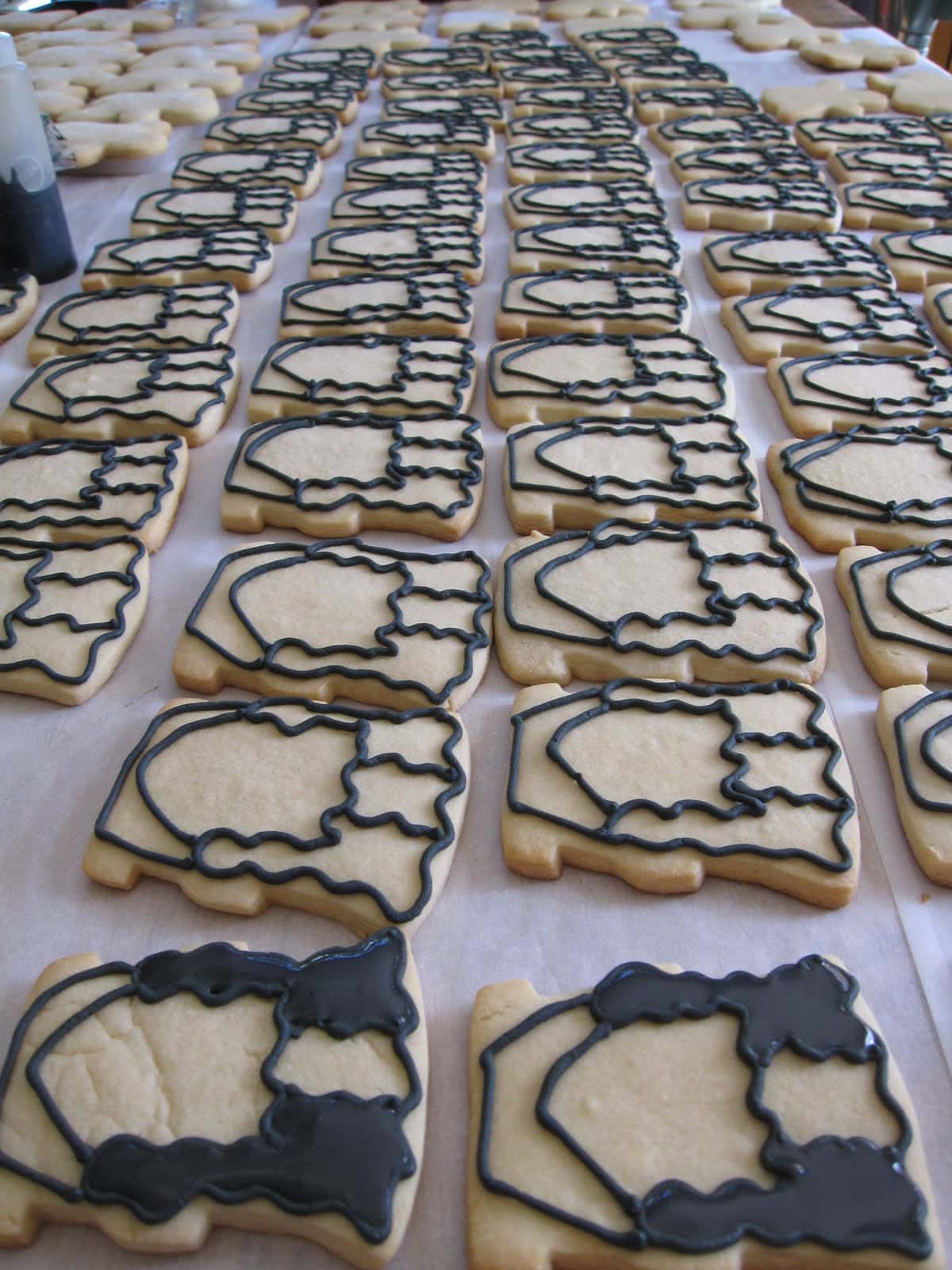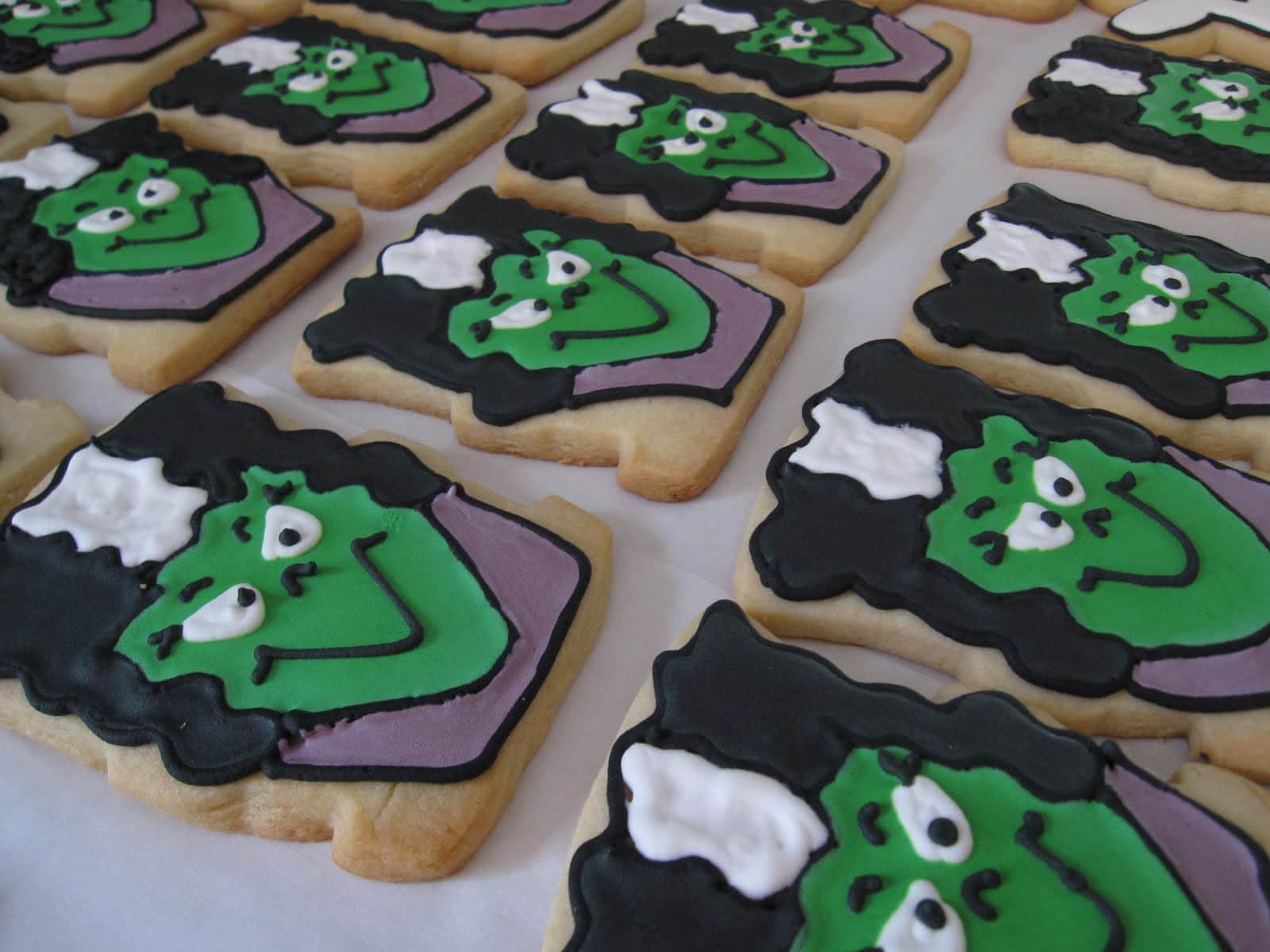 these were probably the most time consuming out of the bunch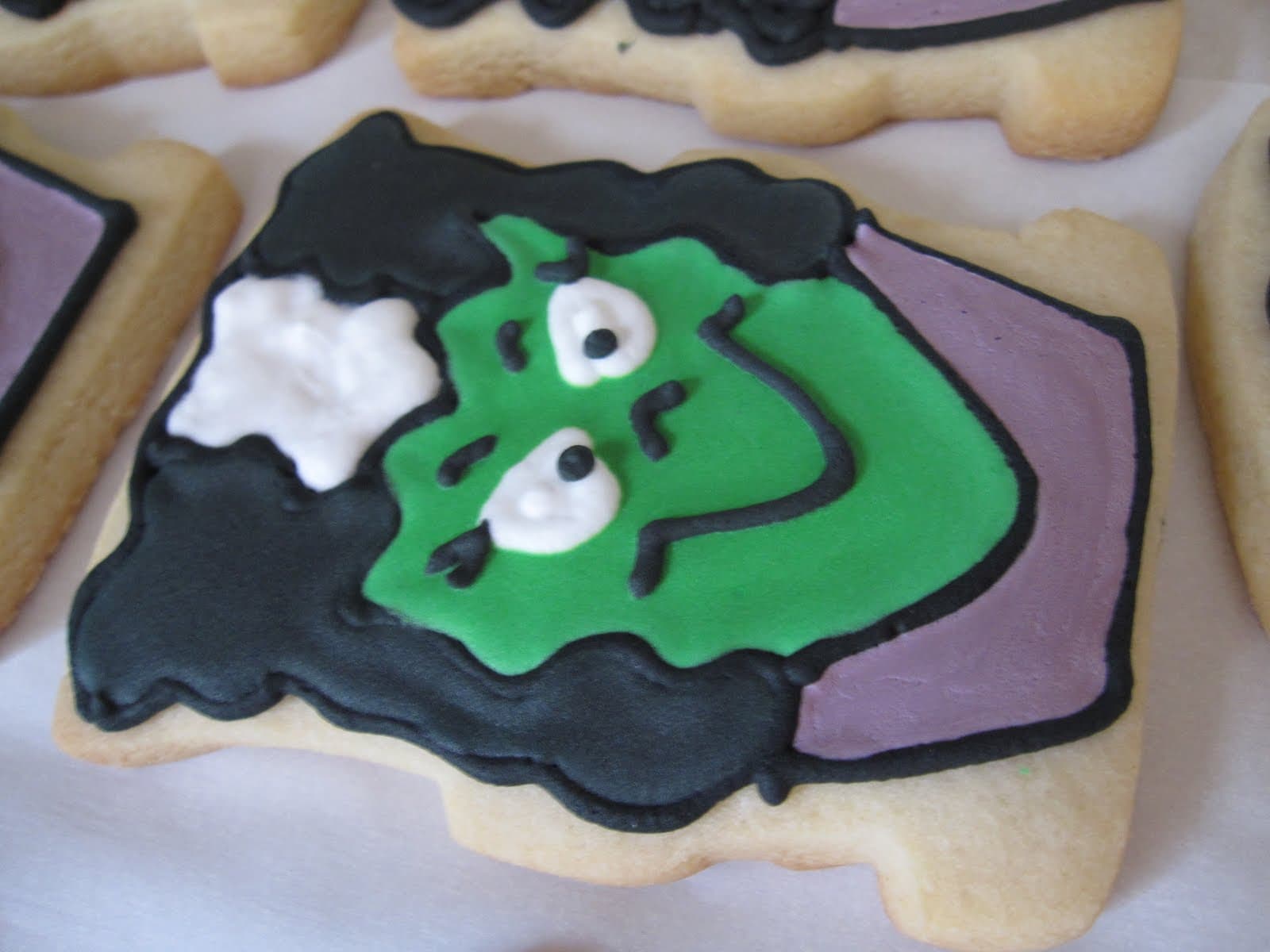 At about midnight on the second night I realized that sleep was going to have to take a back seat, so I started my 3rd day baking…ghosts.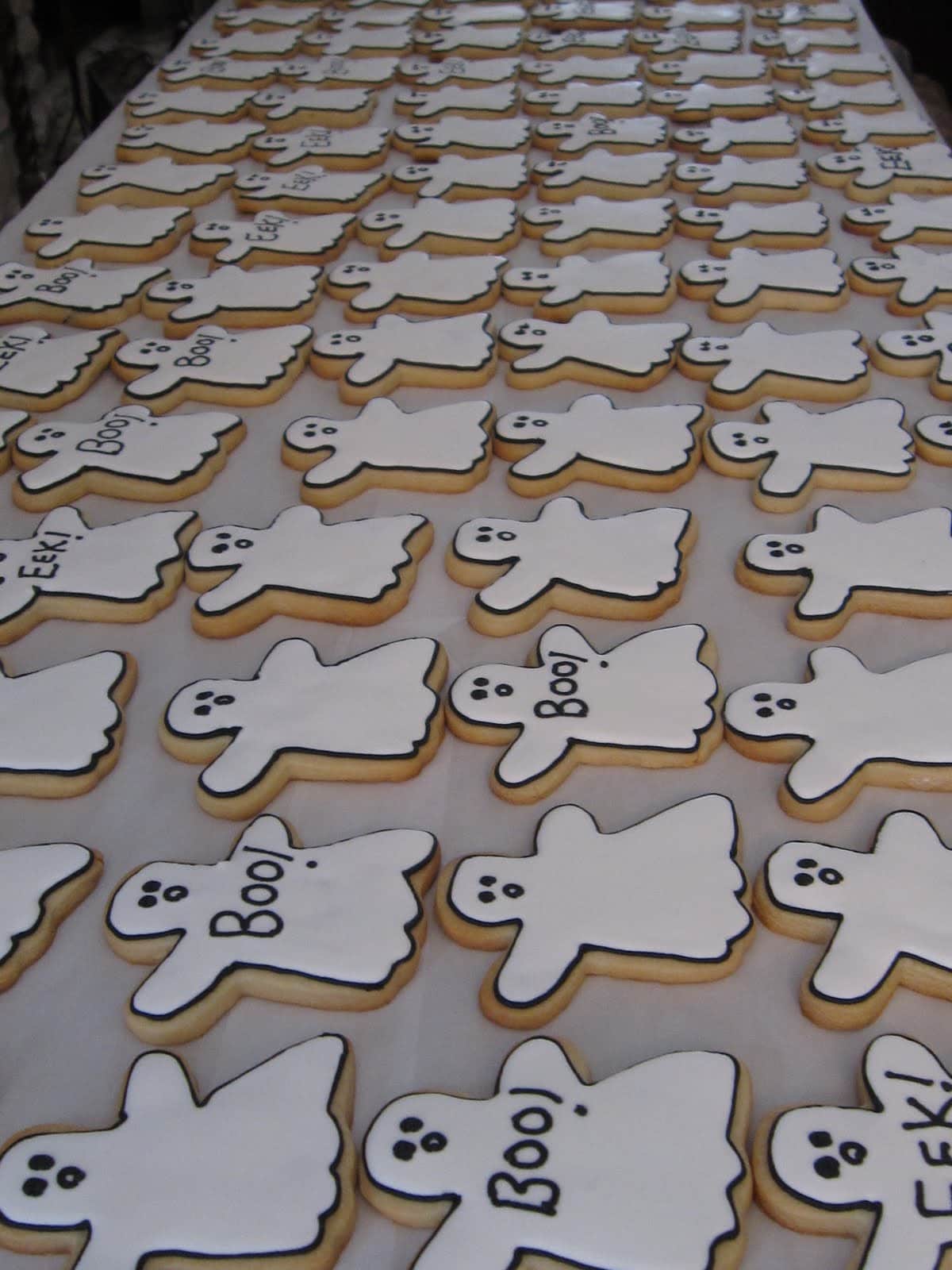 Spiderwebs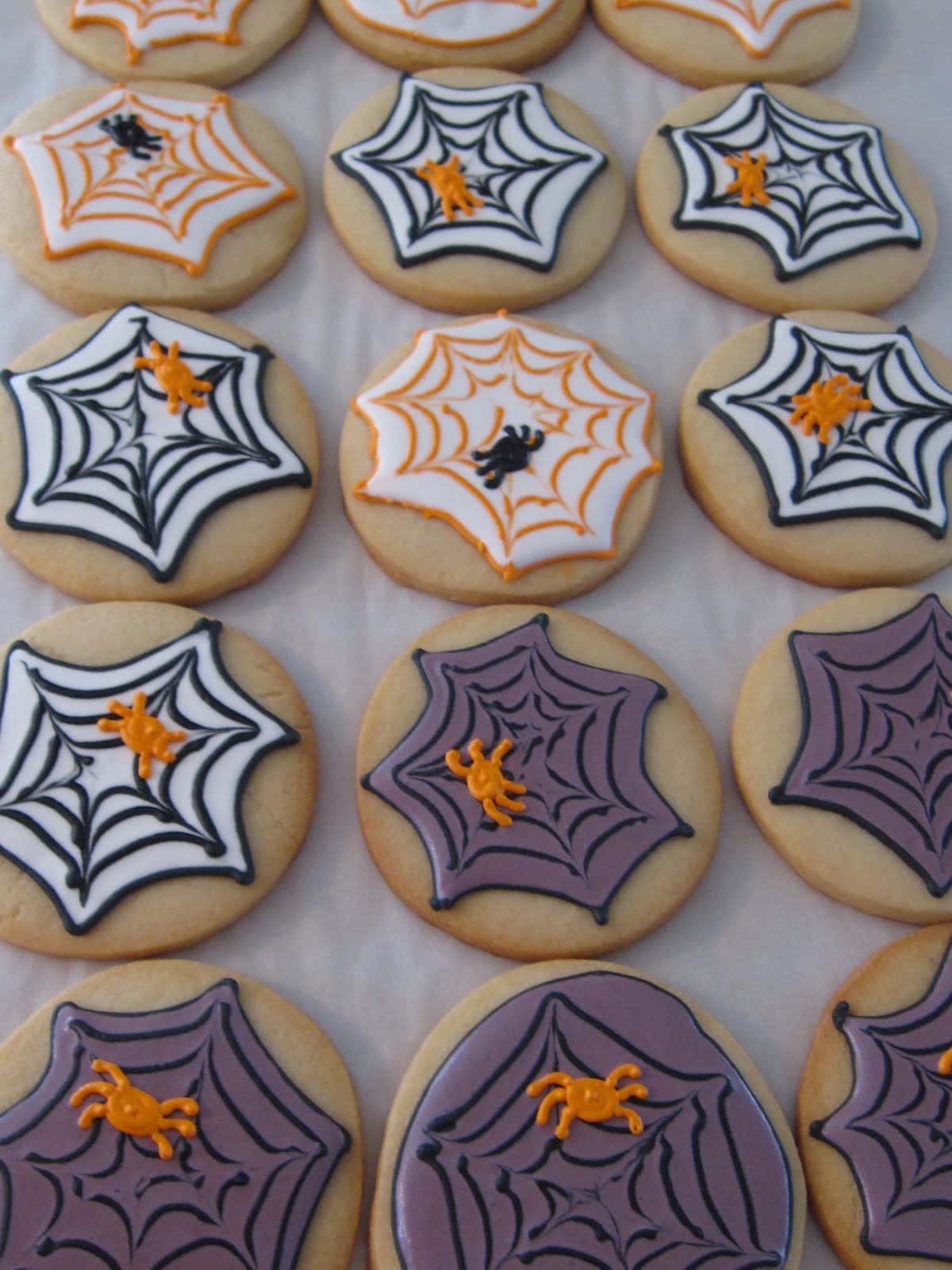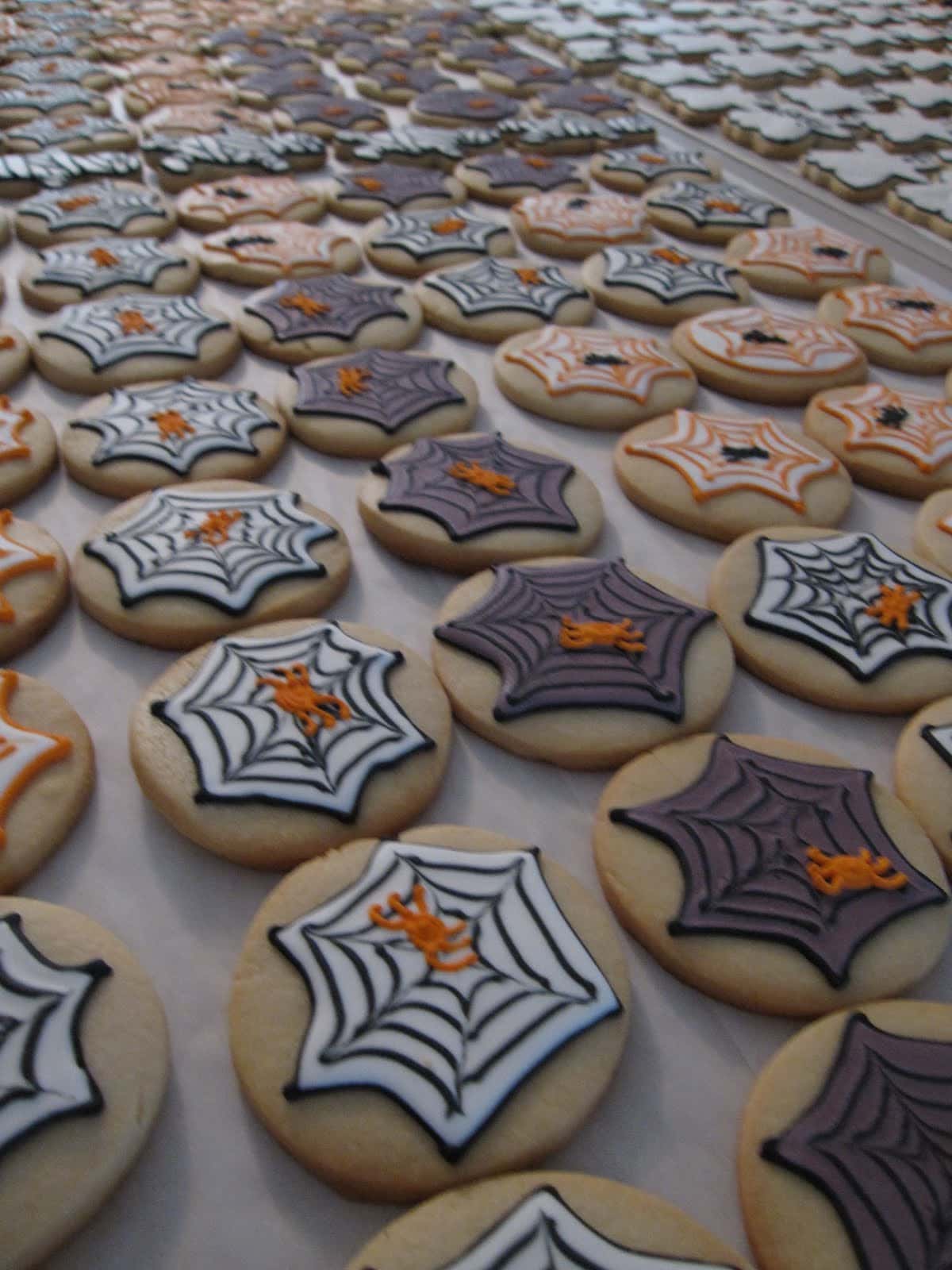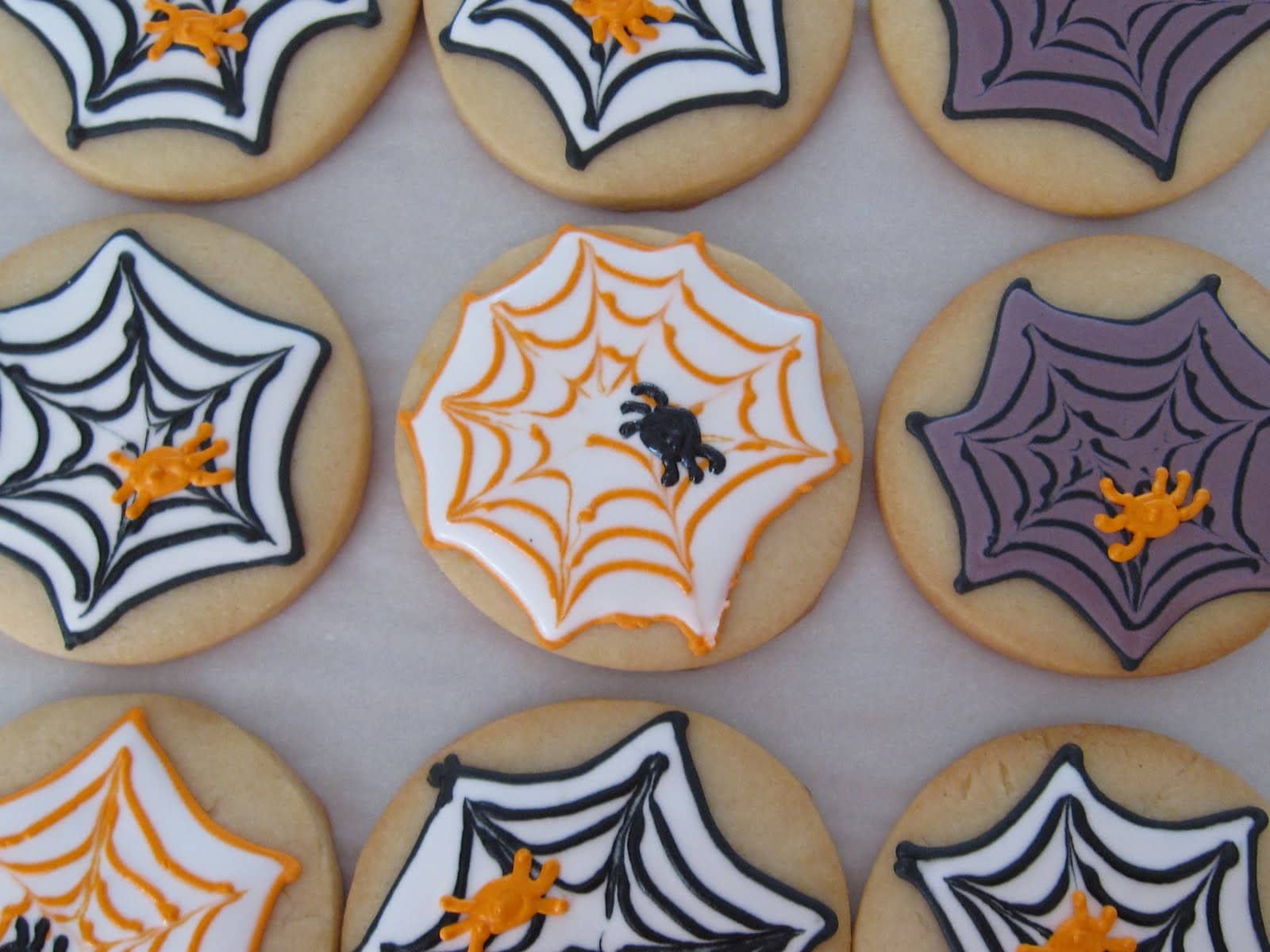 mummies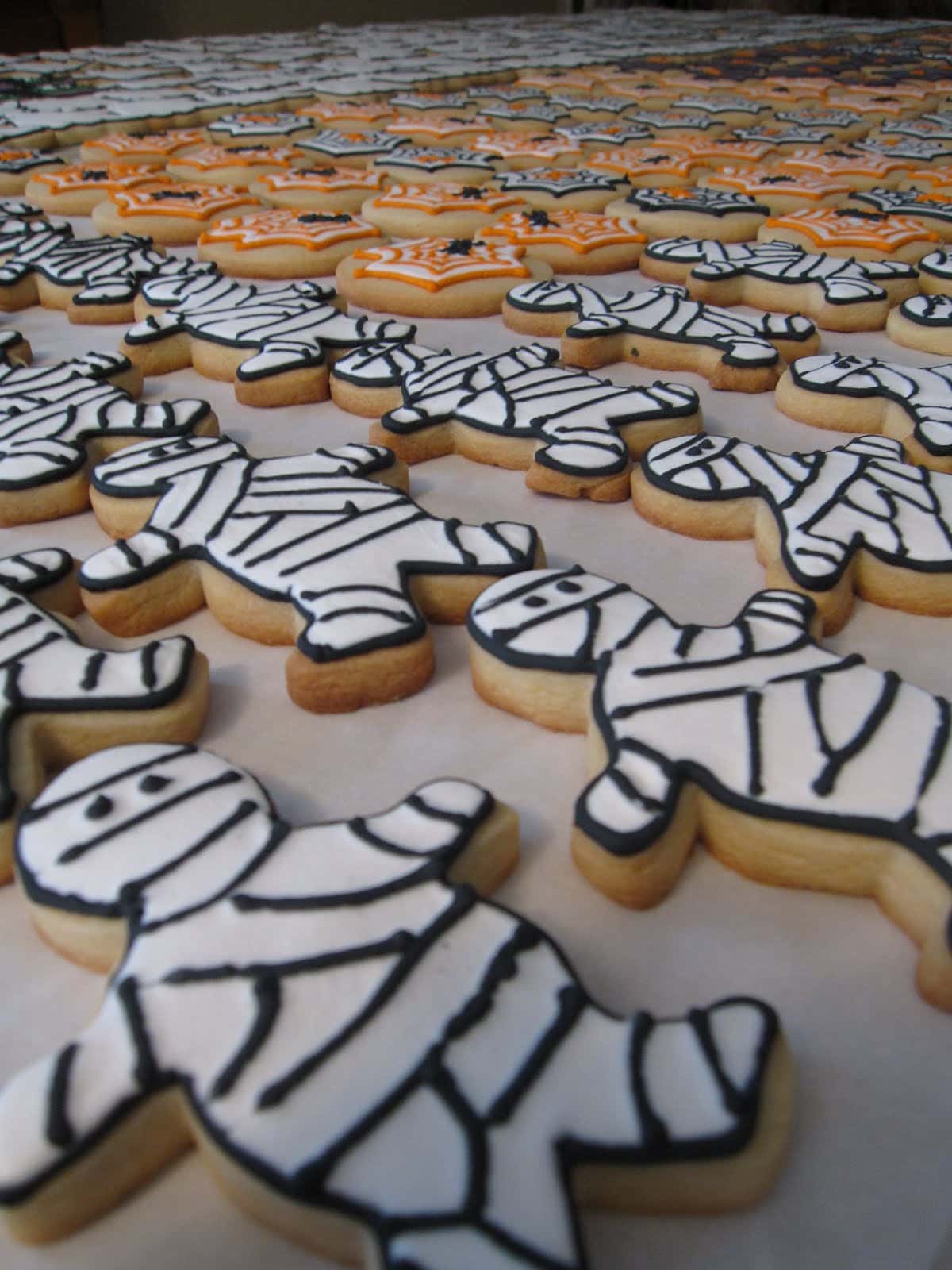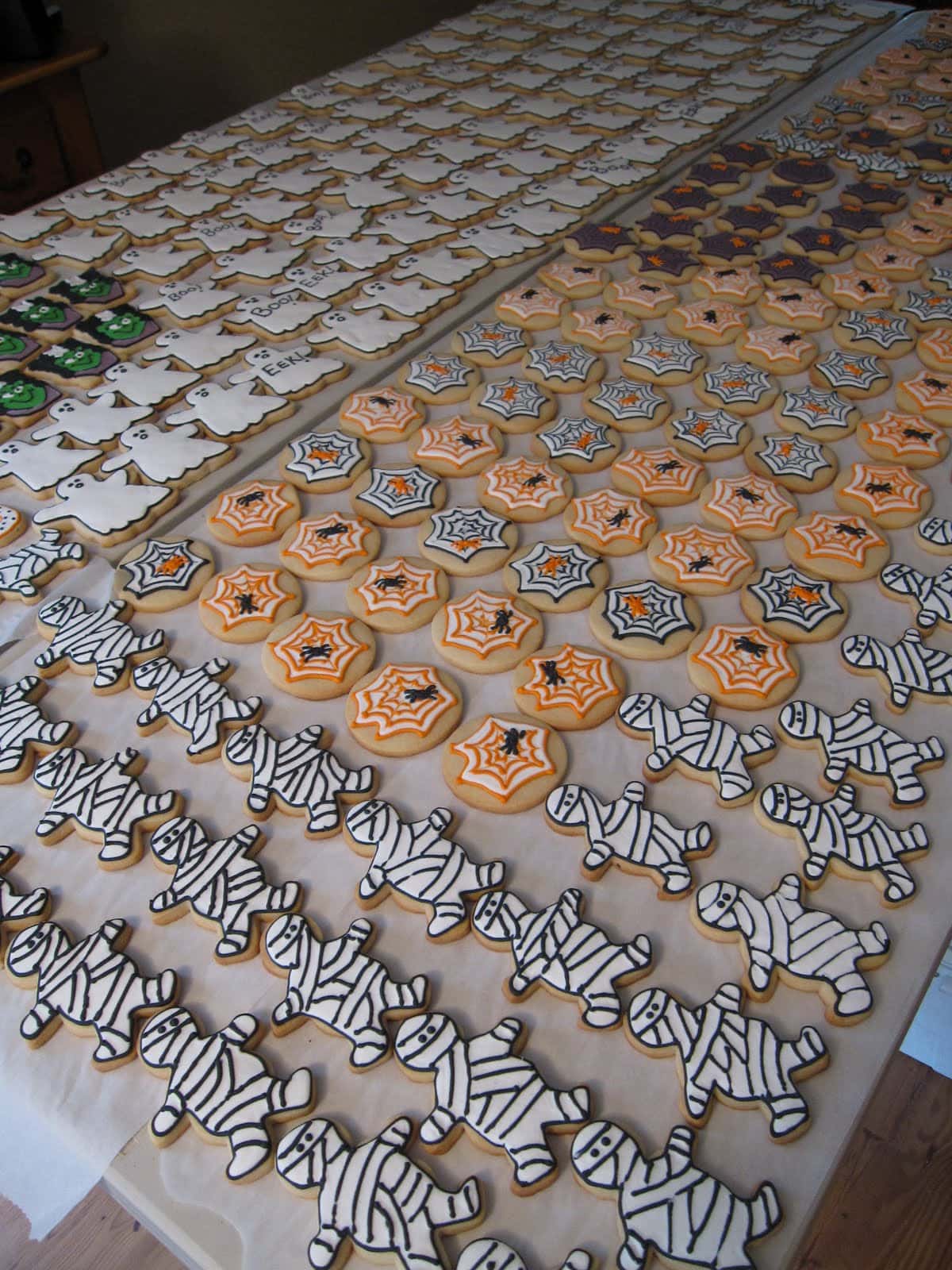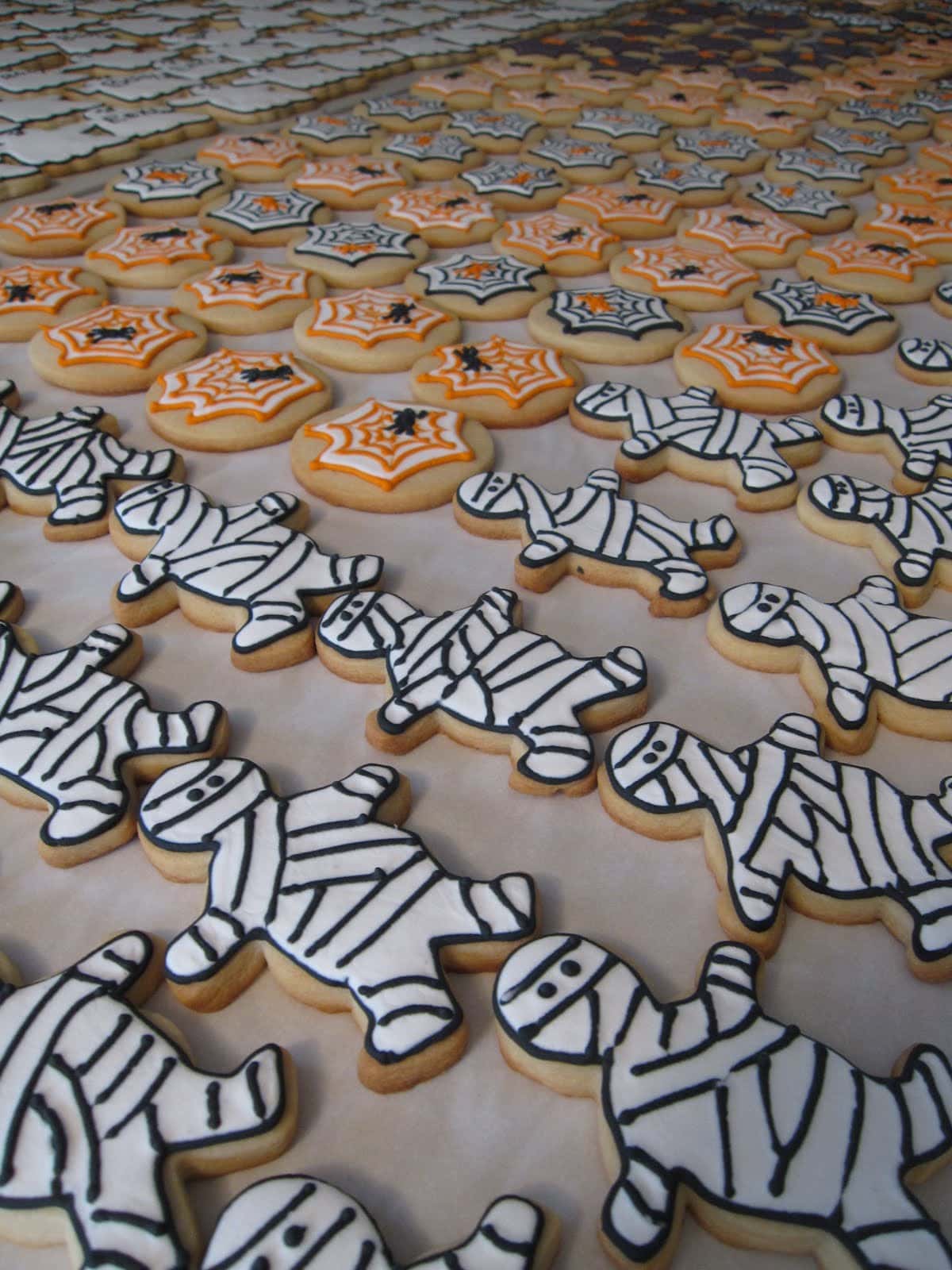 and a few "Boo"s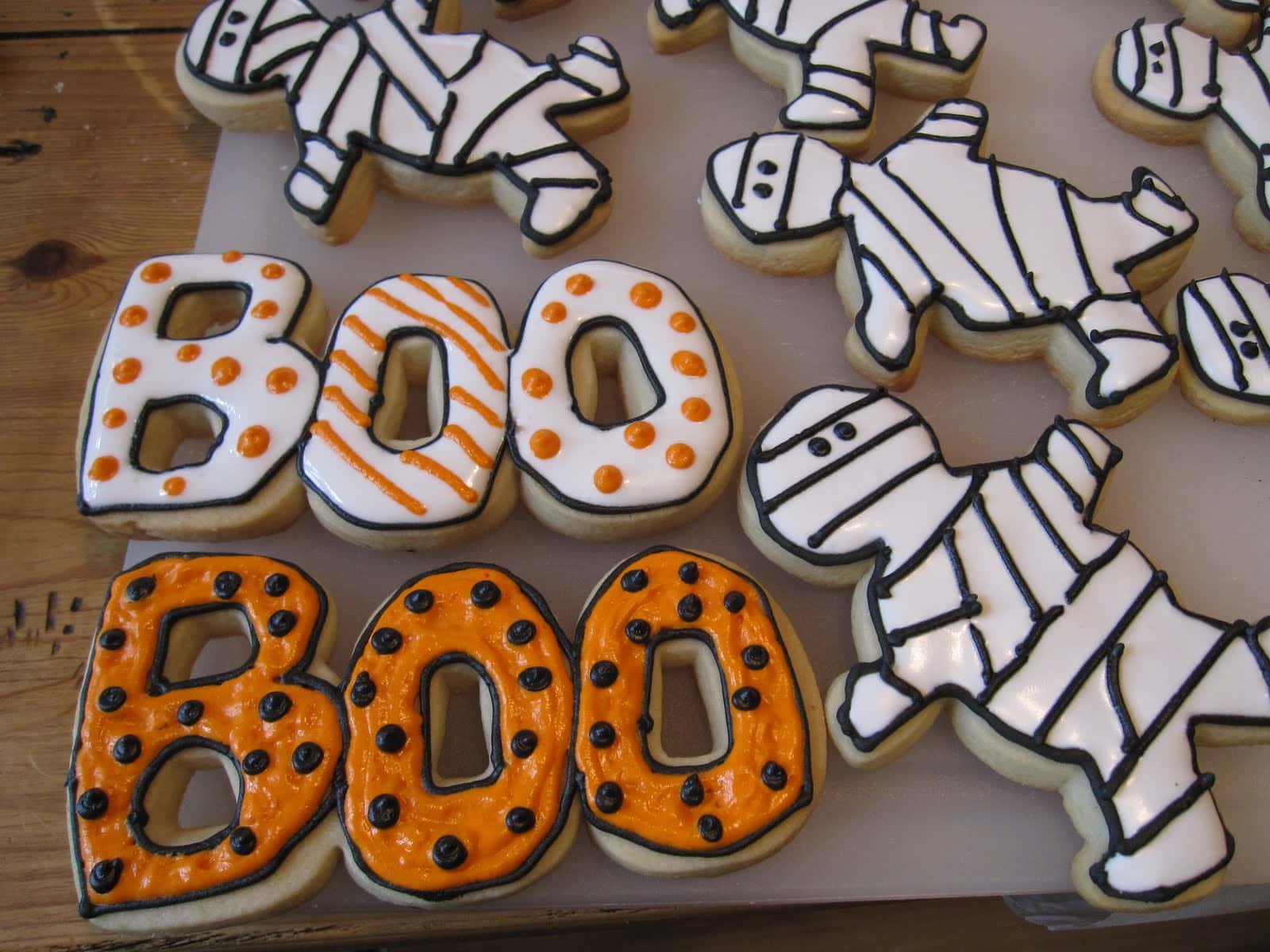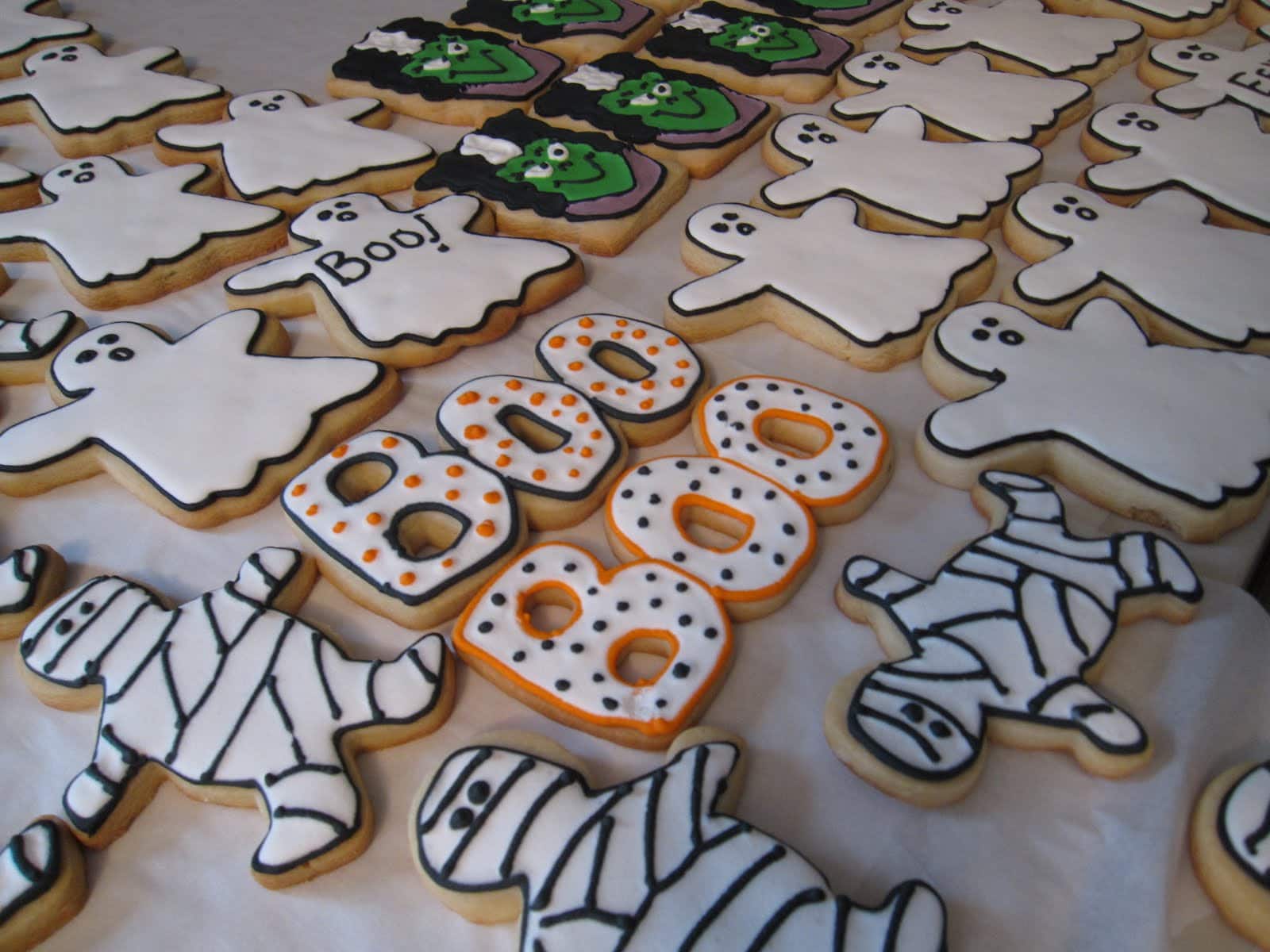 I guess I forgot to say that I was working at a friend's house with 1 oven. After Tuesday it was all a blur. I don't really know where one day ended and another began.
I finally finished decorating Thursday morning only to begin baking the 30 dozen drop cookies.
I made chocolate chips…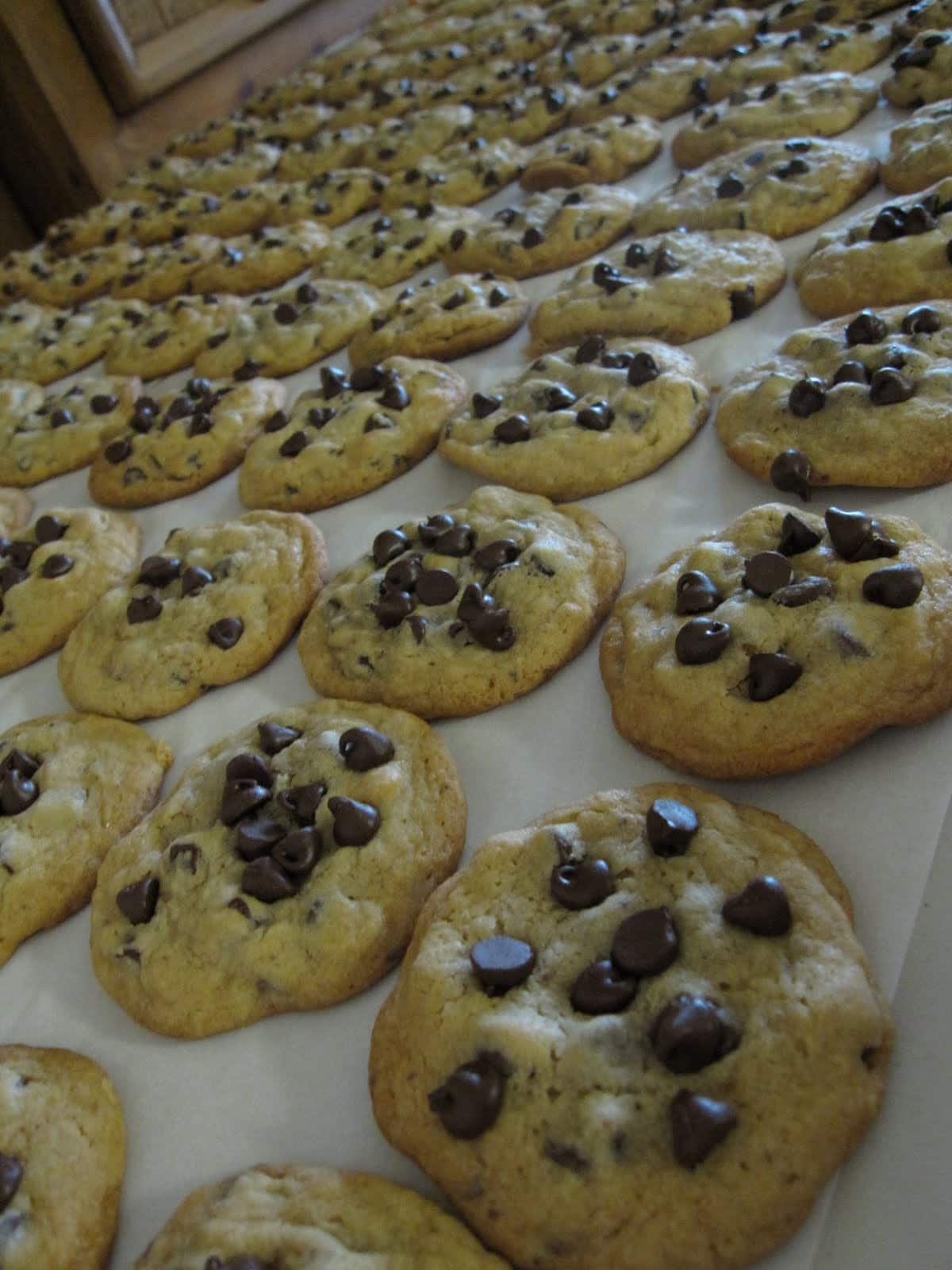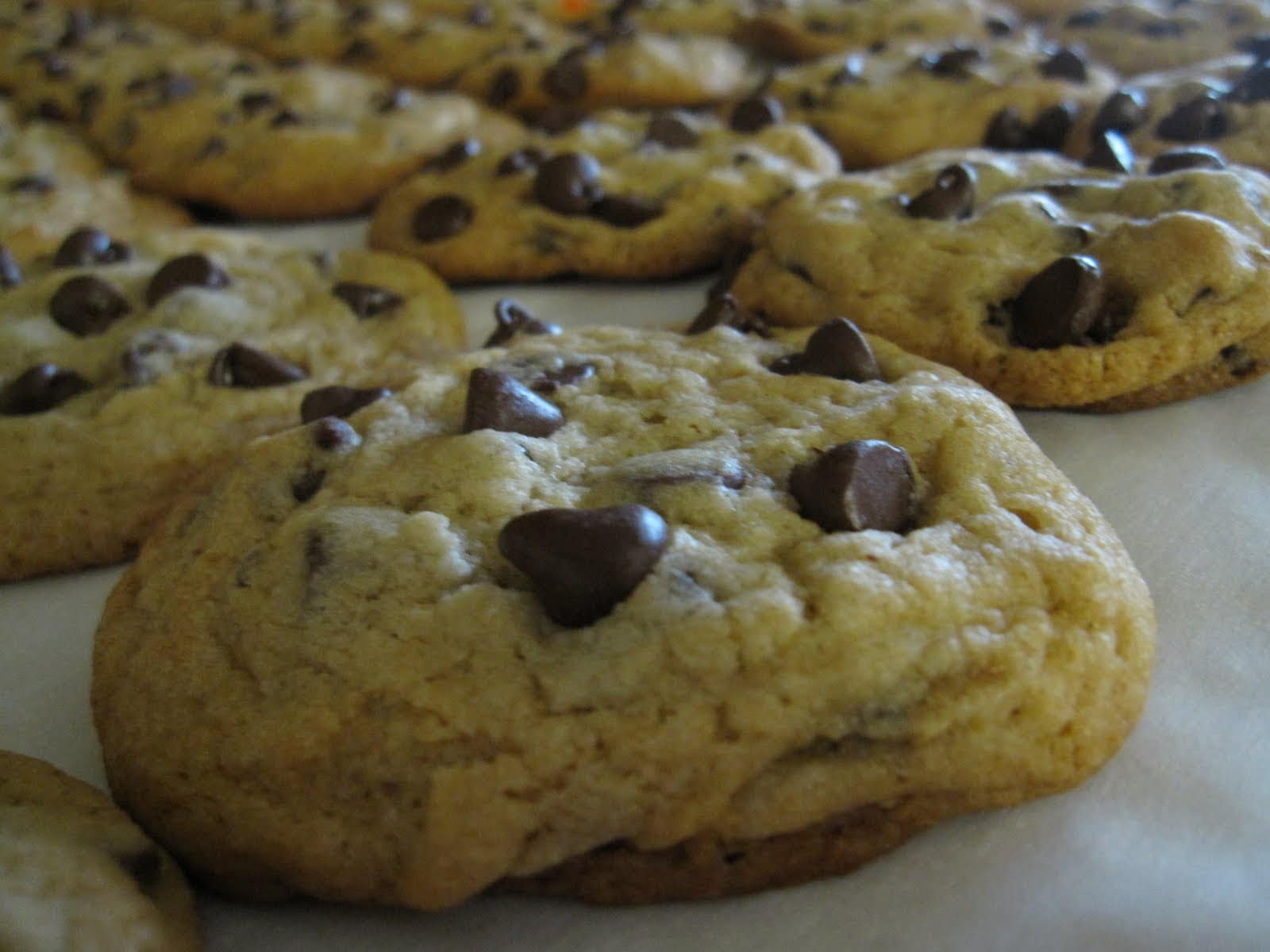 M&M's
…
Snickerdoodles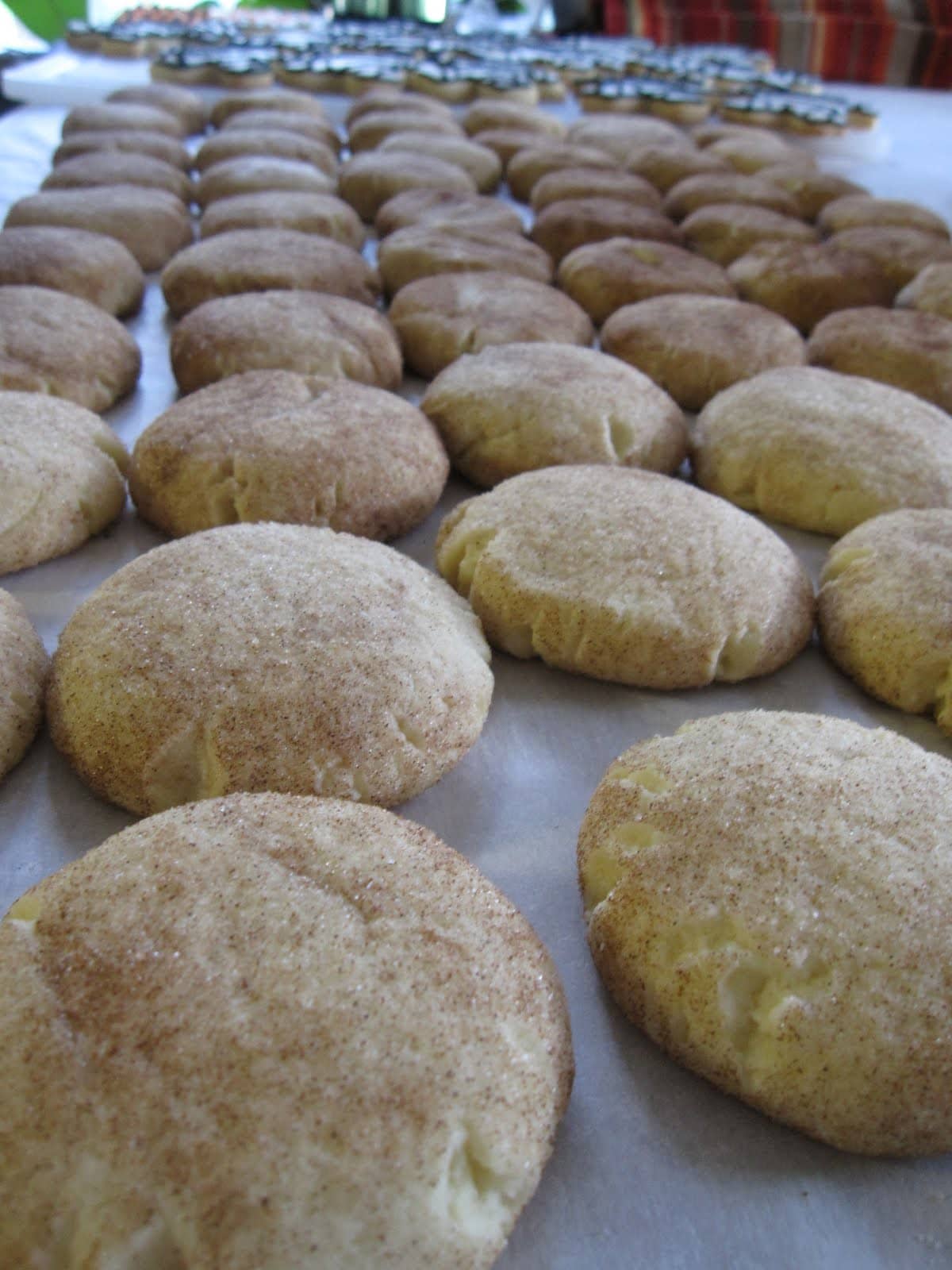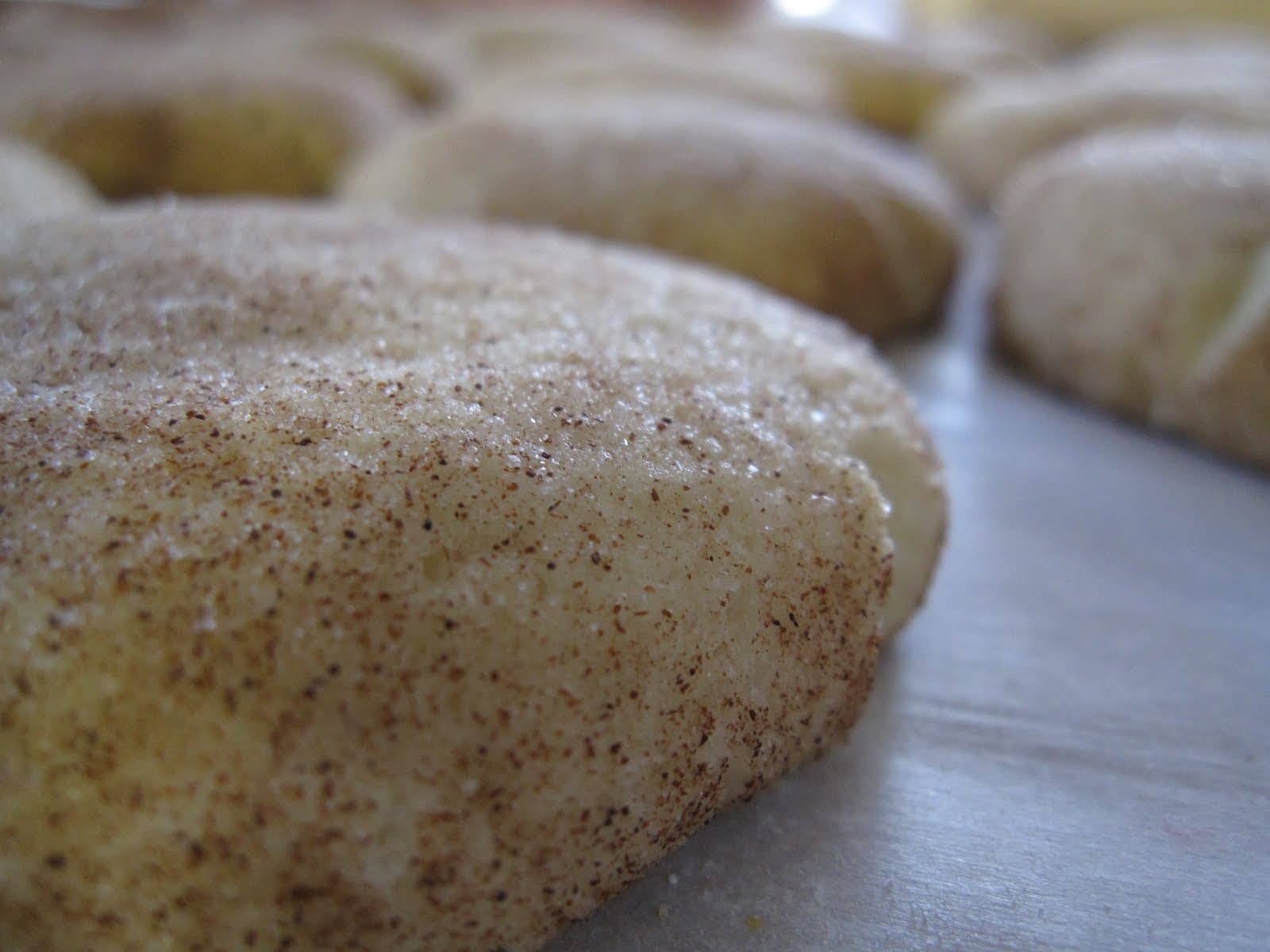 and Toffee Chip and Oatmeal Raisin that I was too tired to take pictures of.

At midnight on Thursday I was done…in more ways than one 😉
Done baking, done bagging, done tagging and done being awake!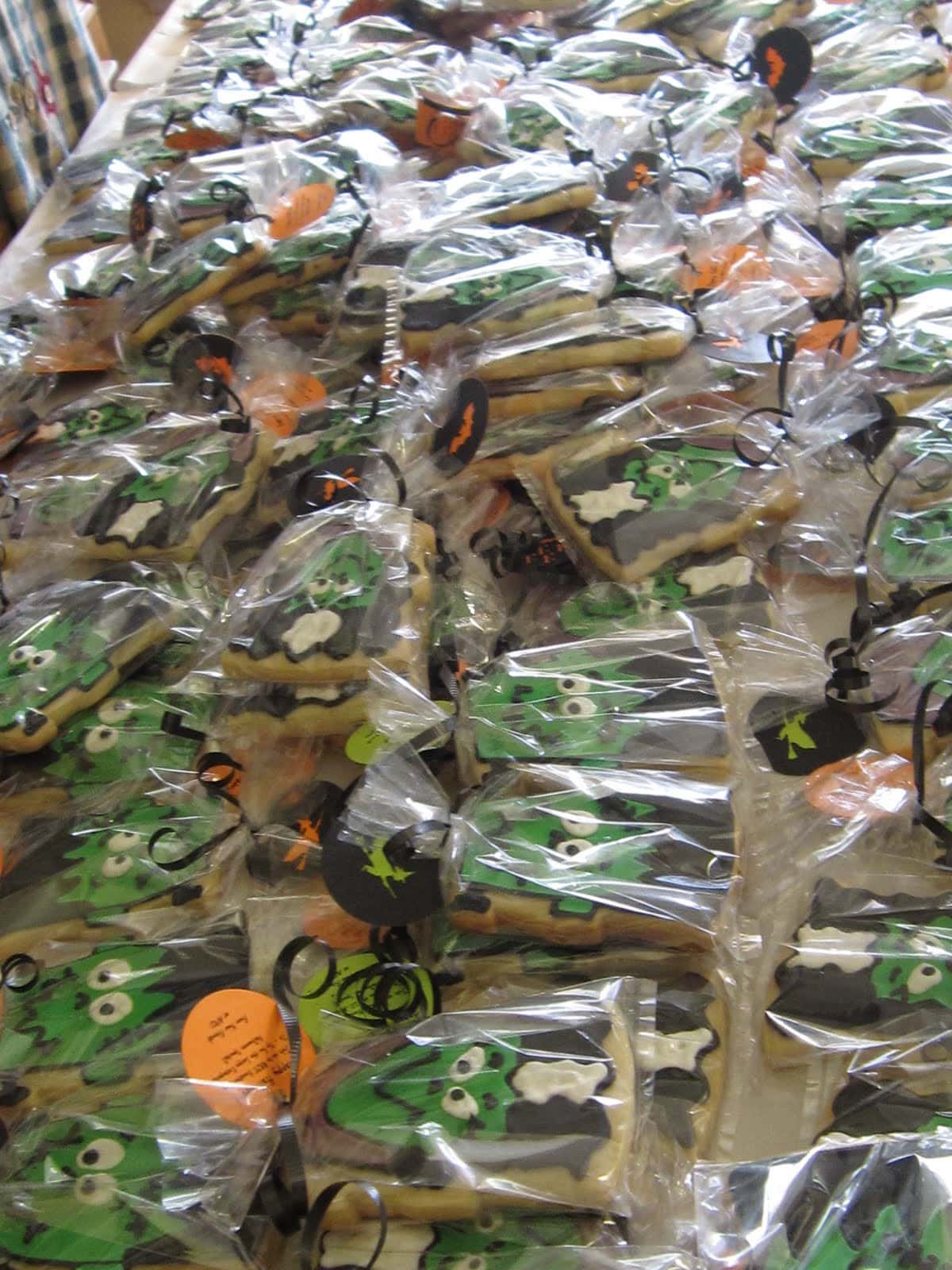 I only sat to decorate and sleep. There was no rest, there was no fresh air…only cookies.
They all turned out adorable.
I will say, though, I was able to eat at Papasitos, which was truly unavoidable. For anyone who is from Texas you know you can't miss that. And living in New Jersey where Mexican food does not exist there was only one place to go. Love that place.
Now the question I have been asked is "Would you do it again?"
Answer: duh, absolutely!
I love to gripe and complain but, seriously, the experience alone was more than worth it!! The people at Dell are so nice and if by chance they ever ask me to bake again for them, the answer is, quoting Whitney Houston, "Hell to the yeah", people.
Maybe I haven't caught up on sleep yet 😉

Oh, by the way my girlfriend and I baked some cookies for her to take to work one day just for fun. They were chocolate peanut butter cup cookies with a cream cheese filling…
maybe I have lost my mind 🙂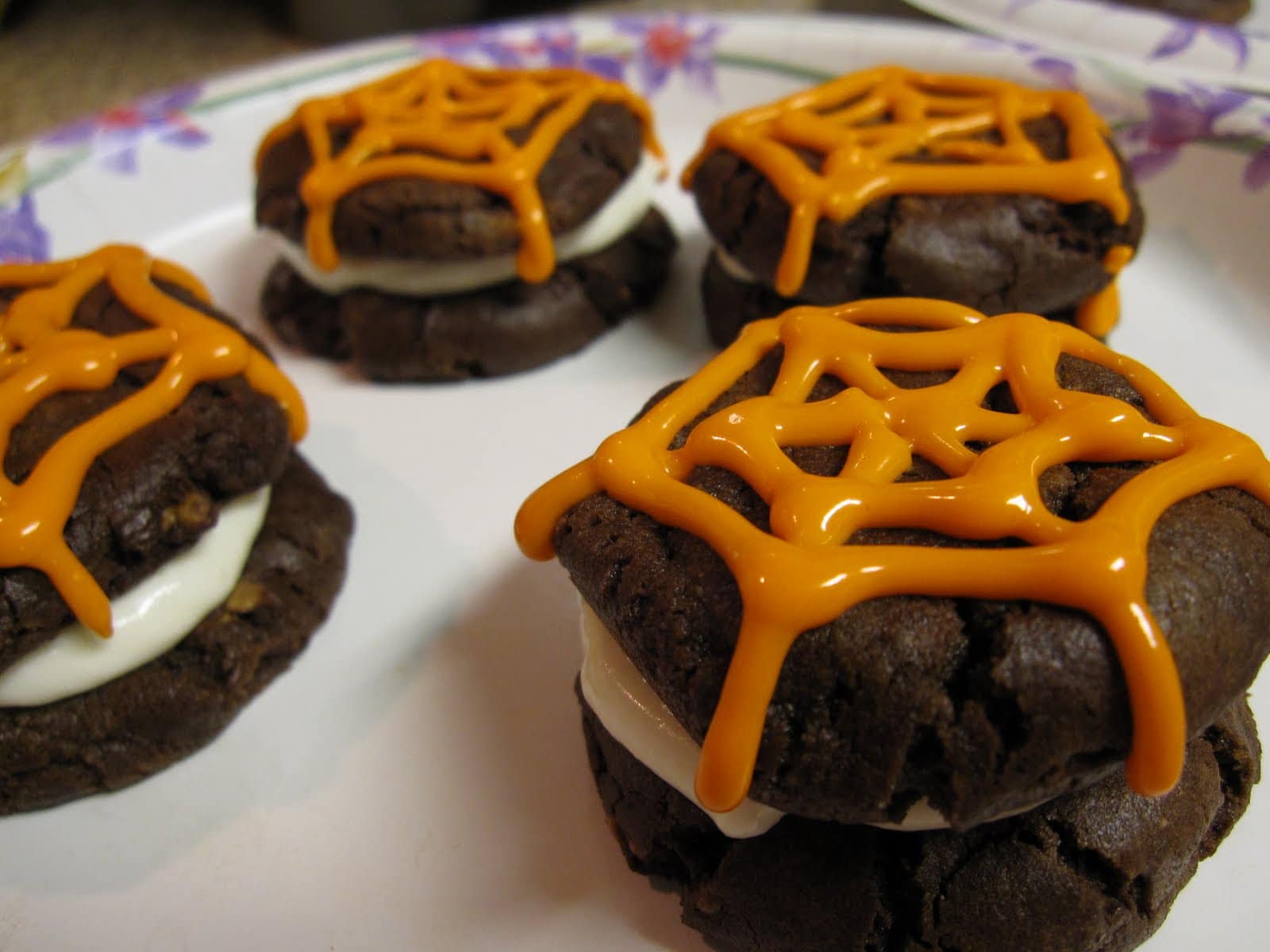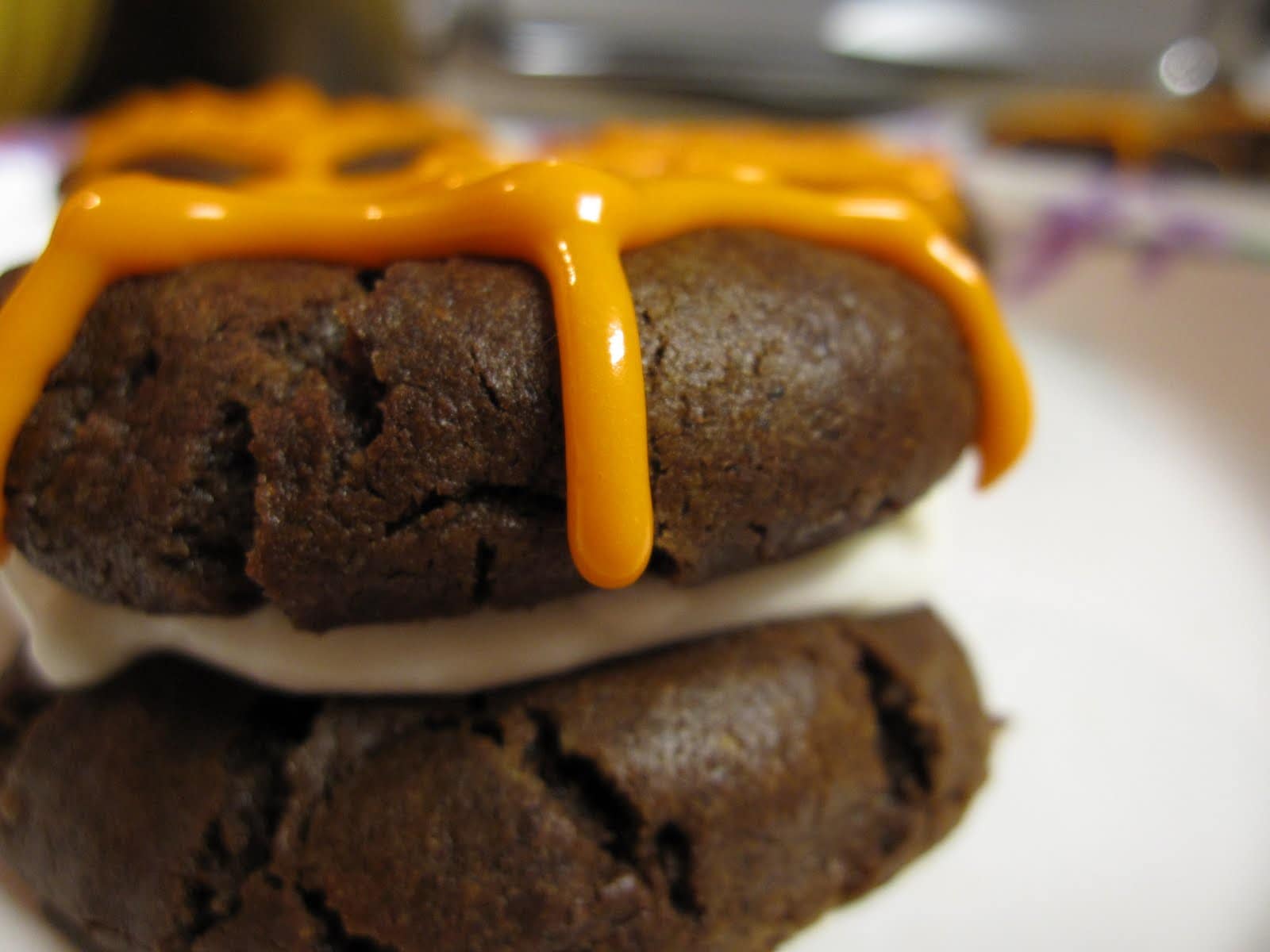 Now, back to reality ~ Thanks Dell!