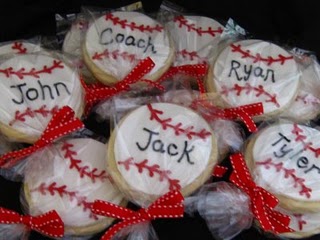 Here's another entry on the baseball theme…
My son's T-ball season ended today, it was his first time playing and I think he did great. The coach had the end of the year pizza party and I made some cookies for the boys.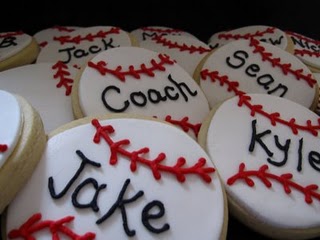 Baseball cookies are probably one of the easiest to make…Simple round cutter and minimal icing. This time I used rolled fondant (Satin Ice) for the white ball. I had tried this technique in the past when doing soccer balls and some Christmas cookies ~ for me it's just easier to roll out the fondant and use the same cookie cutter to cut the exact right sized ball. I brushed each cookie with a touch of corn syrup to help the fondant stick and then piped on the stitching and each player's name with
royal icing
.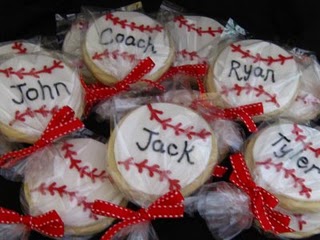 No summer sports for us unless you count my older son training for cross country…guess I had better figure out how to make a sneaker!