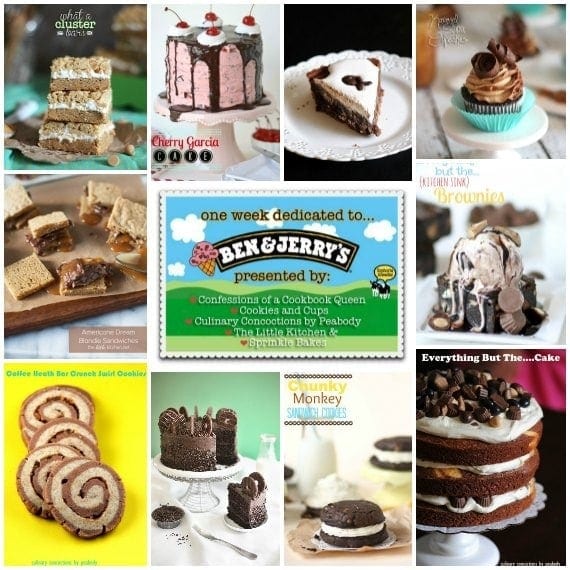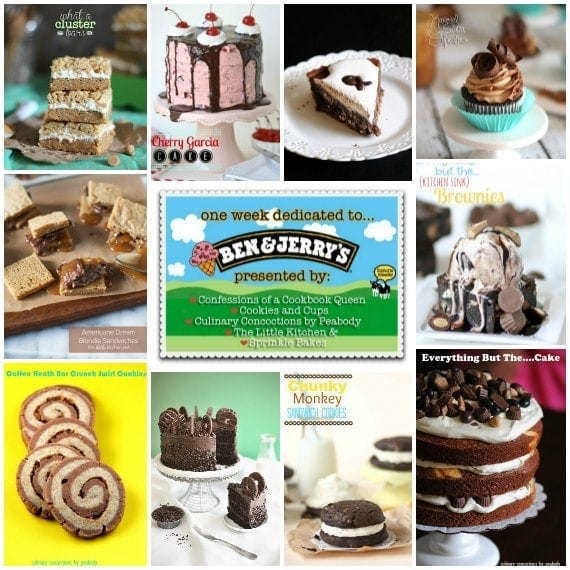 Hey there!
So Ben and Jerry's Week is in the can.
It was a totally fun week, but unfortunately (or fortunately?) it's sparked a trillion more ideas, because B&J's has some pah-rittee excellent flavor selections.
Before we start planning the sequel though, let's recap the week that was…
Day 1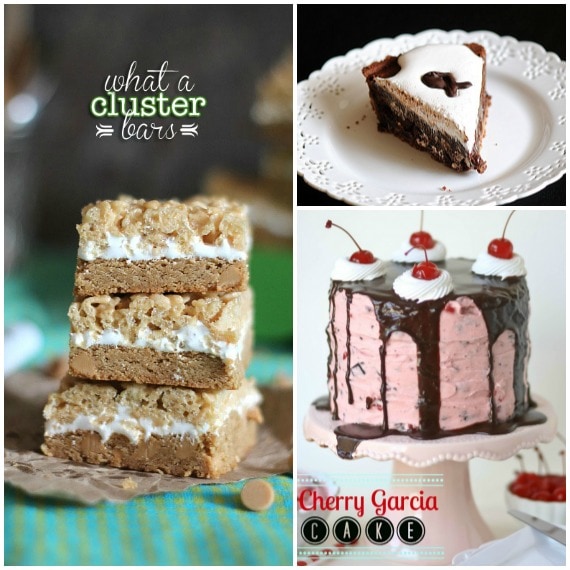 I made What A Cluster Bars. They are a peanut butter blondie base, with Marshmallow Fluff filling, topped with caramel krispies. Basically the perfect bite!
Kristan made Cherry Garcia Cake. Talk about impressive…it's a rich dark chocolate cake with cherry buttercream that's loaded with chocolate chunks and sweet cherries. I need a slice or 4.
Peabody made Phish Food Pie. Phish Food is my kid's favorite and this pie is loaded with all the flavors of the ice cream…It's a brownie caramel pie topped with Marshmallow Fluff and cute little chocolate fishies 🙂
Day 2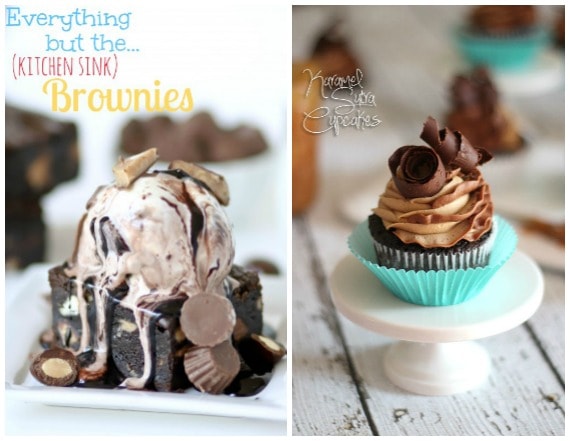 Kristan made Everything But The…(Kitchen Sink) Brownies. And yeah these brownies have just about everything. PLUS Kristan topped them with their B&J namesake, which is basically the smartest thing ever.
I made Karamel Sutra Cupcakes. I'm not even a little bit sorry about these. They're Devil's Food Cupcakes, filled with caramel sauce and topped with a chocolate caramel frosting and chocolate curls. Yeah, they're good.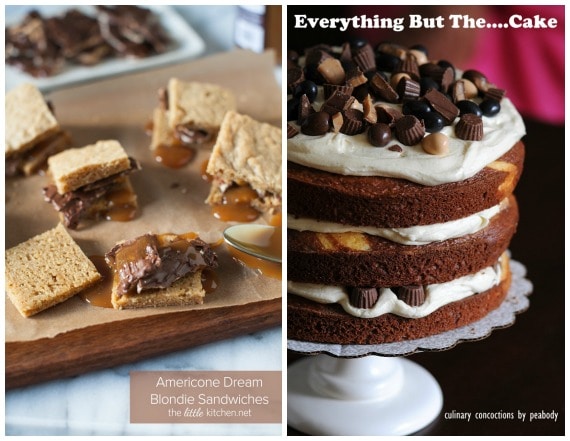 Julie joined us today and made Americone Dream Blondie Sandwiches. They're a perfect blondie sandwich filled with chocolate covered cones and caramel sauce. Umm, yes.
And Peabody made Everything But the…Cake. Which I just want to climb into and live there forever. It's a Chocolate and Vanilla Swirl Layer Cake with White Chocolate Buttercream Frosting and if that 's not enough there are peanut butter cups stuffed in one layer , Heath Bar Chunks in the other layer all topped with more peanut butter cups, Heath bar AND chocolate covered almonds. I can't breath.
Day 3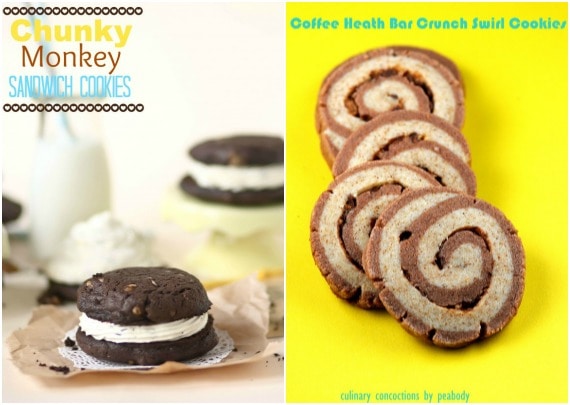 Kristan took on Chunky Monkey and made Chunky Monkey Sandwich Cookies. Good choice. These are dark chocolate cookies with walnuts filled with a ice-cream-ish banana frosting with chocolate chunks. I need to make that frosting asap.
Peabody made some totally cute Coffee Heath Bar Crunch Swirl Cookies. Besides being pretty, they are totally what I need for my 3:00 caffeine fix.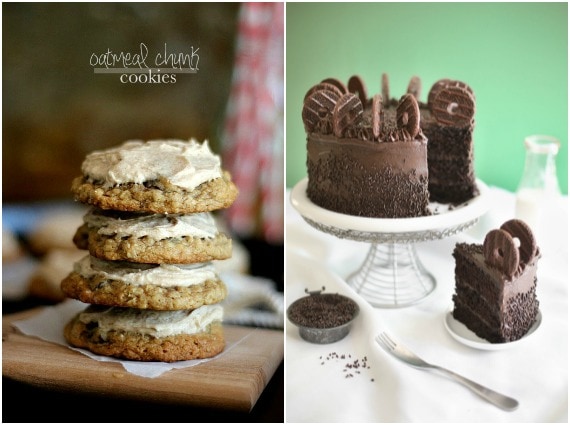 Finishing up the week I made some Oatmeal Chocolate Chunk Cookies with Cinnamon Buttercream based on the Oatmeal Chunk Cookie flavor. Make these cookies now. Seriously.
And Heather joined us to end on a classy note and made the most gorgeous Chocolate Therapy Cake you ever did see. It's a chocolate cake with chocolate covered cookies baked in (oh yes) with a delicious chocolate pudding buttercream, which I CANNOT wait to make.
So there you have it…11 totally different desserts based on 10 of your favorite Ben and Jerry's flavors.
I'd love to hear if you have any flavor requests if a sequel week happens!
Have a great weekend!