I make a lot of Chocolate Chip Cookies around here. So today, on National Chocolate Chip Day(who knew?) I decided to put all my Chocolate Chip Cookie Recipes (so far) in one place for you! The Best Chocolate Chip Cookie Recipes on Cookies and Cups!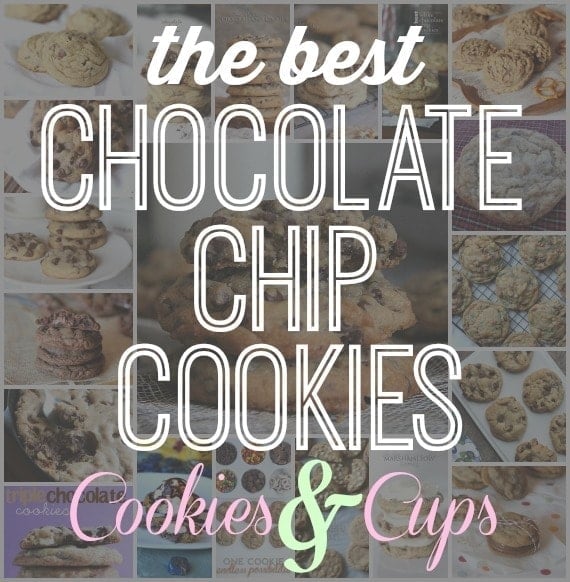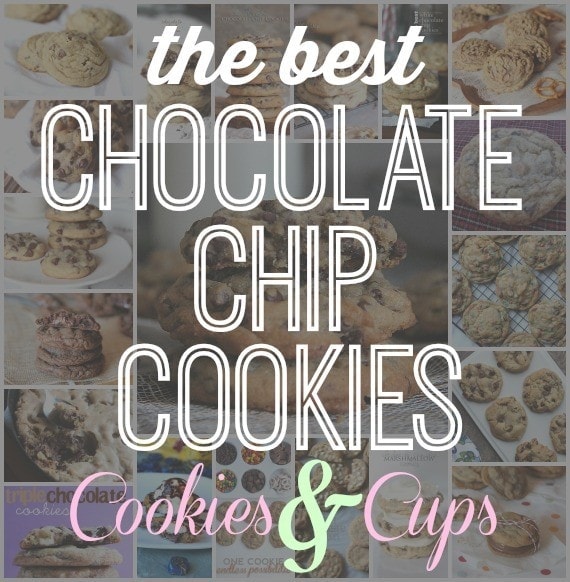 Yes, I will admit that I am a bit of a Chocolate Chip Cookie addict. And when I started thinking about all the recipes I had on my site for varied versions of the classic cookie, I realized I should really consolidate them all, so we could have a quick go-to list!
Chocolate Chip Cookies with Candy? Got it covered.
Whole Wheat Chocolate Chip Cookies? Done.
Chocolate CHUNK cookies? Easy.
SO let's take a look back at all the recipes, and be sure to bookmark or PIN the images so you can come back to them fast and easy!
I've even created a fun Chocolate Chip Cookie Pinterest Board that has all of these recipes pinned to it. Follow me there and I'll continue to add chocolate chip recipes as I find good ones!
First up, let's talk about some of my Favorite Chocolate Chip Cookie Recipes…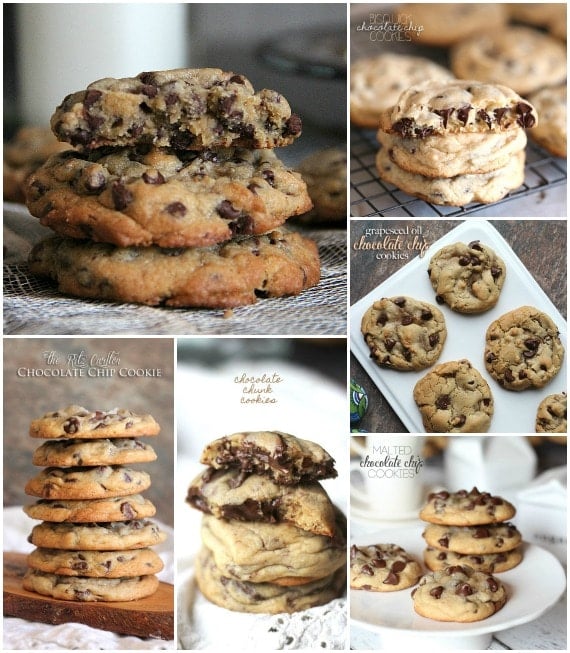 Up top left you have my all-time favorite Chocolate Chip Cookie. Made with mini chips and sea salt. Perfection in my book!
Working clockwise we have a new recipe that is a quick and easy cookie. It's the Bisquick Chocolate Chip Cookie. SO good!
Below that I did a fun experiment using Grapeseed Oil in place of butter. Totally worked and was totally delicious. You could actually use any type of oil..try out these Grapeseed Oil Chocolate Chip Cookies for sure!
Below that are another favorite of mine…Soft Malted Chocolate Chip Cookies. Now, if you're not a malt fan, these aren't for you..but if you are MAKE THEM!!
In the lower middle are my perfect Chocolate CHUNK Cookies. Some people don't like the mini chip and these promise to pack LOADS of chocolate in every bite!
Lastly in this picture are my fancy-schmancy Ritz Carlton Chocolate Chip Cookies. These make HUGE cookies that are really perfect and traditional. Plus, this recipe makes a TON, which is always a good thing!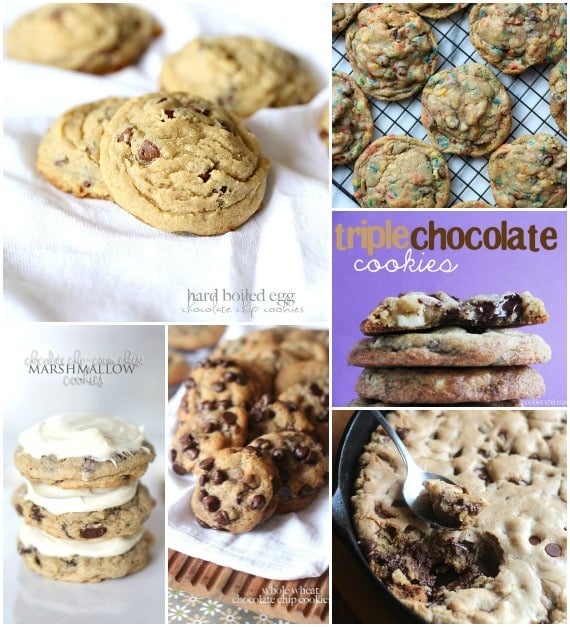 Moving on we have some fun versions of chocolate chippers…Top left are some crazy, but TOTALLY amazing Hard Boiled Egg Chocolate Chip Cookies. I swear it sounds weird, but really try them. They are dense and soft and OMGsogood!
The upper right-hand corner is a picture of my Birthday Cake Chocolate Chip Cookies. Loaded with sprinkles, cake mix and even Birthday Cake Oreos, the batter alone will knock your socks off!
Below those is an old recipe, but a totally delicious one, packing 3 different chocolate chips into one cookie! It's a Triple Chip Chocolate Chip Cookie and I love them!
ON the lower right is my Skillet Chocolate Chip Cookie. This one is best when you are short on time and want to impress! Everyone loves a gooey, soft cookie topped with ice cream, of course!
Next are Whole Wheat Chocolate Chip Cookies…don't be fooled by the whole wheat…they give these cookies a delicious, nutty, chewy flavor that you will LOVE!
Finally on this collage are my Chocolate Chip Cream Cheese Marshmallow Cookies. SO soft and delicious, with a marshmallow hidden inside. Plus, it's topped with Cream Cheese Frosting. Everyone's a winner.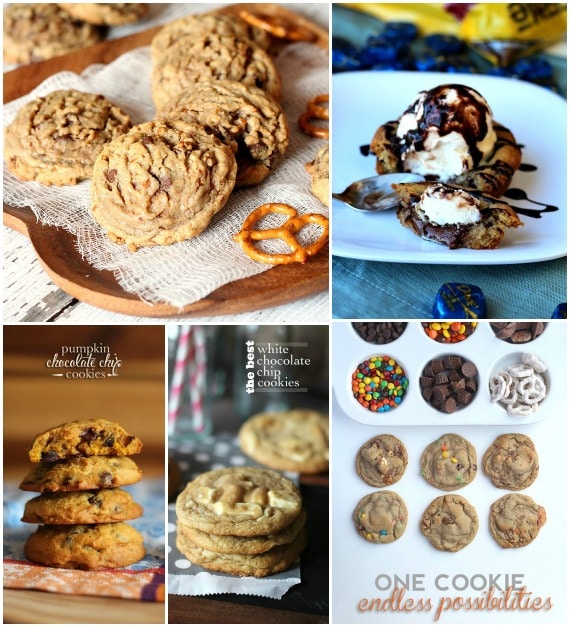 Yes, the list continues!
I love a salty /sweet combo. And my Salty Pretzel Chocolate Chip Cookies are utter perfection!
Next we have a cookie that's topped with ice cream and filled with oozing melted chocolate. Yep, every bit as decadent as they sound! Volcano Chocolate Chip Cookies…make 'em!
Below that we have my Perfect Cookie Base. You can use this to make chocolate chip cookies, sure. But you could also use this one cookie base and add in any chopped candy you'd like and they will always turn out perfectly! It's amazing!
Next is a white chocolate version of the chocolate chip. And dare I say it's the Best White Chocolate Chip Cookie ever!
And for all you pumpkin fans out there, I've a got a Pumpkin Chocolate Chip Cookie…different and delicious!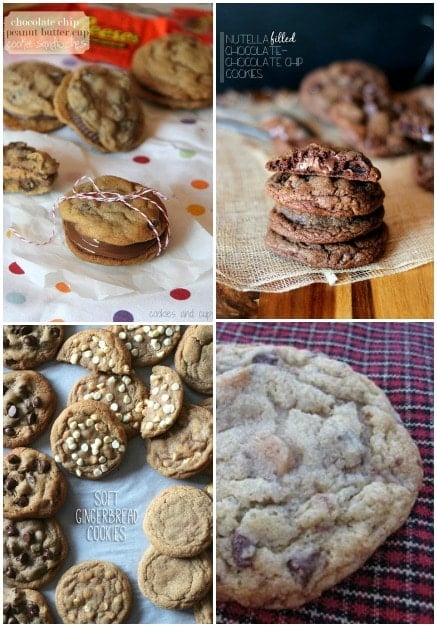 Ever wonder what it would be like to sandwich a Peanut Butter Cup in between 2 warm chocolate chip cookies? Well, wonder no more. It's fantastic and here's my recipe for Peanut Butter Cup Chocolate Chip Cookie Sandwiches.
I had to include a CHOCOLATE Chocolate Chip Cookie here.And this one is filled with Nutella, so there's that. Nutella Filled Chocolate Chocolate Chip Cookies. The same says it all.
The bottom right is a Toffee Chip Chocolate Chip Cookie. It's a horrible picture, back from my early days of blogging, but the recipe is solid. Had to include it.
And on the bottom left is a Soft Gingerbread Cookie, that I've put chocolate chips in, because why not?
Moving on from strictly cookies, let's have a look at some other chocolate chip inspired recipes…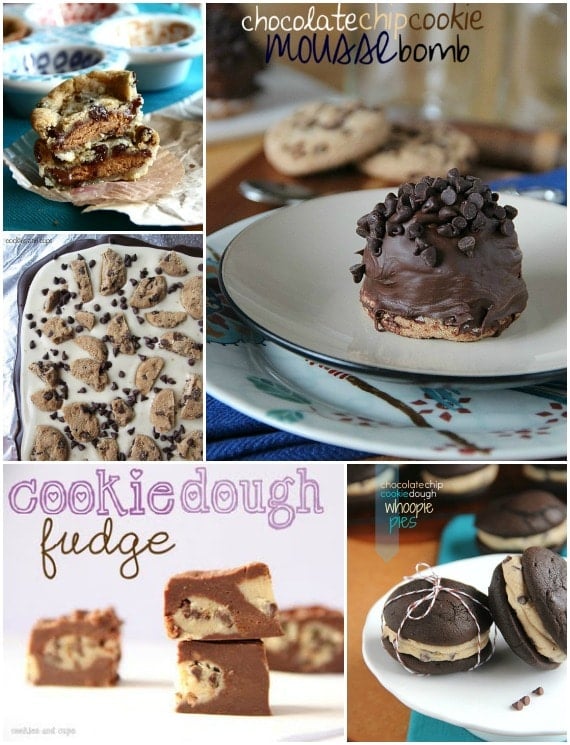 The Ultimate Cookie Cup is a Chocolate Chip cookie with a peanut butter cup baked inside made in a muffin tin. All good things. This recipe encompasses everything my blog is about. Cookies, Peanut Butter Cups and Cupcakes. Boom.
Getting a little fancier, I made these sweet Chocolate Chip Cookie Mousse Bombs a while back. They are ridiculously pretty and even tastier than they look!
Bottom right is a Chocolate Chip Cookie Dough Filled Whoopie Pie. I mean, really.
And of course I had to include fudge. Chocolate Chip Cookie Dough Fudge to be exact. I ain't playin' around.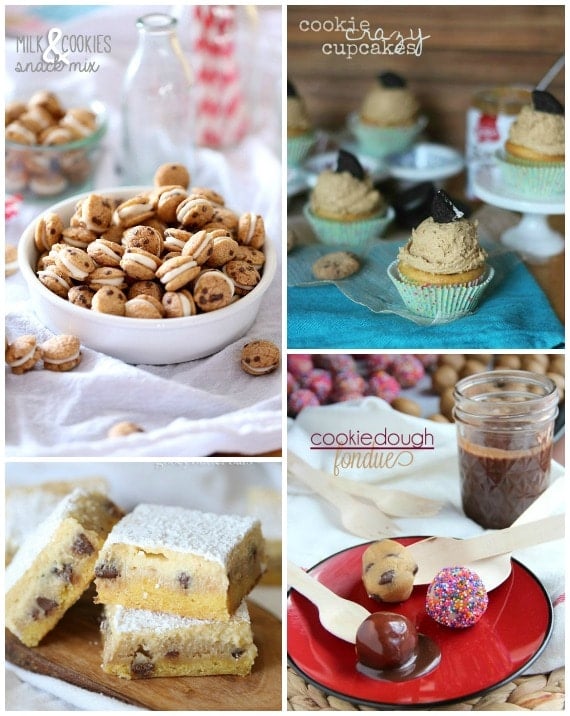 Upper right you can see the sweetest snack mix in all the land. It's Cookies and Milk Snack Mix, made with Cookie Crisp cereal. Simple and adorable.
Next up 3 types of cookies in one cupcake. Oreos, Biscoff and of course a giant scoop of cookie dough filling. Cookie Crazy Cupcakes, oh yeah!
Below that you have a simple egg-free Cookie Dough Fondue. Perfect for parties or Mondays. Or Tuesdays…or…
Last but not least, pictured above, I made very delicious Cookie Dough Gooey Butter Bars. It seemed like the right thing to do.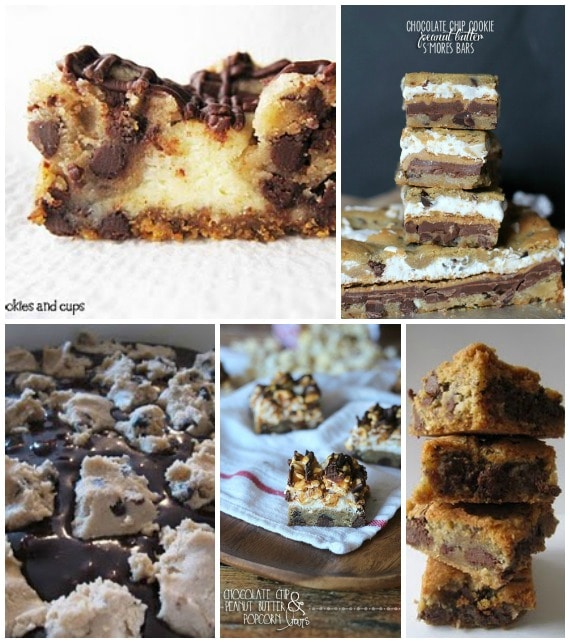 And last but not least I've included a few Chocolate Chip Cookie BAR recipes for ya.
Upper left, Cookie Dough Cheesecake Bars. Perfection.
Then some outrageously over the top, and completely wonderful Chocolate Chip Cookie Peanut Butter S'mores Bars. Well done, me.
Lower right are some super basic Chocolate Chip Cookie Bars. Simple and perfect.
In the bottom middle you can see there are some Chocolate Chip Peanut Butter and Popcorn Bars. Who would have though popcorn on a cookie would work? Well, it does indeed.
And finally lower left are some silly bars I made a million years ago. They are Double Cookie Dough Chocolate Chip Brownies. I threw some cookie dough candy in those to make them extra extra. Do it.
Ok, so there you have it. More Chocolate Chip recipes than you'll probably know what to do with.
You'd better get baking!