I have thrown together a list of some of the Best Fruit Desserts that I have made here on Cookies and Cups…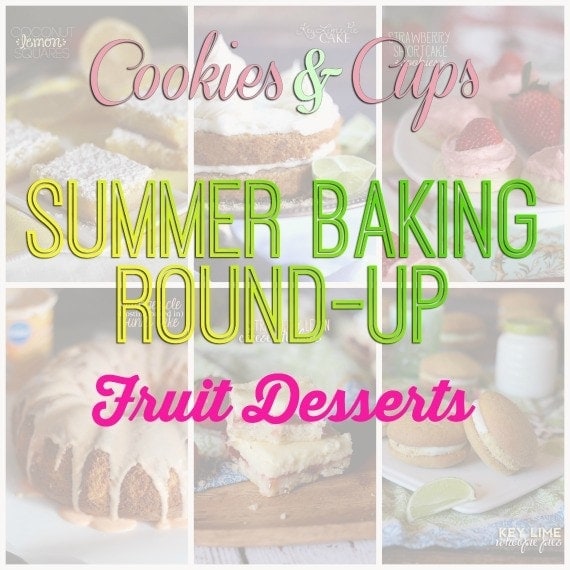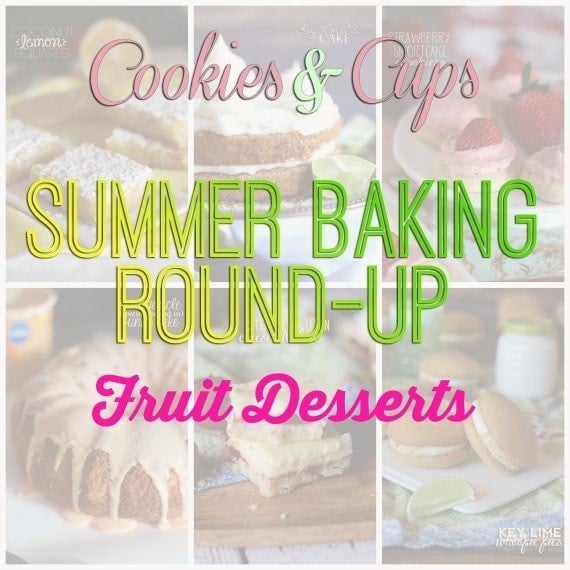 You guys know how I feel about fruit…in a fruit salad, it's totally legit…But generally I believe fruits have no business in desserts.
And that used to be my opinion exclusively.
Until I decided to loosen the reigns a little and give fruit a go. I mean, everyone in the world does it…I can't be left behind.
And turns out I guess all y'all are right…fruits can be pretty darn tasty in a dessert…if done the right way.
So let's take a look at some of the ways that fruit has found itself onto my dessert plate with great success!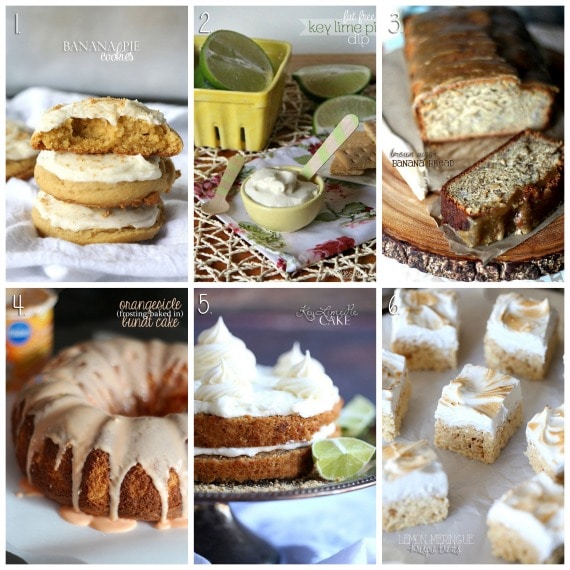 1. Banana Pie Cookies. I made these pretty recently for Imperial Sugar. In fact, these cookies were their idea…and I have to say they were perfect…soft, sweet and topped with a vanilla frosting that makes them over the top delicious!
2. Key Lime Pie Dip. This recipe is a fun one. Super easy to throw together and deceptively light if made with the right ingredients! So good I've been know to eat it with a spoon.
3. Brown Sugar Banana Bread. I ADORE this recipe! Banana Bread is always a favorite, but loading it up with brown sugar sends it over the top. And I even topped it with a brown sugar glaze..so yeah.
4. Orangesicle Bundt Cake. This cake is crazy… I took a tub of frosting and baked it right in the cake mix. Basically the frosting doubled as the fat in the recipe..and the results were stellar.
5. Key Lime Pie Cake. Love this cake. Love this cake. Love this cake. And the frosting rules too.
6. Lemon Meringue Krispie Treats. Krispie Treats are my jam. These are flavored with a pudding mix which gives them a super light flavor and the meringue ob top is omgsogood!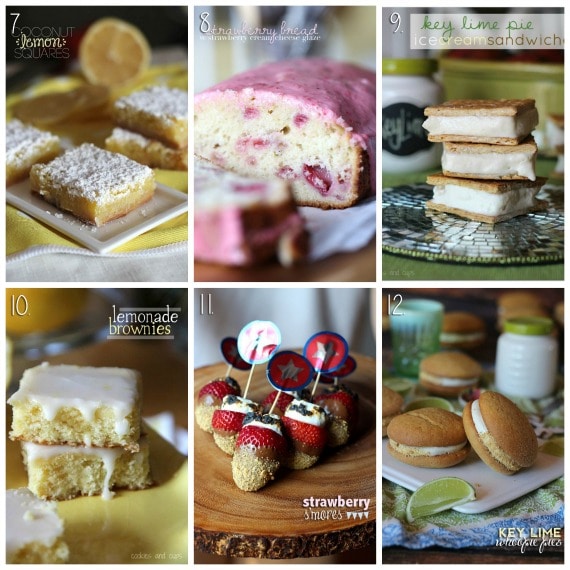 7. Coconut Lemon Squares. Perfection. That is all.
8. Strawberry Bread with Strawberry Cream Cheese Glaze. This recipe is perfect for right now…the strawberries are outrageously sweet right now!
9. Key Lime Pie Ice Cream Sandwiches. Super simple ice cream sandwiches…made with a simple ice cream base that you don't need an ice cream maker for!
10. Lemonade Brownies. I made these guys with lemonade mix! Some people find them very tart..but I love them!
11. Strawberry S'mores. These are so fun to make and one of my kid's favorites. Perfect for a summer BBQ!
12. Key Lime Whoopie Pies. These are really easy and totally delicious. If you can't tell already I am a key lime freak!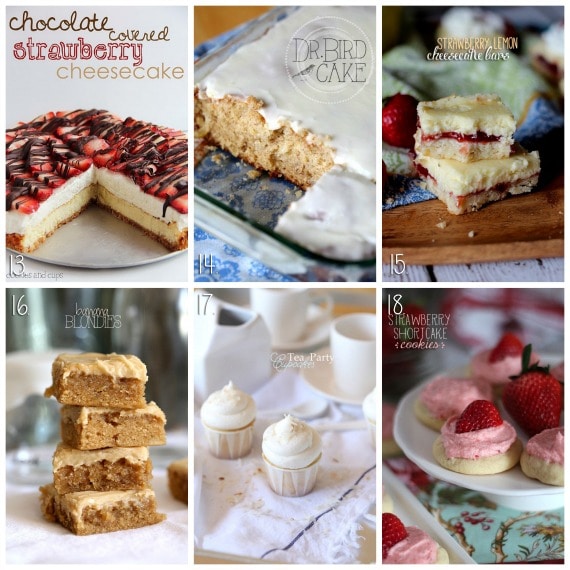 13. Chocolate Covered Strawberry Cheesecake. Cheesecake + Chocolate + Strawberries. Do it.
14. Dr. Bird Cake. This is a spin on the classic Hummingbird Cake, just with a funnier name. And you can make it in a 9×13 pan, which means it's super easy!
15. Strawberry Lemon Cheesecake Bars. These bars are one of my favorites. The tartness of the lemon, the sweetness of the strawberry and the buttery-ness of the shortbread crust are the perfect combination!
16. Banana Blondies. These bars are a non-negotiable. You need them in your life right this very second.
17. Almond Cupcakes with Coconut Buttercream Frosting. Does coconut count as a fruit? Today it does.
18. Strawberry Shortcake Cookies. These cookies are as delicious as they are pretty. And again, strawberries.
Here are a few fun Fruit recipes I have found around the internet too that I can't wait to try!
Strawberry Chiffon Shortcake | Smitten Kitchen
Strawberry Cheesecake Cupcakes | The Girl Who Ate Everything
Banana Pudding Tiramisu | Culinary Concoctions by Peabody