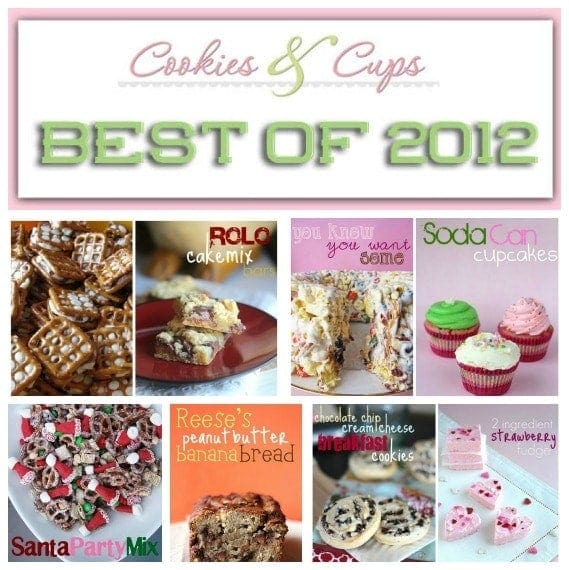 I love lists.
Shopping Lists, To-Do Lists, Christmas Lists…anything that I can check off to show progress.
Speaking of Christmas lists…I hope your holidays have been great!
My family spoiled me. I also took a week off from blogging, which was nice. A little break definitely helps to get the ideas flowing again…I'm hoping to keep your sweet tooth in business for 2013.
No diet resolutions this year, thankyouverymuch.
But in the meantime, I thought we would take a look back on what you all liked the most in 2012.
My top ten most popular posts according to you…Let the wild rumpus start!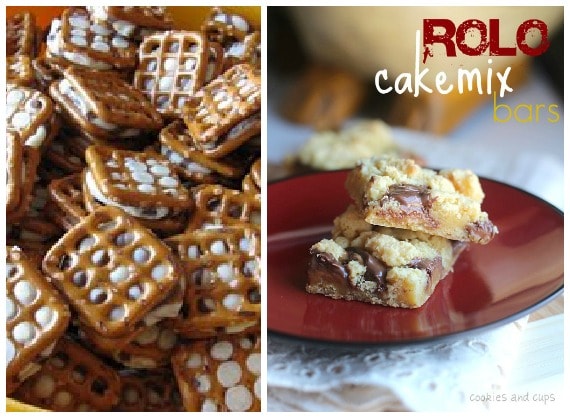 #10 ~ Pretzel Hugs | These are one of my very early posts way back in 2009. My mom made these for years and are one of our favorite snacks.
#9 ~ Rolo Cake Mix Bars | These bars are so very easy, and if you read the reviews on the post you can see that people have made them with lots of varied results. I have made them according to my recipe MANY times, with the results always exactly like the pictures I have posted. It's always interesting to me when many people make a recipe and it turns out completely different than when I make it..but I will tell you, that despite the difference in batter and texture, it looks like everyone seems to love them!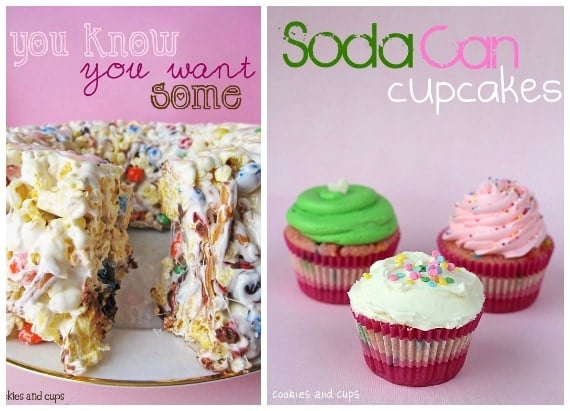 #8 ~ Popcorn Cake | This is recipe that I made and had no idea how it would turn out. Well, apparently mixing popcorn, marshmallow, pretzels and candy WAS a good idea. You guys seem to like it too, as this is one of my most popular posts of all time.
#7 ~ Soda Can Cupcakes | I blame Pinterest for these. I saw them once and forgot to repin them, so I am not sure where the idea originated, but I decided to give it a try and it worked. And honestly they're as easy as they sound…a can of soda and a box of cake mix.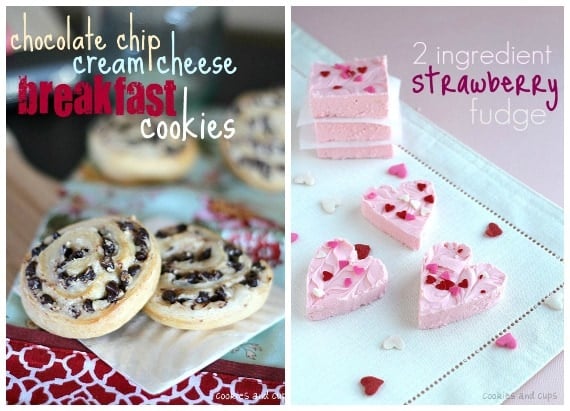 #6 ~ Chocolate Chip Breakfast Cookies | I got the idea for these based upon sheer laziness. I wanted to create a pastry-type breakfast treat…but I didn't want to mess with making actual pastry dough. So I short-cutted with some crescent rolls and it worked perfectly.
#5 ~ 2 Ingredient Strawberry Fudge | I was really surprised at how popular this recipe became. When I first made it I wasn't so sure how it would work, but mixing frosting and some melted white chips together actually does create an easy, sweet fudge.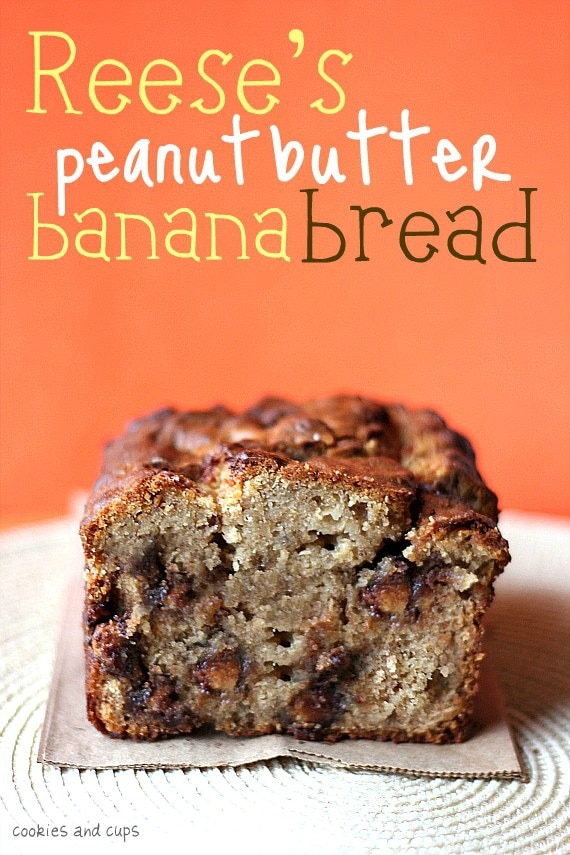 #4 ~ Reese's Peanut Butter Banana Bread | I knew this was a good idea when I made it. Duh.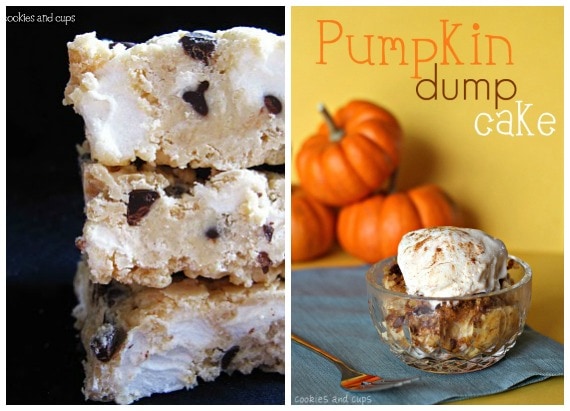 #3 ~ Avalanche Bars ~ I developed this recipe based on need. I am not a 20-millionaire and can't afford to spend my life's income at Rocky Mountain Chocolate Factory. So I recreated my favorite treat from there, so I could eat it at home whenever I got the craving. My hips have never been the same.
#2 ~ Pumpkin Dump Cake | You guys just love this. I have to admit that the recipe for this came from my friend Callye's mom. Since then I have made it about 40 thousand times and I think you guys have too. It's a keeper.
And finally the winner of the year…not only my most popular post of the year, but also of all times on my site…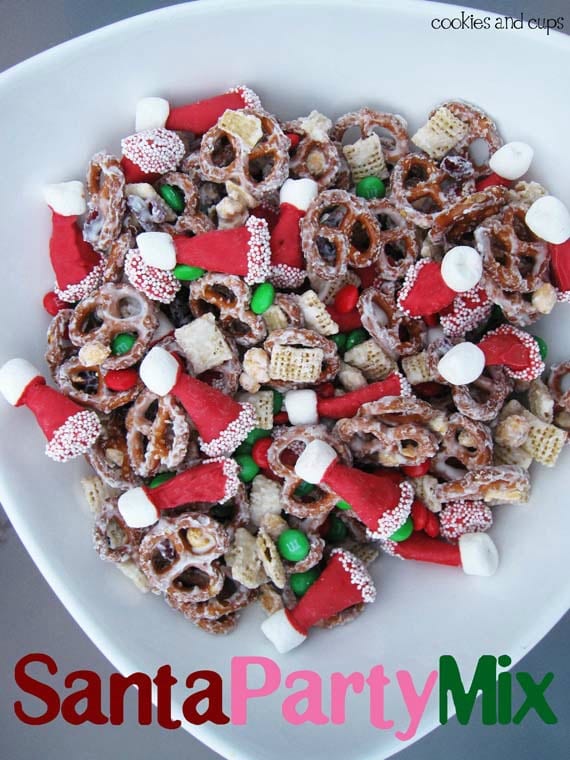 #1 ~ Santa Hat Party Mix | When I came up with the idea to turn Bugles into Santa Hats I thought I was pretty clever. I made sure that it hadn't ever been done before…and it hadn't. I have seen lots of recreations of this mix, and also lots of variations…It's really great to see that people really like an idea that you are proud of.
So there you go…my top ten of 2012.
I am so excited to see what 2013 brings…Happy New Year!