This Blood Orange Punch is a sweet, citrusy, festive punch that is perfect for all the holidays from October to December! Add a little rum to make this an adult drink, or leave it out for a family friendly party punch!
This is a post in collaboration with my partnership with Imperial Sugar. All opinions are my own.
Blood Orange Punch Is Perfect For Your Halloween Party!
I don't normally post drink recipes here (except one lonely sangria recipe), but I thought this was a fun and festive party punch that is perfect for the season and can take you from Halloween through Christmas. It's the perfect fall and winter-time drink that is as pretty as it is tasty!
Add a little rum to make this a true party cocktail or leave it without for a special drink that is family-friendly.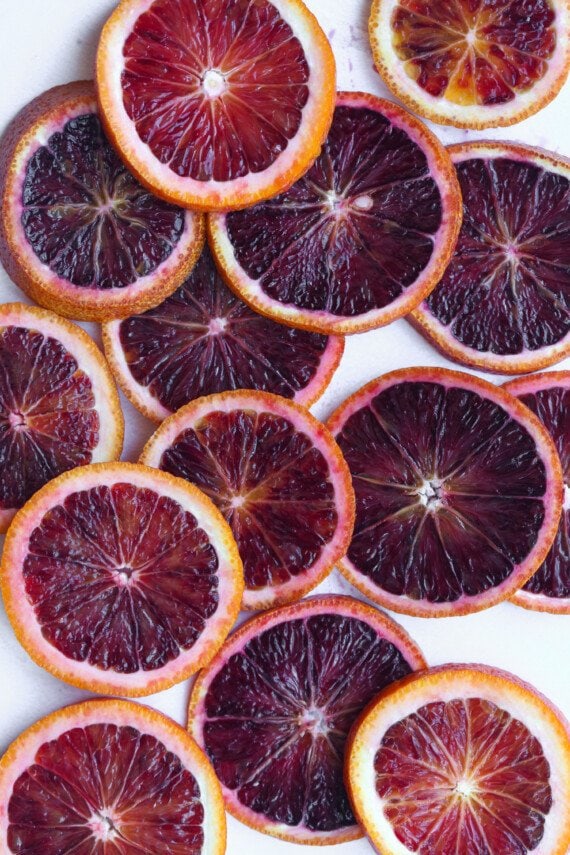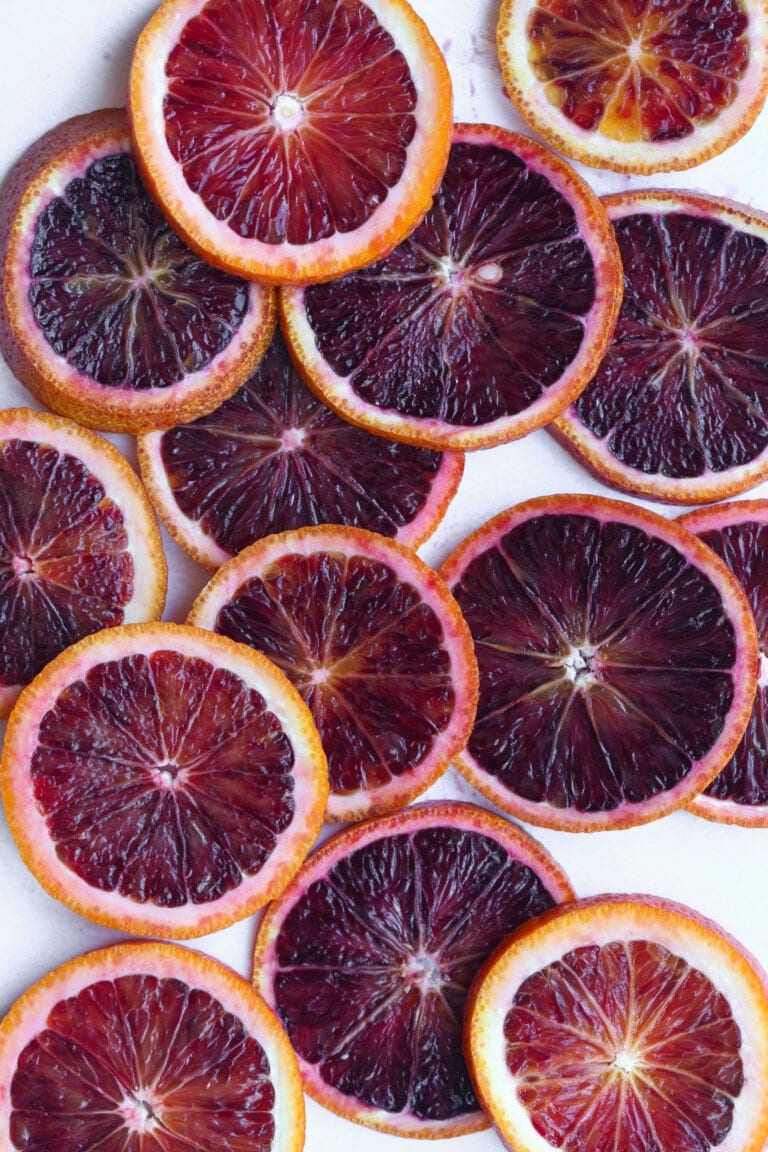 What Are Blood Oranges?
Blood Oranges are a type of orange, with a thick dimpled skin on the outside and a marbled crimson and orange flesh on the inside.
I find them to be a little more bitter than a regular orange, almost like a cross between an orange and grapefruit, but they are sweet! There are a few varieties, but note the darker the flesh the more or a bitter taste they will have, meaning the more crimson the flesh, the more grapefruit-ish they taste.
You can find them year-round, but I think they are perfect during the harvest season. They are great in drinks, as a snack, or in baked goods! Basically anytime there is an orange in a recipe, you could sub in a blood orange! They are a bit more expensive than a standard orange, so don't use them for halftime snacks at soccer games!
They make super pretty accents for charcuterie boards too!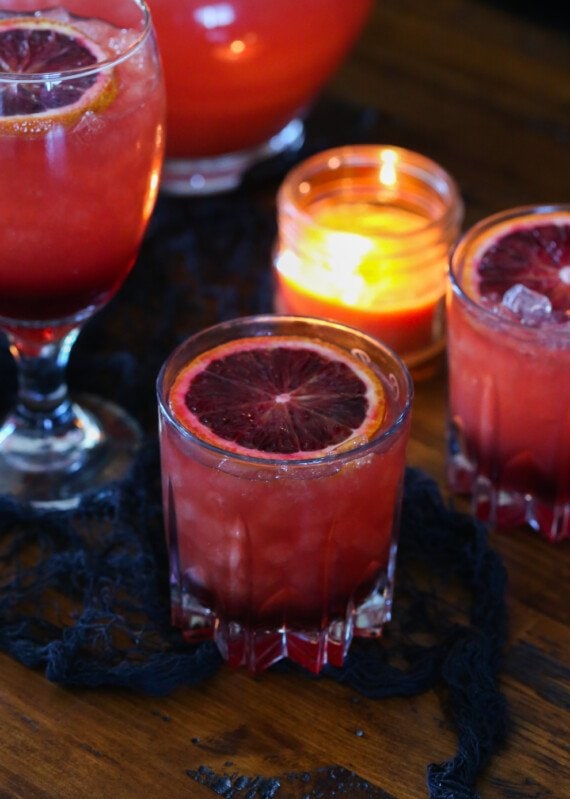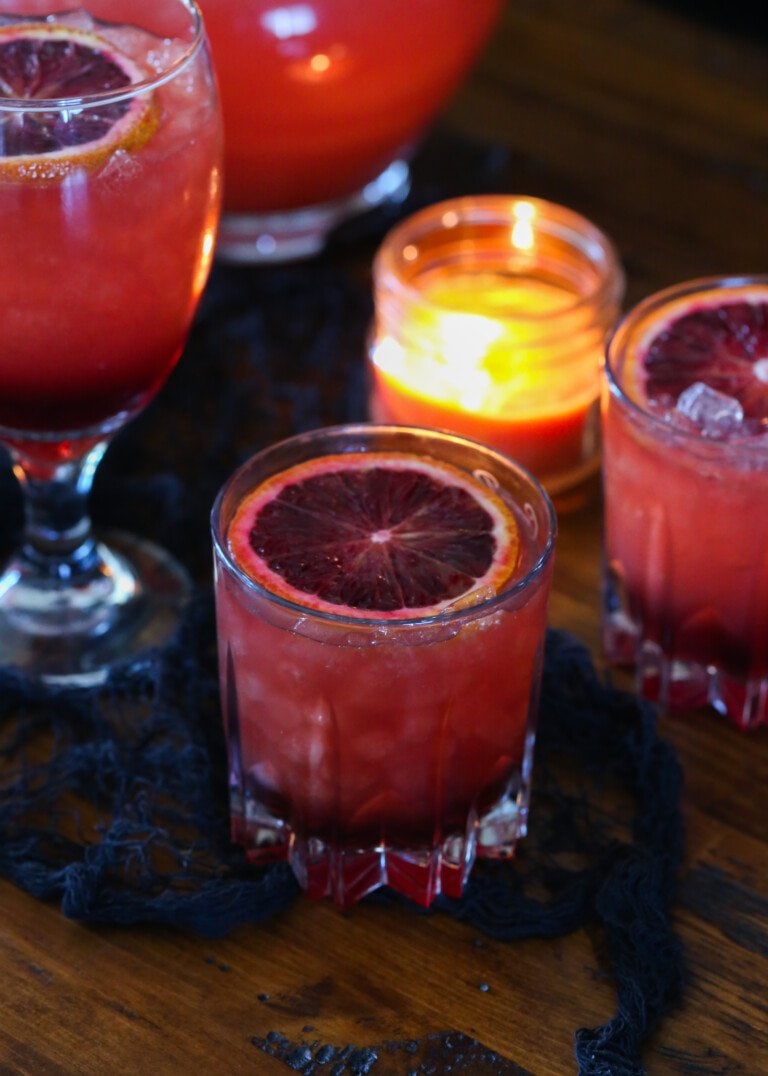 Blood Orange Punch Ingredients:
blood orange juice
granulated sugar
pomegranate juice + extra for layering if desired
lemon lime soda or lime seltzer
optional – light rum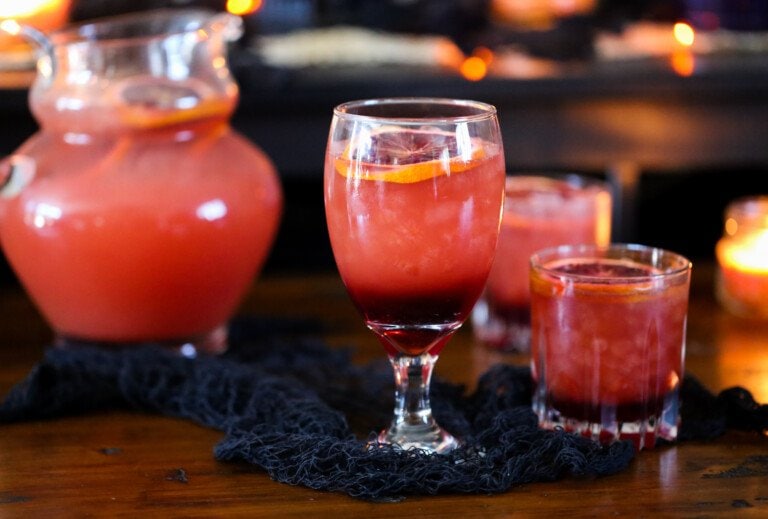 How To Serve Blood Orange Punch
You can serve this punch in a pitcher, a large party bowl, or in indivdual glasses!
This recipe can easily be doubled, or reduced based on your needs.
Can You Make This Punch In Advance?
One thing about blood oranges is that they ferment more quickly than regular oranges, so I don't recommend making this punch too far in advance if using fresh blood orange juice.
BUT if you are using bottled blood orange juice, you have a little more wiggle room.
So if you plan on making it in advance:
Using fresh squeezed blood orange juice make and serve the same day. If you want to make this in the morning for a party in the evening that will work perfectly, however add the carbonated lime soda or seltzer right before serving.
If using bottle blood orange juice you can make this up to 2 days in advance, stored airtight in the refrigerator. But again, add the carbonation before serving.
Add Champagne!
I am all about a champagne cocktail and in this case you can easily sub out champagne for the seltzer or soda! Don't worry about use your Veuve Cliquot for this one either, the flavor from the juices will be the most prominent!
I partnered with my friends at Imperial Sugar on this recipe so hop over there to print the full recipe!!
(w[n].q=w[n].q||[]).push(arguments)};t=d.createElement(s),
p=d.getElementsByTagName(s)[0];t.id='sideqik-sdk';t.async=1;t.src=u;p.parentNode.insertBefore(t,p)
})(window,document,'script','https://d1hrk5gt3yn7pi.cloudfront.net/api/sideqik-api-1.2.js#5f908b4249b8c31c82bfe616','sideqik'); sideqik('viewPost', '9468554');