Today's giveaway is a bit of an opposite day here at Cookies & Cups.
I mean, fruits, vegetables and cleansing?
Well, hear me out.
While I make sweet treats almost everyday of my life and enjoy those treats,  I try to consume it in moderation.
And to be honest with the summer ending and the holiday season fast approaching I needed a reset.  Just something to get my body back on track.
I do a cleanse usually once a year, sometimes twice, and this is the first year that I tried BluePrint.
I originally did one back in June and loved it so much just did another a few weeks ago…
My experience doing the cleanse was really great…
I ordered the cleanse online and they give you 3 choices: Renovation (meant for the first time cleanser, someone who isn't a huge fruits and veggies eater), the Foundation (a veggie lover who still likes dessert) and the Excavation (very food conscious people, who consider green beans a good snack..hehe)
My first cleanse, I chose the Renovation and the second one I chose the Foundation.
Both times I chose the 3 day cleanse…which was perfect for me.  You could certainly do longer, completely up to you.  But I do have to say after 3 days of juicing I was ready to chew on something 🙂
You get 6 juices to drink each day.  And I have to tell you I enjoyed all the juices.  Especially the final drink of the day, the Cashew Milk…it's sooo good, on a cleanse or not!
I never really felt hungry, and that's the honest truth.  It takes a bit to get used to drinking your meals, but I never felt deprived.  A few days I found myself really trying to finish the juices.
They ask you to really try not to eat "food" on the cleanse, that the juices will offer you all the nutrients you need..but if you do feel like you have to eat they have a great list of foods that you can enjoy.
After the first day I felt instantly less bloated, lighter and well…cleaner.
BluePrint offers a great support system and will answer any questions along the way.
It's meant to rid your body of impurities, regain your alkaline balance and normalize your digestion and metabolism.
The calories in the juices keep you feeling energetic, unlike some cleanses, you won't feel tired ot lethargic…in all honesty I feel more energized than ever.
I understand if you have a million questions about the cleanse, and BluePrint has a great FAQ section that can be found HERE..
I know most of you will wonder if you lose weight on the cleanse.  I can only speak from my own personal experience and the answer is yes…I lost a solid 6 pounds…but I do have to say that the way I felt after the cleanse is easily one you will want to stick with.
So whether you are trying to lose weight, or regulate your body before all the Halloween candy, I 1000% recommend this cleanse and will do it again in the future without a doubt.
And I am SOOO excited to tell you the nice people over at BluePrint have agreed to give away to one of my readers a 3 day Cleanse of your choosing!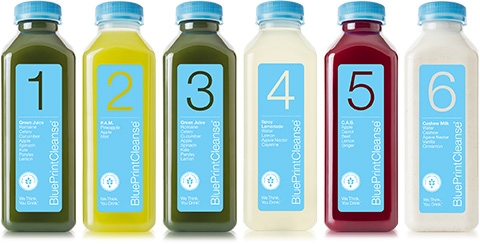 What you will get is 18 juices, enough for a 3 day cleanse.  You can choose the Renovation, the Foundation or the Excavation…which ever one suits your life the best!
I am really excited about this giveaway and hope you are too…I just love the cleanses that much.
Here's what you have to do to enter…
Leave me a comment here letting me know why you want to cleanse!
You can get additional entries by:
Leave me a comment for any additional entries!
You can enter up to 3 times!
The giveaway is open until October 27th at 11:59 pm EST