Can we talk?
I had a break up.
I'm not gonna lie, it was kinda serious.
It's hard when you finally realize something you have been living for is not going to work out.  All the dreams you had are just…gone.
The relationship was dysfunctional.  Full of mocking and chiding.
The break up happened a while ago, but only now am I able to really talk about it.
I needed time.
But, I'm ready now.  My wounds have begun to heal.
So, here goes…
I officially dumped all my "5 pounds from now" clothes.
They are gone. Gone.
I know all you ladies know what I am talking about.  These are the clothes you hang on to because you remember looking and feeling great while wearing them.  Clothes you bought because you couldn't fathom buying the dreaded size up.  Clothes you swore that you would get into after you did your "detox".
And let's all be honest…we know that they aren't really "5 pounds from now clothes"..they are more like 10, 15…pounds from now clothes.
AND we all know that if we DO get down to the weight where those clothes fit we're gonna go buy new stuff!  Because there's nothing better than shopping for skinny clothes.
In hindsight I should have done it a long time ago.  I watch Oprah everyday..I know all the warning signs of an unhealthy relationship, but when you are knee deep in size 6's you just don't want to let go.
But I have and you can too.  Trust me, time heals the wounds.
So now that you have decided to live for the moment and I've talked you into a closet overhaul you will need sustenance, let's get it on…
Cookies and Cream Cookies
Not for lightweights.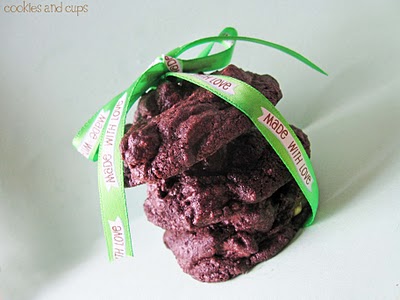 I used these…Hershey's Cookies and Creme Drops..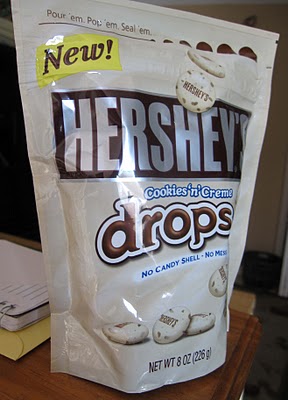 They are great because they don't have a candy shell, so there's no crunch…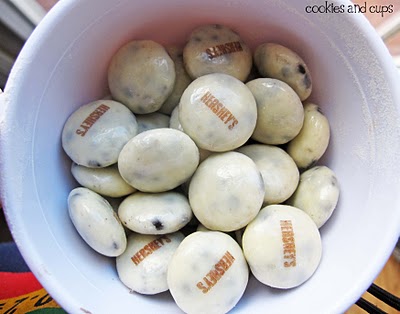 They add nice big chicks of candy in the cookies 🙂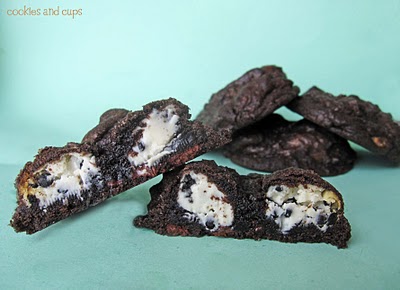 Now that I have ended my broken relationship with skinny jeans from past I feel lighter, healthier and happier…
Happier, because now I have space to go shopping!  Shhh, don't tell my husband!
Take my lead sisters…get rid of those dumb clothes.  Buy clothes for NOW, because you're all gorgeous!
Print
Cookies and Cream Cookies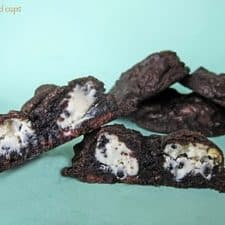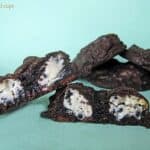 ---
Ingredients:
2

sticks butter (

1 cup

)

1 1/4 cup

white sugar

2

eggs

1 1/2

t. pure vanilla

1/2 cup

dark cocoa powder (I used Hershey's Special Dark), but if you don't like dark, just use regular cocoa powder.

2 1/4 cup

s AP flour

1/4 tsp

Kosher salt

1 teaspoon

baking powder

1 cup

mini semi-sweet chocolate chips

12 oz

. Hershey's Cookies and Creme drops (if you can't find these because they are a new item use coarsely chopped Cookies and Cream Kisses OR Hershey's Cookies and Creme Bars)
---
Instructions:
Preheat to 350
Cream together butter and sugar until fluffy and light.
Beat in eggs and vanilla.
On low, slowly beat in cocoa powder until well incorporated.
On low mix in your remaining dry ingredients (flour, baking powder and salt).
Fold in you Cookies and Creme drops and chocolate chips until evenly incorporated.
Drop by large tablespoonful on a parchment lined baking sheet.
I recommend under baking these. So bake for approx 12 minutes or until edges are set.
When done baking let cool on baking sheet for 2-3 minutes before transferring to wire rack to finish cooling.
Want To Save This Recipe?