Ever since Easter everytime I walk in the pantry I see the loads and loads of candy that my boys received in their numerous Easter baskets and stuffed eggs. I'm talking A LOT of candy! The temptation is overwhelming and my resolve is starting to wear down. They don't seem as bothered (or obsessed) with the candy as I am (it's called sugar addiction people!) but I am sure that they will notice as their candy stash slowly starts dwindling.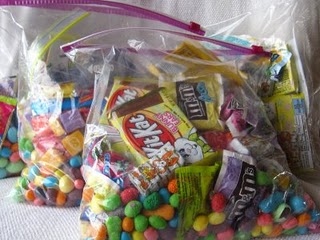 I knew something must be done, so I decided to make everyone happy by taking as much candy as I could (chocolate variety) and stuff it all into a big ole brownie…everyone's a winner, because I'm not a huge brownie lover and will not nearly be as tempted by the brownie as I will by all the cute individually wrapped Reese's bunnies, but the kids love brownies and candy…see? WIN-WIN!!
You know, I could just throw the candy out, but somehow I can't wrap my mind around that…

throwing candy out?

Who am I kidding…that's not going to happen.
Anyway, here's what I did…
Make your favorite brownie recipe (or use a boxed mix)
This brownie recipe is my favorite…it uses Veg. oil instead of butter…I just like the results better, they are soft and fudgy. They are also easy to do add-in's which I do a lot, whether it be chocolate chips, candy or nuts.

3/4 cup cocoa, unsweetened

1/2 teaspoon baking soda

2/3 cup vegetable oil

1/2 cup boiling water

2 cups sugar

2 eggs, lightly beaten

1 1/3 cups all-purpose flour

1 teaspoon vanilla

1/4 teaspoon salt

1 cup of whatever you want to add whether it is chopped walnuts, chocolate chips or any other candy. ***

Combine cocoa and baking soda in mixing bowl; blend in 1/3 cup of the vegetable oil. Add boiling water and stir until thickened. Stir in sugar, eggs, and remaining vegetable oil; stir until batter is smooth. Stir in flour, vanilla, and salt, mixing until well blended. Pour into a greased 13x9x2-inch baking pan if you like thinner, but I prefer 9×9 pan for thicker brownies. Bake at 350°. 9×13 pan bake for 30-35 min 9×9 pan increase time to 40-45 min.
**Now making these Candy Jar brownies different than others…I added more (and more and more) candy…keep reading…
Instead of adding just 1 cup of candy/chips/nuts…I added:
1 c. chocolate chips
1/2 c. white chocolate chips
1c.chopped mini Reeses cups
I folded all this into the batter before baking.
When the brownies were just about done (about 5 min left) I used 2 cups mini-marshmallows and covered the brownies completely. Put back in the oven for approx 5 min until the marshmallows puff and begin to toast slightly.
(You absolutely do not have to add the marshmallows…you could use a frosting, either vanilla or chocolate, or even peanut butter…or leave them plain ~ they will be good no matter what whether you top them or not.)
When the brownies and marshmallows are done I topped the marshmallows with 1 pack of Kit-Kat, chopped (about 3/4 c.) and 1/4 cup of M&M's.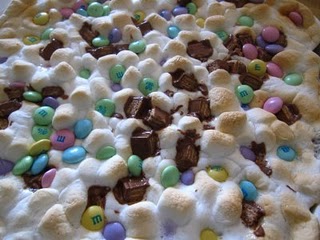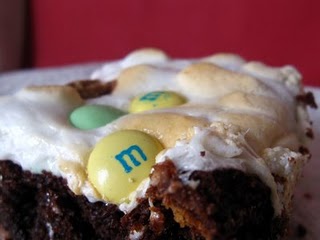 Use whatever candy you have on hand…there is no right or wrong, just whatever you like.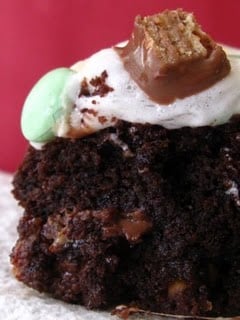 These brownies are super sweet and loaded with flavor…you can only eat a small amount, but trust me, you will enjoy each bite!