Caramel Apple Cheesecake Bars are creamy, sweet and super delicious. These are a guaranteed crowd pleaser!
Whenever I make a new recipe at my house I ask my husband to rate it. Like on a star scale. One star being, awful, four stars being YESSSS.
Here's the problem, though. We never actually GET to the recipe rating, because we always end up arguing over the rating system. The husband thinks there needs to be more than 4 stars on the scale…at least 5 stars, he says. But I already made the 4 star system and have actually RATED the recipes in cookbooks…SOO, the rating system is here to stay.
I mean, you can't change a system that's already in effect…What if the Olympics decided to start giving Platinum medals?  All those former gold medals wouldn't be so important anymore. We'd have to start using *asterisks* next to the ratings, to show whether they were pre-change or post-change.
Not fun.
And then what if one day you learn that this will be your final meal and you scroll through the cookbook and pick a four star recipe, only to learn that it was marked BEFORE the switch, and now you've just wasted your final meal on a "pretty good" lasagna. That sounds like possibly the worst scenario ever.
Alls I am saying, is that whether or not the 4 star system is the best…which hello, it totally is…we can't change it mid-adulthood. So, short-story -long, I want to share with you my final recipe for Caramel Apple Week.  Which is totally a 4 star-that-should be 5-star-but-is-staying-a-4-star recipe. In other words, it's final-meal-good.
Caramel Apple Cheesecake Bars.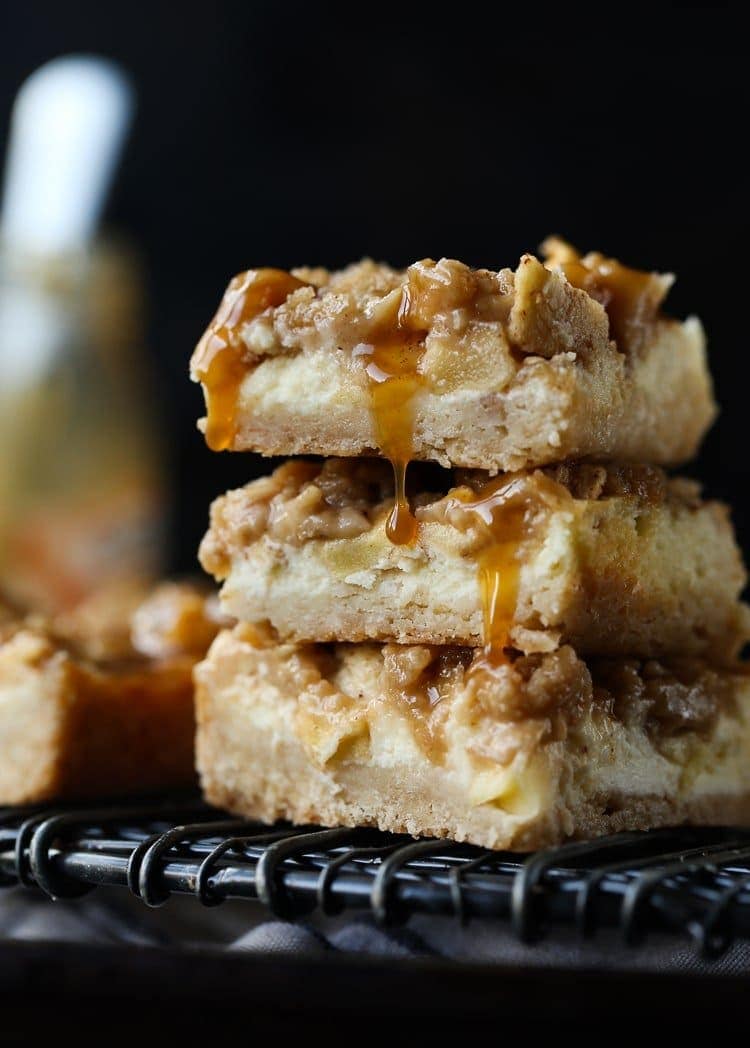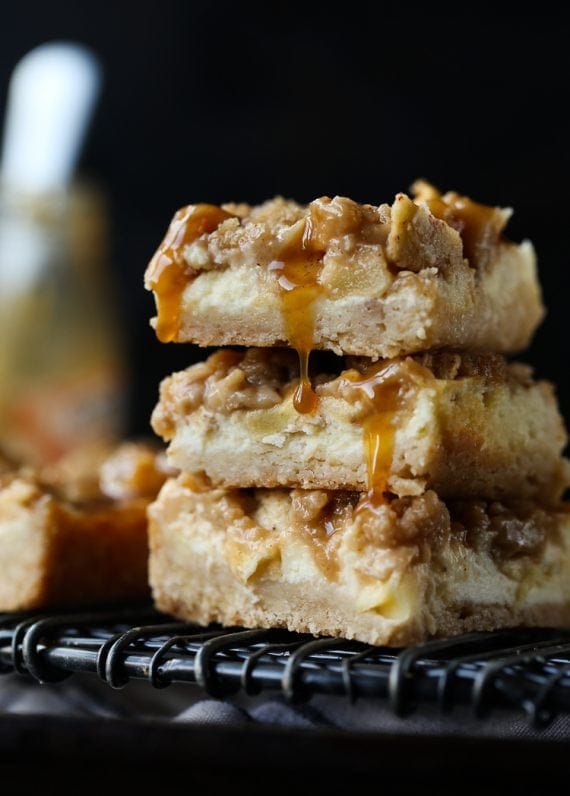 First make your crust.  And you get to use your pastry cutter, if you have one.  I'm always looking for a reason to use mine.  I know, I'm weird.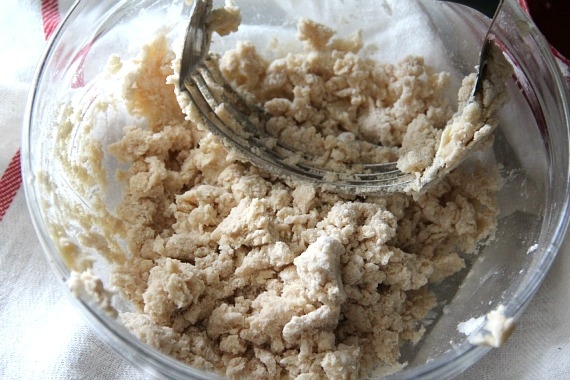 Press your crust in a lined 9×9 and bake it up.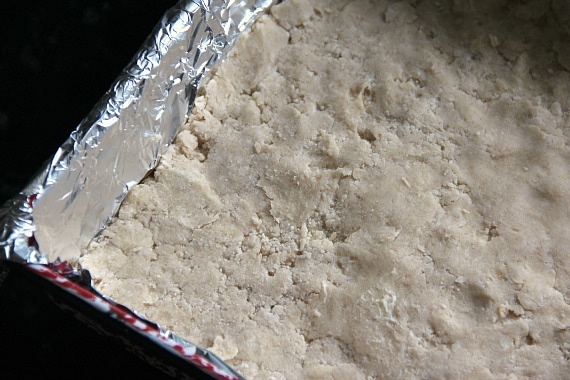 While it's baking, make your yummy cheesecake layer…and then spread it all up in there…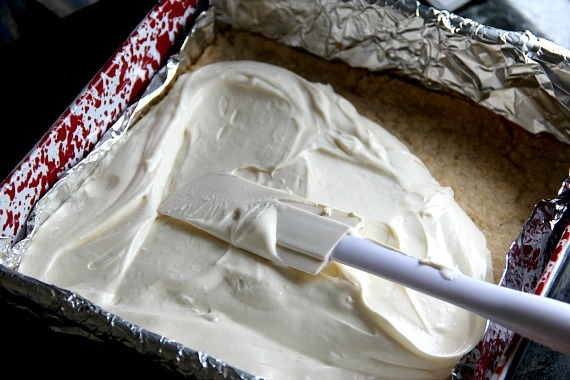 Then dice up some apples and sprinkle them with some fall spiciness…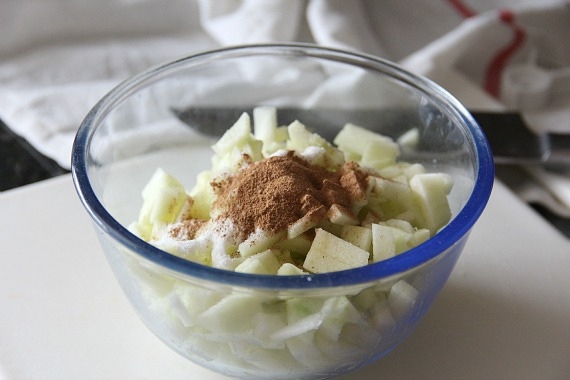 And don't forget about the streusel.  Nobody puts streusel in the corner.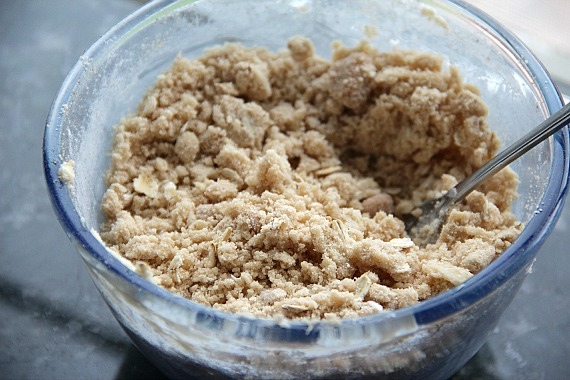 Layer the apples and then the streusel.  Now it's ready to make the journey into the oven.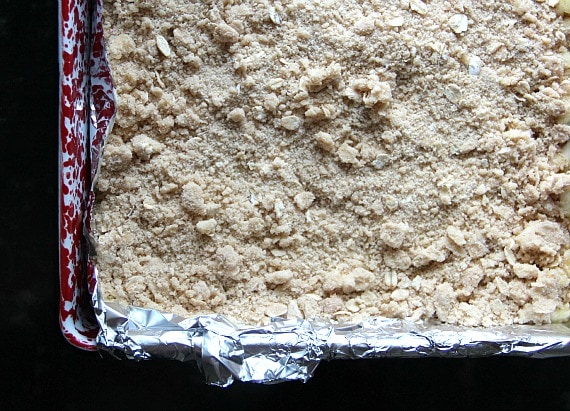 When it's baked and almost perfect, you need to pour some caramel on top.  You neeeed to.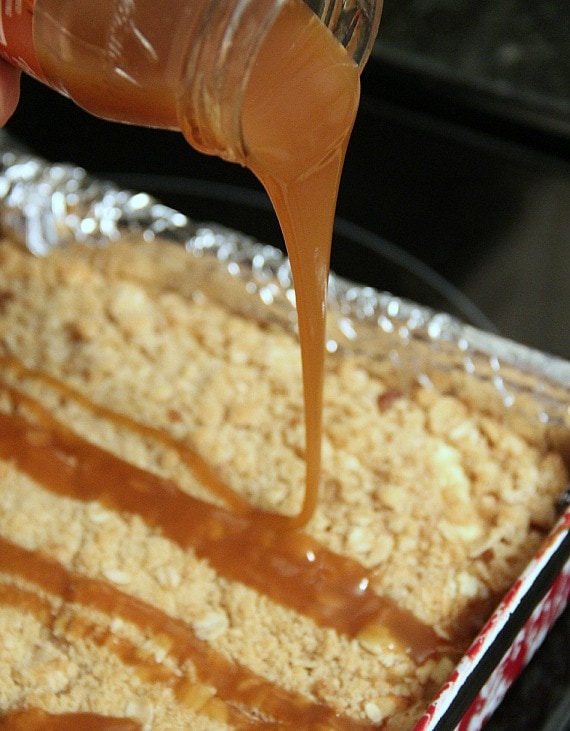 And then you have to let it sit for a while to cool. It's excruciating.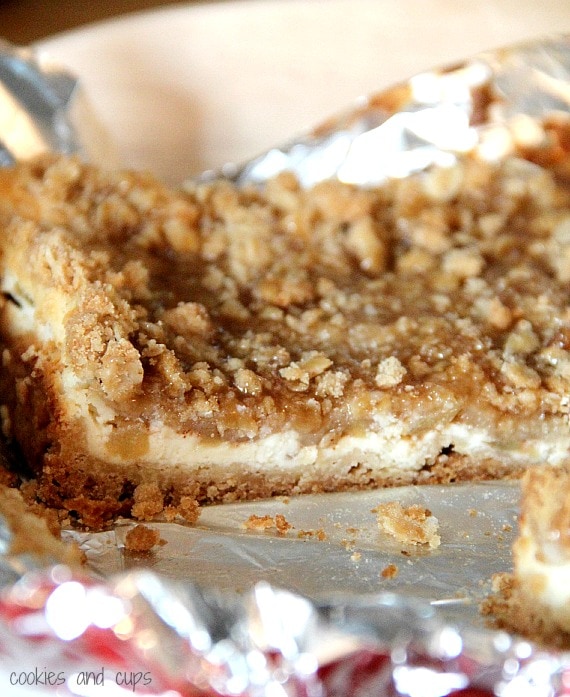 But OH so worth it.
I wrote this recipe originally back in 2012, and knew the finished product photos needed a little sprucing up…and to remind you guys how AMAZING these bars are! Enjoy!
Print
Caramel Apple Cheesecake Bars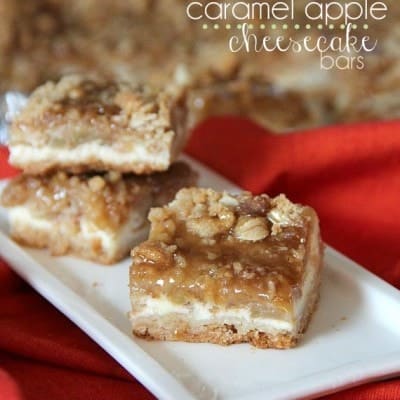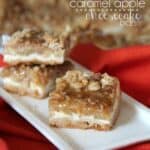 ---
Description:
makes 25 bars
---
Ingredients:
Crust
1 cup

all purpose flour

1/4 cup

light brown sugar

1/2 cup

butter, room temperature
Cream Cheese Filling
1

(8 oz) block cream cheese, room temperature

1 tsp

vanilla

1/4 cup

granulated sugar +

1 Tbsp

, divided

1

egg

2

small Granny Smith apple, peeled and small diced

1/4 tsp

pumpkin pie spice
Steusel Topping
1/2 cup

packed light brown sugar

1/2 cup

flour

1/4 cup

old fashioned oats

1/4 cup

butter, room temperature

1/4 cup

caramel sauce
---
Instructions
Preheat oven to 350°
Line a 9×9 baking pan with foil.
In a medium sized bowl combine crust ingredients, flour, brown sugar and butter. Using a pastry cutter, or fork combine the ingredients until they make a coarse crumb.
Press mixture firmly in the bottom of the pan and bake for 12-14 minutes until lightly browned.
Meanwhile, in a mixing bow, combine cream cheese, vanilla, egg and 1/4 cup granulated sugar. Beat until combined and smooth. Set aside.
Dice apples and sprinkle with remaining 1 Tbsp sugar and 1/4 tsp pumpkin pie spice. Stir until coated evenly. Set aside.
Make streusel by combining all ingredients, light brown sugar, flour, oats and butter and stir with your pastry cutter or fork until evenly mixed. Set aside.
When crust is done baking, spread the cream cheese mixture on top of warm crust, top with diced apples and finally with streusel.
But back in oven and bake for 25-30 minutes, until center is set.
When done drizzle caramel sauce all over the top.
Let the pan cool on a wire rack for at least 30 minutes and then place in refrigerator to chill for approximately 2 hours, or overnight.
Cut into squares when ready to serve.
---
Notes:
store in an airtight container for up to 3 days
Want To Save This Recipe?
Save
Save