These Chunky Apple Snickerdoodle Bars are so soft and sweet…perfect for breakfast or dessert!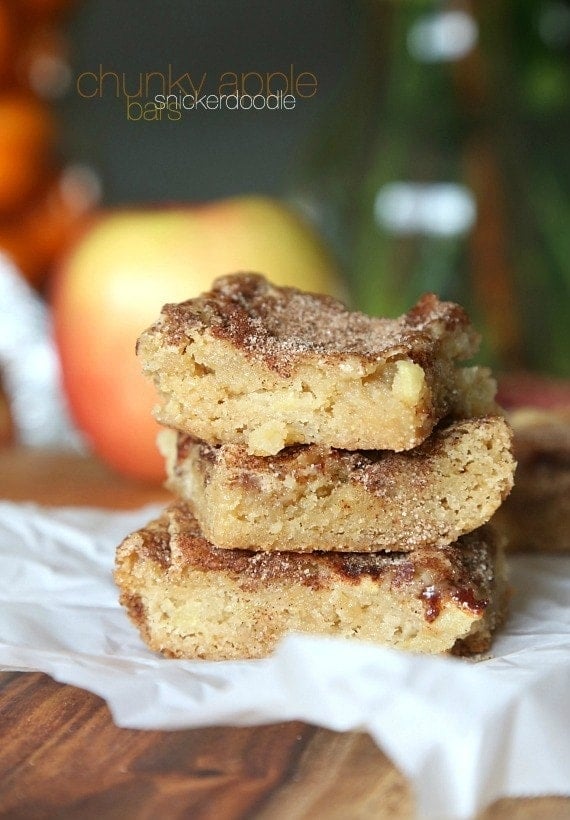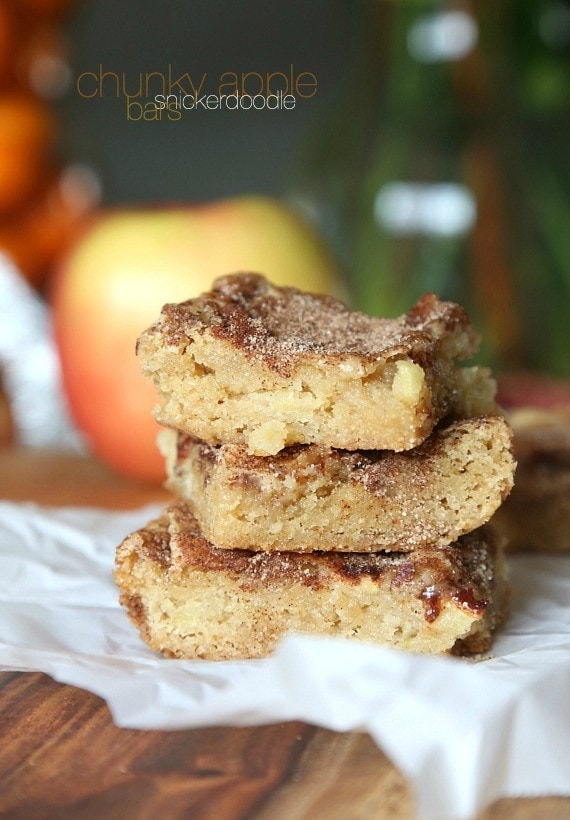 So Halloween is just over a week away…
I am not a dresser-upper…I wish I could get into it, but I just can't. And long gone are the days that my kids are cute and snuggly in their costumes. It's all about being terrifying or "cool".
In fact my 9 year old is going to be a gangster. He chose this costume because he has recently adapted a 1920's-ish Transatlantic accent that he wanted a costume to match.
Developing accents and then matching costumes is the obvious way to go about Halloween, yes?
Anyhow, he walks around saying through clenched teeth, "I'm going to the bathroom, see?"
and "I've got a lot of homework, seeee?"
AND "I'd like to play Minecraft, seeeeee?"
Because apparently ending all phrases with "see?" is 1920's Gangster-speak.
See?
And really any excuse to call someone a dirty scoundrel is the obvious way to go.
So with Halloween fast approaching, means the demise of apple season..so let's hit it one last time before it's over with these Chunky Apple Snickerdoodle Bars. See? (Ganster talk is addicting)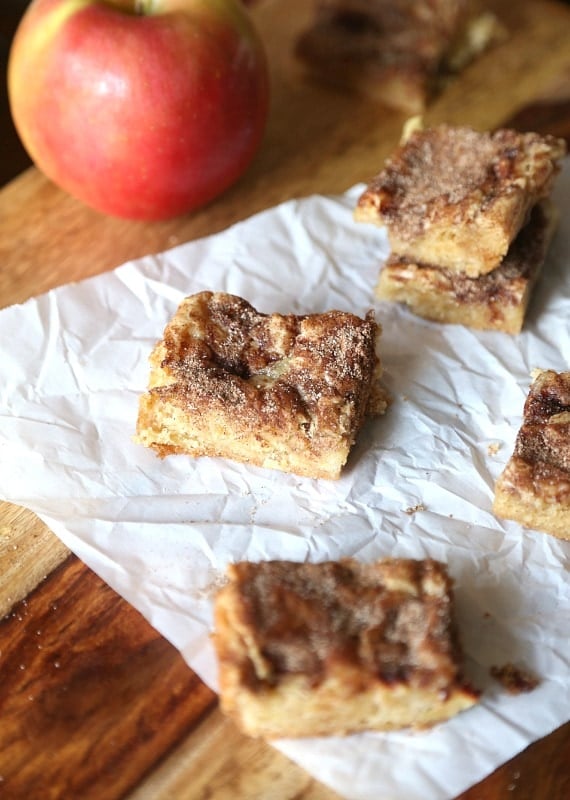 I made possibly the easiest bars ever for you here. And they are full of apple chunks and cinnamon sugar. You guys are going to love these.
They're so easy, in fact, that I thought it unnecessary to bore you with loads of pouring and mixing shots. All you need for these is a bowl and a wooden spoon. Oh, and a knife to dice your apples. Oh yeah, and a pan to bake them in.
But they're simple, I swear.
Just mix all your ingredients in a bowl and then spread it into a foil lined baking dish.
Then sprinkle it with cinnamon sugar.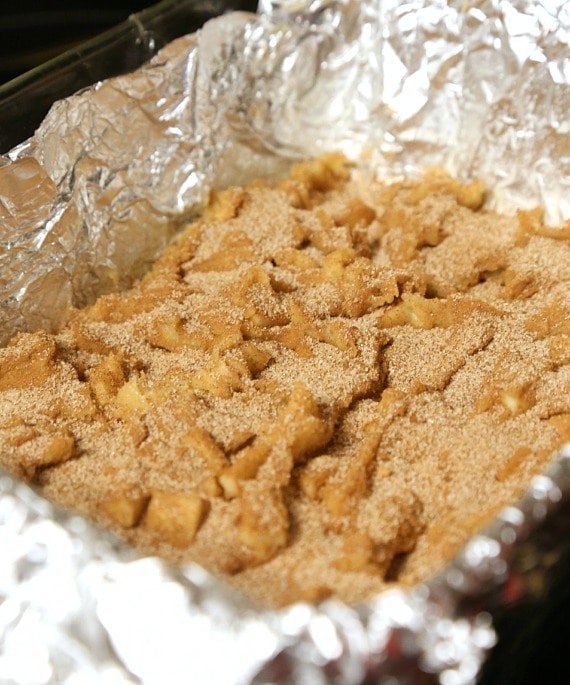 Let them bake up and cool completely if you can stand it. They are super soft bars and if you try and cut them before they are cooled they will surely break apart.
Patience, my friends.
But when you're ready you're taste buds will thank you.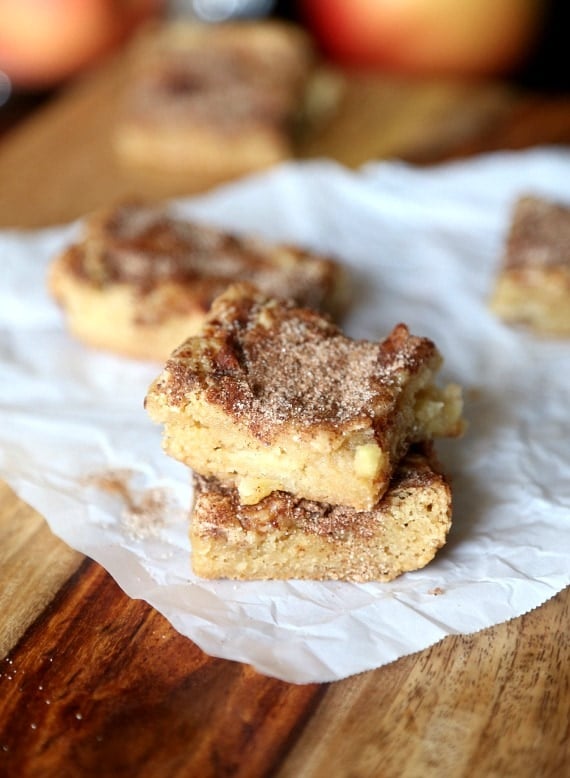 I made this recipe in an 8×8, but absolutely double it (or even triple it) and bake it in a 9×13. If you make a larger batch just adjust the bake time.
Oh, and I wanted to say, I've noticed a lot of you guys tagging me on Instagram, Facebook and Twitter with pictures of recipes of mine you have made. I LOVE IT!
Tagging me is great, but also use the hashtag #cookiesandcups so everyone can search your picture..especially on Instagram. It'll be like a baking party!!
ANNND I want to encourage you guys to sign up for my weekly newsletter if you don't already. For the holidays I will be amping up the recipes and giving you guys all sorts of baking tips and baking lists on that. It's a great way to get a weeks worth of me all in one simple email 🙂
SIGN UP HERE!
Have a great day!
Print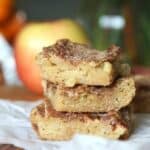 Chunky Apple Snickerdoodle Bars
---
---
1/4 cup

butter, melted

1 cup

light brown sugar

1

egg

1 tsp

vanilla

1/2 tsp

salt

1 tsp

baking powder

1 cup

flour

1 cup

diced apples

2 Tbsp

granulated sugar

1 1/2 tsp

cinnamon
---
Instructions
Preheat oven to 350°
Line an 8×8 pan with foil and spray lightly with cooking spray.
In a large bowl combine melted butter and brown sugar with a wooden spoon. Once mixed, stir in egg and vanilla until smooth. Stir in salt, baking powder and flour until dough forms (it will be thick).
Stir in apples and spread into pan.
Combine granulated sugar and cinnamon and sprinkle on top of batter.
Bake for 25-30 minutes until the edges are just golden and the center is almost set.
Allow to cool completely before cutting into squares.
---
Notes
store airtight for up to 3 days.
Want To Save This Recipe?
Find more recipes like this: