So I have been trying to get the pantry cleaned out after the holidays…you know, getting rid of tempting items and also scanning expiration dates…scary stuff! Anyway I have like 7 cans of Sweetened Condensed Milk, not to be confused with the evaporated variety…anyway, I checked out the "Use By" and they were all dated 2/09. UH OH! I have no idea why I went on a Eagle Brand bender, but now I must suffer the consequences. I decided to mess around a little with it and see what I could come up with…I mean, I was going to have to throw it out either way, so why not let it go down without a fight!
Here's #1 in the Operation: Bye Bye Eagle Brand

Pantry Brownies:

1 box Devils Food Cake mix
1 can Sweetened Condensed Milk
1 stick melted butter
1 egg
13 snack sized Snickers bars
yep, that's it

Preheat oven to 350
Dump all ingredients in a bowl except Snickers. Mix to combine, about 50 strokes…like a brownie batter.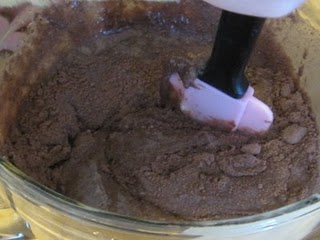 Spread batter in 9×9 greased pan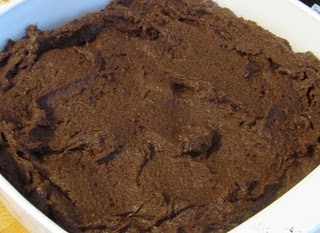 Meanwhile chop Snickers into thirds…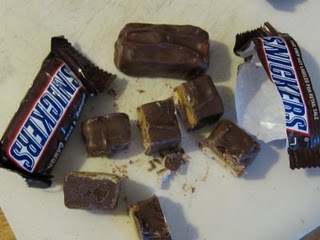 Now press Snickers pieces evenly through the spread batter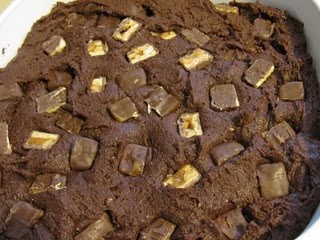 Now bake for about 20 – 25 minutes
Now, you have to let this sit because otherwise it will be way too gooey to eat with your fingers. You can eat it with a fork while it's warm, but I liked it better after it had cooled completely.
It was VERY sweet, but came out like a fudgey, chewy brownie.
Believe it or not is was good, but next time I will try it with Reeses PB cups…YUM!
And the finished product…dum duh duh DAAA…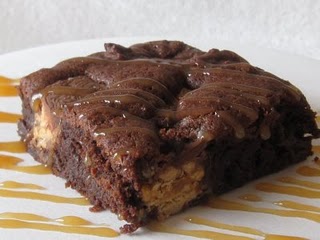 If you happened to try these, let me know how they came out!