This super simple Communion Cake is such a fun way to celebrate your kid's first communion. Made with moist vanilla cake, buttercream frosting, a rosary decoration, frosting flowers and a classic cross shape, this cake is a godsend!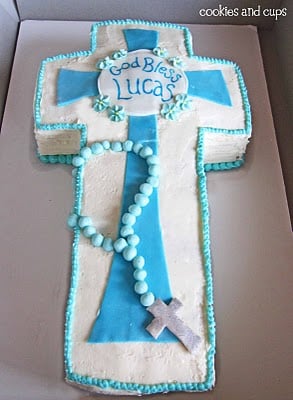 This Communion Cake Is Easy To Make!
I made this easy Holy Communion Cake and think it turned out pretty well. This is a great decorated cake for beginners, as the decorations are simple and the use of fondant is minimal, yet pretty.
I baked 2 half sheet cakes, and allowed them to cool.
I cut the cakes in the shape of a cross, making sure that both cakes were the same.
You can do this by making a sketch of a cross on paper and using that as a guideline.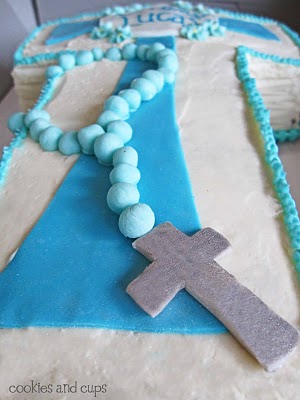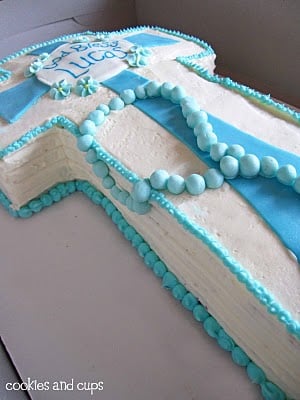 Next I bought some white fondant. I like the brand Satin Ice, It's easy to work with and tastes good!
I dyed some of the fondant blue and rolled it out to about 1/8- inch and cut it into the shape of a cross to place on top of the cake.
I also rolled out some white fondant and cut it into a circle to make the name plate. I wrote on the nameplate with a food coloring marker.
I colored some of the fondant with a light blue food gel and then formed it into small balls for the rosary beads.
I made the cross out of fondant also for the end of the beads, and sprayed it with a silver food coloring.
I bought light blue sugar flowers to decorate the top of the cake, but you could pipe those on too with frosting.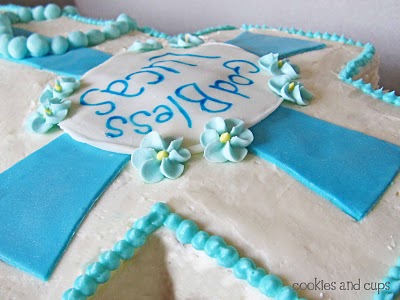 This is an easy cake to make and turns out so cute!