I am not super familiar with the Catholic religion, but I do know that a lot of kids in my area are making their first Holy Communion, so "season" seems appropriate.
I am very aware of my ignorance on this subject, so by no means am I meaning to offend.
I grew up going to a Baptist church, and in Houston (where I'm from) there was (is) a huge abundance of Southern Baptist. In my little world there weren't a lot of Catholic people. My husband has told me that I grew up in a bubble…I'm finding that he might be right 😉
I had been to a Catholic Mass with a friend once or twice and they did things that we didn't get to do in church…
First, there were the kneeling benches, which I had originally thought were foot rests.
Wow, they want you to be really comfortable here…sit back, get comfy..kick your feet up.
Well, we all know they aren't foot rests…but even still…to kneel every few minutes, how very dramatic!
I loved it!
Then there was the crossing. I wanted desperately to cross myself, but I always got it wrong. I practiced at home in the mirror…maybe that's why I kept doing to backwards.
My church seemed so boring compared to going to "Mass"…see there was even a special name for it…it wasn't boring old "church"
Also the rosary beads. A religion with jewelry. I was clearly born into the wrong form of Christianity.
Then the pie'ce de re'sistance ~ Ash Wednesday. Some kids would come to school with Ash smeared on their forehead…how exotic! I was so jealous!
I went home and smeared Crayola marker on my forehead to see how I looked.
Embarrassing…I can't believe I just typed that.
I know all this is weird, but I also ate Chapstick as a child, so there's not a huge amount of normal over here.
Needless to say I ended up marrying a Catholic, although his religion really wasn't a factor…
I'm not some sort of weird Catholic stalker or anything.
I grew out of the obsession…
BUT I still get to make cute cakes for kids celebrating all the things that Catholics celebrate!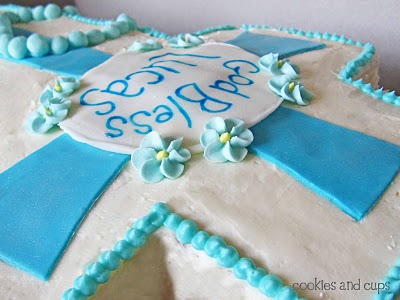 Happy Communion season everybody!