I'm giving away a fabulous Kitchen Aid mixer to the lucky winner of this contest! Find out how to enter and join the countdown to the release of my long-awaited cookbook!
The Cookies and Cups Cookbook Countdown Giveaway
FRIENDS!!!
The countdown is officially on! My book, The Cookies & Cups Cookbook, will be released in TWO WEEKS!! AHHHHHHH!

I am honestly bursting with excitement. April 12th is just 2 weeks away and it can't get here soon enough!! I am DYING for you to see what I have been working on for the past few years. It's been a long road and FINALLY I will be able to share it all with you!
The Cookies & Cups Cookbook is essentially my blog in book form. Everything that you love about the recipes here, you will find in my book. I have a few blog favorites that I knew I had to include, but the book is filled with over 100 brand new recipes for you make, bake and love.
And not only is the book filled with every sweet treat you could possibly want, there is a fantastic bonus section at the end dedicated to quick, delicious and unique dinnertime ideas! I feature savory dishes from time to time and I really wanted my book to be a true extension of my website.
So it's a cookbook in reverse. Desserts truly come first.
And today I want to start the countdown the RIGHT way. You guys are going to LOVE this.
I filmed this little video a few weeks ago in my kitchen. Of course my Chocolate Chip Cookie recipe made it into the book!
And to kick off the official countdown I have teamed up with my very good friends over at Challenge Dairy. You guys know how much I love my Challenge Butter!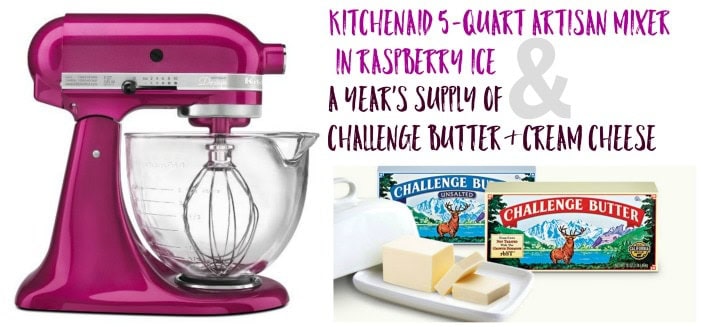 NOW!!! GIVEAWAY TIME!!!!
If you have pre-ordered The Cookies & Cups Cookbook you can enter to win a KitchenAid 5- quart Artisan Mixer in Raspberry Ice just like mine in the video AND a years supply of Challenge butter and cream cheese!!!
I AM dying over this prize!
I LOVE my mixer and I know you will too. That combined with a year's supply of the best butter and cream cheese out there…it's a total dream prize!
To enter is simple…
You just need to have pre-ordered The Cookies & Cups Cookbook. That's it! It doesn't matter where you pre-ordered it from, all you have to do is provide proof of purchase in the giveaway form (receipt # and retailer name). If you haven't pre-ordered, what are you waiting for? Click on any of these retailers to get it done!
Amazon | Barnes&Noble | Books-A-Million | Indie Bound | Simon&Schuster | Amazon Kindle | Nook by B&N | iBooks | Google play
To improve your chance of winning you can also sign up for bonus entries…
Sign up for Challenge Butter's Newsletter
Follow @GalleryBooks on Twitter
Sign up for the Simon & Schuster Newsletter
The giveaway runs now through April 11th!
It doesn't matter if you pre-ordered months ago or just today, everyone who pre-ordered is eligible to win!!
a Rafflecopter giveaway
For any question please find all Terms & Conditions HERE.
Good luck and thank you times infinity for your constant support.