These Cotton Candy Cupcakes are absolutely gorgeous, and they're super easy to make! Colorful treats that are perfect for kids and special occasions.
Cotton Candy Cupcakes
A few weeks ago my kiddo was invited to a birthday party.
This is not an uncommon occurrence, as most moms of young children know. Birthdays at the 1st grade level are a big deal. Kid's want to enjoy their day with their friends and receive lots of presents that they wouldn't normally get…
While we are on that subject…Moms…please don't buy my child anything that where assembly takes more than 20 minutes, anything with the words "adult supervision required" on the box, and especially anything that requires 9V batteries. I mean, seriously, 9V batteries? Any toy that requires the use of this rare battery that I NEVER have in my house will go to die in the toy graveyard that is our basement. Save your money.
And while we love crafts in my house, please do not buy my kids anything that involves Plaster of Paris.
That's just mean, ladies and gentlemen.
So, back to the invitation that we received.
It was one of those moments that I knew was inevitable.
It was a moment in time that had escaped me up until this point; a moment that I had hoped and wished and prayed would not come.
But I knew better and my time HAD come…
It was an invitation to Chuck E. Cheese.
Oh Lawd!
The millisecond my kids saw the invitation they started transformation.
Morphing into a Chuck E. Cheese child.
You KNOW what I am talking about.
Almost instantly they were pumped with enough energy that 17 packs of Skittles and 4 cans of Mountain Dew could not touch.
It's a strange phenomenon the Chuck E. Cheese effect (CECE).
You have spent your whole career as a mom trying to teach manners, hygiene and self-control and the moment they cross the threshold of "the Cheese" everything you have worked so hard at goes literally down the crapper.
I looked at my sweet child and he had Scooby-Doo zombie eyes…you know where they have those swirls going round and round instead of pupils? I had lost my precious child for the next 2 hours.
I knew I wouldn't have him back until the CECE wore off in our car driving home, so I had to deal with the monster while he was alive.
We, literally, ran from machine to machine, tossing in quarters, holding onto E.Coli covered arcade joy-sticks. We tossed Skee-Balls until we had enough treasured "tickets" to buy the coveted 2″ long rubber snake and ate pizza that only someone coming off the Master Cleanse could enjoy.
The creepy robot Chuck E. Cheese band entertained the zombieschildren and we got a picture with Chuck, himself.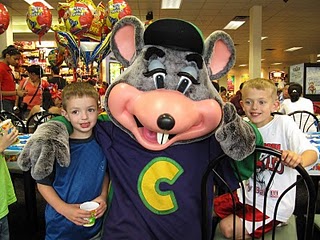 (See their eyes? They're zombied out.)
I left that God-forsaken place feeling chewed up and spit out; dirty, literally and figuratively.
Within a few hours and after a hot shower I had my child back.
So, here's the lesson for anyone who is reading this:
Be a kind mom and just say no when your child mentions Chuck E. Cheese for his/her birthday party. Do it in a loving way, telling him for his own good and for your standing in the mom community.
Because trust me, mom's will not forgive that one ladies 🙂
In the spirit of birthday parties, here's a sweet cupcake that I took to school for my son to share with his classmates. The special thing about these are they are egg-free, for those with egg allergies and they are DELICIOUS ~ you won't miss the egg at all!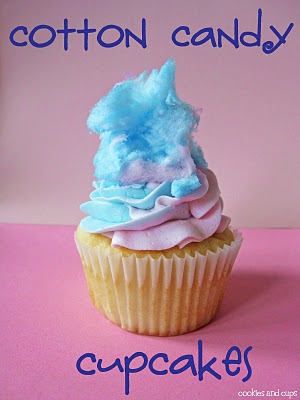 Once your cupcakes are baked you will have to frost them…Here's a "how-to" on how to get pretty swirled frosting…
Print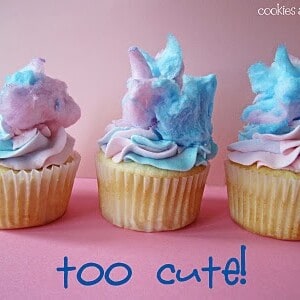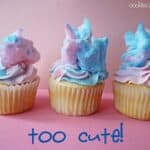 Egg Free Cupcakes
Prep Time:

10 minutes

Cook Time:

20 minutes

Total Time:

30 minutes

Yield:

24

cupcakes

1

x

Category:

Dessert

Method:

Oven

Cuisine:

American
---
Description
These Cotton Candy Cupcakes are absolutely gorgeous, and they're super easy to make! Colorful treats that are perfect for kids and special occasions.
---
1/2 cup

butter softened

1 1/2 cups

sugar

1 1/2 cups

milk

2 tsp

vanilla extract

1/2 tsp

salt

2 1/2 tsp

baking powder

3 cups

cake flour
---
Instructions
Preheat oven to 350
Sift dry ingredients together, set aside.
In mixer, beat butter and sugar until light and fluffy. Add vanilla to the measured out milk and add milk and flour in alternate batches beginning and ending with the flour. After ingredients are combined beat for about 1 minute on medium speed.
Fill cupcake liners about 2/3 full and bake for approx. 20 minutes until centers are set and toothpick comes out clean.
Let cool on wire rack until you are ready to frost.
---
Nutrition
Serving Size:
Calories:

146

Sugar:

13.3 g

Sodium:

92.3 mg

Fat:

2.9 g

Carbohydrates:

26.9 g

Protein:

3.1 g

Cholesterol:

2.3 mg
Keywords: cupcake recipe, easy cupcakes recipe, best cupcakes recipe, homemade cupcakes, homemade cupcakes recipe, easy cupcakes, vanilla cupcakes, vanilla cupcakes recipe
Want To Save This Recipe?