I had so much fun participating in my very first Craft Fair! With plenty of my signature cookie bouquets and a brand new homemade cupcake, I had the sweetest table there!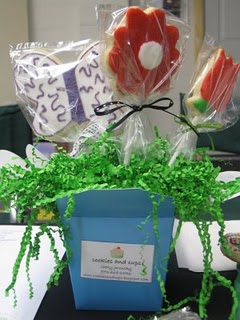 Creative Craft Fair Desserts
This past weekend I participated in my first Craft Fair. It was a small, local "Spring Bazaar" and a great first experience in selling to the masses, as opposed to individual orders. I made a lot of Spring and Easter themed cookies as well as a few of my standard cookies that I love. I showcased my sugar cookies and Cookie Bouquets and added a few other signature items for fun. It was a lot of work trying to make a large selection of cookies, but overall I loved doing it and enjoyed getting to meet some new folks. I also debuted a new cupcake that, as of now is my most favorite cupcake ever ~ but more about that on my next post =)
Here are some pictures of some of the things I made and sold.


Easter's coming, last minute ordering is available!!!
This was my table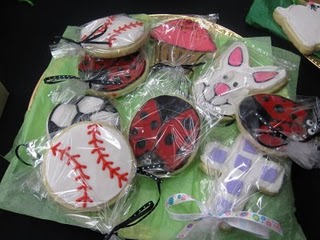 I also made a small cookie bouquet as an example, but sold the cookies individually on the sticks