Cream Cheese Filled Snickerdoodles are so much better than the average cookie! This snickerdoodle recipe is any cinnamon lover's dream baked into reality. These sweet, creamy cookies are absolutely perfect for any occasion!
I am in a book club.
It's definitely not lame.
Definitely.
You wanna know why?
Because sometimes books get turned into movies.
So, in the name of research you get to go watch a great movie with a bunch of your friends.
It's really a sweet deal.
Men get poker, we get book clubs. It's the way it works in middle America.
This past weekend my fellow book clubbers and I went to the movies to see The Help.
We read the book many months ago and were all very excited.
Here's the thing..lots of women loved this book, so opening weekend of The Help was a crowded affair.
We purchased our tickets in advance and arrived a full hour before showtime to ensure optimal seating.
Apparently the folks that run the theater anticipated a large turn-out for the show and created a "corral" of sorts. A space where we could stand in order awaiting our entrance into the show.
My friends and I stood obediently inside the designated area, waiting patiently as time ticked by. What we began to notice, however, was that many weren't respecting the "corral". They just sauntered by us, sniggering to themselves, and approached the theater entrance with no consequence. Of course the penned up ladies surrounding me started stirring. I felt an uprising commence.
How DARE people not stand in line? We were here EARLY! We purchased our tickets on the INTERNET! We have RIGHTS!
The stir quickly became a roar when the theater doors opened and the non-line-waiters got in first. Travesty! By my recollection it was nothing short of a stampede. I can only compare it to running with the bulls in Pamplona…the corralled women being the bulls and the line-snubbers being the foolish people who choose to run with them.
The men that run the cinema were clearly not prepared for The Help-pocolypse because as soon as women started yelling about line respecting and ticket pre-ordering they shut down like my husband does at the mention of "feelings".
One of my friends, who has more assertion than I do, asked one of the line cutting culprits if she hadn't noticed the dozens of women waiting? "Do lines mean nothing to you?", I believe were her exact words. Well, apparently this woman had some pent up anger that she needed to unleash, because she started yelling…actually I think the correct terminology is "going postal". It was frankly, hilarious.
This woman's pre-chick flick rage made me feel all at once embarrassed for my gender and entertained beyond measure. Kinda like any given episode of Real Housewives.
The lesson here my friends is don't mess with women who have been corralled…they tend to lose their grace. This is why I never plan on going to jail.
Plus, it appears that Book Club is just a whisper away from Fight Club..any given day, my friends.
Soft Cream Cheese Filled Snickerdoodle Recipe
After a night on the streets town with my friends I need comfort food.
These cookies are every bit of comfort you could possibly need and they are as good as they sound.
Cream Cheese Filled Snickerdoodles.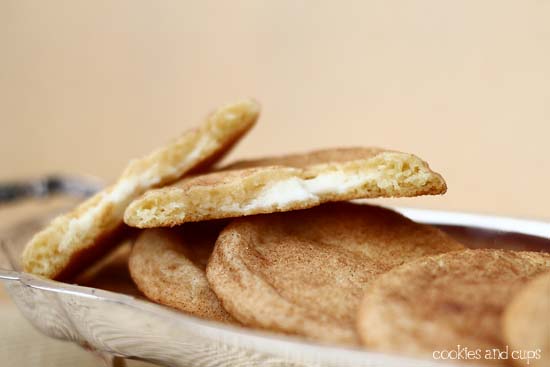 How to Make Cream Cheese Filled Snickerdoodles:
They take a few more steps than a regular snickerdoodle, but it's worth it.
Start with your dough…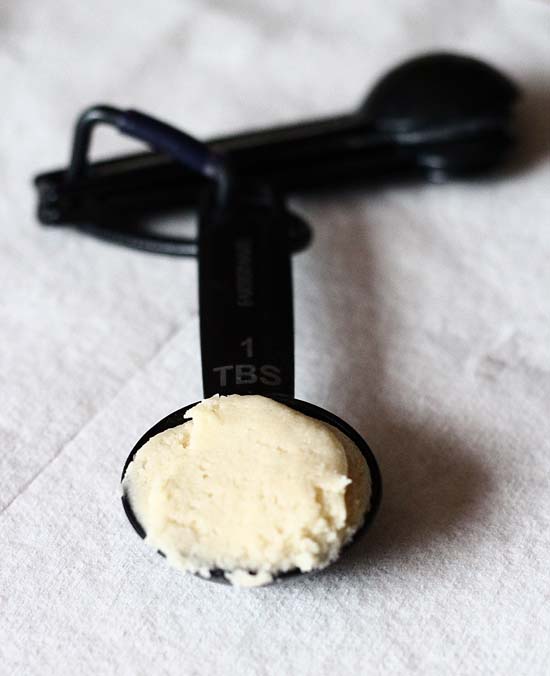 Then you have to follow a few easy steps…this is what makes them special.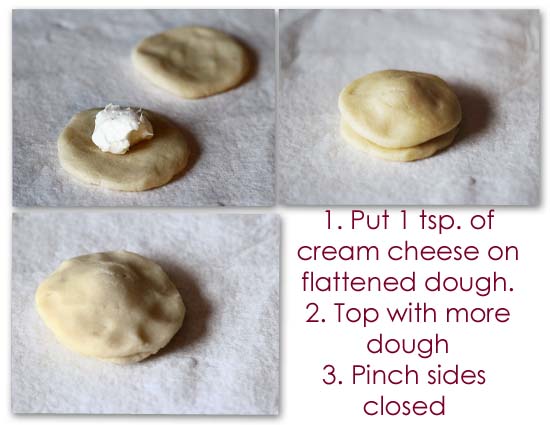 Now roll them in your cinnamon sugar mixture.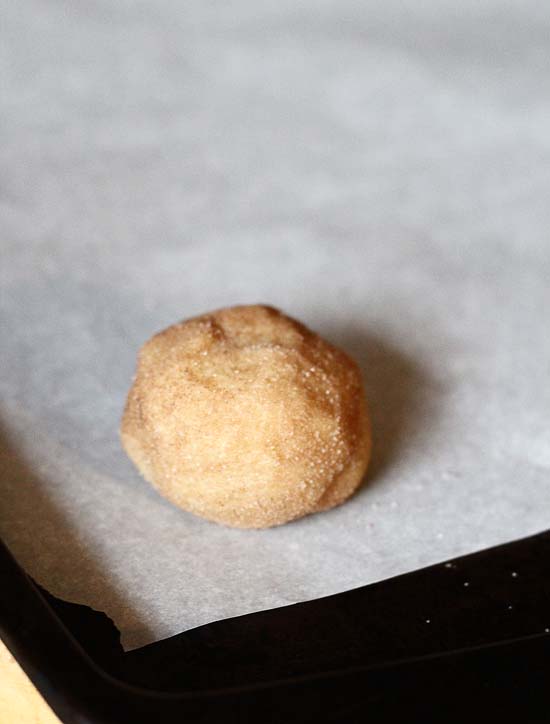 And after a little chill time you bake them up. They look like regular snickerdoodles…all pretty and cinnamony.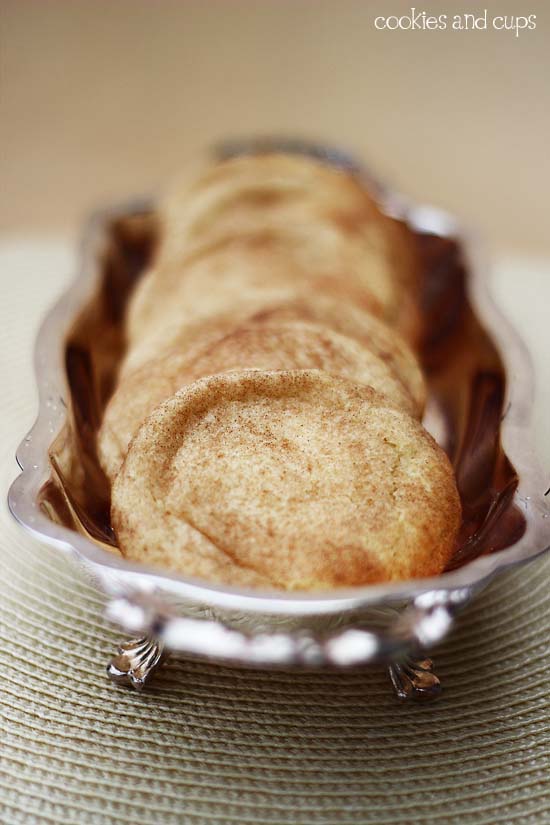 But when you bite into them they reveal their secret…it's a good one…creamy filling. De Nada.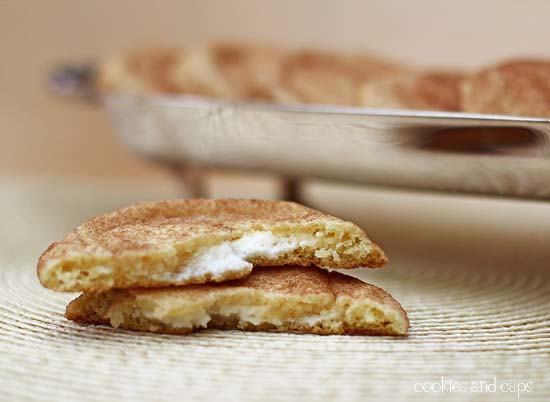 Print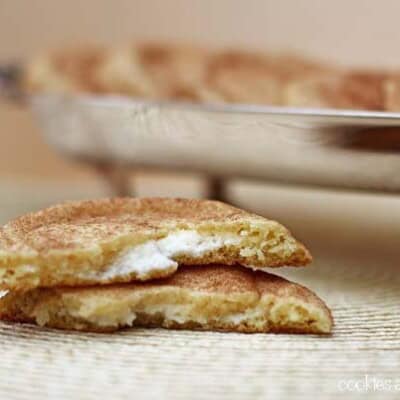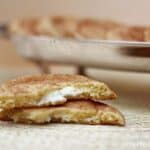 Cream Cheese filled Snickerdoodles
Author:

Prep Time:

30 minutes

Cook Time:

8 minutes

Total Time:

1 hour 23 minutes

Yield:

24

cookies

1

x

Category:

Dessert

Method:

Oven

Cuisine:

American
---
Description
Cream Cheese Filled Snickerdoodles are so much better than the average cookie! This snickerdoodle recipe is any cinnamon lover's dream baked into reality. These sweet, creamy cookies are absolutely perfect for any occasion!
---
Cookies
1 1/2 cups

sugar

1 cup

room temp butter

2

eggs

1 tsp

vanilla

2 3/4 cups

all purpose flour

2 tsp

cream of tartar

1 tsp

baking soda

1/4 tsp

salt

1/4 cup

sugar

2 tsp

cinnamon
Filling
8 oz

cream cheese, softened

1/4 cup

sugar

2 tsp

vanilla
---
Instructions
Make the cream cheese filling by mixing the cream cheese, 1/4 cup sugar and 2 tsp vanilla. I used my hand mixer for this.
Cover the cream cheese mixture and refrigerate for at least 30 minutes.
Preheat oven to 400°
Cream butter and 1 1/2 cup sugar until fluffy.
Add eggs and 1 tsp vanilla. Mix until combined.
On low speed mix in your flour, cream of tartar, baking soda and salt. Set dough to the side.
In a small bowl combine remaining 1/4 cup sugar and 2 tsp cinnamon, set that aside as well.
Remove the cream cheese mixture from the refrigerator.
For each cookie you will need 2 flattened balls of dough, 1 Tbsp each. (The flattened disk will be approx 2″ in diameter)
Place 1 tsp of the cream cheese mixture on top of one of the flattened dough disks. Then place the other flattened dough on top of the cream cheese. Pinch the edges together to seal.
Carefully form into a ball and roll in the cinnamon sugar mixture. Place on a plate as you finish making each and refrigerate. Before baking the cookies they should chill for 15 minutes.
When the dough is chilled bake on a parchment lined baking sheet 2″ apart for 8 minutes.
Transfer to wire rack to cool.
---
Notes
Store in an airtight container, refrigerate if keeping for more than 1 day
Nutrition
Serving Size:

1 cookie

Calories:

173

Sugar:

17.3 g

Sodium:

190.5 mg

Fat:

5.9 g

Carbohydrates:

27.8 g

Protein:

3.2 g

Cholesterol:

20.6 mg
Keywords: cream cheese filled snickerdoodles recipe, how to make cream cheese filled snickerdoodles, how to make snickerdoodles, snickerdoodle recipe, best snickerdoodle recipe, cinnamon baking recipes, easy cookie recipe
Want To Save This Recipe?
Find more recipes like this:
One last thing…go see The Help..it is really good…and worth every bit of dignity lost.