So you guys remember the Creative Cookie Contest I had going with Confessions of a Cookbook Queen? We have had some AMAZING entries!! Hop through and check out the fun recipes if you haven't already!
Anyhow, we have reached PHASE TWO of the contest! Kristan and I have narrowed down the entries to our favorite three!! BUT here's where you come in!! We just can NOT decide which cookie recipe sounds the most delicious to us so we want YOU TO VOTE on your FAVORITE!! Yep!
Here are the three finalists…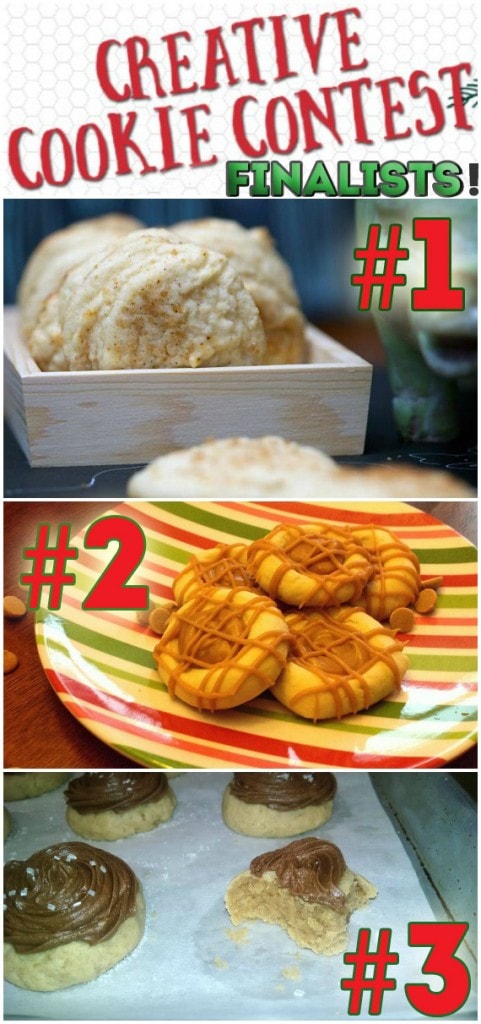 Recipe #1
Bacon Fat Snickerdoodles! Be still my heart. Amy Meiers describes her little bites of perfection as, "These cookies are crunchy on the sides and chewy in the middle, and a great way to use up leftover bacon grease. A few little cracklin's just add to the charm." Can you imagine the deliciousness??? I am definitely going to try her recipe!
Recipe #2
Hogwarts Worthy Butterbeer Cookies from Kara Canary. These lovelies are a buttery cookie base filled with butterscotch ganache. I can't even imagine how delicious these are!! Such a creative and pretty cookie!
Recipe #3
Elvis Cookies from Angie Schroder. Listen to the description for these…"A fabulous fusion of creamy peanut butter & ripe bananas, topped in a rich chocolate butter cream." OH MY YES!
How to Vote?
Now, here's how you vote. Hop over to THIS FACEBOOK POST and just "like" the recipe that you want to win! The finalists will be listed in the comment section, so like the cookie that you want to see win the iPad and the KitchenAid!
That's it!
We will post the full recipe for the winning cookie so you can all make and enjoy it as well!
Best of luck and thank you to everyone who entered!!
Voting ends December 27th!