I swear, cute cupcakes make the world go round! Today I'm teaching you How to Decorate Cupcakes that look good, taste good and stand out on any dessert table. Let's get started!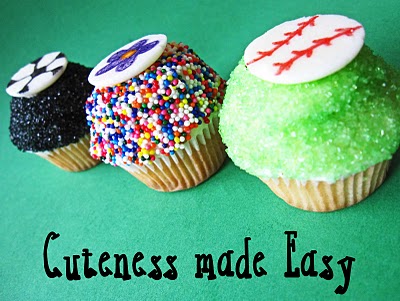 Easy Ways to Decorate Cupcakes
As a mom it feels like I am always making cupcakes for SOMETHING.
Whether it be for a birthday party, soccer snack day or indulging a craving on any given day there is a cupcake being baked, or being planned.
I want to help you ladies (or gentlemen?).
A few tips on how to make cute and tasty cupcakes for any occasion.
We will stick with vanilla for the sake of ease on this one…
Tip 1: If you choose to use boxed cake mix, MAKE YOUR OWN ICING.
It is easy people, and by leaps and bounds better. People care about the frosting. The end.
How often have you ever seen a cupcake bottom being eaten with the frosted top left over?
Let me answer that for you:
NEVER.
Very few people will know (or care) that you have used a box mix if you top it off with delicious, easy homemade buttercream.
Trust.
Tip 2: Sprinkles. Sprinkles make everything better.
They hide imperfect frosting swirls, they add color and let's be honest…they're just cute.
When adding sprinkles, if you have beautiful swirls, add a pinch for cute embellishment.
If you have slapped on that icing here's what you need to do:
pour your sprinkles in a small bowl and dunk your cupcake.
Cuteness made simple!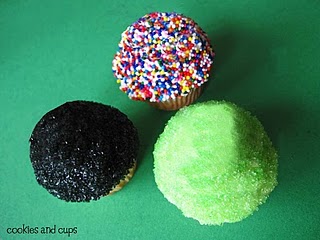 Now, for you overachievers:
Tip 3:Â
White candy melts +
foodwriter
= adorable personalized cupcakes that people will die for!
(Like I have said before, AmeriColor is the way to go with the foodwriters. I haven't had such great luck with Wilton, but that's just my opinion!_
You could easily do the same idea with fondant as
the decorated cookieÂ
does so well, but if you are a little afraid of the fondant, or don't have a ton of time try the candy melts.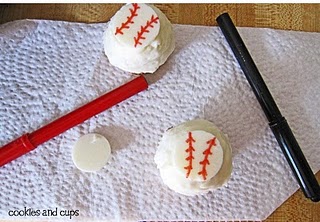 Flip them over and draw whatever you want.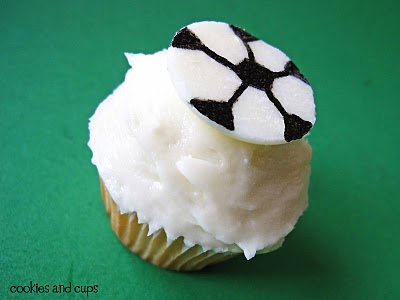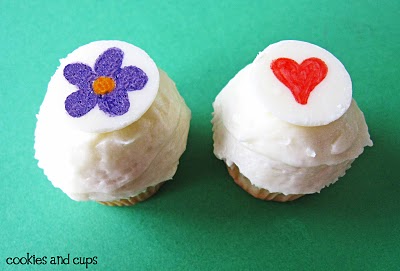 I did these on mini cupcakes, but you could easily do them on regular sized cupcakes as well!