Made out of individual cupcakes, this Yoda Cake is! If you love Star Wars, you'll definitely want this fun and simple dessert at your next birthday party.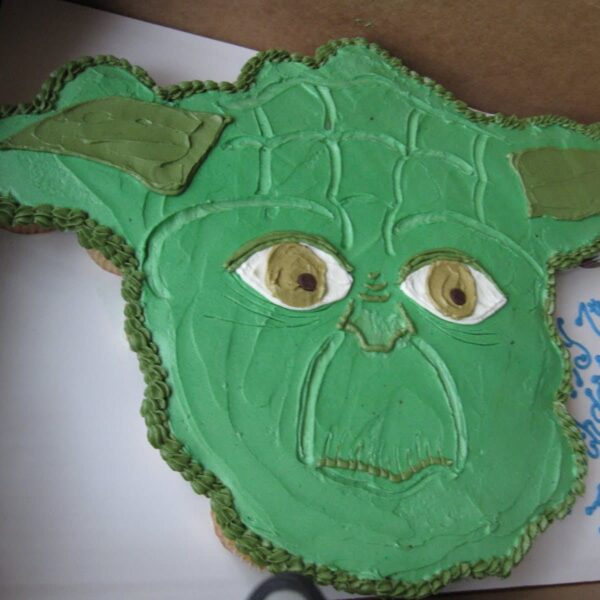 Yoda Cake
So a few weeks ago my sweet neighbor asked me if I would make a cupcake cake for her little guy's birthday party.
Absolutely.

The party theme was Star Wars, SOOO she was thinking a cupcake cake in the shape of Yoda's head.

Hmmmm…..
I quickly went from "Absolutely", to "Ummm, ok"
.
Not that it wouldn't be adorable, but could I do it?
Having never made Yoda

anything

before I went home and told my husband, who immediately said, "You can do that!" Such a champion, right? Stay tuned…
I decided to do a few internet searches and see what was out there so I could better wrap my mind around Yoda's face…hee hee.
Well, the internet proved that this could be incredibly awesome or incredible hoopty ~ yes, that is the technical term. Some of the Yoda's out there in cake form are so elaborate, covered in fondant and wrinkles and strange hair…
But what I found was, that if it wasn't awesome, it was weird and gross looking. I was wondering where I would fall on this spectrum. I didn't see any Yoda Cupcake Cakes, so I decided to just sit and sketch out Yoda. How hard could he be? So I took the birthday party invitation and pretty much tried to copy it line by line. Now, while every line seemed to be exact the finished product looked wrong, just wrong.
SO, I thought I would just do a practice cake. I picked up a box of cake mix and a few tubs of icing to get an idea of what I would be dealing with and I will tell you it was a disaster. I realized that I could draw Yoda's face all day long but the secret is in the wrinkles and shading. Well, I do not airbrush, so I was a little skeptical of how it would turn out, but they do sell those spray food coloring bottles. It's like aerosol food coloring, it's pretty cool. I thought it might be my saving grace.

When the time came to make and assemble my man, Yoda, I made my frosting that odd color green and iced the face…next I decided that I would try and draw his wrinkles, ummm, ok…I was starting to get a little more confident. I then sprayed over the soon-to-be Yoda cake with the food coloring spray to give it a little dimension and I'll tell you I was feeling good. So I finished his eyes, mouth, ears and border. Dude, I was done.
Nice.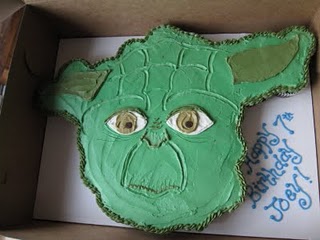 So here's how it went down…I called the husband over, "Sooo, what do you think?"

Husband's reaction: His head tilts to the side, mouth twists into a strange grimace, "ummm, ok", he says.
Me: "What does that mean? Doesn't it look like Yoda?"

Him: "Ummm, I guess."

Well, this was NOT the reaction that I wanted or expected.
Here's a little back-story…while I was making the cake he came over and I asked him how he thought I should make the nose…he told me what I should do and I listened to his idea and decided against it.
Apparently if someone gives you an idea and you don't take it (and by "someone" I mean my husband) then, to the person who gave the advice, it will never be quite right.
Needless to say, I got my panties in a wad and shed a tear or two…because I forgot to tell you, while this cake was for a neighbor, her son is also a good friend of my little guy and we were invited to the party.
So if the highly-anticipated Yoda cake was a disaster I still had to go to the "unveiling", for lack of a better word.

EMBARRASSING!
At that point, though, there was not much I could do..the cake was done and I needed to deliver it.
With much trepidation I knocked on the door and she looked at the cake, and because she is so sweet she said she loved it and said it was exactly what she had imagined. So, I felt better.
We ended up going to the party and her husband told me that the cake was great…I am pretty sure she put him up to it 😉
But the kids seemed to like it and it was about as Yoda-ey as a cupcake cake can get I think.
I got a lot of sympathy praise that day 🙂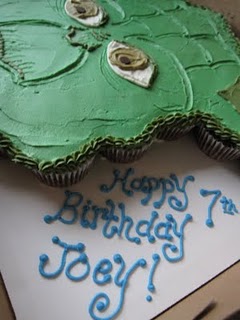 I am usually a lot more confident, but I have a hubby who does NOT do sugar coating.

He is my biggest champion as well as my harshest critic ~
which is good because I know I can always trust his opinion. I just need to remember this if I think my jeans make my butt look fat and I need a second opinion.