I have put together a list of all the things you need to bake in your kitchen these next few months…A Fall Baking Must List! You're Welcome.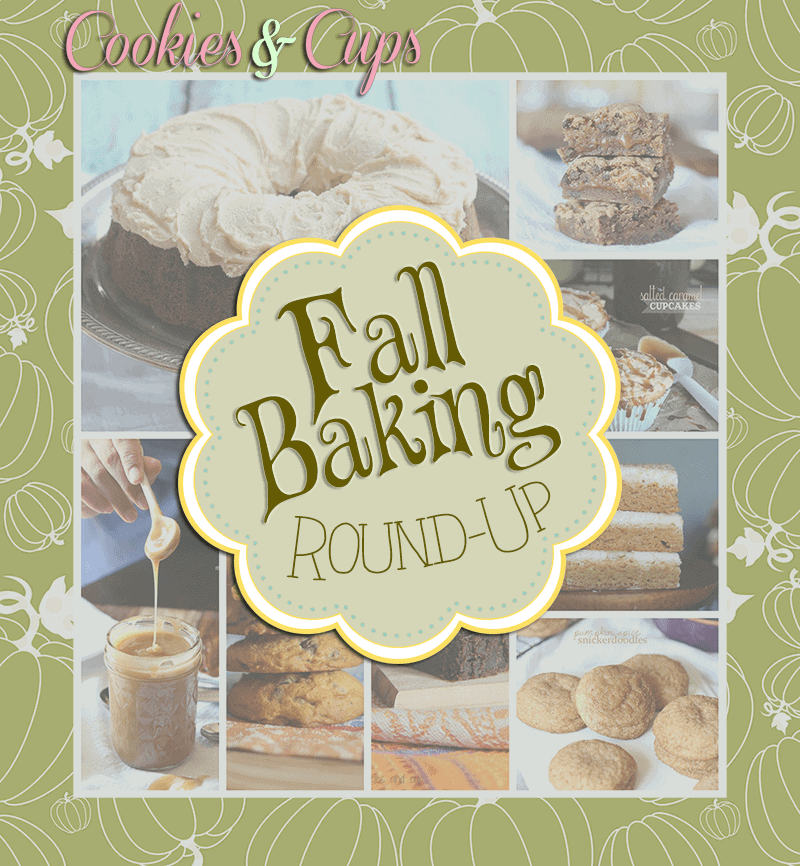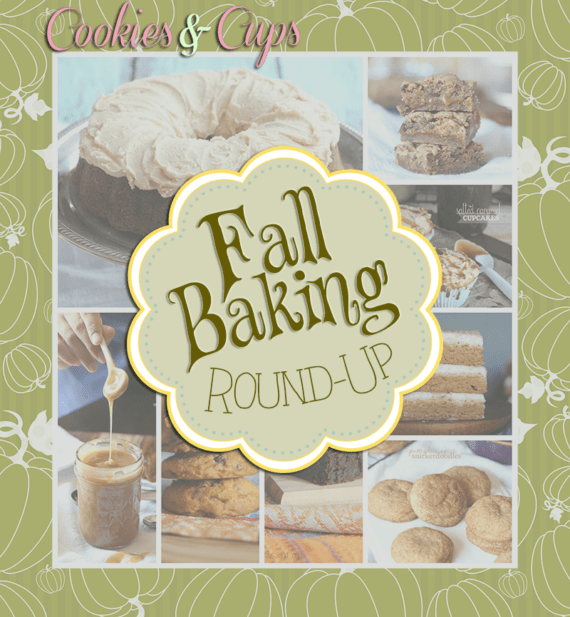 Ok folks. It's time to get yourself ready for sweatpants, football, foliage and baking.
Fall happens to be my favorite month. Basic? Yes. Sorry 'bout it? No.
The chili, the apples, the pumpkin spice…it's a thing and it's officially happening around here.
I know some of you guys live in places where it's still 95° outside. And I am sorry to hear that. But crank up your AC, put on a hoodie and get out that butter.
It's go time.
I've complied a list of all the fall baking stuff that needs to happen in your kitchen. Make one or all of the recipes…it's up to you how dedicated you re to the season 🙂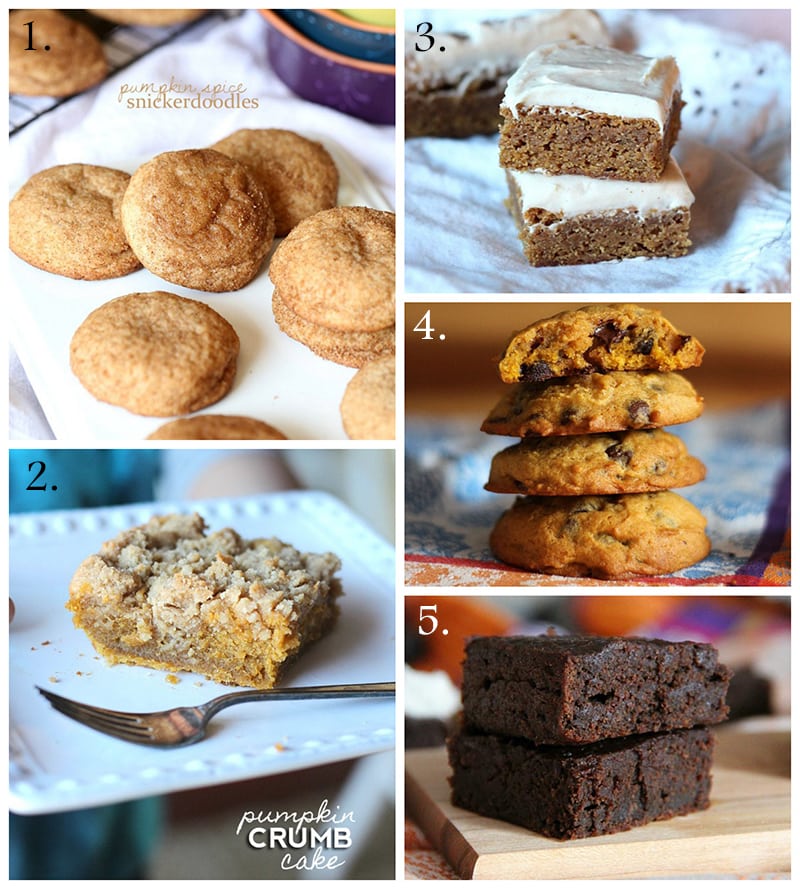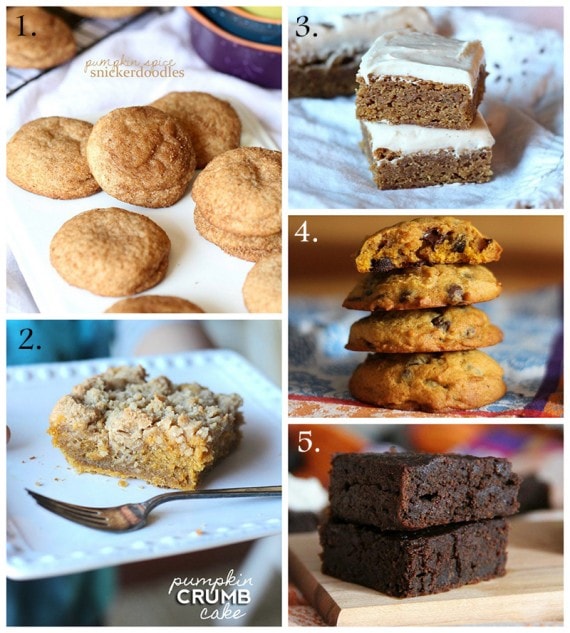 1. Pumpkin Spice Snickerdoodles This is a fairly new recipe… just made it a few weeks ago, but they are delicious, and you should try them.
2. Pumpkin Crumb Cake. This guy is a classic C&C recipe. You will fall in love with this one.

3. Browned Butter Pumpkin Blondies I made these little nuggets last year.. They took me a few tries to get right, but oh when I did…
4. Pumpkin Chocolate Chip Cookies Of course I had to have a chocolate chip cookie on the list!

5. 2 Ingredient Pumpkin Brownies These brownies are one of my most popular recipes. I made them a few years ago and they have been duplicated over and over. People either love or hate them…they aren't a typical brownie, but we like them!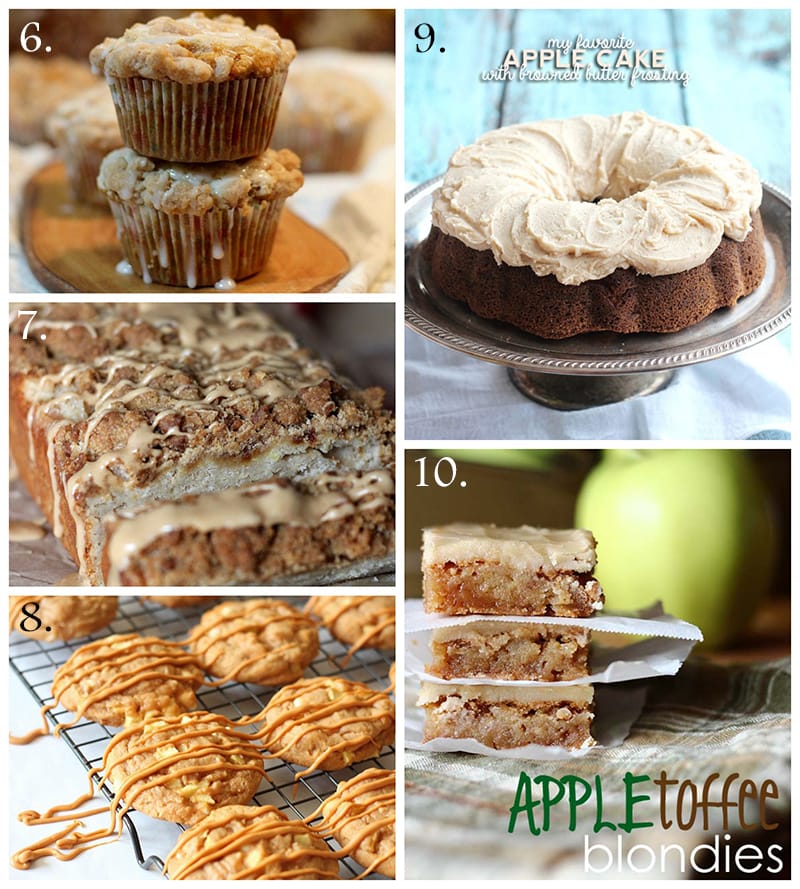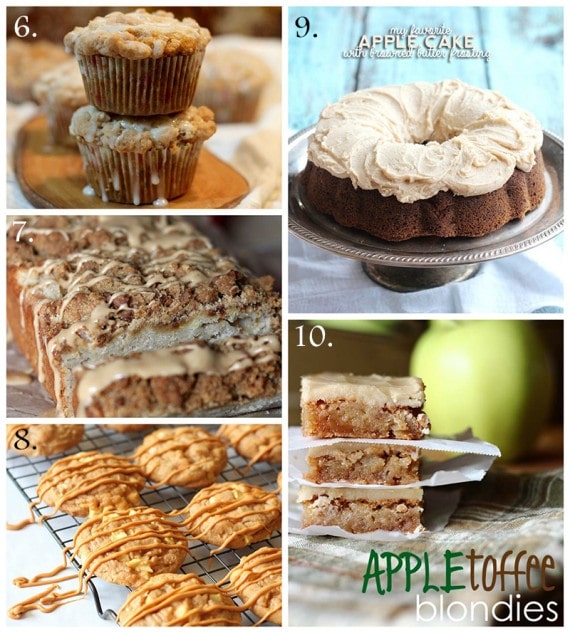 I hit on most of these in my Apple Round up, but it wouldn't be a complete fall round up without them, so I pulled over a few of my favorites!
6. Pumpkin Apple Muffins Loaded with fall flavor and the perfect amount of sweetness!
7. Apple Pie Bread Classic fall quick bread..actually it's not so quick, it's best if made the night before!
8. Butterscotch Apple Pudding Cookies Pudding cookies packed with flavor. they Are super soft and loaded with apples!
9. Apple Cake with Browned Butter Frosting Love this cake and the frosting.. ohmahgah.
10. Apple Toffee Blondies Make these. You'll LOVE them.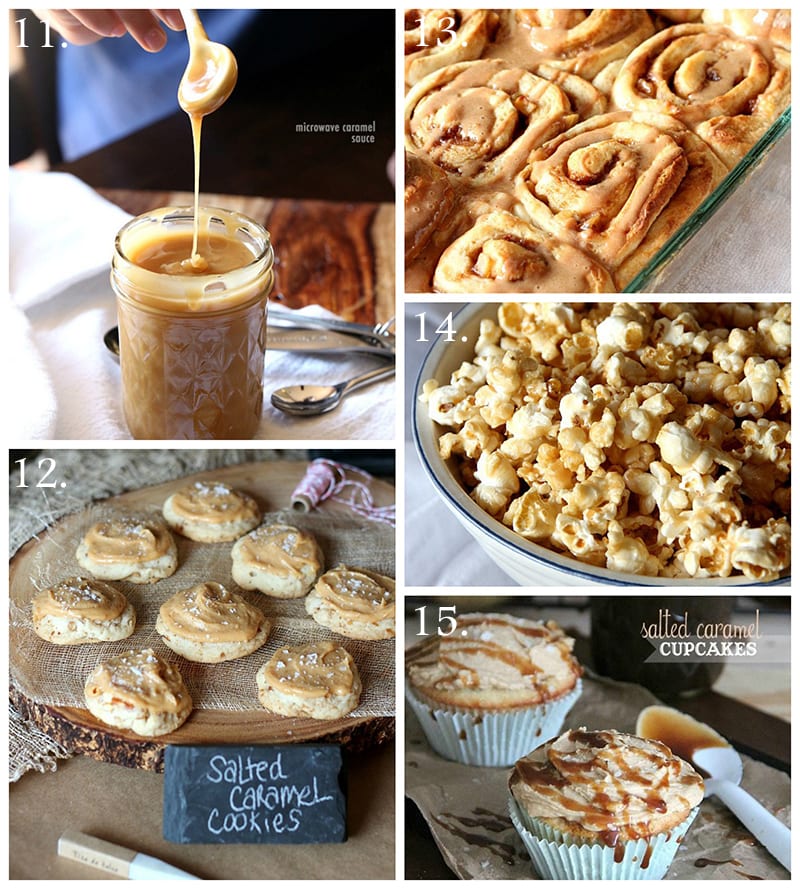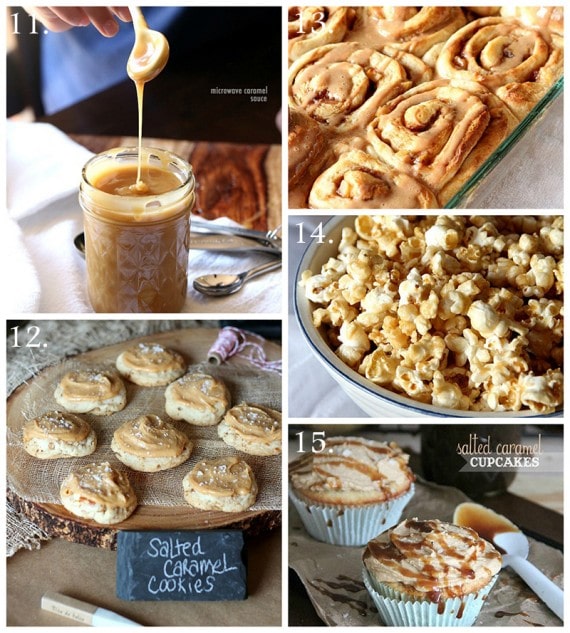 11. Microwave Caramel Sauce. This one is quick and delicious…and can be eaten with a straw, I kid. I kid…
12. Salted Caramel Cookies This is a recipe from Eagle Brand…I think they turned out pretty great!
13. Caramel Apple Cinnamon Rolls These are made with a seasonal cake mix that seems to be hard to find this year, but feel free to sub in a spice cake mix or even just vanilla!
14. Salted Caramel Popcorn A classic recipe that you will make again and again. I swear it.
15. Salted Caramel Cupcakes One of my most favorite cupcakes on my website. You will LOVE these.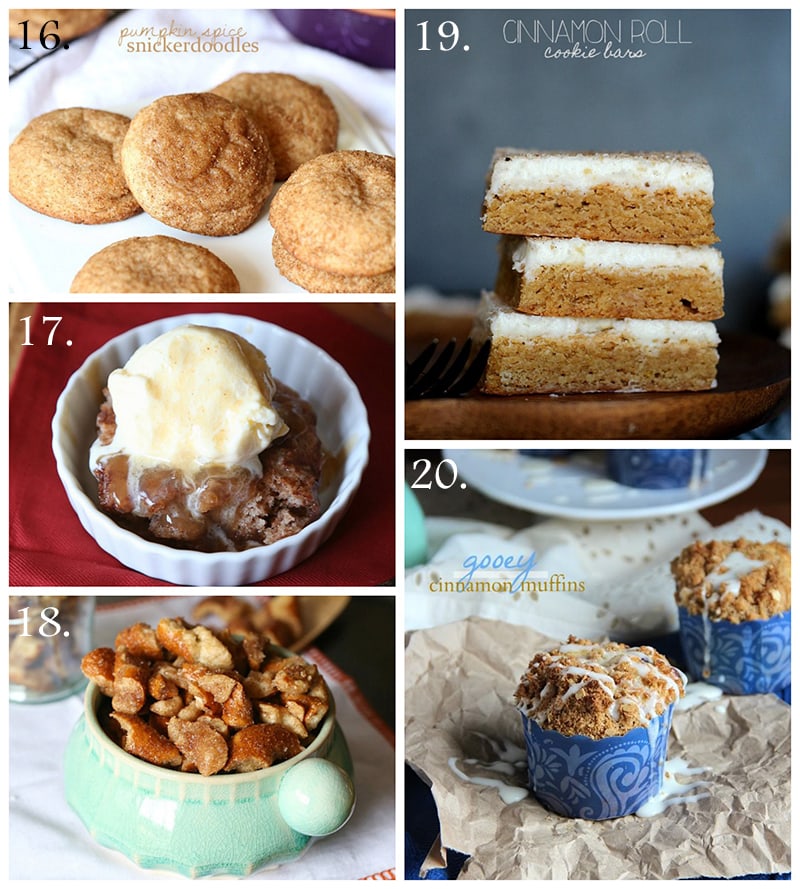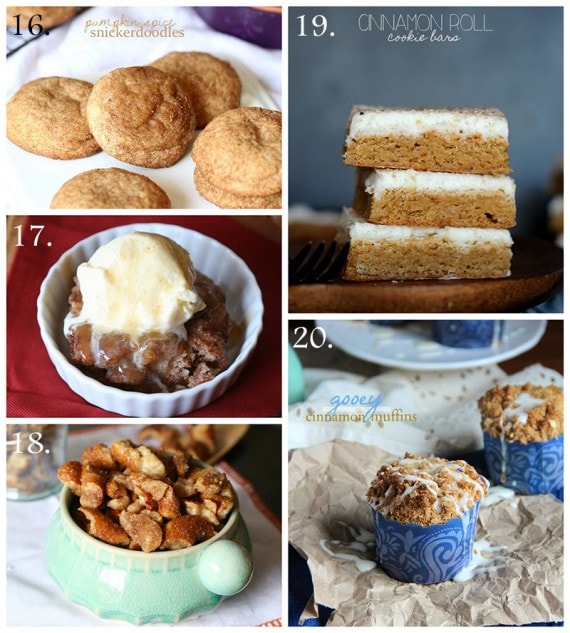 16. Pumpkin Spice Snickerdoodles… ok, whoops.. put these twice. And since I'm lazy I'm not going to fix it. So make 'em, ok?
17. Snickerdoodle Cobbler This is the PERFECT recipe for a last minute dessert.. I swear it takes 5 minutes to throw together and then it bakes. Perfect, easy and best with ice cream.
18. Cinnamon Sugar Pretzel Pieces. A snackers dream. these are so addictive!!
19. Cinnamon Roll Cookie Bars. Super easy and delicious. Plus, cream cheese frosting.
20. Gooey Cinnamon Muffins. These are the best weekend muffin ever to exist.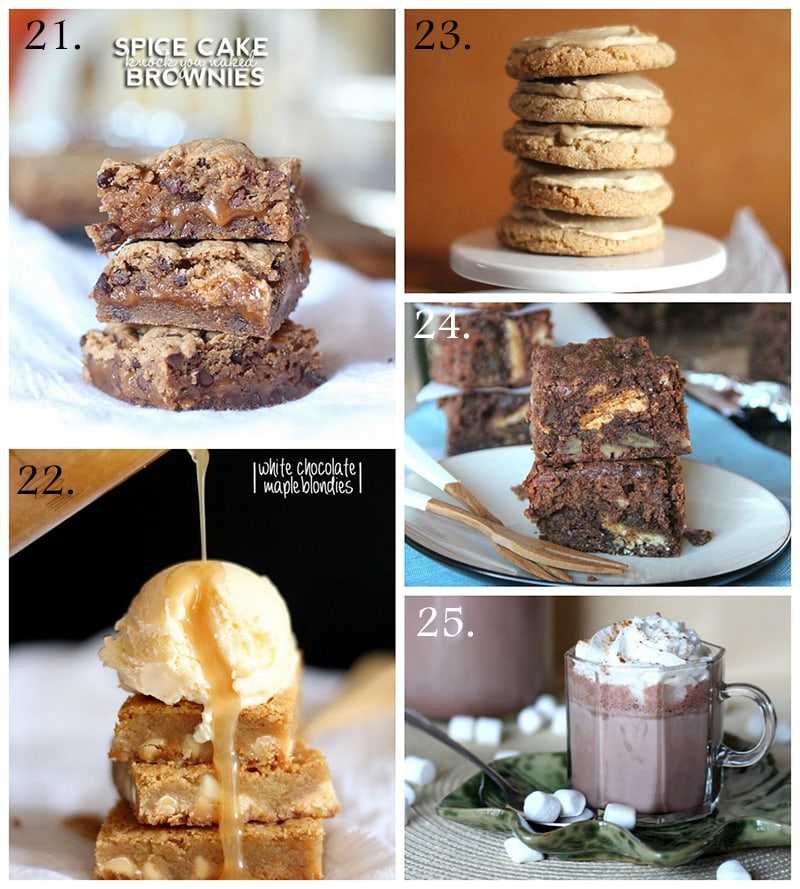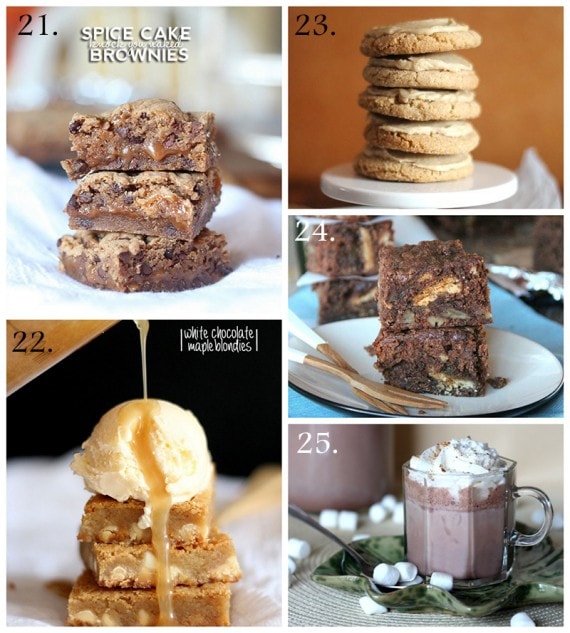 21. Spice Cake Knock You Naked Brownies. If you like Spice Cake you will love these.
22. White Chocolate Maple Blondies. DEAD.
23. Chewy Brown Sugar Cookies with Brown Sugar Frosting These are one of the best cookies on C&C. Believe it. They may not seem super exciting, but I swear to you.
24. Pecan Pie Brownies. This is what happens when you dump an entire pecan pie into brownie batter. Forgive me Father for I have sinned.
25. Pumpkin Spice Hot Chocolate. Warm, Cozy and perfect.
So get your baking pants on and get to it!!