My Fall Favorites list is one of my favorite lists to put together every year! Plaid, pumpkin, and cozy are all right up my alley! Plus, this list isn't a gift guide, unless you're into giving yourself presents…which I, actually, am!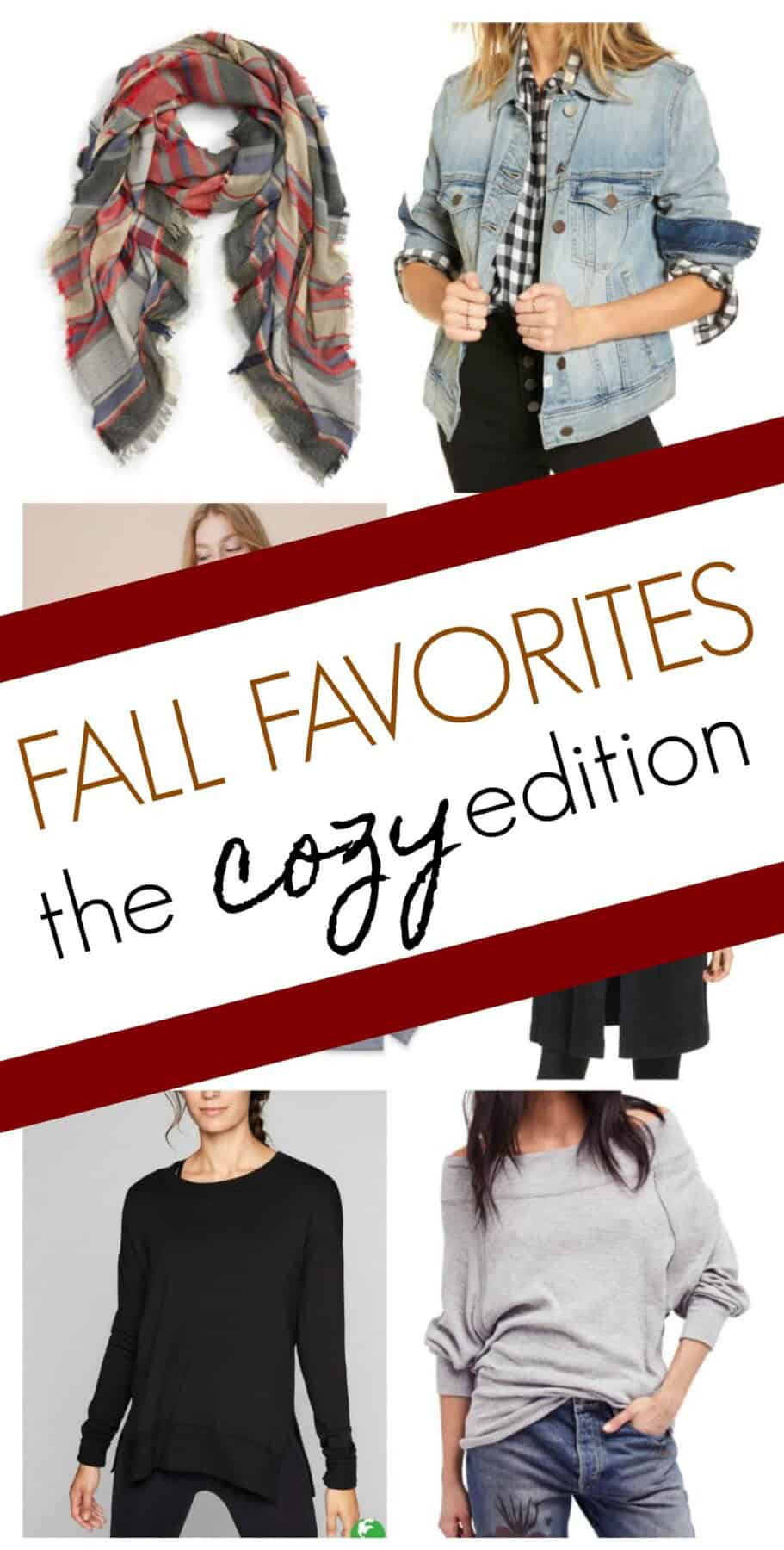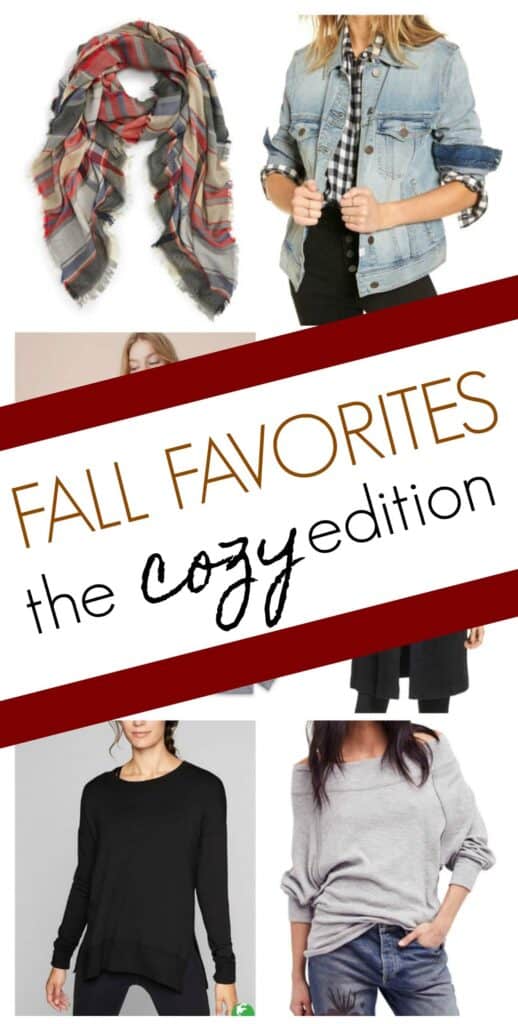 Today I'm sharing all my fall favorites. I mean, some are repeat favorites, but most are brand new. When the weather starts to turn a little chilly, the basic girl inside gets all sorts of happy. I'm sad to see my rosé days dwindle for the year, but bring me a nice red blend with a side of Pumpkin Spice anything and I'm all set.
Also I will say, this list is very indicative of my life right now…stretchy, comfortable clothes. I don't have any "dressy" items that I am dying to share, but I am sure next month when I get into the holiday mood that will change!
AND FYI this post does contain affiliate links, but none of this content is sponsored. These are all items I have purchased on my own that I love and wanted to share with you!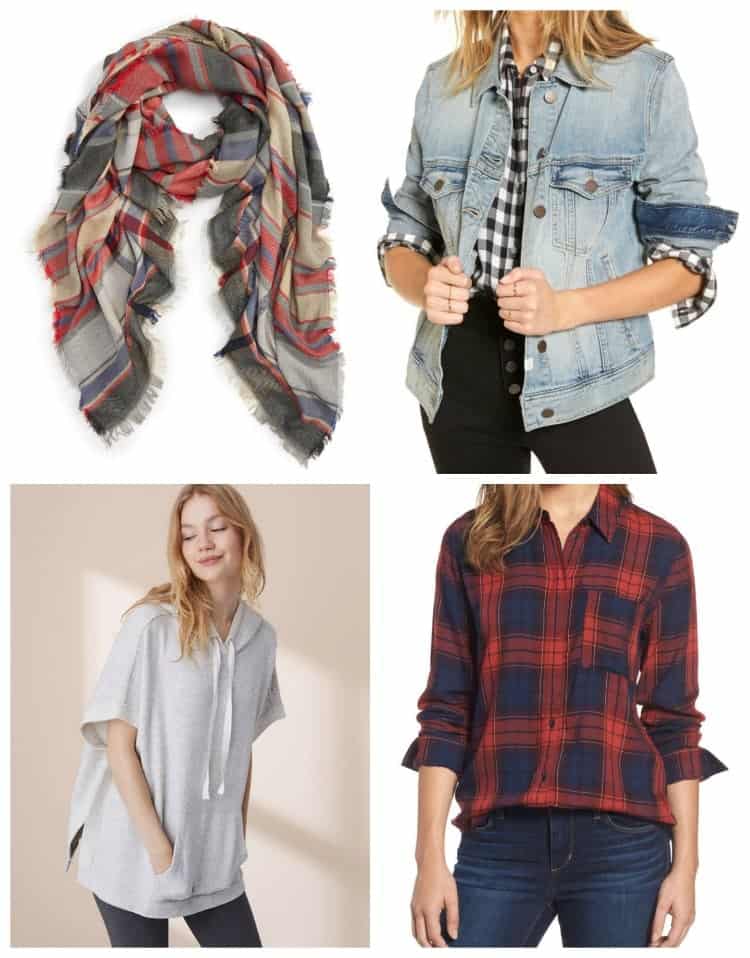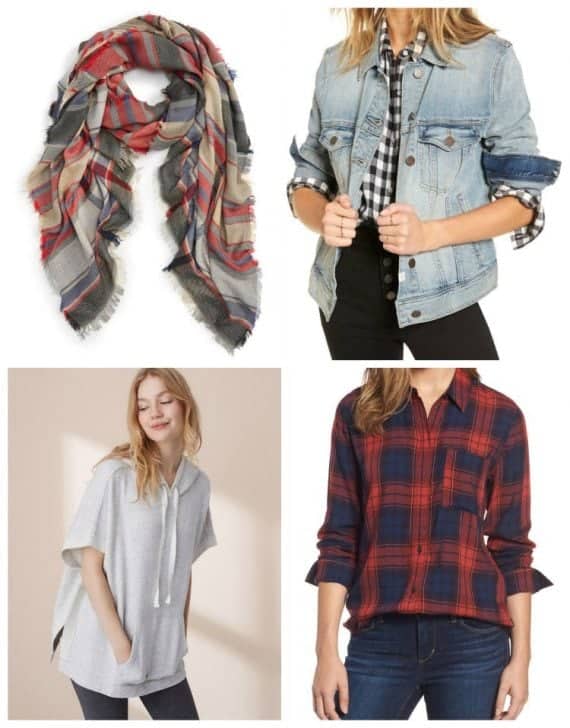 Clockwise from the top: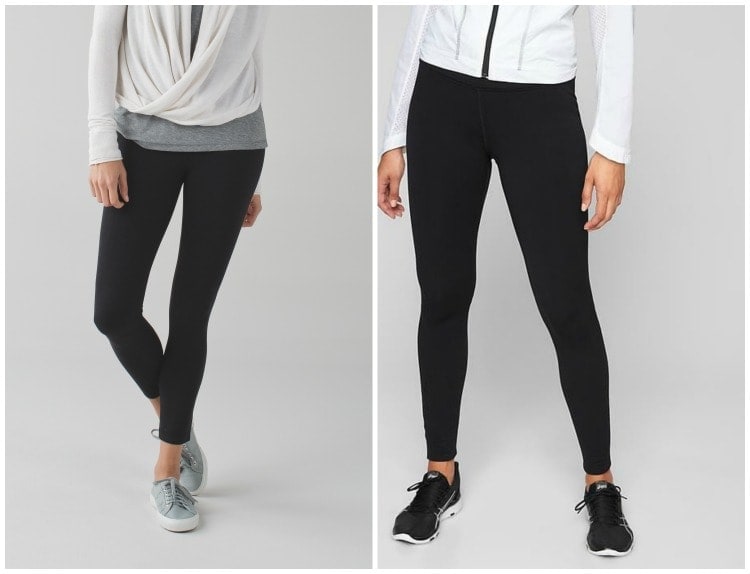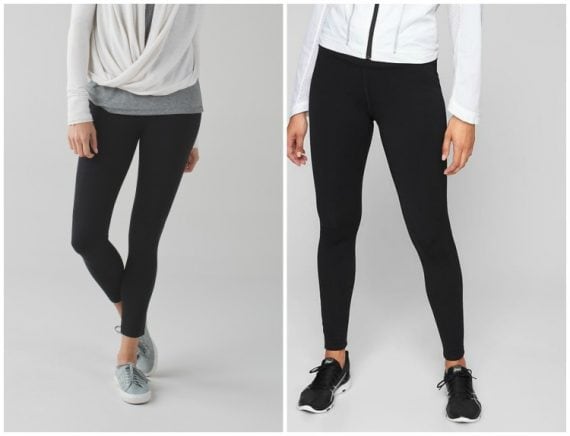 Ok, since I am SO obvious, you know that I live in leggings. BUT I am actually very picky about them! Here are my favorite two pairs for the fall…
On the left are my ride or die leggings. I have been wearing these for about a year nonstop. They are RIDICULOUSLY stretchy, soft and HIGH WAISTED! Ok, yes, let's get this out of the way, they are pricey…but I legit wear them multiple times a week. Let me try and justify the price for a minute…they are from Lululemon, so that's part of it…but the material…OMG YES. If you are a fan of LulaRoe you will love these…because A) you can get them in black and B) they have a high waist…did I mention that already? They are like a second skin. The only issue I could see is the length. If you are a tall girl they will fit like they do on the model above. I am 5'2″ and they fit like a perfect ankle pant. I have trouble with leggings a lot of the time, because they are either TOO LONG and bunch up at the ankles, or they are a crop, which I am not a huge fan of. Also, let me address the reviews on these pants (on lululemon). Some reviewers say that they experience pilling, which I HATE (obviously)… but like I said, I have worn these for a year nonstop and don't have ONE BIT of pilling. Seriously give these a try. You will thank me.
ANNNND the POLARTEC LEGGINGS on the right. Yes, another pricey pair, but these, my friends, are FLEECE LINED. Imagine a super stretchy pair of leggings lined with a thin layer of fleece. Now, I don't ski, or snow shoe, or whatever these pants are probably actually made for, but I do sit for HOURS at soccer games in the cold weather, and these are MADE for that! They don't add bulk, like a lot of lined pants do, and they are just really comfy!


Every few years I buy myself a new pair of slippers. I have had UGG slippers for about 7 or so years and I live in them over the fall and winter months. So this year, I snagged the COZY CABLE SLIPPERS in this pretty ivory color. I love them so much. I was a little nervous about getting such a light color, and am hoping they don't start to look grungy, but I just loved them so much. They also come in a light gray and pale pink. SO cute and cozy!
CANDLES. Duh. I am a huge candle purchaser and can't seem to say no to all the fall scents from Bath & Body Works. They own the candle game in my opinion, and the Pumpkin Pecan Waffle scent is an all time fave that I have been buying every fall for the past 3 years! There are so many scents I love, I couldn't possibly name them all!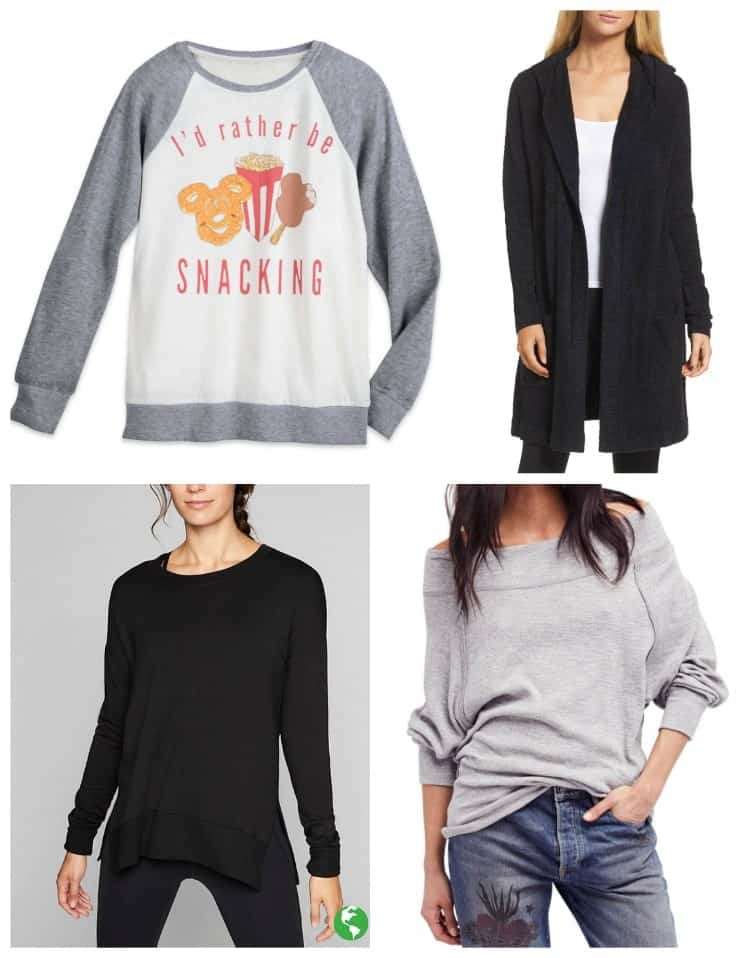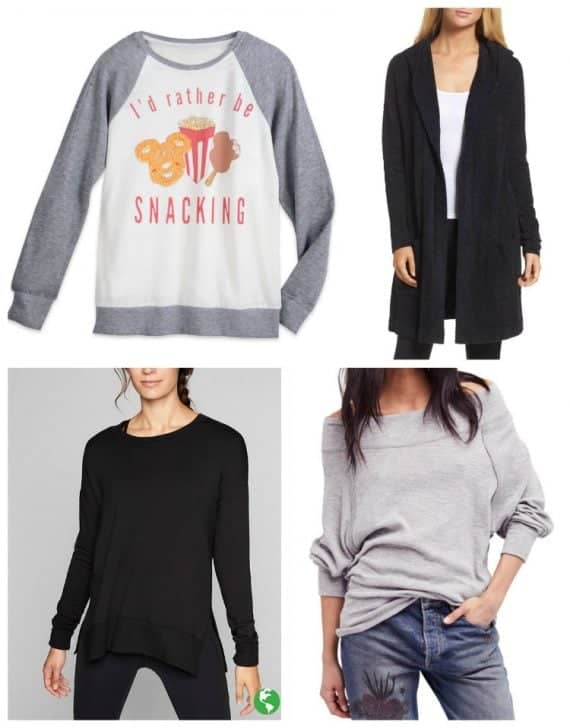 I have been talking a lot about beauty stuff over on my Instagram Stories lately. I totally love buying and trying products! Here are few of my favorites lately!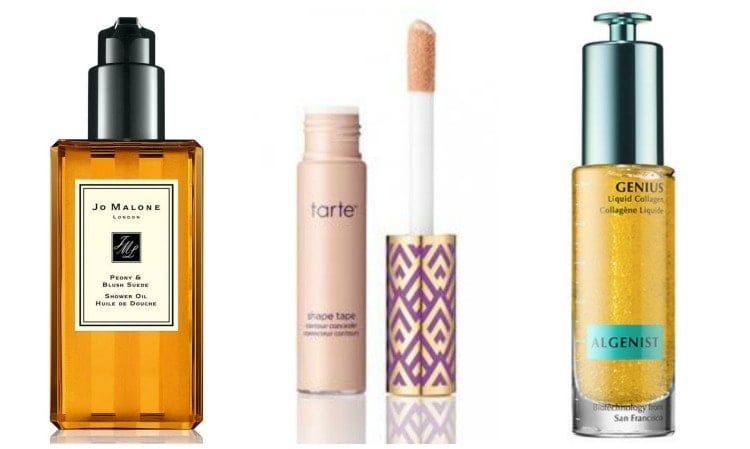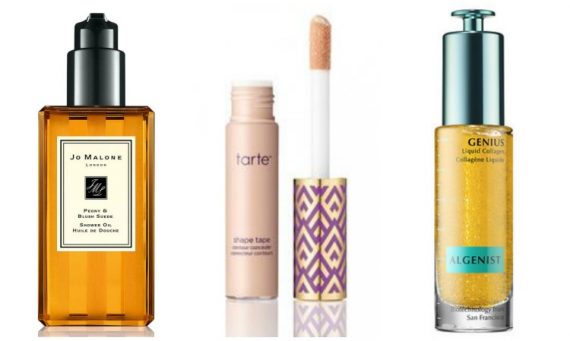 As the weather gets cooler, my skin always needs more moisture, and I have been really liking shower oils lately! THIS ONE from Jo Malone is a splurge, but it's in my favorite Jo Malone scent ever, Peony & Blush Suede. I am obsessed with that scent, and the oil is so moisturizing and lovely.
Tarte Shape Tape is my holy grail concealer. I've been using it exclusively for the past year(?). It's amazing coverage, isn't cakey, doesn't settle into lines and smooth! They only sell it at Ulta, as far as I know, but it's worth the trip there to match your color. I have it in 2 colors for when my skin is a little tanner. If you're looking for a new concealer, I HIGHLY recommend!
And finally GENIUS Liquid Collagen by Algenist is a new favorite. It's another splurge, but I am ok with spending a bit more on skincare if it works. I am almost done with an entire bottle of this, and I feel like it makes my skin plump, moisturized, and smooth. I really feel like this has helped my skin in a huge way, and have my next bottle on order right now.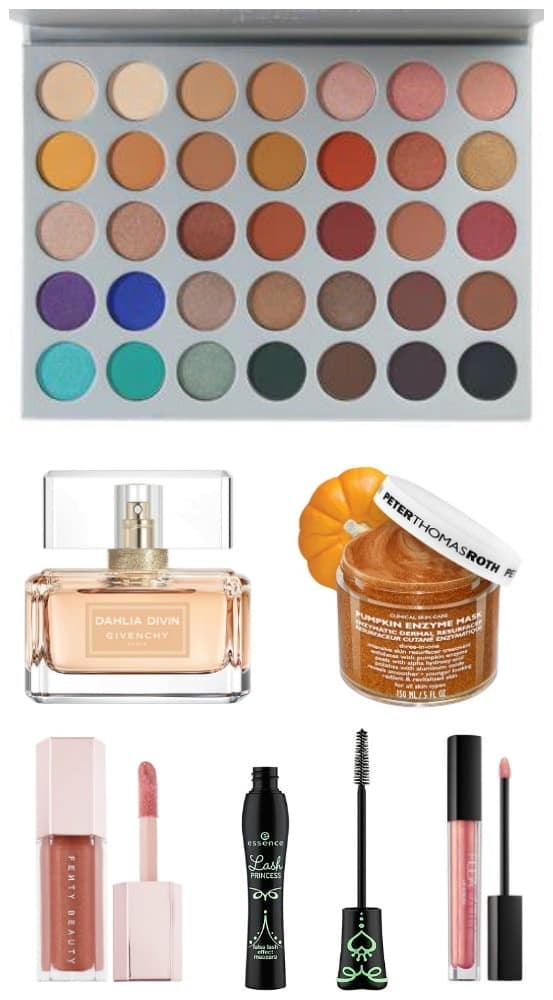 I bought the Jaclyn Hill Palette by Morphe when it first came out many months ago. I was one of the people who set an alarm on my phone to order it as soon as it was released. I know it sold out FAST the first few restocks, but I think it's readily available now. It's an AMAZING eye palette, totally affordable, and filled with so many colors. You can use it easily for everyday looks as well as super dramatic looks as well. I am a HUGE fan, The colors are pigmented, smooth, and buttery. They blend well, and I don't experience fall out with the shimmery colors. I am telling you, this is a GOOD one! Here's a look at my palette and swatches of the colors…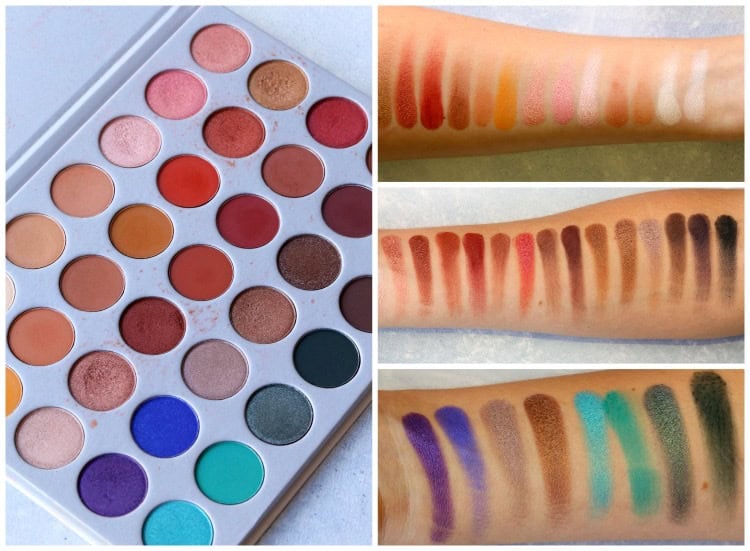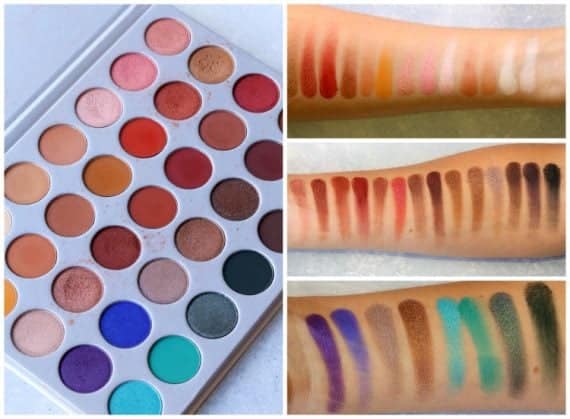 2. DAHLIA DIVIN NUDE by Givenchy. OMG I'M OBSESSED with this scent! It's my fall perfume, and I literally can't wait to wear it. I actually bought it while I was at Disney last month at the perfume shop on France in Epcot. It's a lovely warm floral, kinda musky, with the perfect light citrus undertone. I get compliments every time I wear it. SO GOOD!
3. For all you basic girls out there, get ready to take it to the next level. I'm LOVING this PETER THOMAS ROTH PUMPKIN ENZYME MASK . It smells oh so fall, and makes my skin glowy and squeaky clean without being dry or tight. I love love it!
4. FENTY BEAUTY GLOSS BOMB UNIVERSAL LIP LUMINIZER is so so good. Rihanna just launched a makeup line at Sephora and she has some great products that I am loving, but the lipgloss is super great! It's $18, which is about average for a gloss at Sephora, but the fun thing about this one is she only came out with ONE color for the whole line. It claims to be a color that will look good on every skin tone, and while I don't konw if that is totally true, I can tell you it looks REALLY pretty on everyone that I have seen wear it! It's a nude-ish coral. It's super shiny, smells good and isn't sticky. It doesn't last a very long time… I mean, it's a gloss, but I really really like it!
5. ESSENCE LASH PRINCESS FALSE LASH EFFECT. I consider myself a mascara expert. I buy ridiculous amounts of mascara, and based on this I feel like I can tell you switch ones are the actual best ones out there…especially if you;re looking for volume. SO when I tried this one by Essence, I wasn't expecting a lot, because I already have a few favorites. BUT OMG this stuff is AMAZING. It's only $5, which WAY beats some of my current favorites (Marc Jacobs, Lancome, Too Faced). And the last effect is CRAZY good. If yo're looking for long, thick lashes that don't clump…go now and buy this. I found it at Ulta, but I think you can buy the brand Essence at Target, Walmart etc.
6. HUDA LIP STROBE in Angelic. Girl, this gloss is so good. I get asked all the time what I am wearing when I use this. It's a true wearble metallic gloss. I am not into glittery lips, or even overly dramatic lips, but this is a GREAT option. It's different enough to be noticed, and the color that I love, Angelic, is wearable on its own or over a lipstick. It's pearly, reflective and iridescent without being "too much".
And so that wraps up my FALL FAVORITES for 2017! I would LOVE to hear what you are loving right now…if it's cozy, I will most likely buy it! I'm an easy sell!
Have a great day!!
Save
Save
Save