Well, I decided to give it a go…fondant, that is…and here's how my first attempt came out ~
First let me say, it wasn't all bad…I actually think my first try was a success…meaning, I completed it without stabbing myself in the eye out of frustration 😉
There are many things I learned from this experience:
1) I used Satin Ice Fondant and it is far easier to work with than the homemade variety that I have used multiple times in the past for cupcake toppers and sugar cookies…and it actually tastes good. I was so nervous about the taste after having tried another brand that was vile (cough, cough Wilton)…with that said, not sure if it is AS good as the Marshmallow fondant I make, but a very close second, and for the ease of not having to make it and its workability I give it a solid A.
2) Maybe I should have tried a round cake first…don't know why I went with a square cake, it seems harder than a circle would have been, but whatev.
3) Make decorations ahead…yeah, I didn't have a solid plan going into this and next time I will be more prepared. Flowers, etc should be made ahead so they can dry and are not as floppy. I know I have read this before, but once I got it covered I got a bit impatient and wanted a final product…so, the flowers ended up going on top flat as opposed to a 3D version I was going to make.
I made a yellow cake which was excellent, but I tried this stuff I bought at the bake shop called "Emulsion"….it's like an extract, but more potent…I thought this was the perfect chance to give it a try…has anyone else tried this stuff?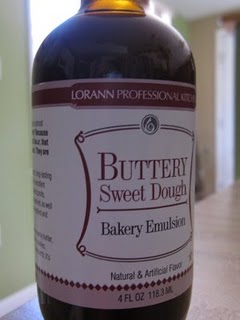 It was delicious! They had different flavors, but I went with this one…Buttery Sweet Dough…I mean c'mon, what sounds better? It is a little thicker than an extract, but you use it in equal amounts (1 t. extract = 1 t. emulsion).
While the flavor it gave the cake was sweet and buttery it also had a citrus undernote which gave it a little something extra. I really liked the difference it made and look forward to using different Emulsions in my future baking.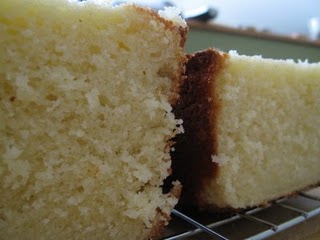 I made 2 loaf cakes using this recipe:
Makes 36 cupcakes or 1 9″ layer cake
recipe adapted from Martha Stewart
3 cups cake flour (not self-rising), sifted
1 1/2 cups all-purpose flour
2 1/4 teaspoons baking powder
1 1/2 teaspoons coarse salt
3/4 teaspoon baking soda
9 ounces (2 sticks plus 2 tablespoons) unsalted butter, softened
2 1/4 cups sugar
5 large eggs plus 3 large yolks, room temperature
2 cups buttermilk, room temperature
2 teaspoons pure vanilla extract ~ this is where I used my Emulsion
Directions:

Preheat oven to 350 degrees. Line standard muffin tins with paper liners, or butter and flour cake pans.
Whisk dry ingredients in a large bowl.
Cream butter and sugar with a mixer until light and fluffy. Add eggs, 1 at a time, beating after each addition.
Reduce speed to low. Mix remaining wet ingredients in a bowl. Add dry ingredients to butter mixture in 3 additions, alternating with wet ingredients and ending with dry. Scrape sides of bowl. Divide batter among muffin cups, or cake pans.
Bake cupcakes until testers inserted into centers come out clean, about 20 minutes.
or cake for approx 25-30 min.
Since this is all about experimenting with fondant I decided to take the 2 loaf cakes and cut them in half, so I had 4 small square cakes that I could fill and cover in fondant.
I used a cream cheese filling in this one:
I halved the recipe because I was only doing a small cake, but here's the full recipe:
3 cups confectioners' sugar
1/2 cup (1 stick) unsalted butter, softened
8 ounces cream cheese, softened
1 teaspoon pure vanilla extract
Sift confectioner' sugar into a medium bowl; set aside.
In the bowl of an electric mixer fitted with the paddle attachment, beat butter until smooth. Add cream cheese and beat until well combined. Add confectioners' sugar and vanilla, beat just until smooth. (Filling can be made up to a day in advance. Cover and refrigerate; let stand at room temperature to soften before using.)
recipe adapted from Martha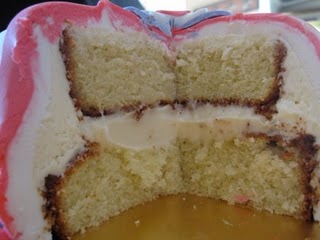 Before I covered the cake in the fondant I added a thin layer of buttercream.
So, as you can see when I cut a slice out the fondant was a little thick…next time I will roll it thinner. The instructions I have read say 1/4″ in thickness, but that seems like a really thick layer of fondant…any suggestions?
I guess the thicker fondant gives it a smoother finish and doesn't show any lumps or imperfections of the icing and cake underneath.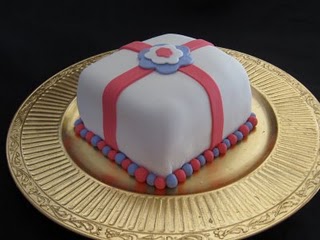 So, there you have it…I have BIG TIME respect for people who do fondant so beautifully…it is a definite skill. I need to get on this because some of the cakes my kids are now asking for for their birthdays are going to take a little more than my elementary skill. My work is never done!