Serious? Well, that depends. My problem comes in the form of a cotton/spandex blend.
My black yoga pants.
They are what one would call a "frenemy". They pretend to be on your side, make you feel good and then stab you in the back when you are least expecting it.
BYP and I met a few years ago. No, it wasn't during yoga…although I did try yoga once and almost fell asleep.
We met on Oprah. Yes, Oprah. She introduced me to this versatile leisure wear about 2 years ago on one of her make-over shows where she transforms ladies from frump to fab.
Be a cute mom and still be comfortable. YES! That's what I want! Plus, they were like the one thing on that episode I could actually afford.
Oprah holds that kind of spell over me.
I immediately rushed to purchase the pants…tried them on and found God. Literally.
Thus, a relationship built in comfort heaven was born.
I am not the mom who looks cute at the bus stop. I am the mom who, when my kids get older, will pay me to stay inside when the bus comes. Yes, I'm the crazy pony-tailed lady in college sweats and fuzzy slippers frantically rushing my kids out the door, trying not to spill my coffee and waving goodbye to them as the bus pulls away. I have long aspired to wear khakis and sweater-sets to wish my children a good day, but I tried that once and it just didn't feel right 😉 Plus, I am lazy.
So when I heard of these pants that I could wear to bed AND to shop in I was sold.
I own entirely too many of this deceptive loungewear. Far too many. In fact, I can't even bring myself to type the number. (Also, my husband will read this and he might send me to BYP rehab)
Now, here's the problem…they lie. Over and over.
They ARE versatile, they ARE comfortable, they ARE flattering.


They have elastic.


These past 2 years I would have never thought that I was gaining weight because my size-medium yoga pants still fit.
Yes, I had to buy some new jeans in the mean-time. But they are cutting jeans smaller these days, right? Some of my shirts did "shrink" in the dryer. It's that cheap material they are making clothes out of these days, RIGHT? I know I couldn't be growing because those BYP still fit.
I have never claimed to be a genius. Far from it, actually. But I believed in you BYP and you made me fat.

You see, BYP, you're the Rachel McAdams character from Mean Girls who switches out the low-cal diet bar with a protein packed weight-gain bar. I didn't even know it was happening.
We must reach some sort of agreement, you and I. Maybe I can wear you every OTHER day.
We can still be friends, just see each other a little less.

Seriously, I am having a Brokeback moment. I just can't quit you.
To make matters worse, a girlfriend of mine just told me she found some great ones in a pack, 2 for $20. See, affordable on top of everything.
I feel like an addict on the corner, except my corner is between Target and Starbucks.
It's all relative.
Now that I have made a verbal agreement with my drawer of yoga pants and spilled a dirty secret, I will share with you another deceptive treat…
The Granola bar.
You hear "granola" and think healthy. Sort of anyway.
Well these homemade, no-bake Granola bars are yummy if not entirely healthy. You'll never want Quaker again.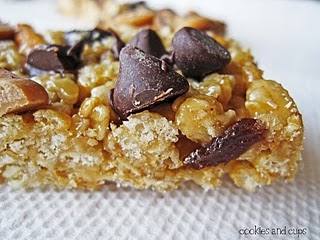 Here's what you need:

recipe adapted from Everyday with Rachael Ray
4 tablespoons (1/2 stick) unsalted butter

1/2 cup packed light brown sugar

1/4 cup honey

2 cups granola, any brand you like ~ there are a lot of different flavors of granola out there, so the possibilities are endless.

1 cup rice cereal, such as Rice Krispies

1/2 cup raisins

1/2 cup thin pretzel sticks broken in half
1/2 t. salt

1/2 cup semisweet chocolate chips (I used 1/4 chocolate and 1/4 peanut butter chips) use your imagination.
*If you choose a granola that already contains raisins, you might want to hold back a little on the raisins you add, or sub something else, like nuts.
This is the granola I used…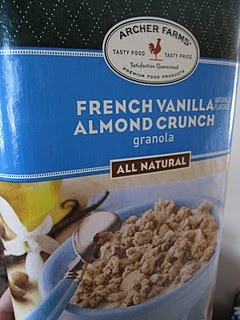 1. In a medium saucepan combine the brown sugar, honey and butter and melt over medium-high heat until sugar is dissolved, approx 2 min.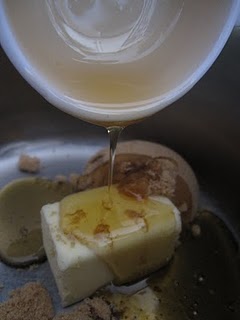 2. Remove from heat and fold in the remaining ingredients EXCEPT the chips. If you add the chocolate chips in now they will melt.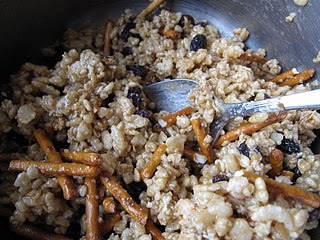 3. Press mixture into an ungreased 9×13 evenly.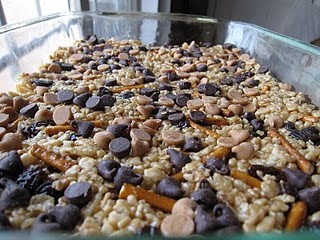 4. Now gently press your chips on top.
5. Chill in fridge for 15 min. or so. Then remove and cut into bars.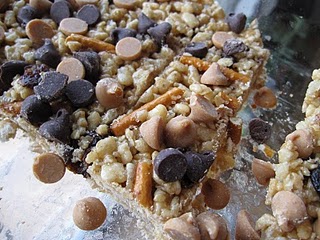 These are a really yummy treat, my kids ask for them all the time. Play around with your own add-ins and make them your own!
ps ~ Thanks for indulging my angst. These are the things I lay awake at night thinking.
No deep thoughts here 😉