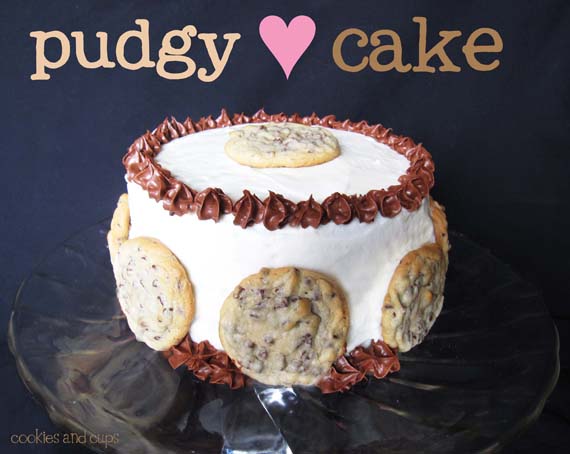 Pillsbury Cake Redux.
This cake was inspired by a few different things…first and foremost by the cool Pillsbury products I received in the mail (
that you can get too
) AND by haters.
I have to admit to you, I kinda love haters.
I mean if you have people who take the time to write emails or oddball comments it means you're important enough to them to take the time out of their day to let you know you spelled flour like "flower" or that a "snowflake actually has 8 points, not 6".
Plus, I kinda get a chuckle when people get riled up, ya know?
Honestly, where would The Situation be if he didn't have haters?
I can tell where he WOULDN'T be…on TV.
See, sometime haters are the fuel that pushes you forward.
Don't get me wrong, I certainly am not going to make a career based on my rock solid abs.
But I CAN make a career making abs across the world squishy.
So this cake was inspired by a super cool person out there who said that I am the reason America is fat.
I love that I have that power. Mwah-ha-ha-ha!
So if you're looking to get your pudge on this is for you.
Be warned, though, it's hard core.
Like the Hustler of desserts.
Not NC-17…this is Triple X.
There's cake, there's brownie, there's cookie dough, there's vanilla frosting, there's chocolate frosting, there are chocolate chip cookies…Gah!
It's kinda like that weird Turducken thing people make on Thanksgiving…but with none of the same stuff…and WAY better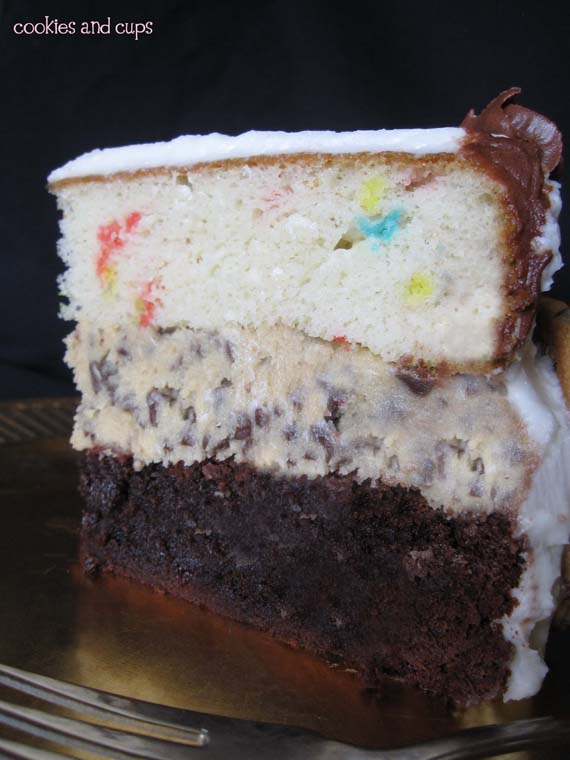 Print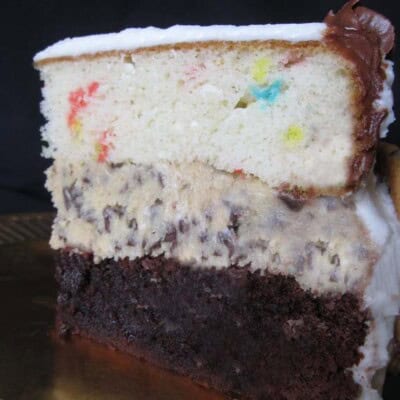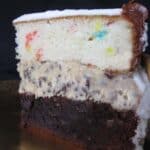 Get Your Pudge On
---
Pillsbury Brownie Mix, baked according to package directions
Funfetti Cake. Bake cake in 2 8″ round pans. You will only need one layer for this recipe. Freeze the other layer for another time.
Egg Free Cookie Dough
1

c. butter, softened

1

c. packed light brown sugar

1/2

c. granulated sugar

4 Tbsp

. milk

2 tsp

. vanilla extract

1

t. salt

2

c. all-purpose flour

1 1/2

c. mini semi-sweet chocolate chips
Vanilla Butter cream
---
Instructions
Bake Brownie according to package directions in a 8″ round cake pan. Allow it to cool completely.
Bake your Pillsbury Funfetti cake in 8″ round pans. Cool completely
(You will use only one of these for this cake…freeze the other layer or make cake pops)
Egg Free Cookie Dough
Combine first 5 ingredients in a mixing bowl and cream together. Add flour and stir until combined. Stir in chocolate chips.
Cake assembly
Spread cookie dough on top of brownie layer
Top your cookie dough with your funfetti layer.
Frost the entire cake with vanilla frosting.
---
Want To Save This Recipe?
Bake your layers..your brownie and your cake.
ake you cookie dough filling and spread it on top of your brownie layer…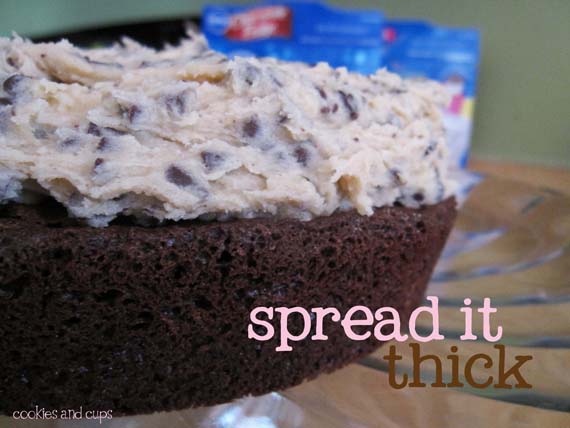 (I had a little dough leftover for my "kids" to eat)
Top your cookie dough with your funfetti layer.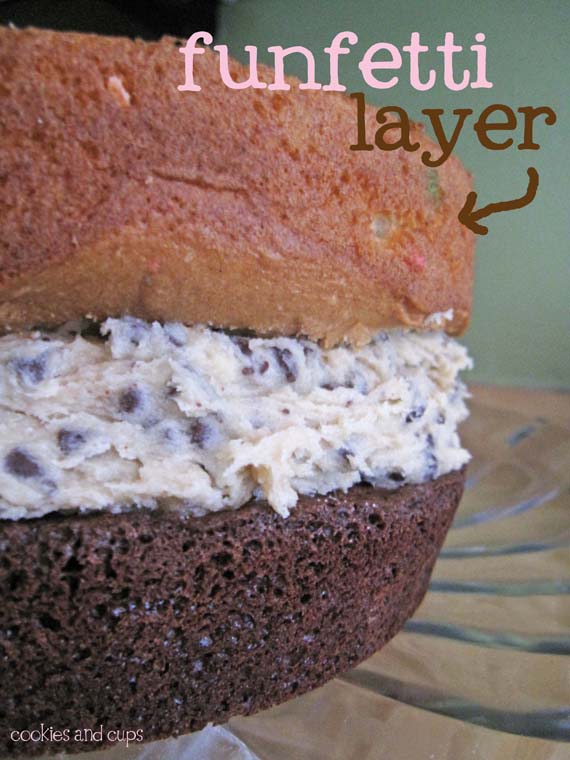 Now stand back and smile lovingly at what you have just created. That's an important step.
Frost the entire cake with vanilla frosting.
I baked some chocolate chip cookies to add to the side for decoration and also used the Pillsbury No Fuss Frosting in Decadent Chocolate Fudge to pipe some embellishments.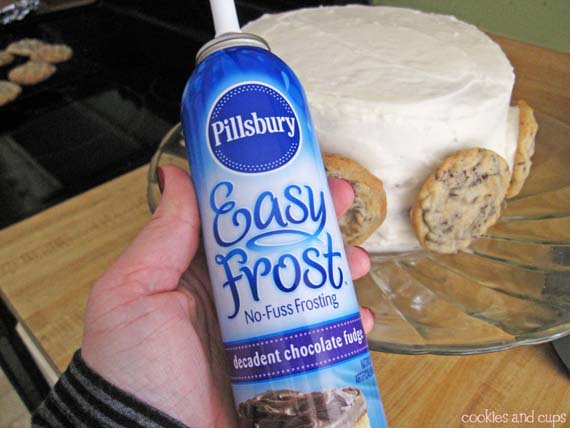 Ta-da!! People will be happy that you made this. Believe.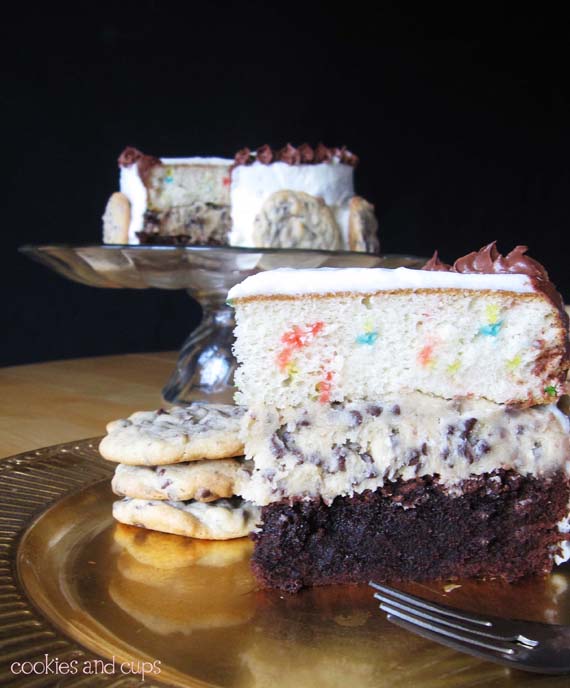 xoxo