S
o I got the Wilton Giant Cupcake cake pan for Christmas and I decided to try it out. My husband's birthday is Jan.1st, so perfect timing. I was super anxious because all the pictures I had seen online were super cute. I am not a great cake decorator…I like to ice things, but am not so great at piping ~ another New Year's resolution!
Anyway, I made the cake as directed and laughed out loud when it came out of the pan…it was so small!! I mean, it used a standard 9″ round layer cake recipe, but it seemed TINY! I wish I had taken pictures of it before I iced it. I read some blogs and no one else seemed to comment on this, so I figured it must be me. I made some buttercream for the top of the "cupcake" and used chocolate canned icing for the bottom. With the added icing it added some size, so didn't seem so puny, but since I was taking this to a party I made some cupcakes to go around the cake, but more on those in a minute. Anyway I used a ziplock to pipe the icing out and although it wasn't as neat as I wanted I was okay with it, being my first try. I will definitely do this one again because it is a cute cake and everybody liked it…I think!
If anybody has made this cake and has suggestions for my next attempt, I would love to hear them!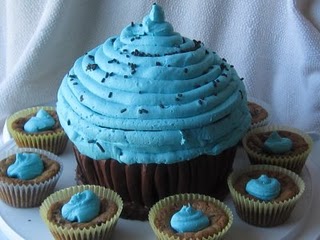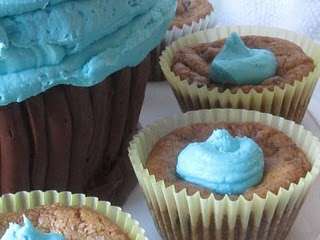 The cupcakes around the cake are actually just chocolate chip cookie dough just baked in cupcake cups. I had made the dough the day before and wrapped in in clear wrap. It was just sitting in the fridge, so I decided to give it a try. I put a scant golf ball-sized glob of dough in each and baked at 325 for about 20 min. The were really good! I just globbed a bit of the blue buttercream on top so it would match. They were really easy and a good alternative to cupcakes/cookies that I will do again.