On a previous post
I made these truffles with regular Oreos and they were delicious…when I made them the first time I knew that since they were so easy I wanted to try and do them with Golden Oreos and Nutter Butters (my husbands 2 faves).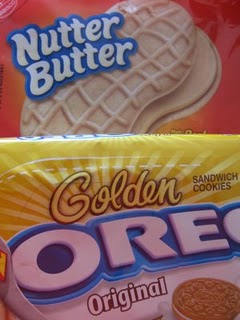 I made the original truffles based on a recipe from Kraft Foods, which if you don't get their seasonal magazines, click here . They send you an issue of their food & family magazine every season with easy recipes incorporating Kraft foods, of course. I have gotten some great ideas and recipes that have become family favorites…and it's free!
Ok- so back to the truffles. all you do is take a package of your cookie of choice and crush them (filling and all). You can use a food processor but I prefer to crush the cookies with a good old rolling pin in a ziplock bag…less mess, which makes a happier me!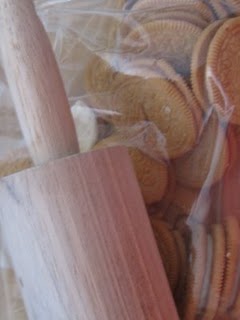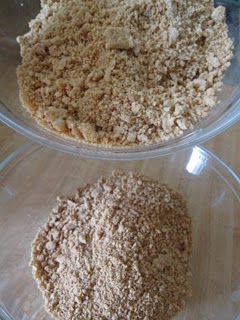 Once the cookies are crushed into cookie dust take an 8 oz. pkg of cream cheese (room temp) and using the back of a big spoon, mix it until it comes together…or use your hands…again, my method of choice.
Form the "dough" into your preferred shape. (I made balls for the Golden Oreos and attempted to make Peanut shapes (not very successfully) for the Nutter Butters ~ also if you check out my older post for these I shaped them into footballs for the cupcake toppers).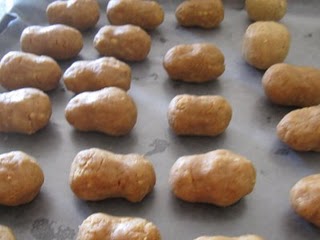 Put them on a parchment or waxed paper lined cookie sheet and stick them in the freezer for 10-15 min.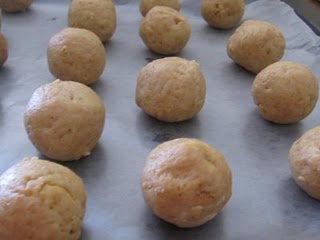 Meanwhile melt your chocolate that you are going to dip them in. I did some in white chocolate and some in dark chocolate.
And then if you want drizzle them or put sprinkles on…whatever you want.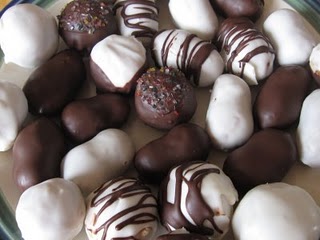 Here's the innards of the Golden Oreo truffle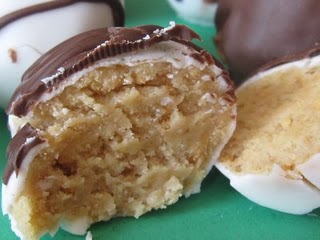 and the Nutter Butter…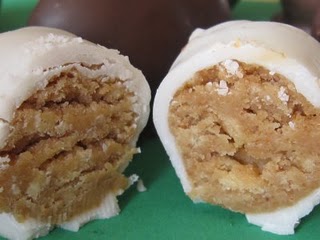 They look similar, but they definitely tasted different.
So here's the verdict…overall the Regular chocolate Oreo truffles were better than the 2 I made here…BUT both truffles were good. The Nutter Butter truffles were very similar to any other peanut butter ball that I have ever made, so no great discovery there, but the Golden Oreos were definitely different. Good-different not bad-different. I'll make them again!