Why, as a matter of fact I do!
I just did this order as a birthday present for a lady near Dallas. All shipped out and on their way, as we speak. But, in the meantime I am going to let you in a deep, dark secret…actually a deep, dark CHOCOLATE secret 😉
Chocolate fans keep reading, you don't want to miss this…Go pour yourself a glass of milk now because, trust me, you'll need it!
I am not a huge fan of chocolate cookies, cakes, cupcakes…really any chocolate baked good…I know ~ BLASPHEMY! I DO, however, enjoy with incredulous delight, chocolate candies…I'm talking about pretty much anything that comes wrapped up in cellophane, foil or in a truffle box (hint, hint honey!) as well as chocolate ice cream, which I believe is far superior to plain old vanilla (please insert comment or expletive here you vanilla ice cream people). Not sure why I don't like chocolate in baked form, but for some reason I will choose a vanilla cupcake any day of the week over its chocolate cousin.
But with all rules there is an exception…and these cookies, my friends, are the exception to the rule.

This is the most chocolaty cookie you'll ever hope to enjoy.

The recipe has been around the block a few times, actually I think it is a Southern Living cookie, but I scratched the recipe down on a little piece of paper from a friend and don't know it's exact origins, plus I adapted a few parts to suit my liking. My friend called it a "Chocolate Gob" but since I don't have any plans of calling a cookie a "gob" I renamed it…


"Chocolate Overload"
Here's the recipe for your chocolate fix…save it for "

that time of the month

" it'll help you get through 😉
3/4 cup butter, softened

1/3 cup shortening
1 cup white sugar

2/3 cup dark brown sugar
2 eggs

3 teaspoons vanilla
2 cups AP flour

2/3 cup unsweetened cocoa

1 teaspoon baking soda

1/2 t. salt
15 chopped Oreos
3 Mounds bars chilled and chopped
2 cups semi-sweet chocolate chips

3/4 cup of mini chocolate chips for garnish (optional)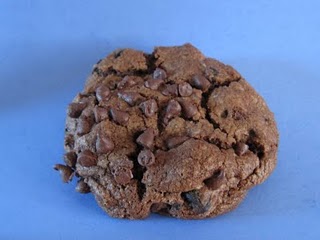 1. Beat butter and shortening til smooth on medium. Add both sugars and beat until combined. Add eggs, one at a time, and then vanilla.

2. Combine flour, cocoa, soda and salt in separate bowl and whisk together until combined.
3. Slowly add the flour mix to butter mix, either stirring with a spoon or with mixer on the lowest speed.
4. Now stir in cookies, candy bars and chocolate chips.

Chill dough 30 minutes

Preheat oven to 350

Drop cookies by LARGE tablespoon fulls onto a parchment lined baking sheet

Press 1 teaspoon of mini chips into the top of the dough balls at this time, if you are garnishing.
Bake for 10-12 minutes until JUST set.

Let cool on sheet for 5 minutes and transfer to cooling rack to finish cooling.
The Mounds bars add an awesome sweetness and the Oreos add a bit of chocolaty crunch...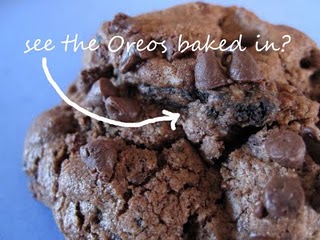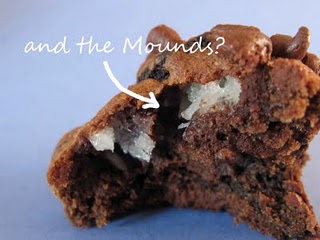 All packaged up and ready to be sent…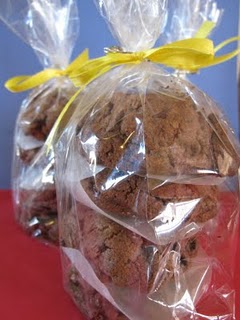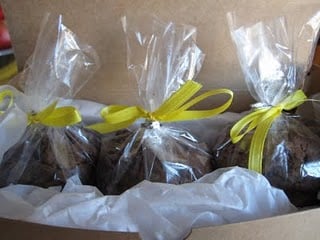 Ahhh, chocolate heaven!
With the order she asked that I include a Birthday sugar cookie. Turned out cute!