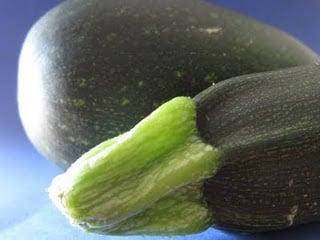 There are many things I can do…some I can do well, others I am just learning and then there are those things that no matter how hard I try, or research, or think about I just can't seem to get a handle on. Case(s) in point: gardening, plant cultivation,
horticulture,
floriculture
, viniculture, viticulture…pretty much anything that involves keeping something that has roots and resides in soil alive. To say I don't have a "green thumb" in an understatement at the very least. I mean, last year I killed a cactus…Yes, I am serious.
With that said, I am always amazed when people have great gardens where they grow herbs, fruits and vegetables. Even my son has built his own little garden out back where he tends to his very own "crop". Yes, the apple fell VERY far from the tree. So you see, I am lucky to have a network of people who

DO

have the proverbial green thumb, and I'm able to reap the benefits without any of the work…looks as if I have found a loophole, my friends.
Enter zucchini. My mom's neighbor grows them and as I can imagine there are only so many zucchini one can consume…behold said loophole…I now have about 10 beautiful organic zucchini to do with as I wish.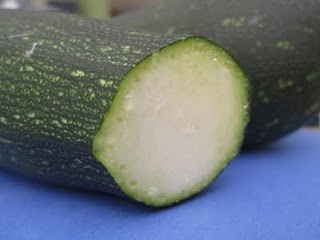 First use: zucchini bread. Not just any zucchini bread, however, a sweet cream cheese filled zucchini bread. The loaf itself is dense and…well, the word I want to use is banned from my vocabulary…m@!*#st…I can't even bring myself to type that word. But, you know what I mean, right? More on word phobias another day…but the "M" word, best used to describe brownies is OFF LIMITS! No way around it.
The cream cheese filling adds a little something special and I may try it next time I do banana bread…yummmm.

Here are the details:
Preheat 350.
Grease and flour 2 standard loaf pans
Cream cheese filling:
1 egg
8 oz. softened cream cheese
1 T. vanilla
1/3 c. sugar
With your hand mixer beat these ingredients together and set aside.
Bread:
3 1/4 c. AP flour
1 1/2 t. coarse sea salt
2 t. baking soda
1/2 t. nutmeg
1 t. cinnamon
3 eggs
1 1/2 c. light brown sugar
1 1/2 c. white sugar
1 c. oil
2 c. grated zucchini (about 1 – 1 1/2 zucchini)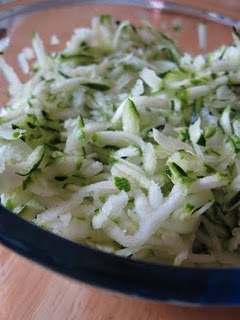 Mix first 5 ingredients together (dry ingredients) in a large bowl. Set aside. In another bowl combine eggs, both sugars and oil. Stir until all the ingredients are incorporated. Now add the wet ingredients into the dry…it will be very thick batter. Now add the zucchini. This will thin out the batter.
Now pour half of the batter into each of the loaf pans. Top each with half the cream cheese mix, trying to keep the cream cheese away from the edges as to contain all the cream cheese in the bread.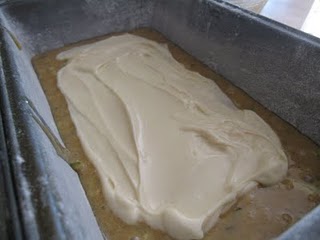 Top with remaining batter.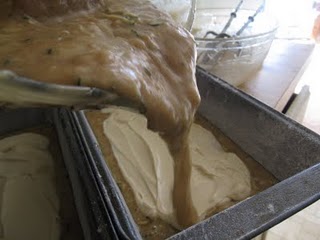 Bake approx 1 hr until bread is done and toothpick comes out clean.
Let cool in pan for 5 min. Run knife along edge of pan to loosen bread if it has stuck and then remove from pan and continue to cool.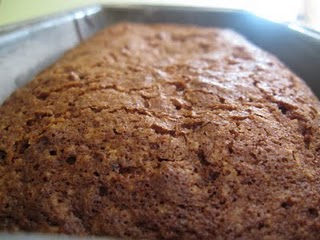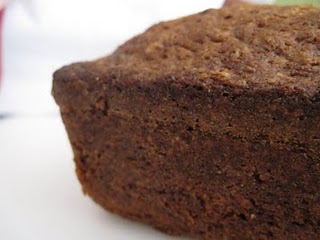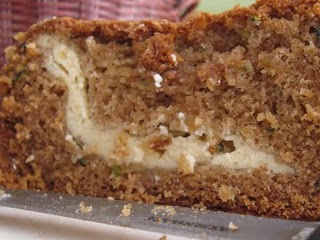 Enjoy and Happy Wednesday!