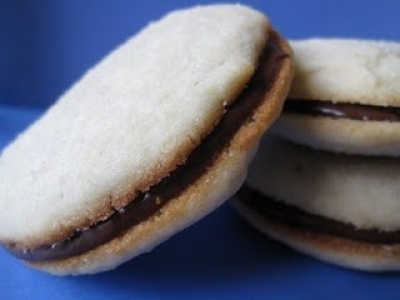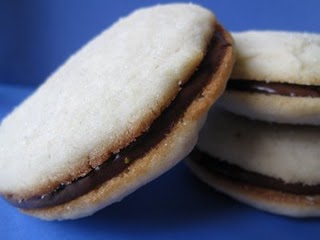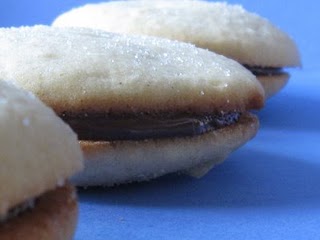 I'll start by saying that this was an accident…My initial intention was just to try out a new butter cookie recipe. Now, I don't know why I do this to myself because the butter cookie recipe I always use is pretty close to perfect in my book, but every so often I think there might be a better cookie out there…this isn't it.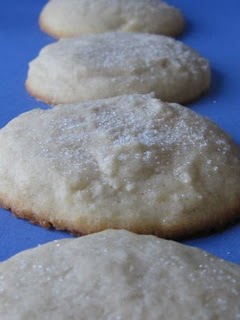 With that said, the recipe I tried is good, but not crazy-good…my husband tried one after they had cooled and said that they were a bit "

bland".



Well, that's not what I want to hear, but I didn't take it personally and decided to go in a different direction…
Behold Homemade Milanos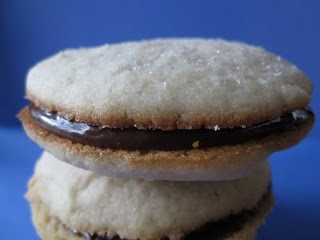 Now for those of you who don't know, the Milano cookie is a perennial favorite in my house, made and apparently trademarked by Pepperidge Farm. The cookie itself is a crunchy, light, buttery wafer cookie with a filling of rich dark chocolate.
So my version of the Milano is not as crunchy as the original ~ if I had planned a bit better I would have baked them a little longer to get a bit more crunch. Separate the parts of the cookie and you have nothing spectacular, but together it was a quite enjoyable mistake.
I will post the recipe I used for the cookie, but I imagine that any butter cookie recipe you have rolled thin would work well.

recipe adapted from The Neeley's
Ingredients:
3 1/2 cups all-purpose flour, plus more for work surface
3/4 teaspoon salt
3 1/2 sticks unsalted butter, softened
1 1/4 cups sifted sugar
2 large eggs
1 teaspoon vanilla extract
1/4 teaspoon ground cinnamon
Directions
Sift together flour and salt into a bowl.
In the bowl of a standing mixer, add the butter and mix on medium-high until fluffy and light. Add the sugar and the eggs, 1 at a time, until and mix until combined. Add vanilla and cinnamon. Reduce the speed to low and gradually add the flour to the butter, sugar, egg mixture. Mix until batter looks smooth. Place dough onto a floured cutting board and cut the dough into quarters, flatten and wrap with the plastic. Chill in the refrigerator for 2 1/2 hours.
Preheat oven to 350 degrees F.
Roll out cookies and cut with circle cutter approx 2″ in diameter..or if you don't have that size circle cutter, just use a rounded Tablespoon amount of dough, form into a circle and then flatten down.
Place cookies on parchment lined baking sheet and bake approx 8 min. and cool on wire rack.
I dusted the cookies with sugar when they came out of the oven.
You could use this recipe for cut-outs if you would like.
After the cookies had cooled I melted some favorite dark chocolate and spooned about 1 T. on the bottom of one cookie and then sandwiched it with another cookie.

The cinnamon in the recipe is a nice touch and actually worked well with the dark chocolate that I used in the middle.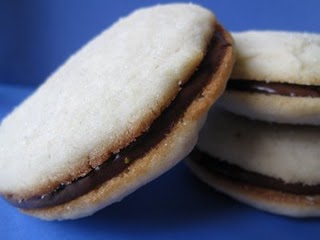 I love hearing mess to success stories…if you have one to share let me know!!