Ladies and Gentlemen, I introduce to you what I call the
"Glazin' Lemon Poppy Seed Poundcake Cup"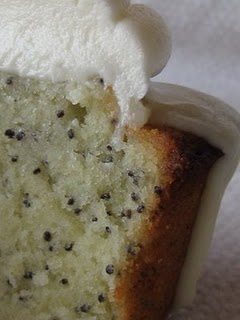 It is a Lemon Poppy Seed Poundcake-Cupcake topped with a white chocolate glaze and finished with white chocolate buttercream frosting.
Sounds good, doesn't it?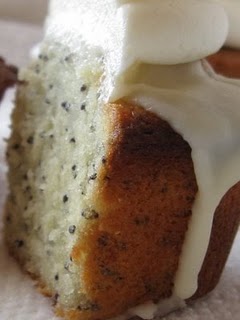 Print
Glazin' Lemon Poppy Seed Cups!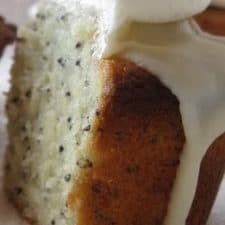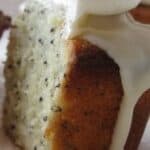 ---
Ingredients:
Cupcakes:
2 1/4 cups

cake flour

1 1/8 cups

white sugar

1 teaspoon

salt

4 1/2 tablespoons

poppy seeds

1 1/3 cups

unsalted butter, softened

5

eggs

3/4 cup

white sugar

3/4 cup

fresh lemon juice
Glaze:
1/2 cup

white chocolate chips

1

T milk
Frosting:
1

stick butter – softened

1

lb powdered sugar (approximately)

1 cup

white chocolate chips

3

T milk
---
Instructions
Cupcakes:
Preheat 350
Sift together flour and salt. In mixing bowl beat butter and sugar until smooth and creamy. Add the zest and the eggs one at a time until combined. SLowly add the flour mixture until a batter forms…do not over mix. Lastly add the poppy seeds and mix slowly until incorpoated in the batter.
Fill cupcake pans, with or without wrappers. If you are not using cupcake liners make sure to butter and flour each cup to prevent sticking. (or use baking spray)
Bake for 18-20 minutes, until toothpick comes out clean. Makes about 13 cupcakes.
While the cupcakes are baking combine 3/4 cup sugar and 3/4 cup lemon juice in small saucepot over medium heat and stir until sugar is melted. Remove your syrup from heat.
When cupcakes are done remove them from the pan and poke holes in them with a toothpick. Brush or spoon your lemon syrup over them. Let sit for about 10 minutes before glazing.
Glaze:
In small bowl add chips and milk and microwave in 20 second intervals until chips are melted and smooth.
Spoon glaze over the cupcakes and let set, about 20 minutes.
Frosting:
Combine chips and milk in small bowl and microwave at 20 second intervals until melted. Meanwhile cream softened butter at med-high speed in mixer. When chocolate is melted add to the butter and mix until incorporated…now slowly add powdered sugar until you reach a soft frosting. It will firm up as the white chocolate cools, so be sure not to add too much powdered sugar.
Frost cupcakes and you're done!
Want To Save This Recipe?