Well, after my try on Friday to complete this month's entry for the Iron Cupcake challenge, I decided to give it another go.
I call it the

Fast Food Cupcake

!


**FYI** I did not use the recipe for the Coca-Cola cake on my last post ~ came up with something different, so keep reading!!!
We don't really keep soda in the house and really the only time we drink it is if we are out to eat…so usually when I am drinking soda I am having a side of fries with that…hence the "Fast Food Cupcake".
Here are the details ~ A super airy double chocolate, coca-cola cupcake dotted with chocolate chips, topped with a salted caramel frosting and a piece of homemade salted caramel.
Sound awesome? It tastes even better!
Voting doesn't open until Wednesday, April 29th at 8pm, but don't worry, I'll remind you 🙂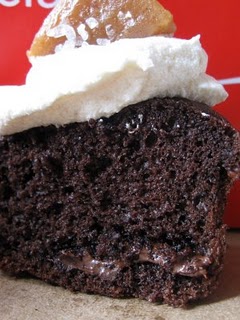 The recipe for the double chocolate cupcakes is top-secret, so I won't share that with you…BUT if you want to make your own version of these, use YOUR own recipe for chocolate cupcakes, or even a boxed mix and substitute Coca-Cola for the liquid that is required. It gives the cupcake an added sweetness, but also makes the texture light and airy…I guess it's the carbonation…I actually might sub this in whenever I don't need a denser cupcake…oooh, good idea!Anyway, the frosting is plain buttercream frosting, you can use my recipe…but omit the vanilla and add in 3/4 cup of caramel sauce, either store bought or homemade. Also add an extra 2 T. of milk. Also in the frosting add 2T. kosher salt. I have tried this using sea salt and it's good too, but don't use the coarse variety, use a finer salt…you don't want to crunch your icing! Save the coarse sea salt for the garnish and the salted caramels.
For the Salted caramels I used as garnish, here's my recipe…
adapted from here

1
cup
heavy cream
5
tablespoons
unsalted butter, cut into pieces
1
teaspoon
Coarse sea salt…or if you're fancy fleur de sel
1 1/2
cups
sugar
1/4
cup
light corn syrup
1/4
cup
water
Line an 8×8? glass baking dish with parchment and grease really well with butter.
Bring cream, butter and salt to a boil in a small saucepan. Remove from heat and set aside.
In a medium saucepan, bring sugar, corn syrup and water to a boil, stirring just until the sugar is dissolved. Then continue boiling without stirring until the mixture is a light golden color and a candy thermometer reaches 250 degrees. Don't worry how long this takes – some recipes say it takes 10 minutes and others say up to 45 minutes. The important thing is that it reaches 250 degrees and is a light golden caramel color.
When this happens, carefully stir in the butter/cream mixture. The caramel will bubble up, so be careful. Stir constantly and continue to cook until the mixture reaches 248 degrees.
Then pour into the prepared baking dish and let cool at least 2 hours. Sprinkle the top of the caramels with a generous amount of nice sea salt. When the mixture has set, cut into pieces and wrap in parchment paper, if desired