Carrot cake, that is. Thanksgiving is now officially over and the "most wonderful time of the year" has begun. I am accomplishing two things with this post. Kick-off to holiday baking (yay!) and my monthly entry into "Flavor of the month".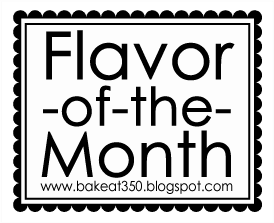 For those who don't know, Flavor of the Month is hosted by Bridget at
"bake at 350"
. She gives us all an idea and lets you run with it. No big rules to follow, just a theme. It's fun seeing what the participants come up with each month. Some people are seriously creative and talented out there. I have taken the last few months off, but I decided to come back this month. I will say this ~ I have taken a little liberty with the monthly theme for November, "traditions"…
Check it out ~

My tradition for the month is Carrot Cake. I make one just about every year for Thanksgiving. It has long been a bonding vehicle for my Grandpa and I (among other things). We both LOVE carrot cake.
I am pretty sure that I make a good one, even my 4 year old told me that the frosting for the cake was the "goodest in the whole world".
You can't beat that.

I didn't take any pretty pictures of my carrot cake. My cake traveled with us all the way down to Delaware for Thanksgiving, so by the time it got there it was a little beat up, but I will tell you it was still delicious.

Here it is after being haphazardly cut into…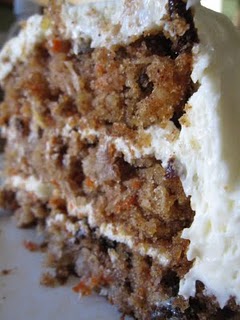 This is a very rich cake, as are most carrot cakes, so needless to say we had a lot left over.
Here's where tradition meets interpretation…
I decided to make some cake truffles made famous by
Bakerella
. (I refuse to say cake balls, hehe)
But in honor of the upcoming holiday season I decide to mingle the two and make snowman cake "truffles"
.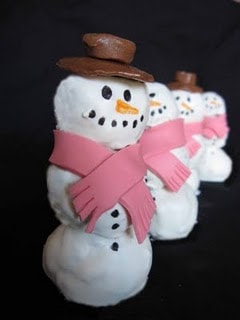 Now, I won't kid you and tell you these were so easy. They weren't.
Don't you hate it when people tell you that something is so easy and then you try it and it is impossible? It's like those celebrities who weigh 85 pounds and say that they don't work out or diet they just chase their kids around. Really? REALLY? Do they think we believe them? If that were the case I would be making these truffles in between runway shows and photo shoots.
Anyway, they were time consuming, but they came out cute, right?!?
I just took a big ol' hunk of leftover cake, icing and all and mashed it up in a bowl.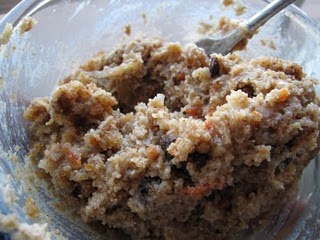 I formed the mash into balls and chilled in the freezer for about 20 minutes.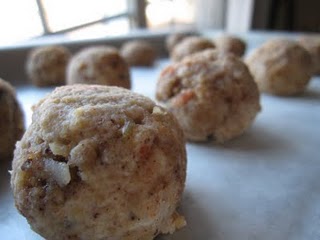 Then I dipped them in white candy melts.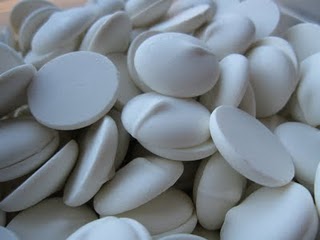 I let the bottom of each snowman set, but then I did the tummy section and head in succession so the melted candy worked as glue to hold them on.
I just used a food coloring marker for the eyes, nose and mouth and made a scarf out of fondant.
For his hat a flattened a Tootsie Roll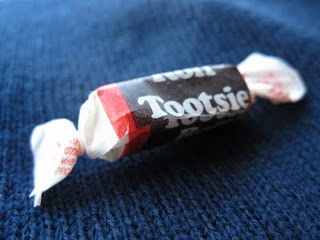 and cut it in the shape of a circle. Then I cut the top of another off to finish his hat.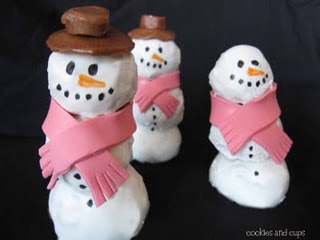 Thanks Bridget for hosting the Flavor of the Month and forgive me for the broad interpretation of "traditions"