I will preface this entire message with: I love my husband. He is a great father, partner and best friend.
BUT he is addicted to craigslist.
I don't know how to make it stop.
For the 3 of you out there who are unaware of what craigslist is…it's basically an online garage sale, except there really is no limit to what you can sell: junk, valuables, jobs, personal services (if you catch my drift) etc.
Well, my husband is addicted..not to the, a-hem, personal services, but to cheap and/or free stuff.
They say one man's junk is another man's treasure. My husband is the "another" man.
He finds all sorts of free/cheap "treasures" that now reside in our basement or my the side or our house.
Who knew that we needed multiple grills, or loads of bricks, or slightly used televisions?
Well, I certainly didn't.
I understand that the items that hubby rescues are brought to our loving home with all the best intentions, but somethings gotta give!
If craigslist was around before we got married I might have gotten a glimpse of my husband's inner-
hoarder
. We certainly could have worked a clause into the vows..maybe something like this:
"I promise to love, honor and cherish you. And visit craigslist only once a month."
Right? That's fair.
SO yes, it's become an issue. Not a serious one, but certainly one that needs to be handled before I find my husband buried under all his free craigslist junk scraping the mold of last March's cauliflower claiming it can still be eaten. It's a fine line folks.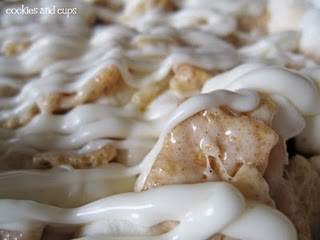 Until I can get the cajones to stage an intervention, I will bury my angst in sugar.
Keeping with the theme of "trashy" here's a cereal treat that is so bad it's good.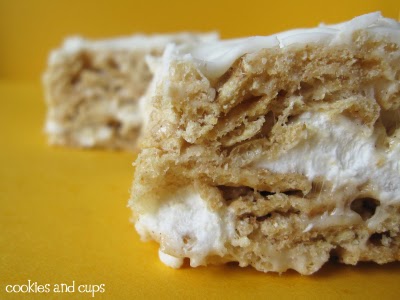 Cinnamon Toast Crunch Krispies
4 cups Cinnamon Toast Crunch cereal
1 10.5 oz. bag mini marshmallows + 2 cups mini marshmallows reserved
1/2 cup white chocolate ( or white almond bark) melted
In large pot over low heat melt butter.
When melted add the 10.5 oz bag marshmallows. Continue cooking and stirring until melted.
Stir in both cereals and reserved 2 cups marshmallows.
Spread in prepared pan and with waxed paper press down evenly.
Drizzle melted white chocolate over top.
I use a ziplock bag to drizzle…
Cut into squares when chocolate is set.
Store in air-tight container.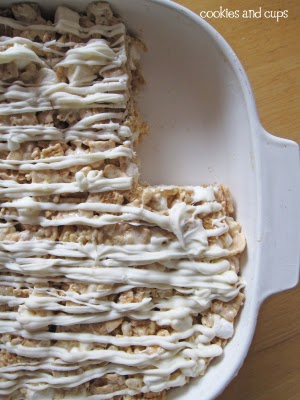 Yummmm…comfort food!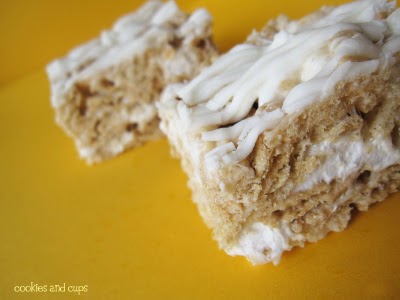 *My husband did NOT approve this message