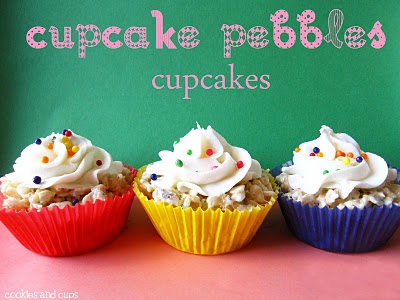 So, I fancy myself a bit of a Krispie treat enthusiast.
Let's stop and think…
Marshmallows…check
Butter…check.
Necessary filler (Rice Krispies) to hold to first ingredients together…check.
Yes, as you can see the Krispies are a bit of a means to an end, so to say.
They certainly taste fine, but we all know the reason that these have hung around in American kitchens for so long is not because they are an enduring classic cereal…but more because we have all fallen in love with the brilliance that is the Krispie Treat.
I am married to possibly the only human on the face of the planet that doesn't like Krispie Treats…which is really a shame because he is pretty much perfect in every other way.
It was one of those things that we, as females, tend to think we can "change". I thought sprucing up the plain old Krispie would make him cross over to the right side of the playing field..especially seeing as he and only a handful of others still remain on the non-krispie side.
Chocolate Chip Krispies
Coco-Krispies
Fruity Pebble Krispies (the all-time fave in out house)
and a few others that I need to post about
But, alas, a Krispie fan he is not.
Come to find out he doesn't like…wait for it…MARSHMALLOWS!
What the?!?!
I am just thankful that we have boys who did not get the marshmallow-hatin' mutated gene.
Now THAT would have been a shame 🙂
So, in my quest to get him to eat a Krispie and enjoy it here's the lastest…
Cupcake Pebbles?
So, duh, I bought a box and came home to figure out what to do with them…
The how-to's weren't on the side of the box I purchased but knew it would be an easy adaptation.
makes approx 18 regular sized cupcakes
or 55 mini cupcakes
6 cups Cupcake Pebbles Cereal
3 T. butter
1 10oz bag mini-marshmallows
Cupcake liners
Homemade or canned frosting…whatever flavor you would like
sprinkles are optional…but encouraged 🙂
Prepare your cupcake pan…either lining with cupcake liners or spray with non-stick cooking spray.
(I made my mini ones without liners and the large ones with liners)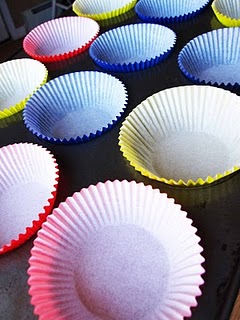 Melt butter over low heat.
Once melted add marshmallows and stir frequently until melted.
Once marshmallows are melted remove from heat and add Pebbles.
Now, if you are going to measure amounts out, make sure to spray your spoon or measuring cup with cooking spray to prevent sticking. I used my hands which I also sprayed liberally with spray. It gets messy!
Now press approximately 1/4 cup pebble mix into full sized cupcake liners.
For mini-sized cupcakes use a rounded tablespoon amount of cupcake mix.
Using the back of a sprayed spoon press down gently to smooth and even out the cupcake.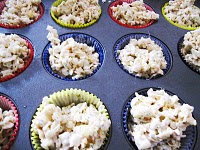 I would recommend removing from cupcake pan before frosting.
Decorate as you like!
 Aren't the the cutest?
I know you'll love these as much as I do…now let's work on the hubby!
Also, if you haven't voted for me for Best Mommy Food Blogger, I can use all the
help I can get 🙂  
Thanks and have a sweet week!
Also, I linked this entry up to Cupcake Tuesday over at Hoosier Homemade.
Check out some of the cute Earth Day cupcakes she has over there…really fun!