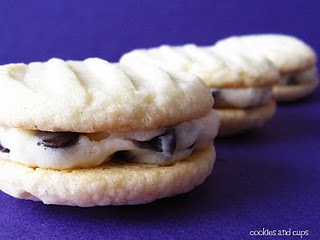 Yesterday I was lucky enough to go to a gorgeous spa at a local-ish ski resort.  I went with 8 other super cool ladies who live around the corner.
I know this sounds a bit indulgent, but I will tell you that a lady of leisure, I am not.  As all moms know, there comes a point when you just NEED some "me" time.  Yesterday was that day for me.
We yoga'd, we wined, we ate (and ate), we got facials, massages and a few other ridiculously relaxing forms of pampering.
It was so great.
But here's the thing… there's always a "thing", right?
The massage scenario…it's sort of weird…
Me, essentially nekked, except for my undies, letting some random lady give me a rub-down.  Where else in the world would I let this happen?  Seriously, I am sure that "Karen" was nice enough, but she was a stranger to me.
We met, shook hands, she asked me a few random questions about stress and fragrant oils and then boom…robe off, head in hole, lying in the world's most un-flattering position, while she secretly judges my "Hanes Her Way" Target undies and wonders how I let myself get that much cellulite on my thighs.
Don't get me wrong, I enjoyed every minute of it, but at times I found myself thinking about back-fat and spider veins, when I should have really just been "in the moment".
It's a strange thing, the massage.
Facials are bit more…clinical, if you will…and plus, you look at yourself everyday in the mirror.  You know what you have going on up there, but how often do I get a good look at me from behind?  Not only from behind, but laying down completely flat, where the only place your goodies have to go is sideways. Well, I will tell you the answer to that question…never.  I try to avoid it actually.
I mean you can't bend your knees to give the illusion of smaller thighs when laying face-down, you can't suck in back-fat (trust me, I have tried)…it's all just there.
I tried to turn my brain off during the 50 minutes of peace, but I haven't found that "zen" yet.  It's something that I need to work on.
So, anyway, the day was ultimately a success and I would do it again next week, if I could get away with it…anybody in??
Well, while I wait for my bank account to replenish I will give you a yummy cookie recipe that is just about as indulgent as a day at the spa.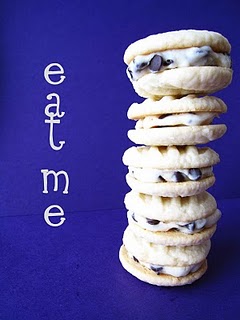 Chocolate Chip Filled "Melting Moments"
Cookies:
1/2 c. AP flour
1/2 c. cake flour
3/4 c. cornstarch
1/2 t. baking powder
1/4 t. salt
3/4 cup (1 1/2 sticks) butter (I used salted) ~ room temp
3/4 c. powdered sugar
2 t. vanilla
Filling:
1 stick butter ~ room temp
2 cups powdered sugar
1 1/2 t. vanilla
rounded 1/2 c. mini chocolate chips
Preheat to 300
Line baking sheets with parchment
For cookies:
Sift both flours, cornstarch, baking powder and salt together.  Set aside.
In mixer bowl beat butter and powdered sugar on medium for about a minute, until light and fluffy, scraping down sides as necessary.  Add vanilla and mix until blended.  On low speed add the flour mixture and mix until dough forms.
Measure 1 level tablespoon of dough, now pull into 2 equal parts.  Roll each half into a smooth ball of dough, placing on prepared baking sheet about 2 inches apart.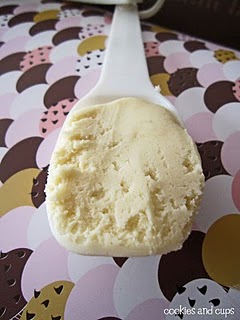 *The original recipe called for each cookie to be 1 T. of dough, as opposed to the 1/2, but I wanted smaller cookies, so use your discretion on the size, just know that preferred the smaller (about 1 1/2″ is diameter after baked)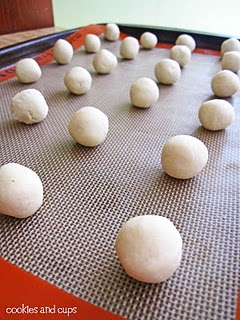 Once all the cookies are on the baking sheet take a fork and press down in the dough flattening it, leaving the fork tine impression.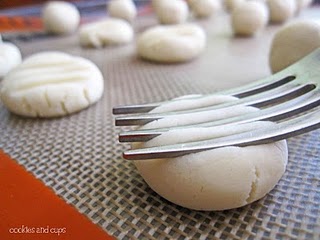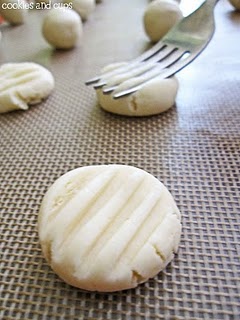 Bake cookies until bottom are slightly golden, but the tops do not get color, about 20 minutes.
Let cookies cool on baking sheet for 10 minutes and then transfer to wire cooling rack.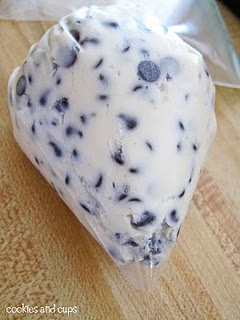 For filling:
In mixer with paddle attachment beat the butter, sugar and vanilla until smooth on medium speed.
Add the chocolate chips and mix on low until chips are combined.
Fill ziplock with the filling and cutting off the tip of the bag squeeze about a teaspoon on one half of the cookie, pressing another cookie gently on top to make a sandwich.
Store in sealed container for up to 5 days.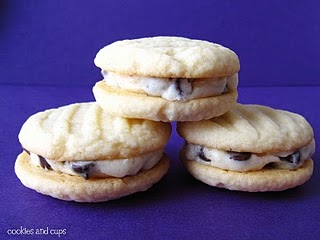 These cookies are a perfect remedy for those days that you WISH you were at the spa, getting your shoulders worked by a random lady named Karen…but I will say, they aren't gonna help you with the cellulite issue 😉