Wanted to pop in really quick and wish you all a Merry Christmas.
I don't have anything new to share with you today, but I thought I would give you a few last minute ideas of some of my favorites…
1. Samoa Bark ~ Caramel, Toasted Coconut, Chocolate and Shortbread…nothing not to love!
2. Oatmeal Cream Pies ~ The homemade version puts a certain Little Lady to shame 🙂
3. Cookies and Cream Cookies ~ Easy, fudgy, delicious and easy. Yes, yes, yes and yes.
4. Cinnamon Toast Crunch Treats ~ No bake perfection
5. Reeses Stuffed Oreos ~ There are no more words
6. Peanut Butter Ritz White Chocolate Fudge ~ Fudge made with a tub of frosting. Simple.
7. Cake Batter Blondies ~ It all starts with a cake mix.
8. Ice Cream Cone Cannoli ~ Impress the adults and the kids all at once
9. Cream Cheese filled Snickerdondles ~ Yes, it is possible to improve on perfection.
Hopefully that has helped make any last minute baking decisions easier for you. If you still can't decide go with #5. People will love you.
I also wanted to share with you a picture of our family Christmas card, the 2011 version.
This is a fair representation of my house on any given day.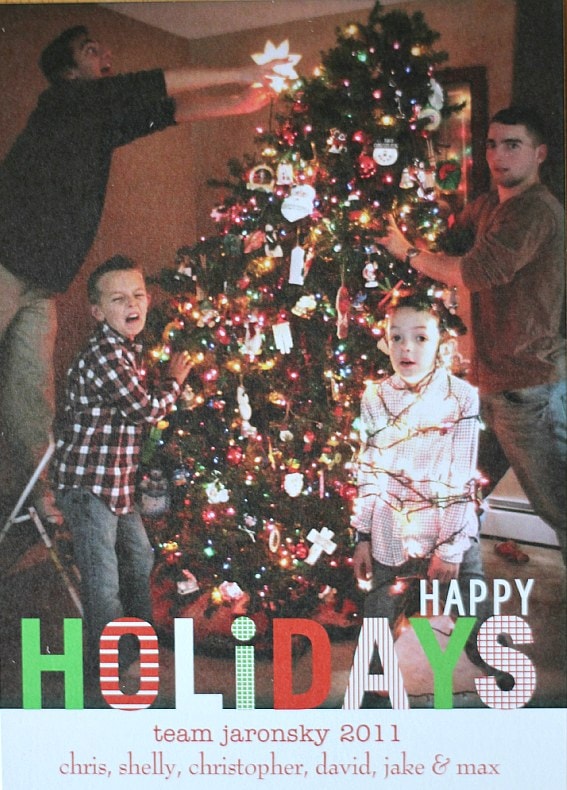 Hope your holidays are happy and you get those sparkly Uggs you asked for!