Now for the 3rd installment of "Use the Chips Ahoy". If you haven't read my older posts I have a wholesale club sized box of Chips Ahoy that my son HAD to have glaring at me in the pantry. It has become my mission to get rid of them in various never-before-tried-by-me ways. Here's the lastest venture:
Chips Ahoy Truffles.
Ok-Not super original, I know, but I had never tried them with Chocolate chip cookies before ~ do I sound whiny? I realize I have become a bit of a truffle lady lately, but just think about it…a bite sized version of anything is cute and just about anything encased in chocolate is better, so it makes sense ~ just go with me, okay?
I was actually inspired on this one after reading the too-cute blog Baked Perfection and drooling over her delicious looking Cookie Dough Pops. Not trying to lay blame here, but I saw an opening and ran with it =)
Now, I just altered the Oreo Truffle recipe that I have been using for a while that came from Kraft (see recipe here) using Chips Ahoy instead of Oreos…
I changed the amounts slightly, though because the package of Chips Ahoy has less cookies than a pack of Oreos…
1 pkg. Chips Ahoy
4 oz cream cheese ~ or HALF a block of an 8 oz. block (duh) ROOM TEMP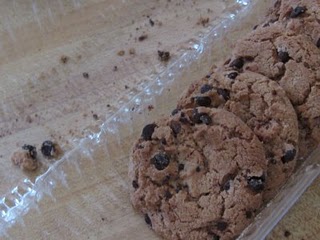 Crush Chips Ahoy into fine crumbs (reserving 1/4 c of crumbs for garnish) and mix with cream cheese.
Form into balls and place on a lined cookie sheet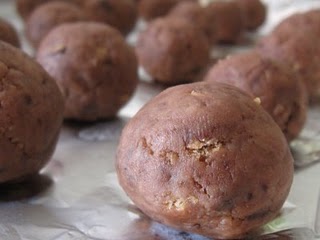 Place in freezer for 15 min or fridge for an hour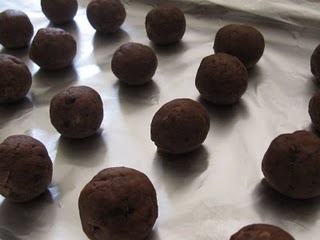 Melt chocolate chips or melting disks with a tablespoon of shortening and dip each ball in, making sure to shake off extra chocolate so you don't have a lot of chocolate pool at the base of each ball while setting.
I sprinkled the reserved cookie crumbs on each cookie ball. You could also use chocolate chips or sprinkles, whatever you like best.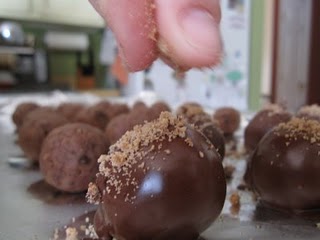 Here's the inside…YUMMMMMM!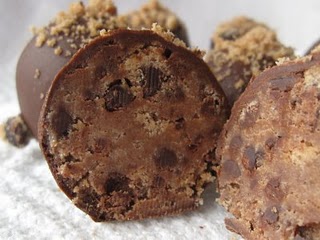 OK-tried the Chips Ahoy truffle and it was DELICIOUS! Way better than the Golden Oreo I attempted a while back (see here) and possibly better than the original Oreo.
Next time I make these I will make them with homemade chocolate chip cookies, just for kicks.
These are very chocolaty, so if that's not your thing go elsewhere, but I am assuming that if you have read all the way to the bottom you are intrigued and to you I say go buy a pack of Chips Ahoy and try these sooner rather than later. Your jeans will hate me for it!