I found this pan that helps make cupcakes in ice cream cones ands it has worked great!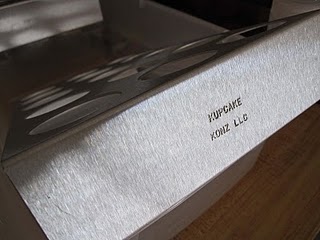 Peanut Butter Cup Brownie Cones
Oh yeah!
They look yummy, right?
I used a boxed brownie mix for these…your judgment is no good here, I am not a brownie snob.
But wait, there's more (I've always wanted to say that, hehe)…
You know those yummy
Drumsticks
that you buy at the supermarket?  Well, isn't everyone's favorite part the bottom where the cone is all filled with chocolate?
So, with that mind-set I stuck a mini pb cup down in there as a yummy surprise.
Oh mini peanut butter cup, how I love thee.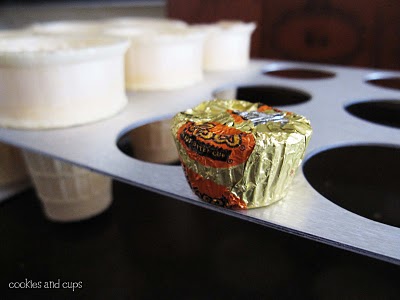 I mean anyone who wouldn't get excited about a surprise peanut butter cup is dead to me.
Dead.
I am THAT serious.
Ok-I take that back ~ maybe not dead, how about temporarily stunned?
…you are temporarily stunned to me…
yes, better.  Not as dramatic.
Anyway,
Here are the details…
Make your brownie batter.
Easy.
Stick a pb cup in each cone.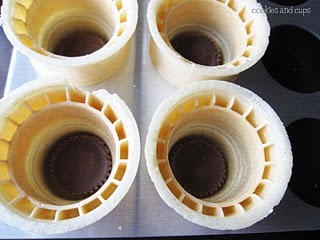 Top with batter.  Don't fill it up all the way…2/3's is a good amount.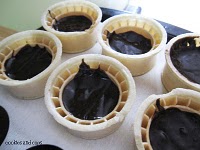 I baked at 350 for 25-30 minutes.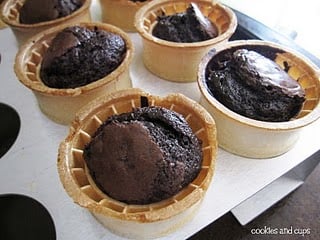 Let cool and top with delicious pb frosting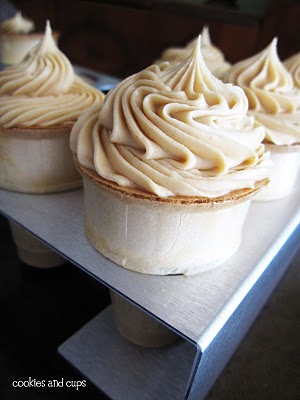 Top with another pb cup.
You wanna see?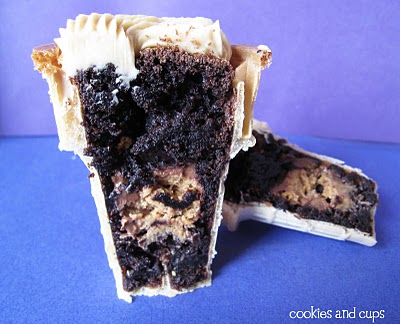 Oh my sweet Lord, you are beautiful, Peanut Butter Brownie Cone
.
Just rolls off you tongue, doesn't it?
PB frosting:
1 stick softened butter (I used salted)
3/4 cup creamy peanut butter
5 cups sifted powdered sugar
2 T. heavy cream or whole milk
Beat butter and peanut butter together
Slowly stir in powdered sugar.
When combined mix on med for 1 minute or until smooth.
Add milk.
Mix again.
Add more powdered sugar for a stiffer frosting, more milk for more creamy.