If you read my last post about my first craft fair I mentioned that I debuted a new cupcake while I was there. Probably not the best idea trying out something new when you are trying to sell you wares and make a good first impression, right? WELL, I just knew there was no going wrong with this cupcake. I was THAT confident!
I have been wanting to try a recipe in my Cupcakes from the Cake Mix Doctor cookbook for a while now…the Cookie Dough Cupcake. I mean it incorporates my two favorites…cookies and cupcakes. The Cookie dough cupcake essentially is a vanilla cupcake with a chunk of frozen cookie dough dropped into the filled cupcake cup and then baked (keeping the dough frozen is the key, so the dough doesn't fully cook and you get that gooey filling) and topped with chocolate buttercream. I did a few quick Google searches, read some other cookie dough cupcake attempts and decided to try the cupcakes MY WAY. I saw a recipe online for Cookie Dough buttercream which I really wanted to try, but thought that the cookie dough filling AND cookie dough buttercream would be TOO much cookie dough (if that's possible).
I finally decided on this…a Brown sugar cupcake (my new fave) topped with Cookie Dough Buttercream and a cookie wedge. I'll tell you, it was DELICIOUS!!! I still want to try the cookie dough filling, so stay tuned for that…I can guarantee that there will be a next time with these bad boys.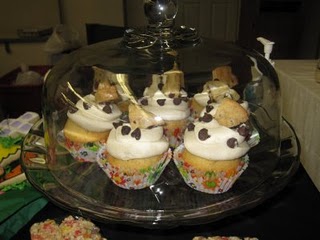 Brown sugar cupcakes:
from the cupcake bakeshop
makes 12 cupcakes

3/4 cup (1-1/2 sticks) unsalted butter, room temperature
3/4 cup light brown sugar
2 large eggs, room temperature
1-1/3 cups all-purpose flour
1/2 teaspoon baking powder
1/2 teaspoon baking soda
1/8 teaspoon salt
1/2 cup milk
1 teaspoon vanilla
Preheat oven to 350 degrees.
Beat butter on high until soft, about 30 seconds.
Add sugar. Beat on medium-high until light and fluffy, about 3 minutes.
Add eggs one at a time, beat for 30 seconds after each.
Whisk together flour, baking powder, baking soda, and salt in a bowl.
Measure out milk and vanilla together.
Add about a fourth of the flour to the butter/sugar mixture and beat to combine.
Add about one third the milk/vanilla mixture and beat until combined.
Repeat above, alternating flour and milk and ending with the flour mixture.
Bake 15-20 minutes until cupcake springs back when pushed or toothpick comes out clean.
Let cool before frosting cupcakes
***now if you were using the cookie dough filling here's what you would do…After filling cupcake liners, drop in frozen cookie dough. What I found was an easy recommendation was buying that pre-made cookie dough that you break apart. Of course you could make your own, but whatever you have time for. Anyway, bake as stated above, but don't try the toothpick method, because it is going to come out gooey…that's the whole point 😉
Now for the frosting…this is the good part
Before I go into this, because there was a little guess-work involved here…there ARE recipes online for this, ones that tell you to make a buttercream type frosting and then make a eggless cookie dough and then mix them together…but that required more steps than I was willing to take on this specific day (having to have 2 mixers out at once is one mixer too many in my house…SOOO, here's the cheaters version =) Trust me, your not gonna mess this up! Follow the rule of thumb ~ add a little at a time, you can always add more.
For the frosting follow my recipe for vanilla buttercream
after you have this made add:
1/2 cup flour
1/4 cup light brown sugar
1/2 t. vanilla
pinch of salt
splash of milk
mini chocolate chips (optional) ~ the chips are good in it, but make it a little harder to pipe out the frosting if are planning on it, so if you spread your frosting on then add them in, if you pipe it sprinkle them on top…or hey, do both, whatever suits your mood!
Now taste it…does it taste enough like cookie dough? If not, add a bit more flour, or brown sugar. Play with it a little until it tastes good to you. Top them with a chocolate cookie wedge if you want! I loved these cupcakes and so did my entire family. I sold some at the craft fair also and got great feedback. Hope you like them as much as I did!