Christmas is over.
All the prep, all the work, all the anticipation…over.
My decorations are down and the stuff is put away.  Sigh.
New Years is up next, and I have to say that I am excited for 2012.
2011 had its ups and downs for me.
I lost my mom this year to pancreatic cancer, but I have realized through that loss that I am incredibly blessed in my life.
I have a husband that I love.
I have children who are healthy and happy and a job that I am crazy about.
This little blog has changed my life in multiple ways.  It has given me a creative outlet, a justification for my sugar obsession and has led me to new people who now seem like old friends.
I have started a new site where I even had enough guts to open my fridge and let the world ogle my cheese obsession.
I have gotten to go on some incredible trips…like here and here.
I have friends that are some of the best in all the land.
And have developed a slight obsession with Instagram and Pinterest.  You need both of those in your life, I can't go down alone!
I begin 2012 with an open mind and an open heart, knowing that it could all be gone in a second.
Please remind me of all these things when I am knee deep in dirty laundry and my children are melting down, mmkay?
So thanks to all of you for reading as often as you do and especially for taking the time to leave me comments.
Even you haters out there.  Your comments always make me laugh…and laughter's the best medicine, right?
With all that said, I want to give you a little something to sign off 2011.
Actually I want to give 3 of you a little something.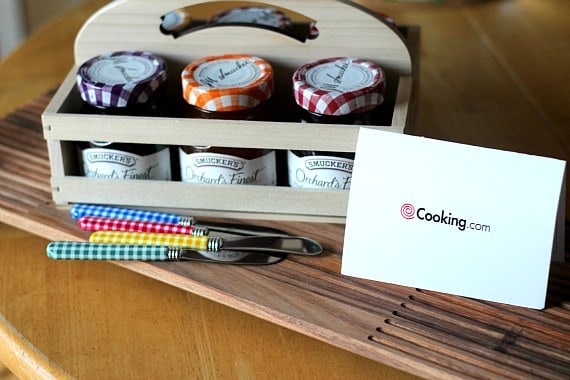 It's from the awesome people at Smuckers.
A gorgeous crate filled with Smuckers premiere "Orchard's Finest" Preserves.
Some spreadable knifes
A beautiful cheese platter from Crate and Barrel
And an $100 gift card from Cooking.com
So to enter I wanna know…are you a resolution person or no?  And  if so, what's yours?
Contest closes Monday, January 2nd at 11:59 pm, 3 winners will be chosen by random.org and is open to US residents only
Contest CLOSED!
Winners are Natalie comment #312, Kelly comment #4 and Theresa comment #602
I have emailed the winners.
Thanks for entering!!