No Boil Slow Cooker Mac and Cheese is so creamy and packed with flavor. It's an pasta recipe made in the Crock Pot that is an easy everyday dinner idea or perfect for entertaining.
Make sure to try my Stove Top Mac and Cheese Recipe too for a quick and easy alternative!
Crock Pot Mac and Cheese
I use my Slow Cooker on a pretty regular basis, and have a bunch of slow cooker recipes here on my website. On weeknights, especially in the fall when my family seems to be going in different directions all the time, the Crock-Pot slow cooker is a life saver.
And everyone in my family LOVES Macaroni and Cheese, so the ability to make it in the Crock Pot ahead WITHOUT having to boil the noodles is an amazing option.
Not only is this No Boil Slow Cooker Mac and Cheese recipe completely creamy and cheesy, it doesn't take all day either, which is perfect for entertaining, kids sleep-overs or game day parties.
No Boil Slow Cooker Mac and Cheese Is An Easy Dinner Idea!
This easy Crock Pot Mac and Cheese recipe is a little different from your average slow cooker meal. This one only takes a few hours, which makes it perfect for entertaining, game day, or whipping up in the afternoon when you forgot to plan your dinner ahead of time!
I have tried macaroni and cheese recipes in the Crock-Pot slow cooker before, but they always require you to boil the pasta ahead. I feel like if you are going to do this step, it's just as easy to bake the mac and cheese…why involve the slow cooker? So, my idea was to develop a recipe that you could throw all your ingredients in the Crock-Pot slow cooker, turn it on and walk away…at least for an hour or so!
I'll tell you, it was a super success. Like I am so freaking excited to tell you how to make crock pot mac and cheese!! Let's go!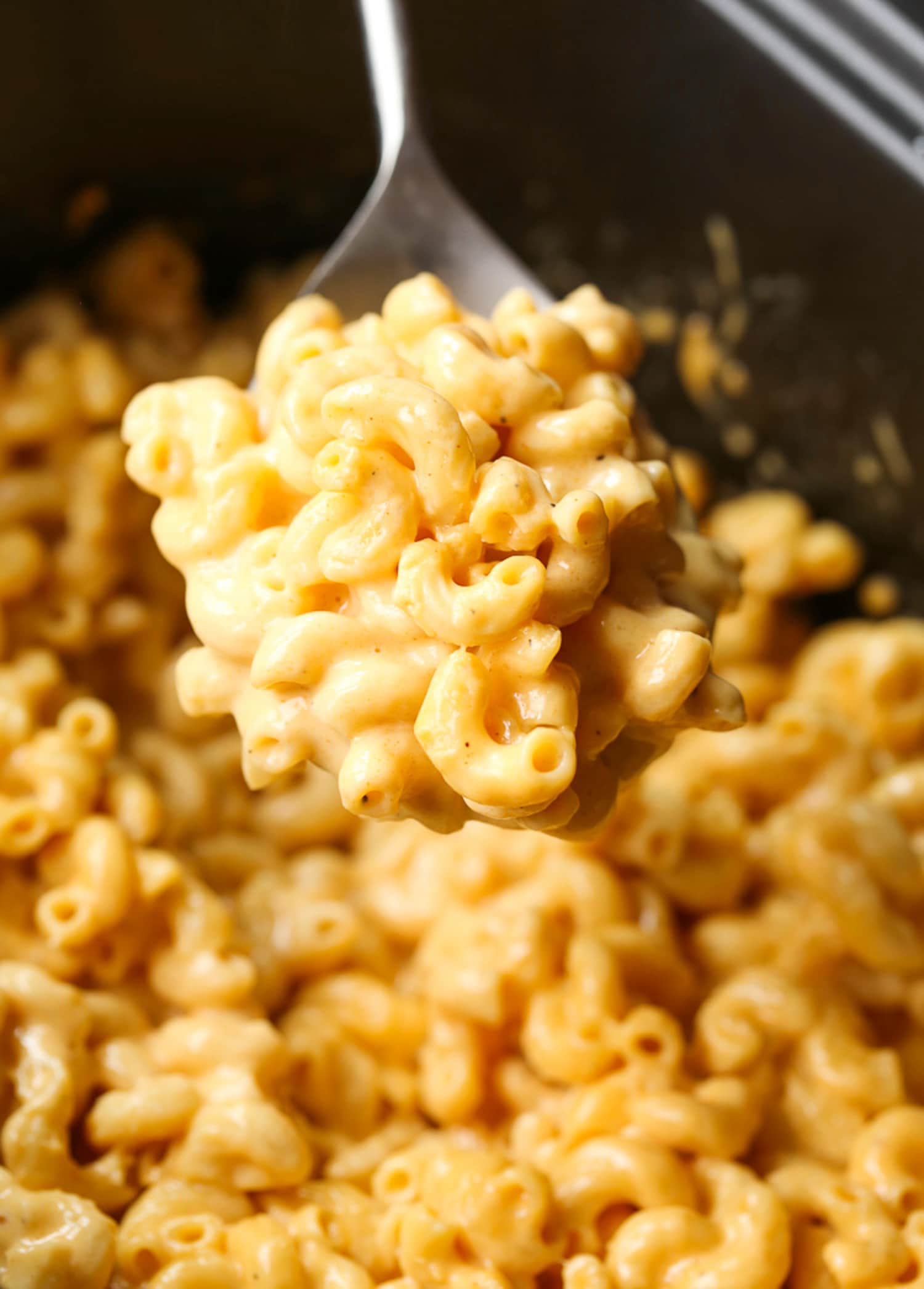 Ingredients:
Whole Milk and Evaporated Milk. You're going to use a combination of both of these types of milk in this recipe. The evaporated milk adds creaminess and thickness to the cheese sauce, while the milk has a higher percentage of water which is needed to cook the pasta. You could also use heavy cream in place of the evaporated milk if you wish.
Seasonings. I use salt, black pepper, and paprika in this recipe to keep flavors simple and traditional. However, you can get creative with the seasonings you use.
Pasta. Since this is macaroni and cheese, I use small elbow macaroni. I prefer Barilla brand pasta in this recipe, as I find it stays firmer and doesn't get mushy during the cooking process.
Butter. Would it even be mac and cheese without the butter? I prefer using salted butter, but you can use unsalted as well.
Velveeta. I know so many don't prefer to use Velveeta in their cooking, and while it isn't an ingredient I use regularly, the creaminess that it adds to mac and cheese can't be matched.
Other Cheeses: I use a combo or sharp cheddar and Monterey Jack. The sharp cheddar imparts flavor and the Monterey Jack adds creaminess.
How To Prep Crock Pot Mac and Cheese:
All you do is pour a pound of elbow macaroni in your Crock-Pot slow cooker and top it with cubed butter.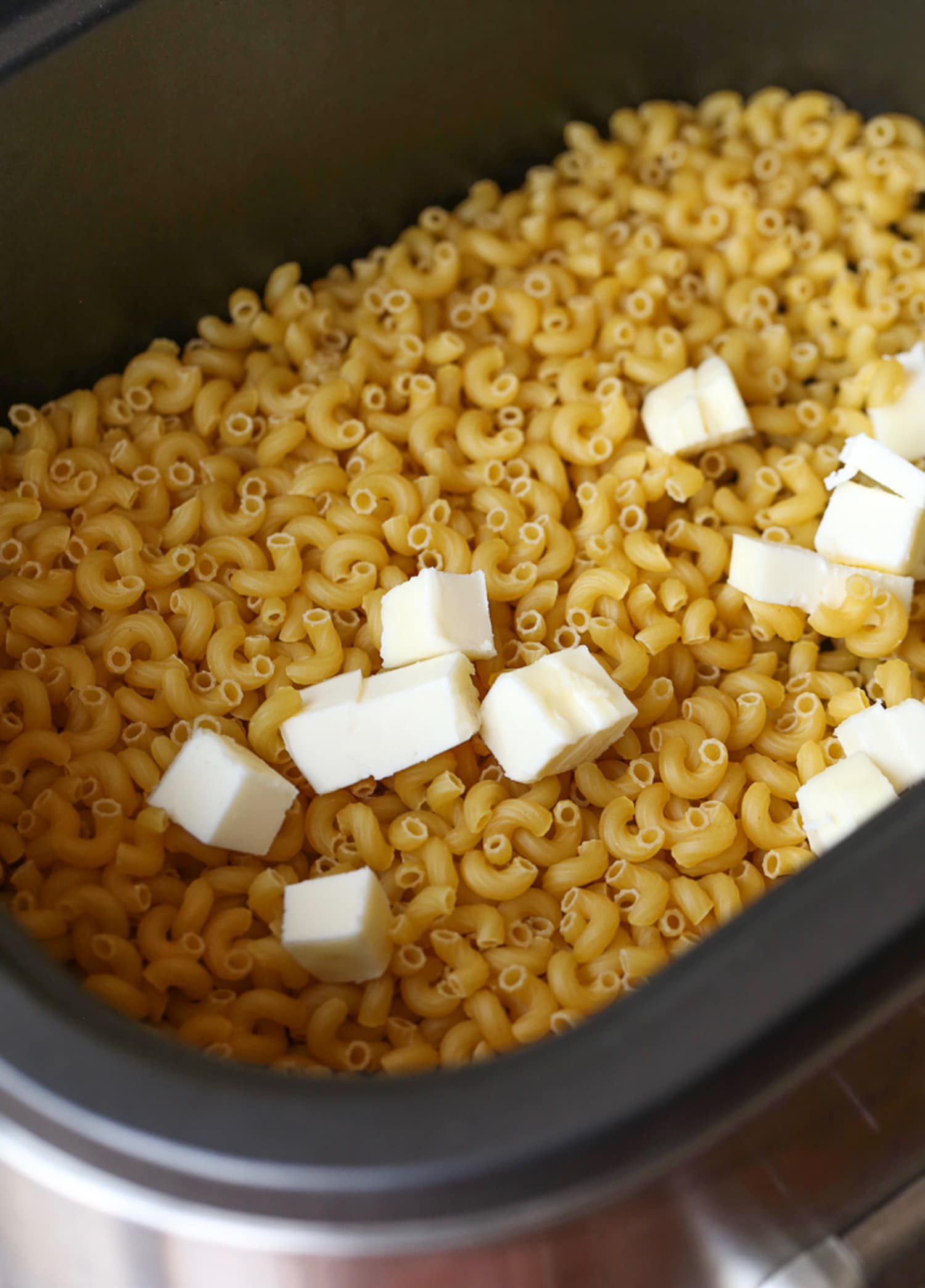 Prep Your Cheese: Next grated some cheese. I like to use sharp cheddar and Monterey Jack, but please feel free to adapt this and play around with cheeses you like best.
Sprinkle this cheese on top of the uncooked pasta.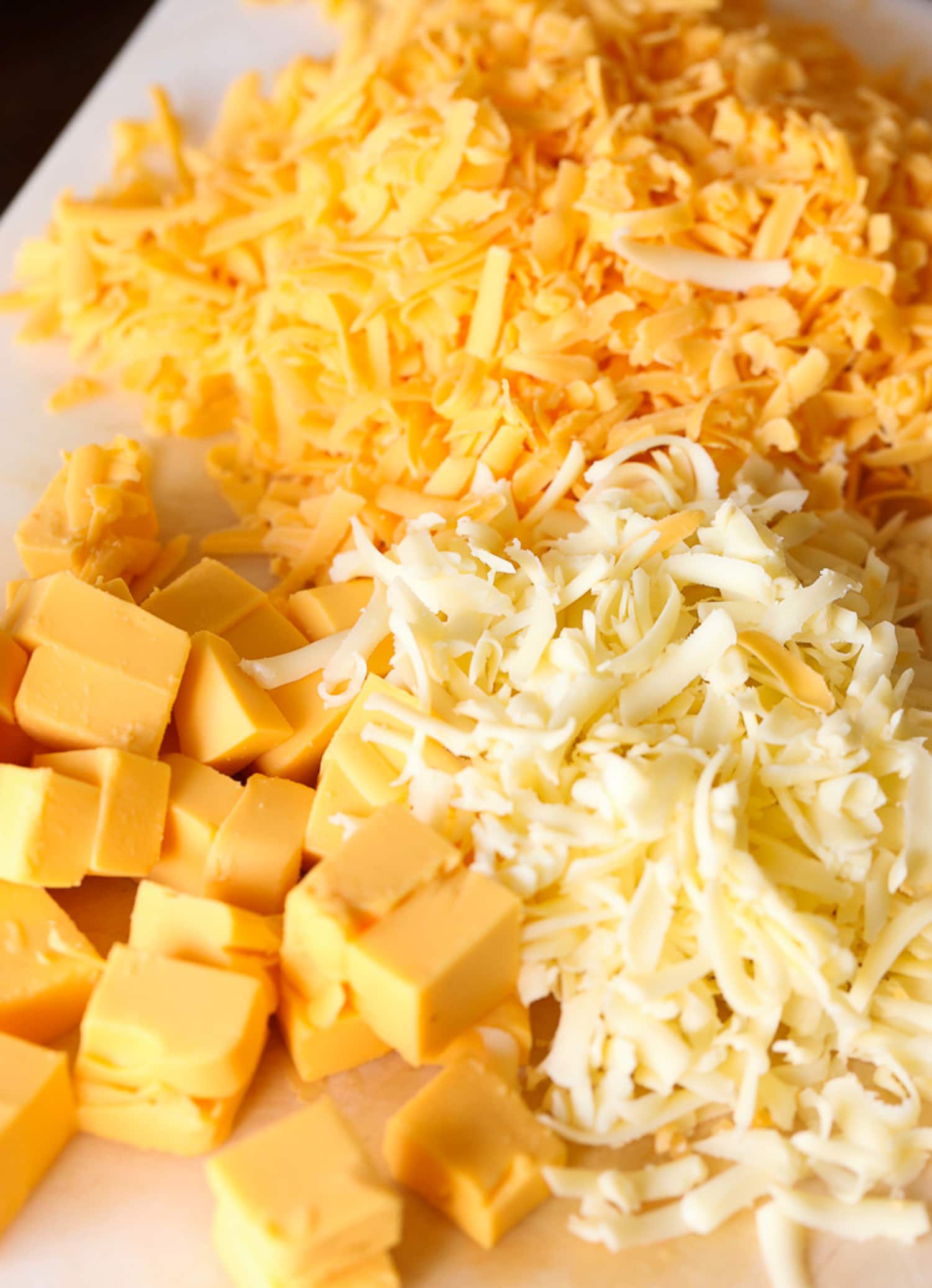 Make the liquid: Whisk together some milk, evaporated milk, salt, pepper and paprika. Pour this on top of the cheese and stir it up.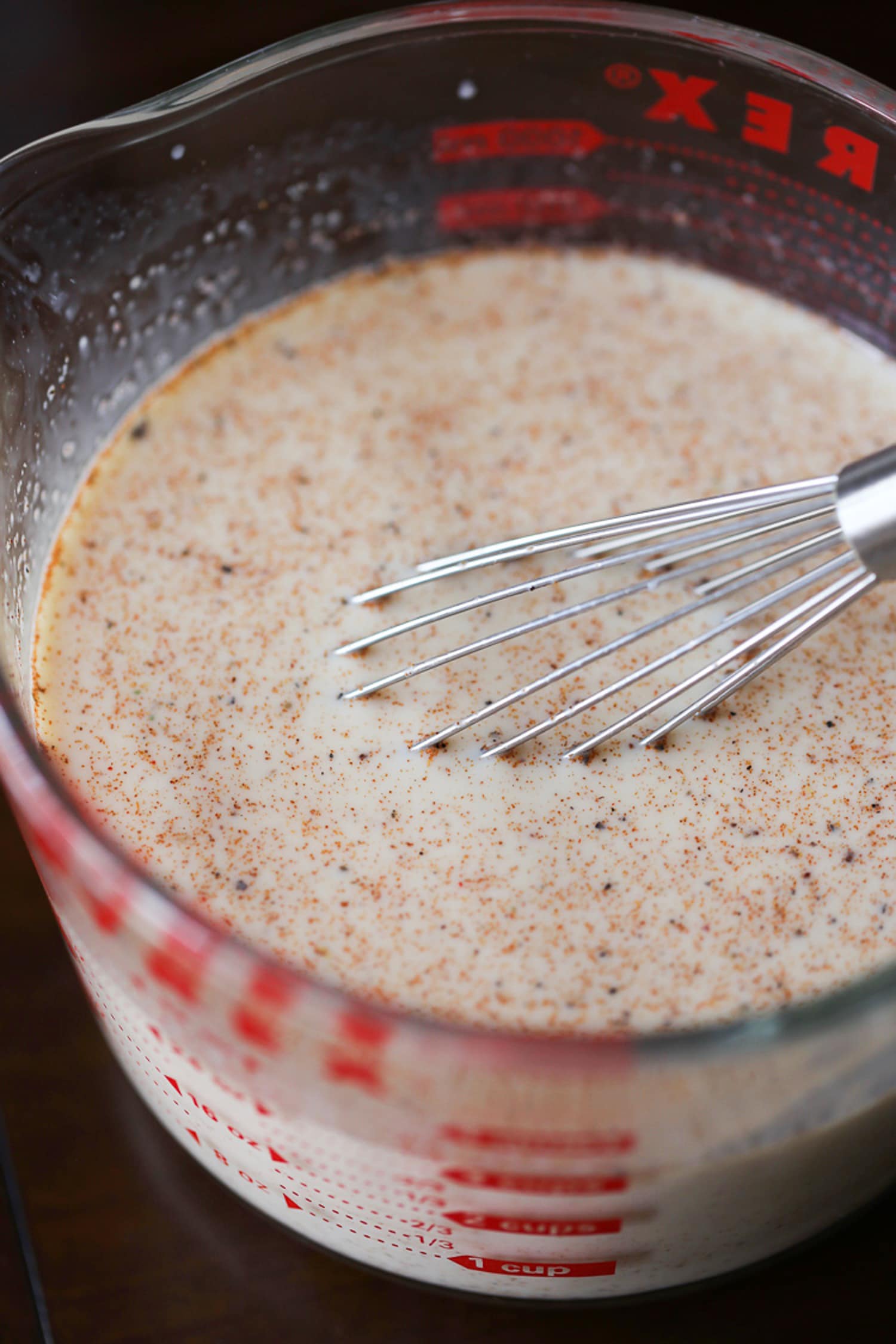 That's it! Just put the lid on your slow cooker, turn it on low heat and set it for 2 hours. make sure to stir it after 1 hour so the pasta doesn't stick together. And even taste test the pasta to check the doneness. Same rules apply as if you were making pasta on your stovetop.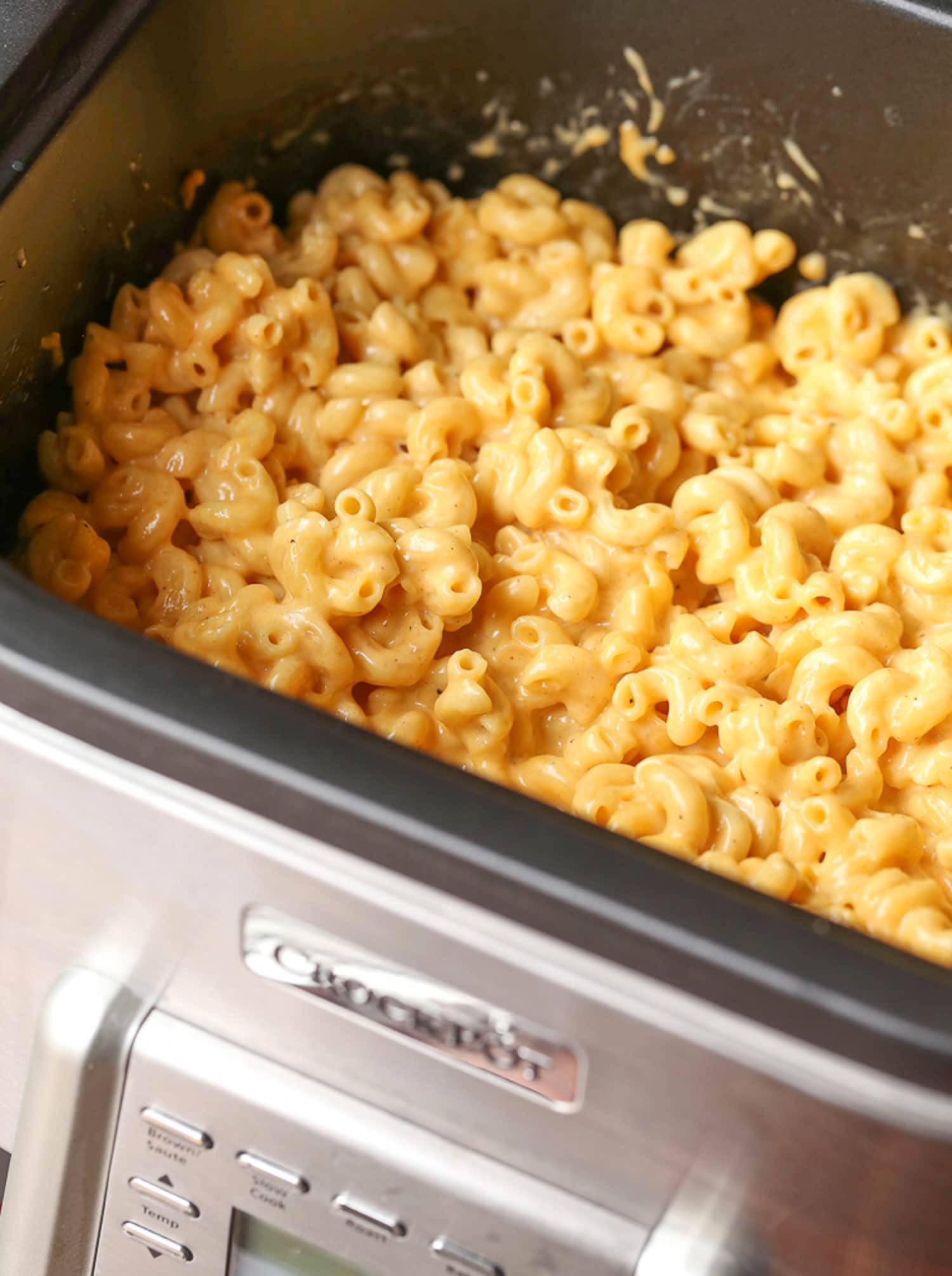 Troubleshooting:
This is a very easy and straightforward recipe, but I have taken in some of the issues that readers have had over the years and I'm going to try and solve them here for you:
Mushy Pasta: I can't stress enough that a high quality pasta is key. Like I said above I always use Barilla brand pasta for this recipe and have never had an issue. Also slow cooker temperatures can vary if you only have "high" and "low" settings, so I suggest checking it before it's done to monitor the texture. The only way the pasta will end up mushy is if it is overcooked.
Lacking Flavor: This is an easy fix. If you find your mac and cheese isn't as flavorful as you would like add in some seasoning. Also making sure to use a good quality sharp cheddar will solve this!
Pasta clumped together: This will happen when you cook pasta and don't stir it, so make sure to follow the instructions carefully and make sure to stir it after one hour!
More Tips on Making This No Boil Mac and Cheese Recipe:
Easy No Boil Slow Cooker Mac and Cheese is a very easy recipe, but there are a few tips to getting it right.
Use a Crockpot liner for easy clean up.
Make sure to grate your own cheese, and don't use pre-grated. The mac and cheese will be much creamier this way!
If you decide to use a different shaped pasta, the cook times can vary, so make sure to check it after an hour and see how things are going! I used Elbow Macaroni (Barilla brand). Other brands or shapes could take up to 3 hours to cook, so just be aware of this variation.
Once the pasta is cooked, make sure to turn the slow cooker to warm, or even turn it off and keep the lid on until ready to serve.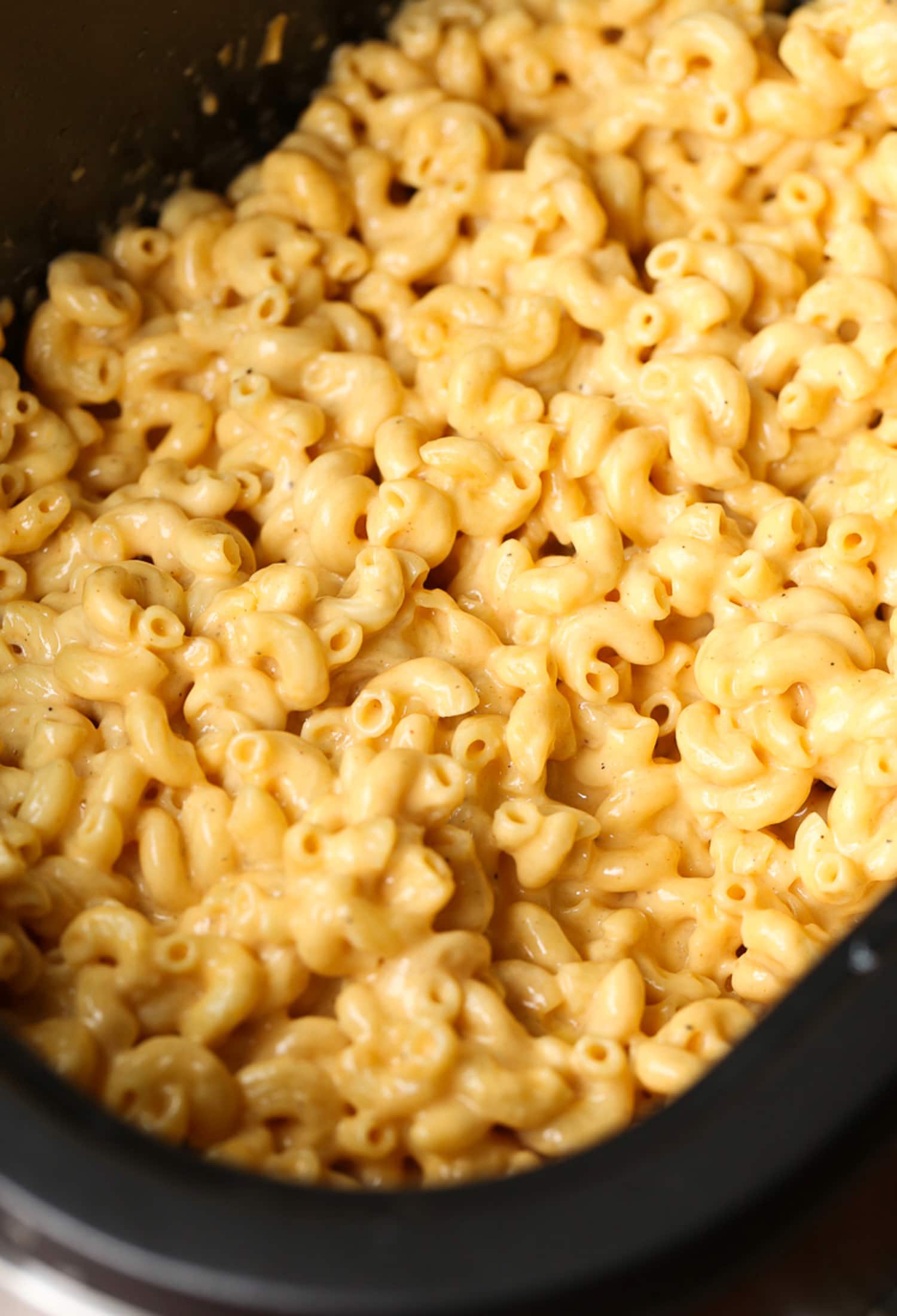 Do You Have To Use Velveeta Cheese?
Velveeta is an ingredient in this recipe that people love or hate. We don't eat Velveeta very often at all, which is why I don't mind using it in this recipe. The creaminess it adds to the mac and cheese just can't be duplicated.
BUT I will say that I have had many people make this recipe and tell me that they have used cream cheese in place of the Velveeta with great results. I, personally, have never done this, but I like to give options in case you aren't down with Velveeta. Another alternative would be American cheese slices.
Change It Up:
This is a classic mac and cheese recipe, so you can absolutely get creative with it!
Add Spices: A few that pair well are nutmeg, dry mustard, garlic powder, steak seasoning, and taco seasoning. Even a little hot sauce or cayenne pepper for heat would be great!
Add protein: Make this a full meal and add in some shredded chicken, carnitas, or steak! My husband even adds hot dogs into his macaroni and cheese.
Swap out the cheeses: Try using Pepper Jack instead of Monterey Jack, or even a Gruyere or Gouda
Add Alfredo Sauce or Pesto! Make it creamier with Alfredo, or add in a few tablespoons of pesto to give it a really amped up Italian flavor!
How To Store Crockpot Mac and Cheese:
If you have leftovers, simply store the mac and cheese in the refrigertaor in an airtight container for up to 3 days. Reheat in the microwave!
Print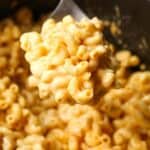 No Boil Crock-Pot Slow Cooker Mac and Cheese
Author:

Prep Time:

10 minutes

Cook Time:

2 hours

Total Time:

2 hours 10 minutes

Yield:

serves 6

Category:

Pasta

Method:

Slow Cooker

Cuisine:

Dinner
---
Description
This Creamy Easy No Boil Slow Cooker Mac and Cheese Recipe is great for entertaining!
---
2 1/2 cups

milk

1

(12- ounce) can evaporated milk

1 teaspoon

kosher salt

1/2 teaspoon

fresh ground pepper

1/2 teaspoon

paprika (I used smoked paprika)

1

pound elbow macaroni

1/4 cup

butter, cubed

4 ounces

Velveeta, cubed

8 ounces

sharp cheddar cheese, grated

4 ounces

Monterey Jack cheese, grated
---
Instructions
In a medium bowl whisk together milk, evaporated milk, salt, pepper, and paprika.
Pour the uncooked macaroni into your 5 quart Slow Cooker. Top with butter and all cheeses.
Pour the milk mixture on top and stir to combine.
Do your best to press all the macaroni into the milk mixture. It won't be completely covered, this is ok.
Cover your Slow Cooker and cook on low for 2-3 hours, stirring once after one hour.
The mac and cheese will be done when all the liquid is absorbed and the pasta is cooked.
---
Notes
Note – Cook time can vary from 1 1/2 – 3 hours based on type of pasta and slow cooker. Keep an eye on the pasta at about 1 1/2 hours and continue cooking accordingly.
Also note, I recommend only using freshly grated cheese. The pre-grated is coated so it won't stick in the package, which will affect the creaminess.
I used Barilla brand pasta*
Nutrition
Serving Size:
Calories:

716

Sugar:

13.1 g

Sodium:

1131.6 mg

Fat:

33.7 g

Carbohydrates:

73.2 g

Protein:

34.9 g

Cholesterol:

91.1 mg
Keywords: slow cooker, crock pot, mac and cheese, pasta recipe, cookies and cups, dinner recipe, tailgate
Want To Save This Recipe?
Find more recipes like this:
PIN for later: