I love most things Oprah and last year when she came out with a cookbook of all her favorite recipes I bought it immediately. The book itself is beautiful ~ great pictures, delicious sounding recipes and chapter and recipe introductions from some of Oprah's favorites. Well, after my initial look-through it went on the shelf in my pantry…basically where cookbooks go to die. I INTENDED to make a lot of the things in the book, specifically the 12 Layer Chocolate Cake, but life got in the way and I hadn't pulled it out since. Well, I woke up Friday morning and after school buses came I sat down at the computer with my morning coffee and caught up on some of my favorite blogs. I love Bakerella's blog because she has great photos and cool ideas. On her site was an attempt at a 12-layer cake and I remembered this from my Oprah cookbook. It hit me at that moment that I would do this and I would do it NOW…I am a little impulsive like that.
So, I found the cookbook stacked between Paula Deen and Nigella Lawson and dusted it off. I opened the book to the anticipated page and there it was in all it's glory…a cake with 12 layers…I know, right?!?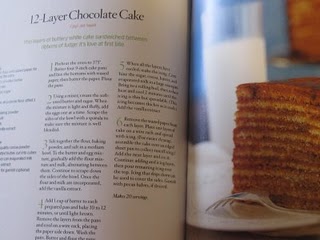 I will not post the entire recipe, but here's the link to Oprah's page with the same one in the book.
It is quite a, well, not hard, but lengthy process and I wanted to follow exactly as the recipe was because I had never done anything like this before. The cake itself was a large batter, but c'mon I was making 12 layers, right? There is no cutting layers in this one, so I had to bake 12 separate layers…it tells you to use 9 inch pan and cut 12 waxed paper rounds to put in the bottom of the pans as well as buttering and flouring the pans.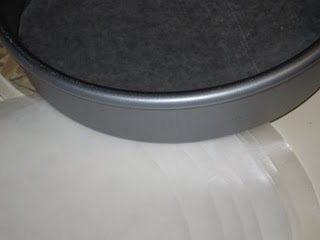 Unfortuntely I only have 2, 9″ pans…sooo this was a pain. After each layer baked I had to clean the pans and re-butter and flour each time..ugh.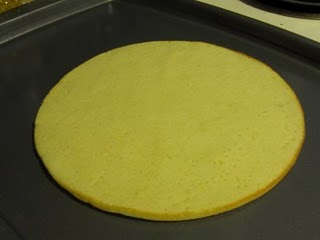 After baking about 7 layers, 1 cup of batter at a time, I realized that I was running low on batter. I followed the recipe exactly, but when all was said and done I only had enough batter to make 10 layers…what? I have no idea, but by that time I was fine with it. Maybe if I used 2/3 cup on each layer and used 8″ pans? Who knows?!? The layers looked okay, and cooled pretty quickly which makes sense because they are thin, like pancakes.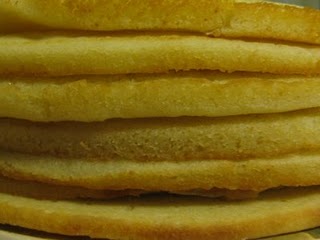 I made the icing as the recipe stated and it was very thin, but it is more like a ganache than a frosting.
I spread the cooled icing on each layers and watched it all oooze off and down the sides. I scooped up the drizzle and kept re-spreading it over the top. Eventually I felt like I did all that I could.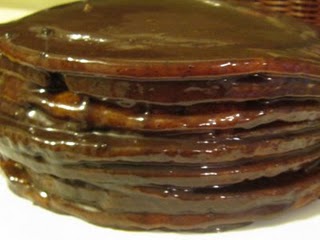 Now the moment I was waiting for….cutting it open to see all the pretty layers.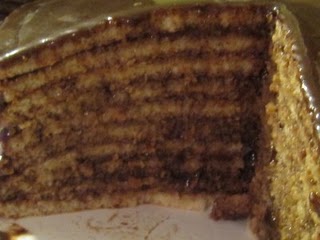 I was quite pleased with the look of the cake, quite like the picture, albeit a little amateur.
The inside was a little nicer to look at than the outside, which looked like a stack of panckaes covered in chocolate syrup!
SO now to the most important part, the tasting. It was a strange first bite…not what I was expecting. The cake itself was heavy because it seemed like a lot of the icing absorbed into the cake making it dense…second bite…not too impressed…third bite, I put the fork down in a baking depression. All afternoon spent making this ridiculous cake and I didn't even like it!! So, I asked my husband to try it…first and only bite…yuck he said. Well, alright then. My sons ate it and liked it, but let me tell you they think a Hungry Man is gourmet, so while I appreciate their opinion I go with my gut on this one.
So, 12 layer cake, first and last time…however I might try one on my own with a different kind of frosting.
So, mess or success you say? I would say success in that I believe it came out correctly, mess in that I didn't like it. I guess not all recipes are winners, but I had high expectations for this one. Sorry, Oprah.