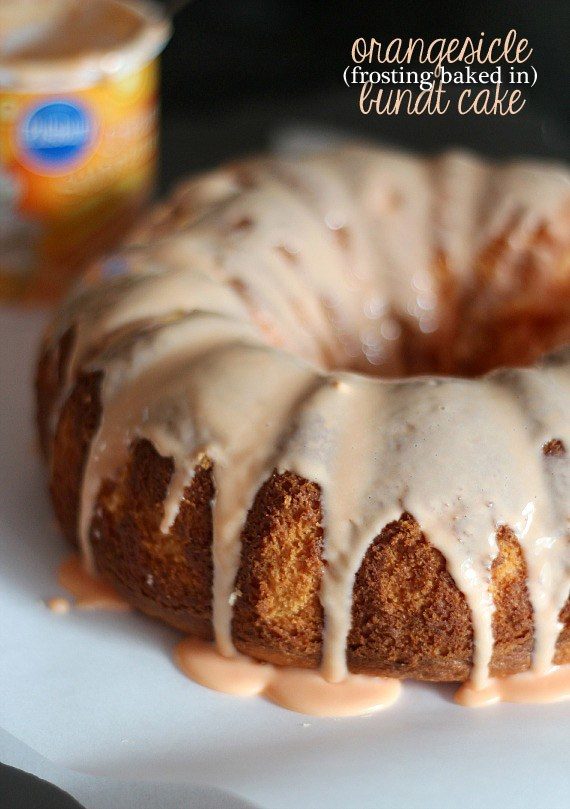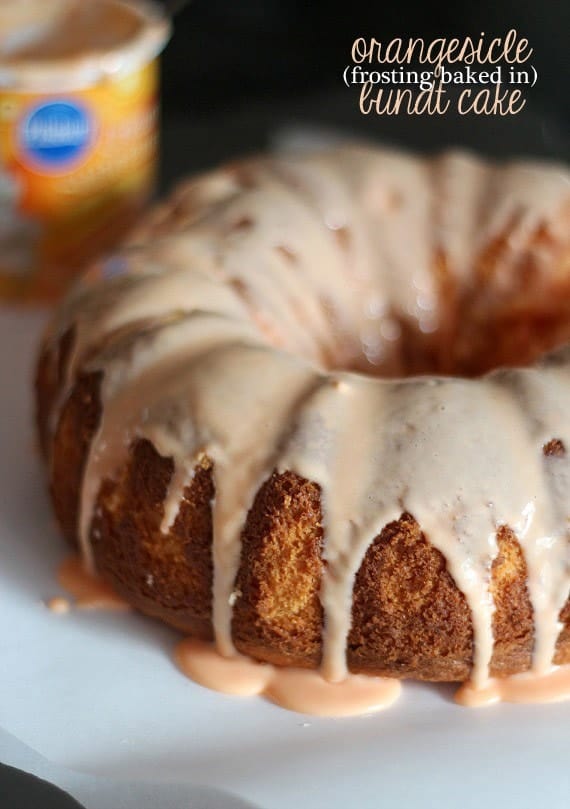 This cake was pretty exciting to make…
And I know you're wondering why.
Well, besides being delightfully Spring-ish (I used Pillsbury Baking's new Orangesicle Cake Mix and Frosting), and besides being all glazey and beautiful…I BAKED FROSTING INTO THE CAKE!
Yep, frosting mixed right in there with the batter. RIGHT?
Ok, before I get ahead of myself, let's talk about the flavor of the cake…Orangesicle.
The combination of a citrus and a buttery vanilla is kind of perfection. Pillsbury has nailed it with some of their Spring themed Cake Mixes and Frosting pairs…Key Lime, Orangesicle and Pink Lemonade.
The thing about Spring is, you get to open your windows, enjoy the fresh air (before pollen strikes) and pull out all the bright ingredients that you have kept hidden away during the winter! Basically, celebrate Spring!
Bringing your kids into the kitchen with you is really a fun way to celebrate the season, especially using the new Pillsbury Mixes, because they are so easy and accessible that the kids can basically do them on their own!
And honestly this is the perfect type cake to bring to a Spring picnic celebration, a sporting event or to enjoy just sitting outside enjoying the evening, celebrating life with your family!
So yeah, back to the cake.
Like I told you, I baked the frosting right up in there..I figured it would work the same way as oil or butter would, and keep the cake moist (sorry) and dense (but still springy), just like a bundt cake should be.
And it worked like magic! Honestly this is one of the best and easiest methods ever and CAN NOT WAIT to try it with all sorts of flavors!!
Let me show you…
Orangesicle Bundt Cake.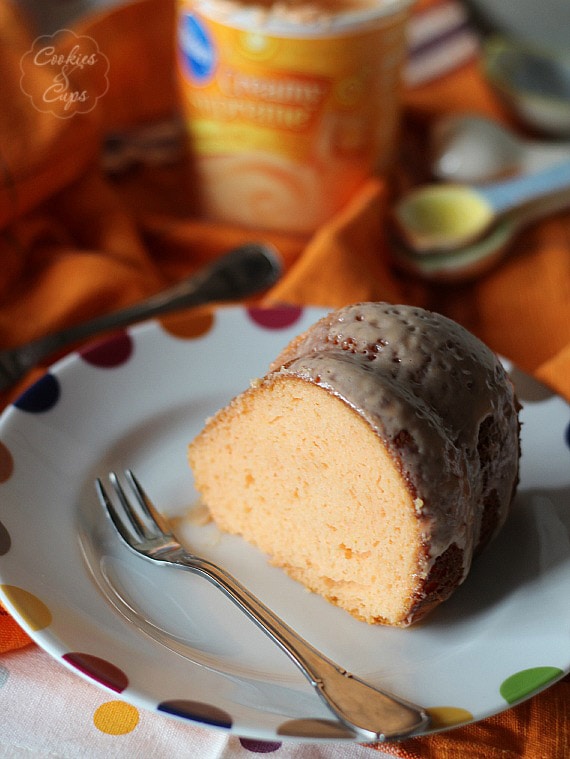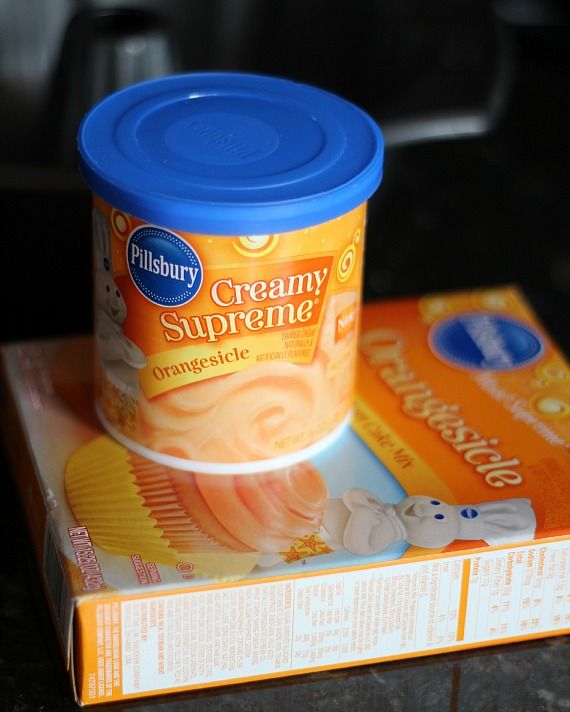 First grab your cake mix and frosting match…
Mix in some eggs, milk and a little oil.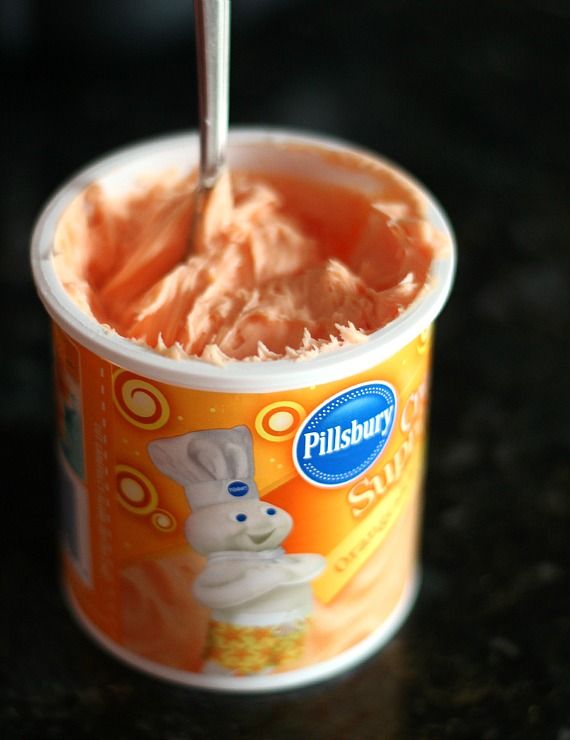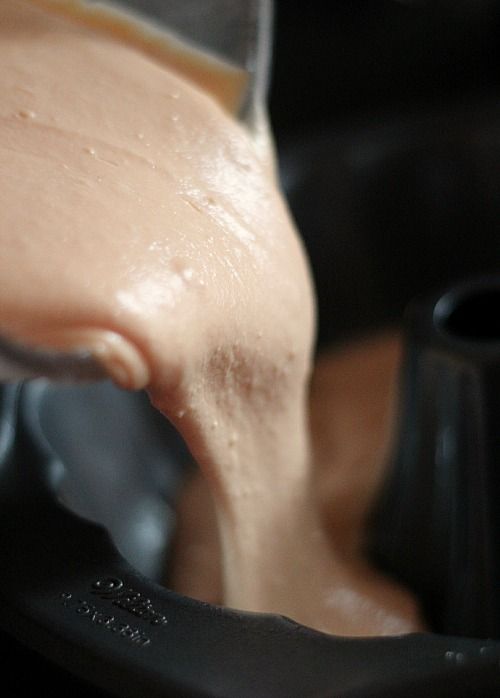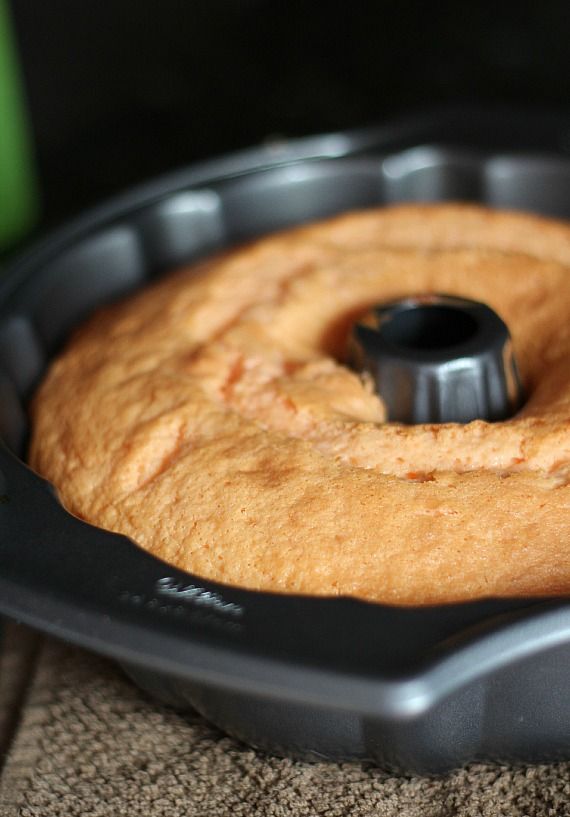 Beat that together and lastly add 3/4 of the can of frosting. Give a stir first…
Just plop it right in there and stir it until it's smooth…
Pour the batter into a heavily greased bundt pan…
And bake it for 50-60 minutes. Until it's set.
Let it cool for about 10 minutes or so and then flip the pan onto your cake plate.
I hold my breath when I do this. It seems to help.
Let the cake continue to cool completely.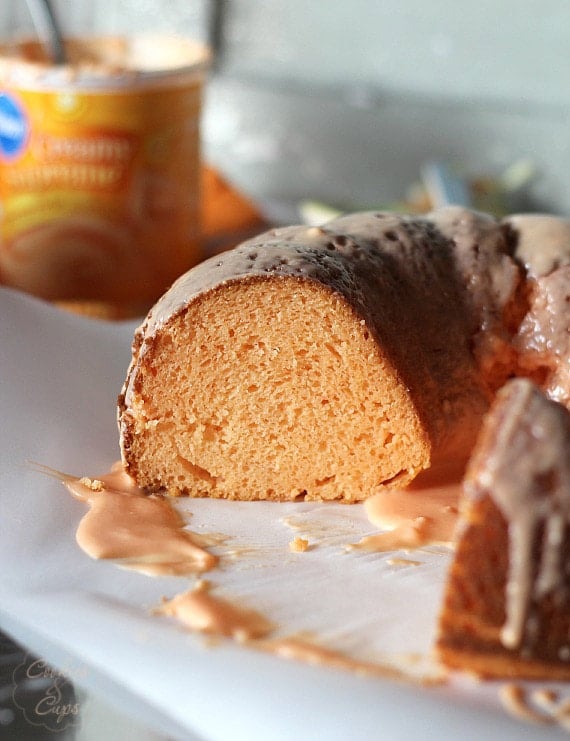 Next make your glaze.
Just add 1 tablespoon of milk into the remaining frosting and stir until it's smooth.
Spoon that over your cake and voila!
That's it….

Honestly, one of the best best best cakes I have ever made. So easy and so delicious!
Print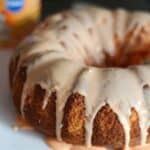 Orangesicle Bundt Cake and a Giveaway!
---
1

box Orangesicle Cake mix (or any flavor cake you like)

4

eggs

1 cup

milk

1/2 cup

oil

1

can of Orangecicle frosting (or compatible frosting)

1 Tbsp

milk for glaze
---
Instructions
Preheat oven to 350°
Grease bundt pan heavily with butter, then dust with flour. Or spray generously with baking spray.
In bowl of stand mixer combine cake mix, eggs, milk and oil. Mix on medium for 1-2 minutes until smooth.
Stir in 3/4 of the can of frosting, mixing until incorporated.
Pour batter into prepared bundt pan and bake for 50-60 minutes until tooth pick comes out clean.
Allow to cool about 5 minutes in pan and then invert pan onto cake plate.
Cool completely.
For glaze, mix 1 Tbsp milk with remaining frosting and spoon over cake.
Let glaze set and then slice and serve.
---
Notes
Store airtight for 2 days
Want To Save This Recipe?
Find more recipes like this:
Giveaway CLOSED