This Peanut Butter and Jelly Bars are exactly what the doctor ordered on a rough day. It's an easy dessert idea that tastes like childhood!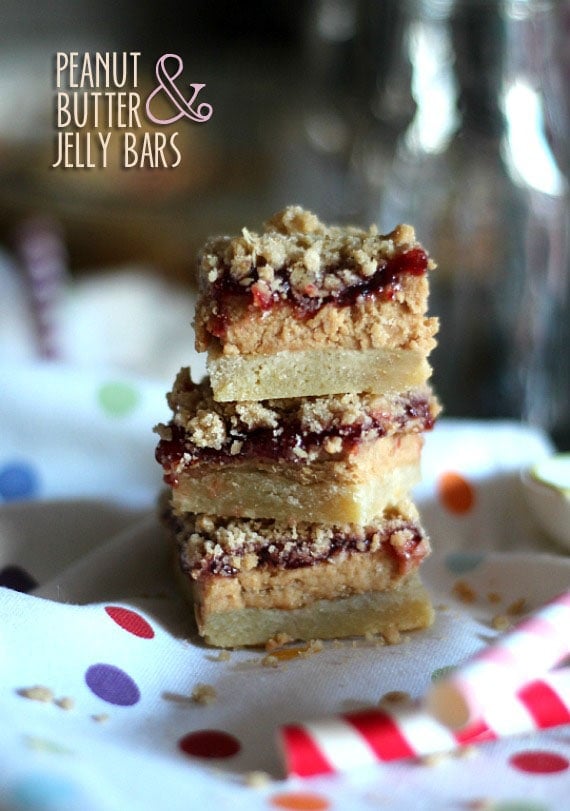 So guess what happened to me on Sunday?
Yeah, my site got hacked.
It basically sucked.
I certainly won't bore you with all the gory details…most of which I don't understand myself, but I will say that I have an awesome girl who helps me with all the internetty stuff that comes with having a website. She also has a blog which is insanely cute, so you should check that out too!
Anyway, it took a couple of days but we got all the hackery bits off my site. Apparently google rules the internet and if they think your site might be jacked, then the rest of the internet sits up and listens. So anyway, my site works now. And google says so. So it must be true.
Luckily during this trying time I had plenty of emotional eating resources on hand. You see, I ordered THIS book last week. Which is amazing. (Actually I ordered this one and this one too.)
And inside the pages of that book I found a recipe for Peanut Butter and Jelly Bars.
Don't ask me what made me choose PB&J bars as the first recipe to try, but I did…and Lordy Mercy it was the right call.
I've made PB&J bars before and thought they were ok. Nothing major. But these. THESE are major. In every freaking way.
They aren't just a peanut butter cookie bar with some jelly dropped on top. Oh no. They are a delicious cookie crust, topped with a thick layer of peanut butter filling (which is basically a thick peanut butter frosting), topped with jelly (I used strawberry preserves because I'm friendly with those folks over at Smucker's) and then a yummy layer of crumb topping. I mean, crumb topping never hurt anyone.
So anyway, these are Peanut Butter and Jelly bars all amped up.
They cure a hacked heart, I know this to be true.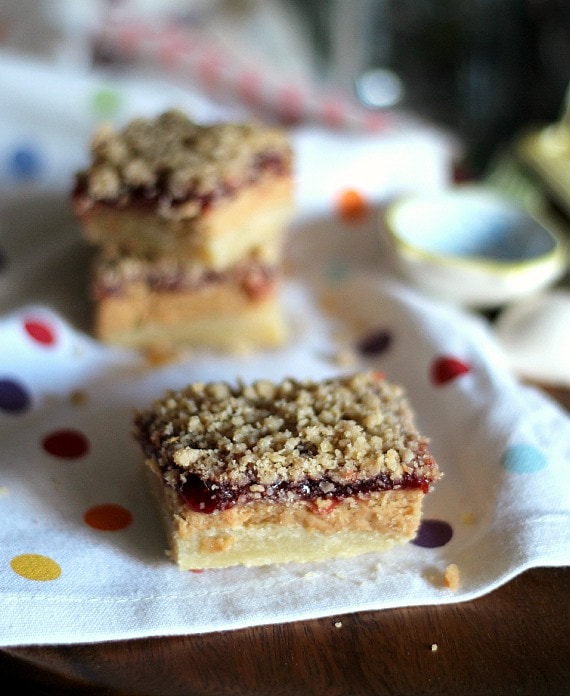 I changed the original recipe up a little bit. I made it a little easier, with less steps. Because sometimes I get lazy and don't have infinity hours to make a pan of bars.
How to Make this Easy Cookie Bar Recipe
First make your cookie crust…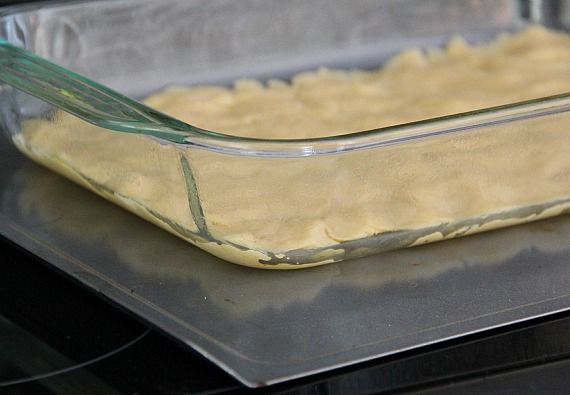 And when you bake it, set the pan on a baking sheet. It'll just help the bottom not brown too fast!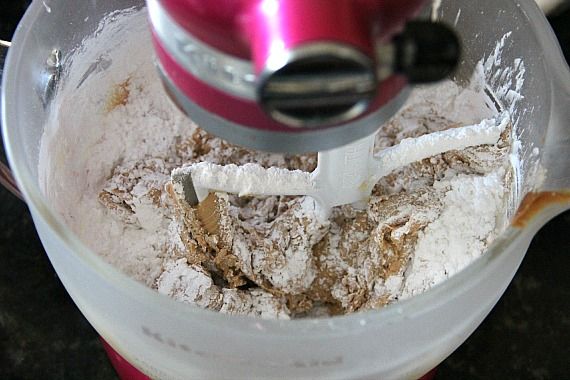 When that's baked, make your filling. Like I said before, it's basically a thick peanut butter frosting…Butter, peanut butter and powdered sugar…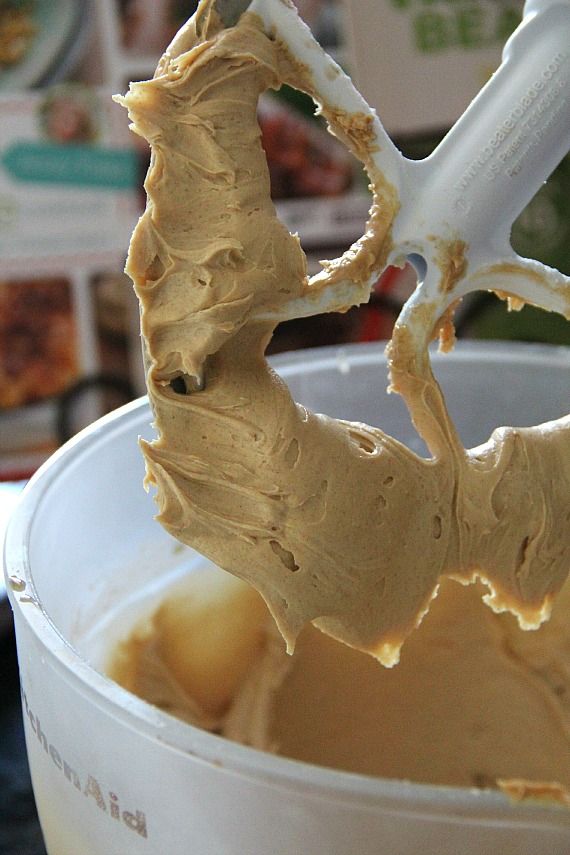 Spread that all over the crust. Now I was a bit skeptical of this layer. I didn't think that it would withstand going back in the oven. I mean, it seems like I should spread it on the crust with some jelly and call it a day. But I wanted to give the recipe a fair shot…
I stuck this in the freezer and made the crumb topping.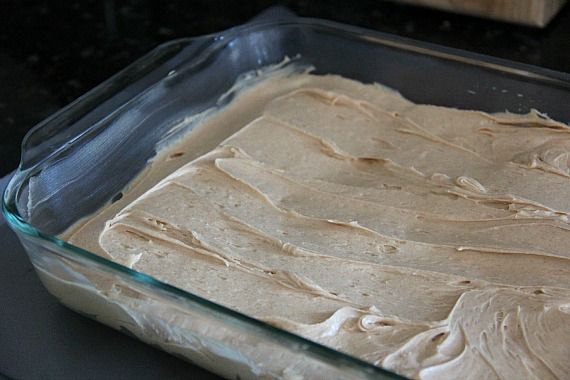 When the crumb topping was made, I pulled the pan out of the freezer and spread 2 cups of yummy strawberry preserves all over the top.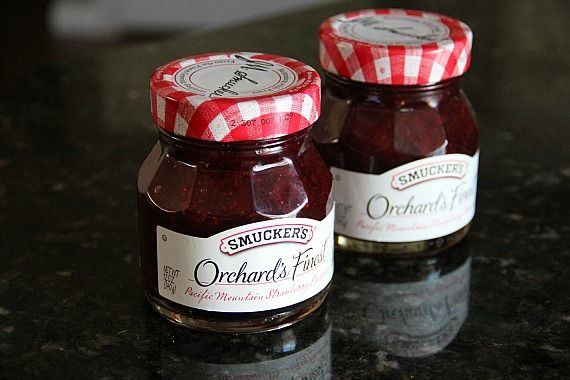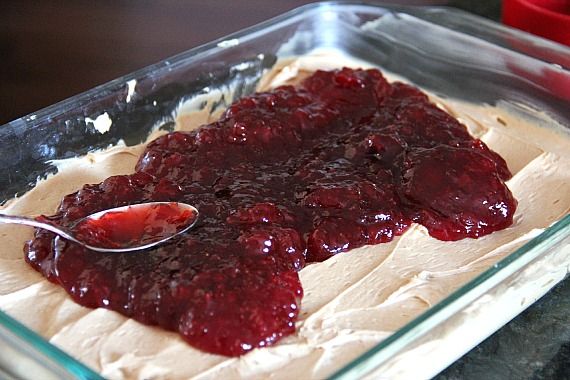 You could use grape jelly if that's what you like, but I urge you to use a nice quality jelly. It really plays a huge part in the flavor.
Sprinkle the crumb topping on top of the jelly layer. Make sure that all the jelly gets covered!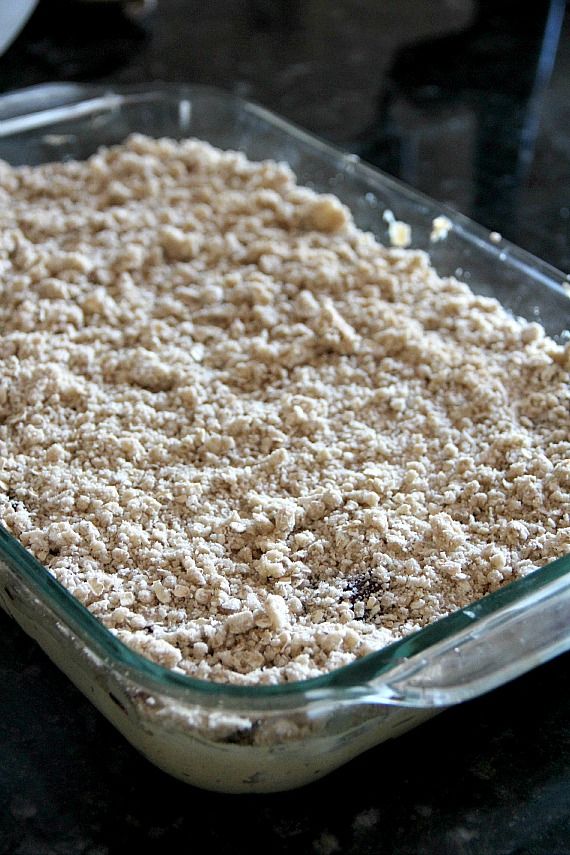 Then bake it up! It might get a little bubbly around the edges, but that's ok!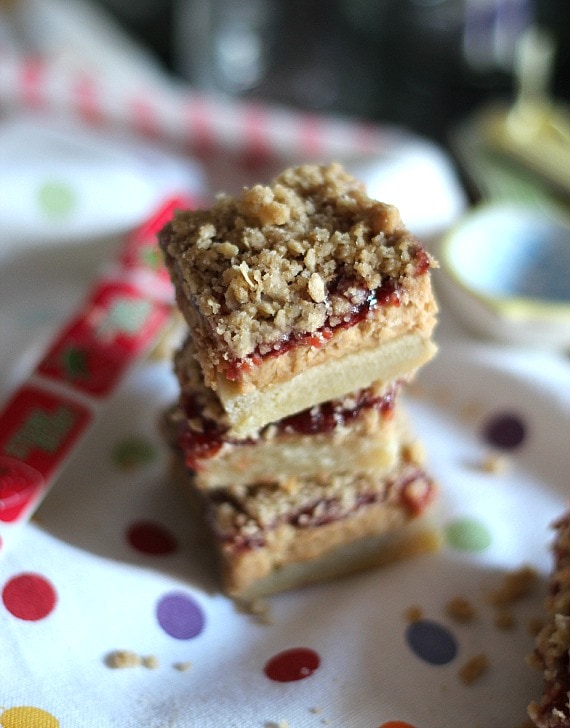 You have to let these guys cool COMPLETELY before you cut them into squares. The middle layer gets loose while baking, but after it cools and chills, it'll be great. I promise!

Print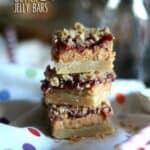 Peanut Butter and Jelly Bars
Author:

Prep Time:

1 hour

Cook Time:

25 minutes

Total Time:

1 hour 25 minutes

Yield:

20

bars

1

x

Category:

Cookies

Method:

Oven

Cuisine:

American
---
Description
This Peanut Butter and Jelly Bars are exactly what the doctor ordered on a rough day. It's an easy dessert idea that tastes like childhood!
---
Cookie Crust
1/4 cup

sugar

1 1/2 cups

flour

1/2 tsp

salt

1/2 cup

cold butter, cut into tablespoon sized pieces

1

egg
Peanut Butter and Jelly Filling
1 cup

butter, room temperature

2 cups

creamy peanut butter

1 3/4 cups

powdered sugar

1 tsp

vanilla

2 cups

grape or strawberry jelly or preserves
Crumb Topping
3/4 cup

flour

1/2 tsp

salt

1/2 tsp

baking powder

1/4 tsp

baking soda

1/3 cup

packed dark brown sugar

2/3 cup

old fashioned oats

6 Tbsp

cold butter, but into cubes
---
Instructions
Cookie Crust
Preheat oven to 375°
Spray a 9×13 baking dish with cooking spray
In mixing bowl combine sugar, flour, salt and butter. Mix together on medium speed until dough begins to hold together. Add egg and mix again until dough just comes together.
Press dough in the bottom pf prepared pan evenly.
Place pan on a baking sheet and bake 20-25 minutes until dough starts to get golden.
Transfer to a wire rack to cool.
Reduce oven temperature to 325°
Peanut Butter and Jelly Filling
In mixing bowl with paddle attachment beat the butter until smooth. Add in the peanut butter and continue beating until incorporated and creamy.
Add the powdered sugar and vanilla and continue beating until smooth.
Spread this evenly on top of crust with an offset spatula.
Freeze this while you make your crumb topping.
Crumb Topping
In a large bowl whisk together the flour, baking powder, salt, baking soda and brown sugar. Next whisk in the oats. Pour this mixture into mixing bowl and add your cubes of cold butter. With paddle attachment beat on low speed until loose crumbs form.
Take pan out of freezer. Spread your 2 cups of jelly or preserves on top of the peanut butter layer.
Sprinkle the crumb topping on top of the jelly layer evenly, covering the jelly completely.
Bake bars for 20-25 minutes until the top is brown.
Allow bars to cool for 30 minutes on a wire rack and then transfer to refrigerator to continue to cool, approx 2 hours.
When completely cooled cut into squares.
---
Notes
bars can be stored in refrigerator in an airtight container for up to 3 days.
Recipe adapted from Baked Explorations
Nutrition
Serving Size:

1 Bar

Calories:

345

Sugar:

14.3 g

Sodium:

397.6 mg

Fat:

22.6 g

Carbohydrates:

30.6 g

Protein:

8.7 g

Cholesterol:

0.1 mg
Keywords: easy cookies, cookie bar recipe, peanut butter and jelly cookies, pb&j cookies
Want To Save This Recipe?
Find more recipes like this: