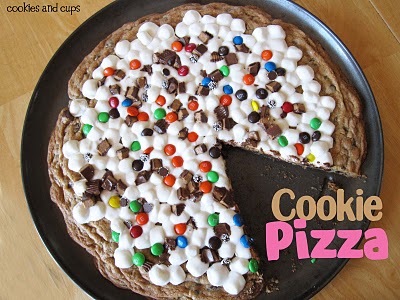 It's that time of year again…
the time when the leaves start changing, the air gets crisp and many married women become single once again…at least on Sundays.
Football.
Whether college football is your thing, NFL or even fantasy (God bless those wives) it definitely consumes the lives of many men.
There are certainly levels of consumption:
Let's start with the average dude…he roots for his team of choice, tunes in on Sunday to see who's playing and catches up on all the rest with SportsCenter.
Next we have the "fan". He roots for one team, likes to spout off statistics and buys tickets to see his team play. His Sunday's are booked from now until January. He tail-gates and yells at the TV. His wife knows that the backyard project is going to have to wait until Spring and she wouldn't even mention the invite for Sunday brunch.
Finally, the Crazy.
This is the guy that owns jerseys…even though the last time he actually played in a football game was 1992.
He is part of multiple fantasy leagues.
He may or may not have been spotted on the Jumbo-Tron with his face painted and a foam finger.
He lives and breathes football all year long, from the drafts to the training camps to the pre-season.
His Sundays are ruined when his team loses and considers the players extended family.
Now, if you don't live in the United States you are probably not affected by Sunday Football Syndrome…
but, to those of us who reside here in Football-land, we all probably know a few of the "types" I listed above.
So since you're here why don't we make football a little cute?
Whadaya say?
Pizza is one of the quintessential football foods…
but, since this is my blog…I'm gonna do pizza MY way.
Cookie pizza!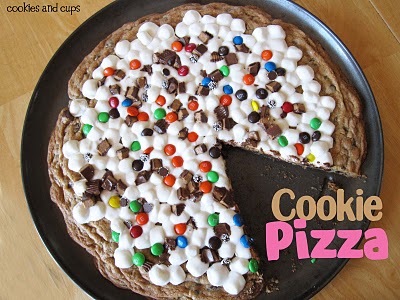 Excuse me for a moment while I share some candy porn…
NSFD (Not Safe For Dieters)
Love this little guy.
Everyone's favorite…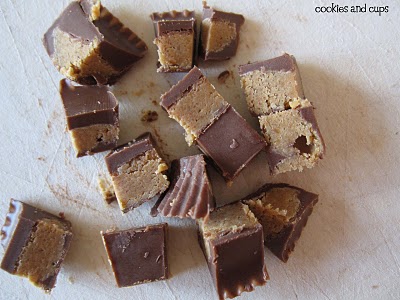 Isn't candy pretty?
Here's the batter…
Bake it and top it…
So good!
Print
Cookie Pizza
---
2

sticks softened butter

1/2 cup

light brown sugar

3/4 cup

granulated sugar

2 teaspoons

vanilla

2

eggs

1 teaspoon

baking soda

1 teaspoon

kosher salt

2 1/4 cups

AP flour

3 cups

semi-sweet chocolate chips
Topping
Topping:

2 cups

mini marshmallows
Any candy you like..I used chopped Reese's Cups, M&M's and Sno-Caps
---
Instructions
Preheat to 350°
Combine dry ingredients in bowl (flour, baking soda and salt), set aside
Cream butter and sugars until light and fluffy
Add eggs one at a time beating between each addition and add vanilla and beat on medium
until all combined.
Add dry ingredients. Mix on low until just combined.
Stir in chocolate chips.
Spread batter on round baking dish, 16″
Bake 13 minutes until edges are browned and middle is just set.
Remove from oven and spread 2 cups mini-marshmallows on top, leaving edges as the "crust".
Bake 2 more minutes.
Remove from oven and spread "toppings" on.
Let cool completely and cut into wedges.
---
Want To Save This Recipe?
Find more recipes like this: