It's that time of year again where we take a look back at what recipes you guys were digging the most. The most popular. These sweeties sat at the cool kids table in 2014 and bullied the heck out of the other recipes on my site. #hateuscauseyouaintus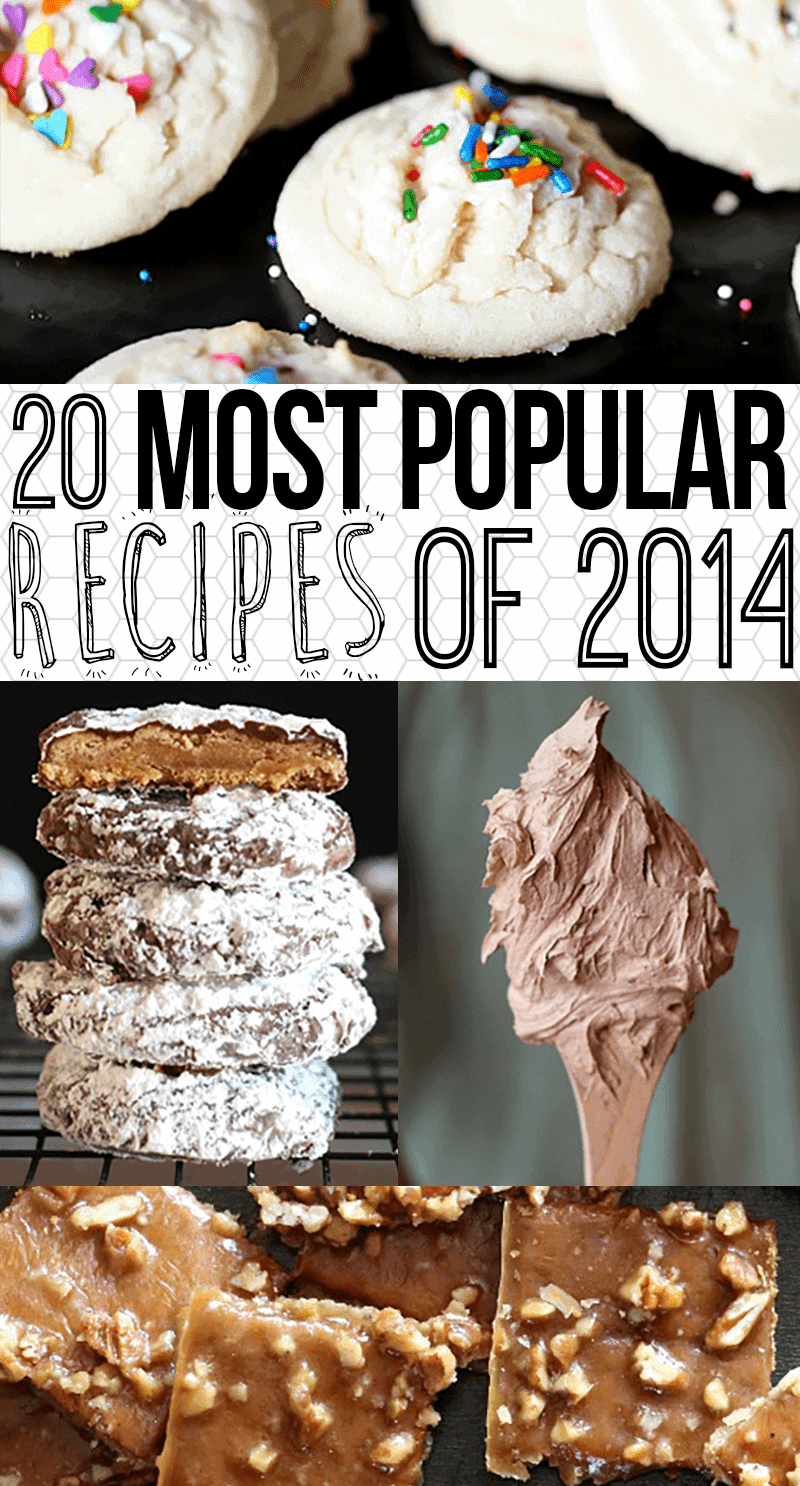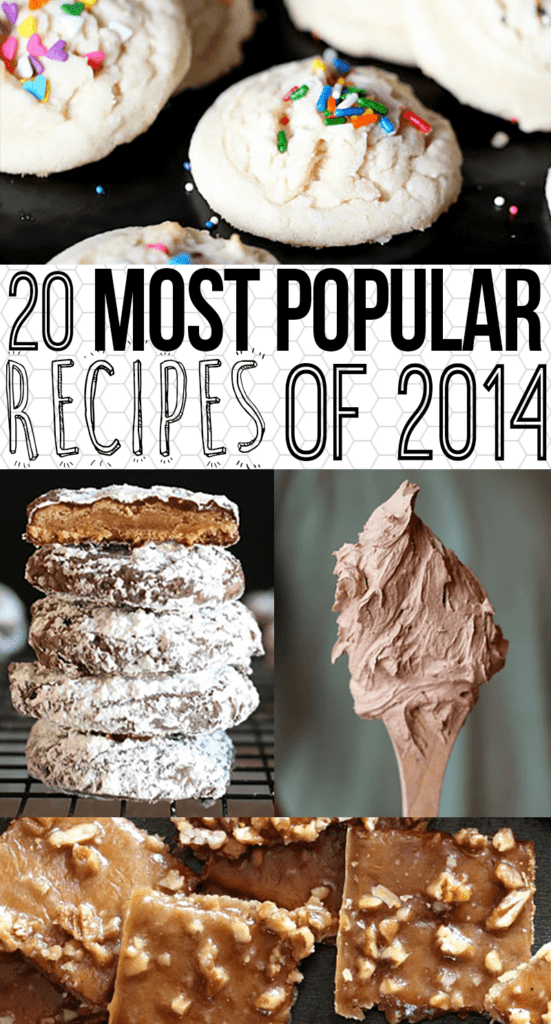 I didn't do it.. you guys did. Can't be mad.
I am actually pretty stoked at looking back and seeing what made the top 20 this year because most of the recipes are new ones…which is a first for me! Of course I did have a few oldies make the cut, but you always have that 20-something who keeps going back to the high school parties. Sad but true.
And it turns out you people are NOT about complicated. You like easy, everyday, no bake, whip-up-on-a-Tuesday type stuff. So here's to that. I'll plan accordingly in 2105.
So let's get crackin' on the hotties of 2014…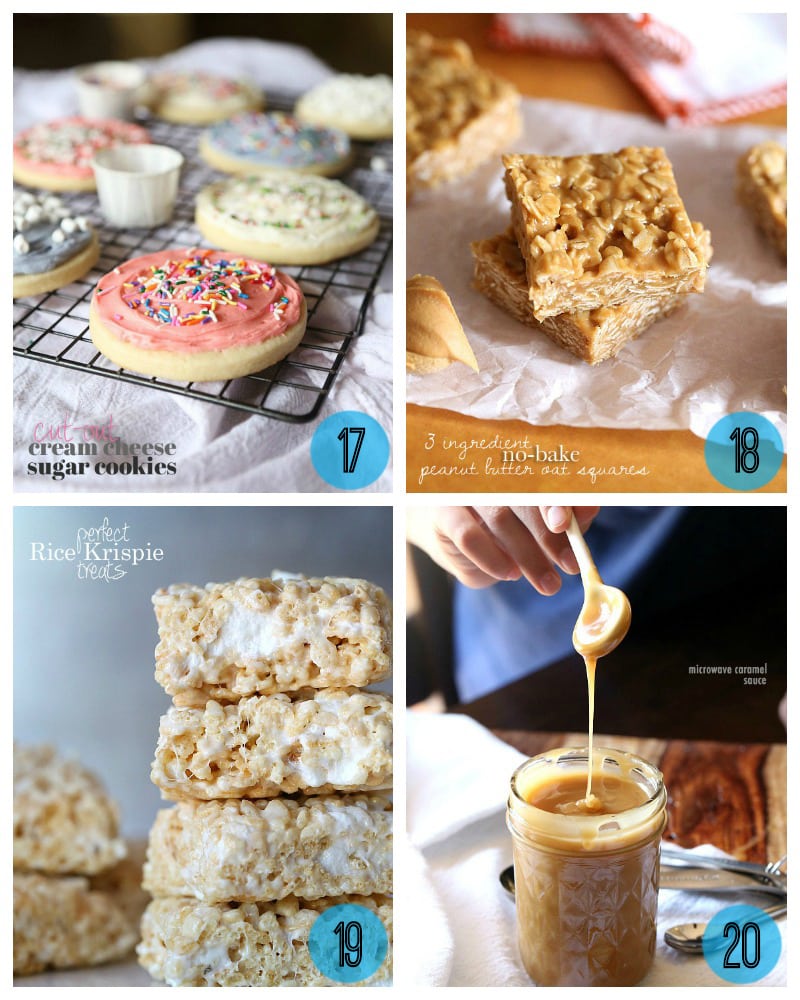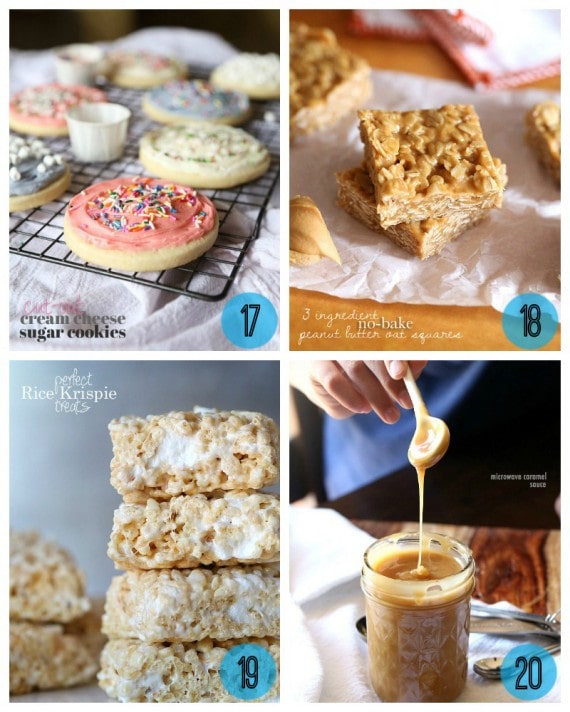 Let's start at the bottom and work our way backwards.
20. Coming in at number 20 this year is my Microwave Caramel Sauce. I have to say that this recipe was made out of necessity. Sometimes you just need caramel sauce fast. I love this recipe and am glad you guys did too!
19. My Perfect Rice Krispie Treats are completely perfect and deserve a slot on this list for sure. Gooey, krispie perfection.
18. These 3 Ingredient No Bake Peanut Butter Oat Squares are my version of a power snack. Looks like you guys like power.
17. Rounding out the bottom 4 are my Cut-Out Cream Cheese Sugar Cookies. Now this might not seem like a big deal to you, but I only posted these cookies a few weeks ago, and to make it to the top 20 is a huge feat! They have been SUPER popular since I shared them and I bet we'll be seeing these on next year's list too. Plus, they rule. So…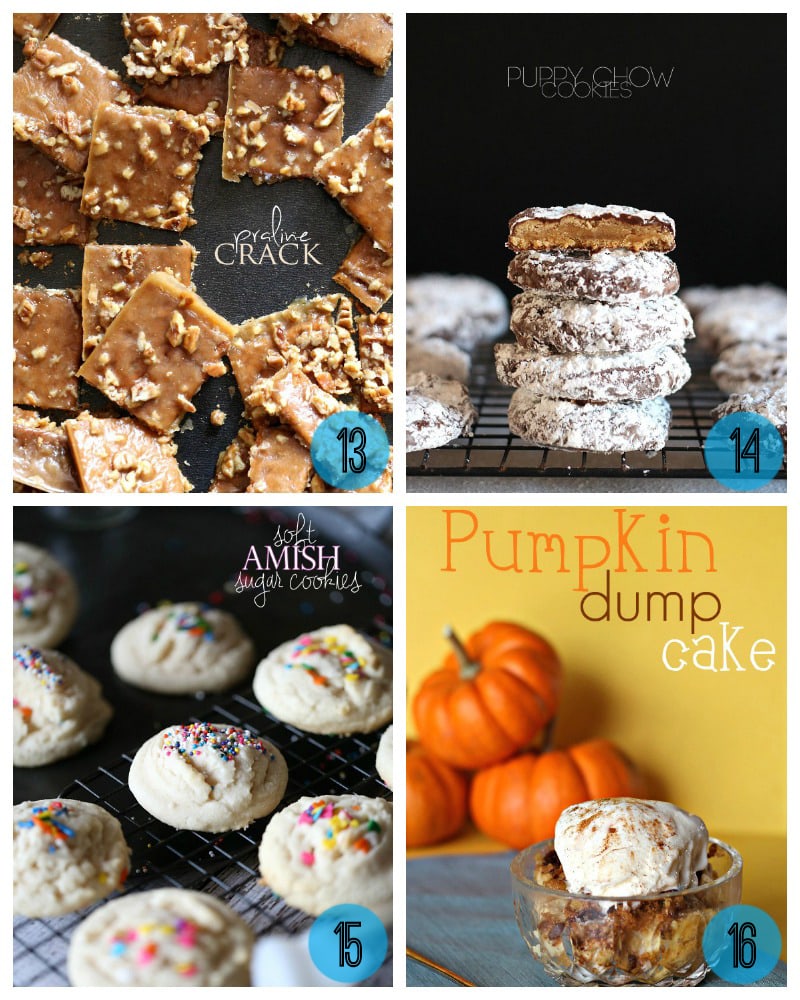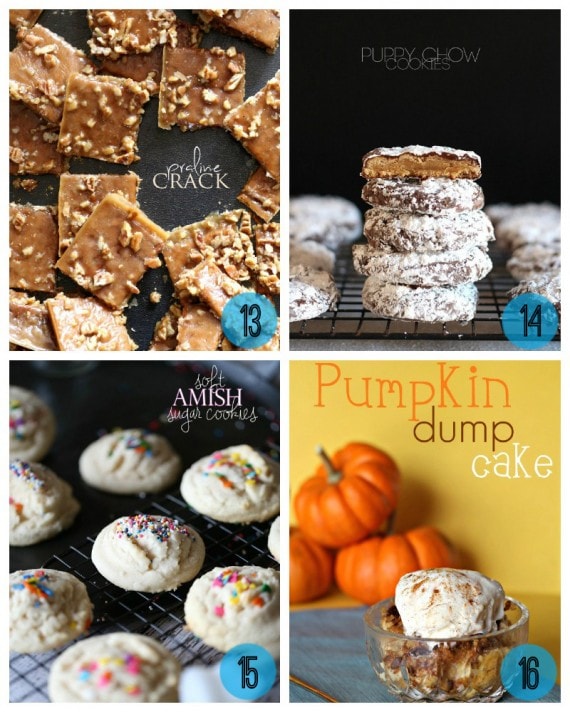 Next up let's hit 13-16.
16. An old standard around here. Pumpkin Dump Cake. I shared this recipe way back in 2011 and it continues to be the little engine that could. Plus, I've never met anyone who doesn't love it.
15. Soft Amish Sugar Cookies. Not sure if it's because "Amish" is in the title, or if you guys just love you a sugar cookie, but these were a solid favorite.
14. Puppy Chow Cookies are another oldie, but they are too delicious not to love. Some of you had trouble dipping them in chocolate, but that's cool. You cover up the imperfections with powdered sugar!!
13. Praline Crack. I don't even need to talk about this recipe. It is addictive and delicious and everything you hope it will be. Make it.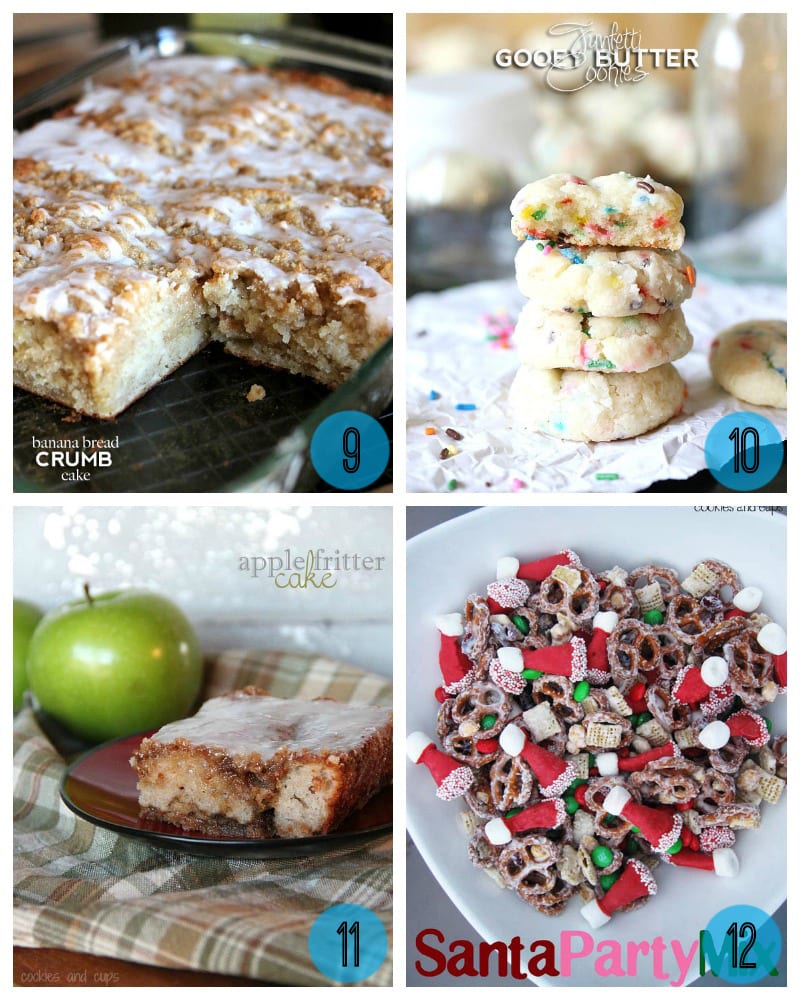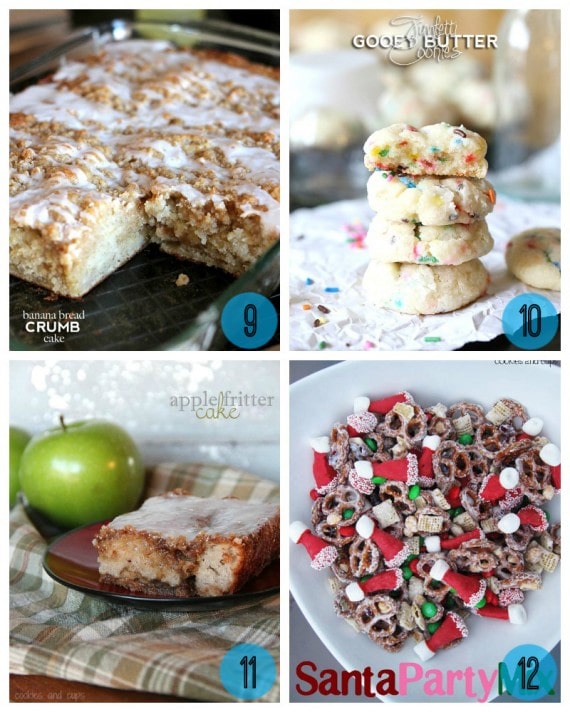 12. Santa Hat Party Mix is easily the most popular recipe on my site of all time. Those little Santa Hats never stop being adorable!
11. Proving you guys never tire of a cozy desserts, this Apple Fritter Cake is a solid choice. Well done.
10. I hate to say these next cookies are pretty predictable. You have Sprinkles, Cake Mix and cream cheese..it's a no brainer why these made the tops list! Funfetti Gooey Butter Cookies FTW.
9. Banana Bread Crumb Cake. This one is one of my very favorite recipes on my site. If you haven't made it yet, you need to.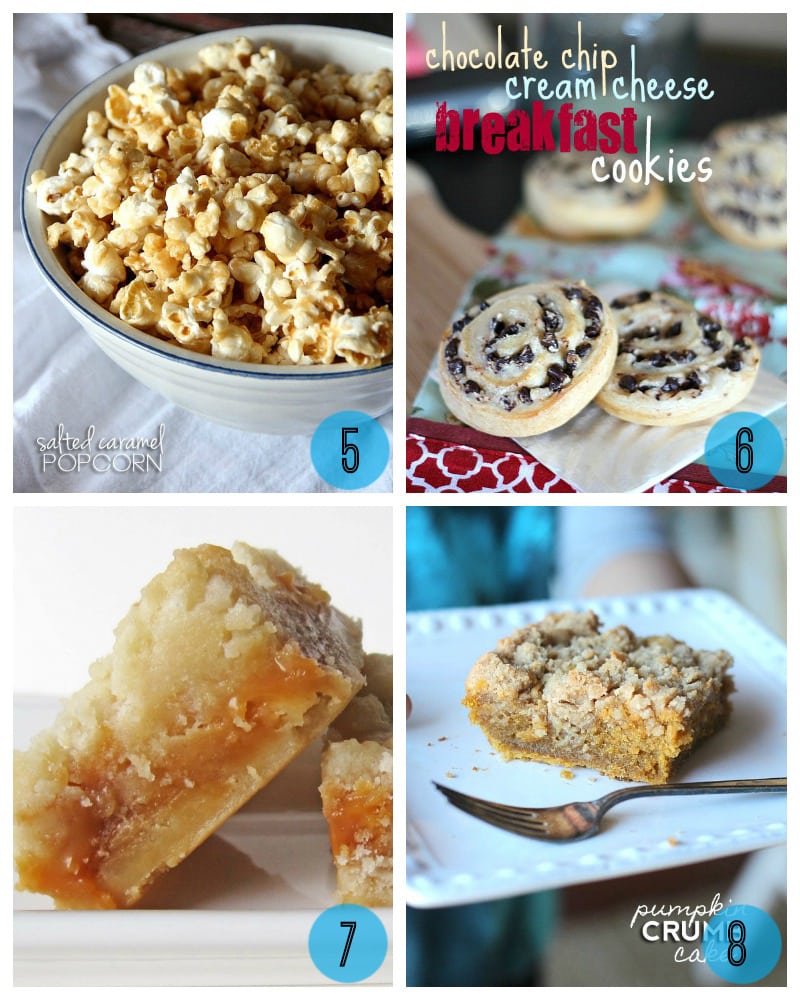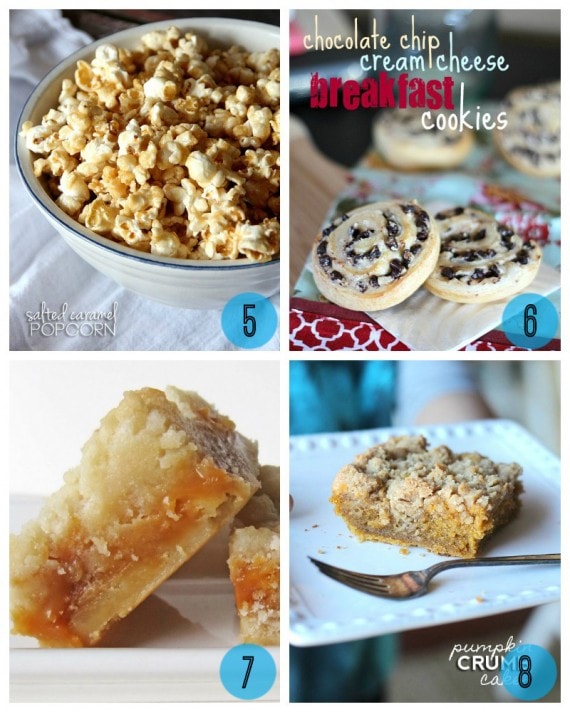 8. Proving you guys are a sucker for crumb, my Pumpkin Crumb Cake hits the numero ocho spot on the list.
7. Salted Caramel Butter Bars. Made them in 2010 before I knew how to take a decent picture, but that hasn't scared you guys off…I still make these at least once a month.
6. Chocolate Chip Cream Cheese Breakfast Cookies. The fact that this recipe stays consistently popular on my site is a mystery to me. Maybe you guys just want permission to eat cookie for brekkie.
5. I hate to brag, but my Salted Caramel Popcorn is really the best. Actually I don't hate to brag at all.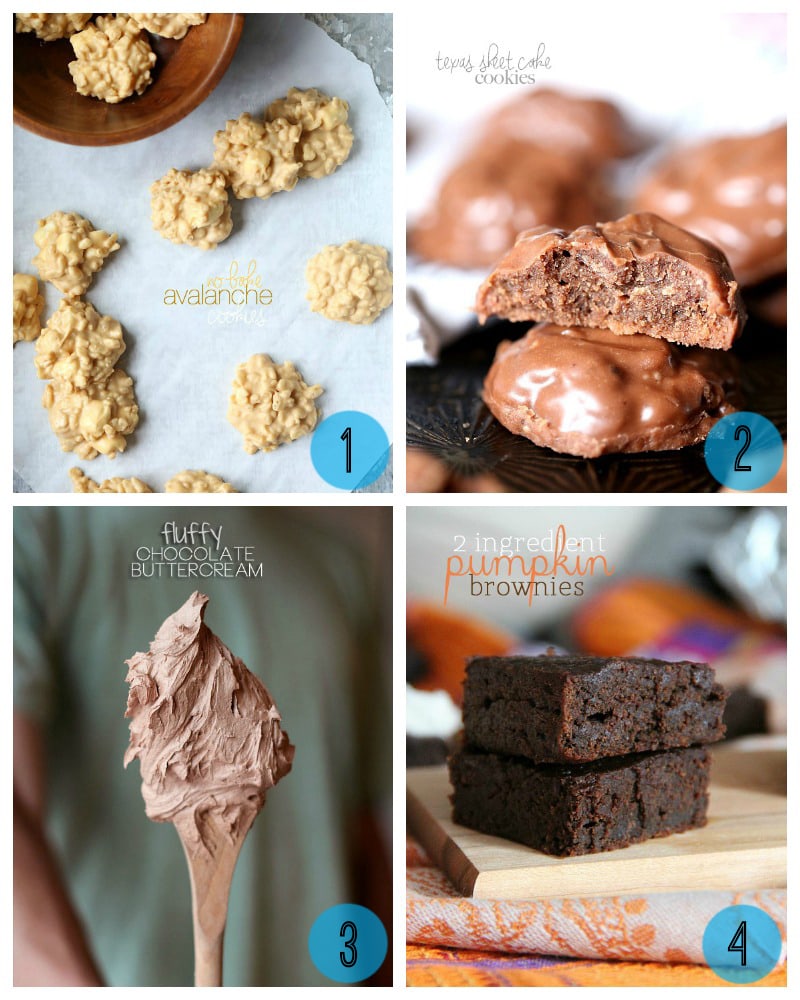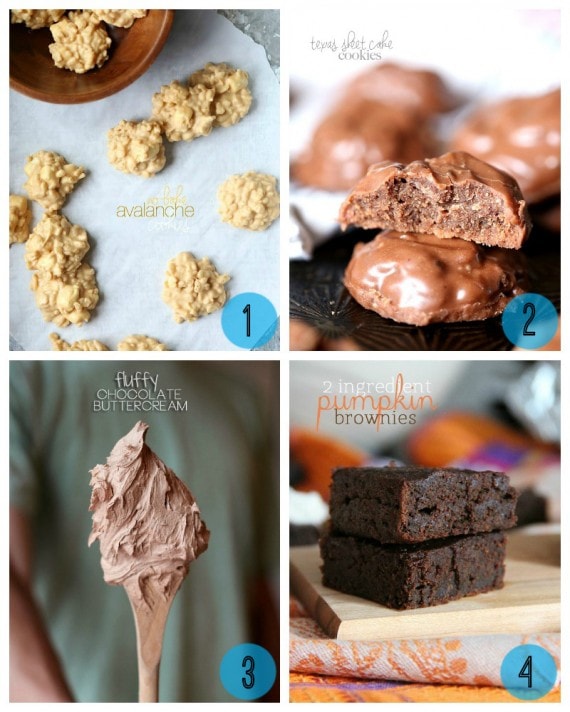 And this year's winners AREEEEEE….
4. 2 Ingredient Pumpkin Brownies. This little recipe is maybe the most polarizing on my site. People either love it or they HATE it. The comments are sort of hilarious, actually. They aren't for everyone, but they certainly must be for some…putting it at #4 this year!
3. 2 Ingredient Fluffy Chocolate Buttercream. Oh my yes. You have butter and chocolate chips whipped to a beautiful pale chocolatey bowl of heaven. It's kind of a magic recipe, you should try it.
2. Texas Sheet Cake Cookies… When I created this recipe I had a feeling you guys were going to love it. And you did. And I love you back.
1. Drum-roll please!!! Coming in at Number one this year are my No Bake Avalanche Cookies!!!!I am so happy these guys topped the list this year! They are a pretty new recipe, although they are based on an old recipe of mine. When I posted them back in October I thought they might be kind of cheap…I mean it's a hack on an old recipe, and they are no bake. Looks like you guys just care about delicious. And these are that. Well done.
I want to thank each and everyone of you people for following along on my baking/cooking/life craziness. I couldn't/wouldn't do this without you. You complete me.
Here's to a phenom 2015. Cheers!
xo
ps ~ Check out my Most Popular from 2012 and Most Popular from 2013 too and see what has consistently made the cut!