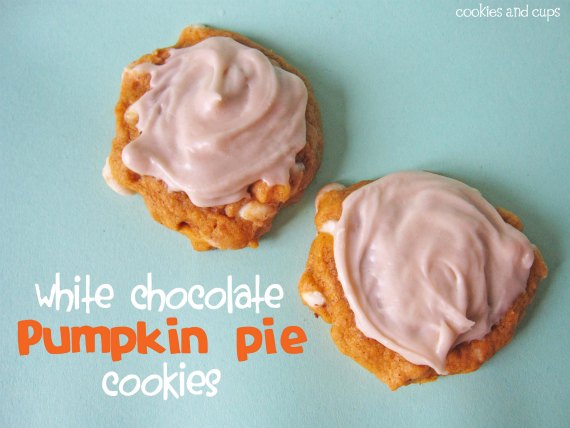 It is October!
So, in keeping with the theme of fall I will now officially jump on the pumpkin bandwagon.
First, I will tell you ~ I am not a fan of the orange squash.
Sure, I like to carve them out, or decorate my front porch with them, but that's where the love affair ends.
My mom is an expert pumpkin pie maker, but I am pretty sure that I haven't had a slice since 1987.
I do, however, indulge quite regularly between September and November in the famous Pumpkin Spice Latte.
But you know as well as I do there is no REAL pumpkin in those.
So here's where pumpkin and I unite.
In cookie form.
Maybe my problem with pumpkin pie is because it's such a big pumpkin commitment. You know…every bite pumpkin…that's it. A whole slice of the same orange mushiness…not for me, thanks.
But…check this out…not only is there white chocolate in these cookies…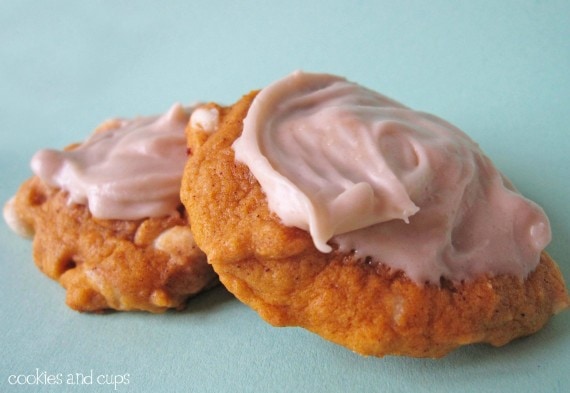 …there's frosting.
We all know how I feel about frosting.
Not only frosting, but brown sugar frosting.
Swoon.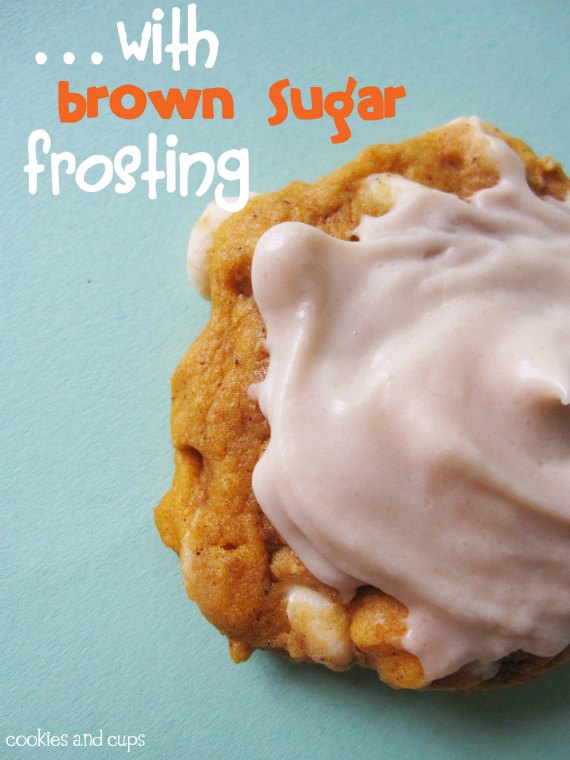 I resisted these cookies for a while…even bringing them to soccer to share, completely sure that pumpkin and I were not BFF's.
People loved them.
I had to know what I was missing, so when I got home I decided to give pumpkin another chance.
Maybe 23 years was too long.
The cookies were good.
Actually, really good.
Soft and yummy.
Sweet and spicy.
Like a bite of fall…you can quote me on that.
Don't think I am a pumpkin pie convert, but baby steps, right?
If you even remotely like pumpkin, you NEED to make these.
I'm serious.
White Chocolate Pumpkin Pie Cookies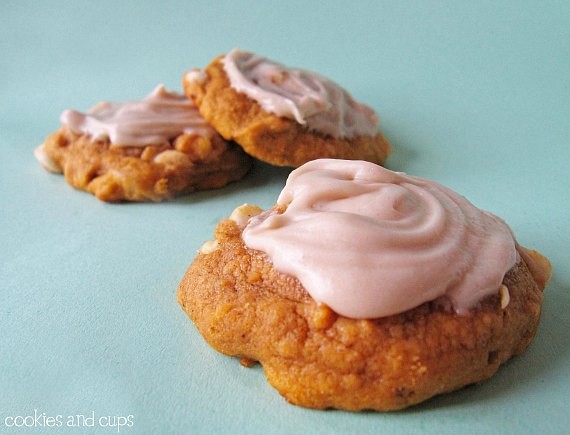 Print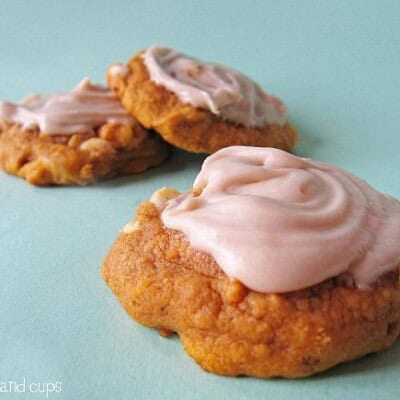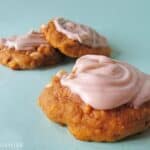 White Chocolate Pumkin Pie Cookies
---
Description
Makes approx 3 1/2 – 4 dozen.
---
1 cup

softened butter

1/2 cup

white sugar

1/2 cup

brown sugar

1

egg

2 teaspoon

vanilla

1 1/2 cups

pumpkin puree

2 cups

AP flour

3 1/2 teaspoons

pumpkin pie spice

1 teaspoon

baking powder

1 teaspoon

baking soda
pinch of salt

1

(12 oz) bag white chocolate chips
Frosting:
1/2 cup

light brown sugar (packed)

3

T. butter

1/4 cup

milk

2 cups

sifted powdered sugar
---
Instructions
Preheat to 350
Cream butter and both sugars with mixer.
Beat in egg, vanilla and pumpkin.
Combine dry ingredients and slowly add to butter mixture.
Mix until combined.
Stir in white chips.
Drop by rounded teaspoonfuls onto parchment lined baking sheet. (Batter will be sticky)
Bake approx 12 minutes until edges are slightly golden.
Let sit on baking sheet for at least 2 minutes and then transfer to wire rack to cool.
For frosting:
Combine brown sugar and butter in small saucepan over medium heat.
Bring to a boil and continue cooking 1 minute. Remove from heat and cool for 10 minutes. Mixture will slightly thicken.
With hand mixer beat in milk until smooth. Slowly add in powdered sugar until spreadable consistency. ( I used all 2 cups).
Spread approx 1 teaspoon on each cookie.
---
Notes
Store in airtight container for up to 3 days.
Want To Save This Recipe?
Find more recipes like this: